NFL Playoff Predictions: 10 Unknown Players Who Could Make a Big Difference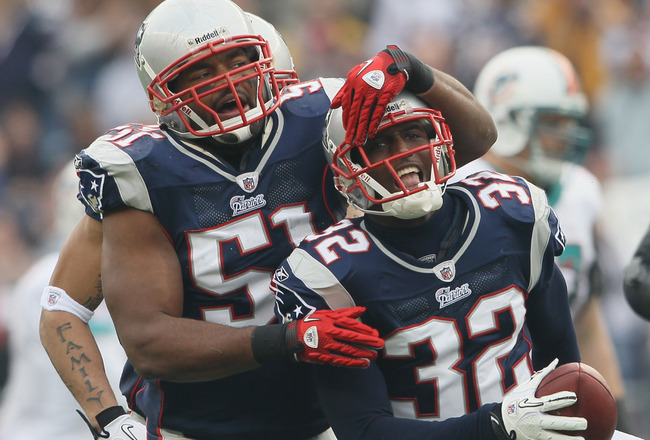 Elsa/Getty Images
NFL playoff games are typically won by the superstars, by players like Tom Brady, Aaron Rodgers, Troy Polamalu and Julius Peppers. But football is a team sport and everybody who steps out onto that field has an important role to play.
So in honor of those players that don't get as much media attention, here is a look at 10 lesser-known players who could have a big impact this weekend.
David Harris, ILB, New York Jets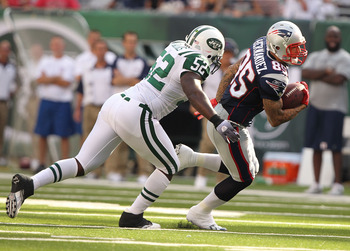 Al Bello/Getty Images
Darrelle Revis will match up against Wes Welker and Antonio Cromartie will draw Deion Branch, but the key to stopping the New England offense might be in containing their tight ends.
The Patriots two rookie tight ends, Aaron Hernandez and Rob Gronkowski, have combined for 87 receptions, 1,109 yards and 16 touchdowns this season. They are the main reason that Tom Brady hasn't missed having Randy Moss to throw to, and why nobody seems to have figured out how to stop the passing attack.
No cornerback can cover either tight end, so that means the coverage responsibilities will fall to Jets linebackers Harris and Bart Scott. Harris is New York's leading tackler with 99 tackles and three sacks, but he's also tipped three passes this season. He'll need to be at his best on Sunday if the Jets are going to slow down the Patriots.
Logan Mankins, LG, New England Patriots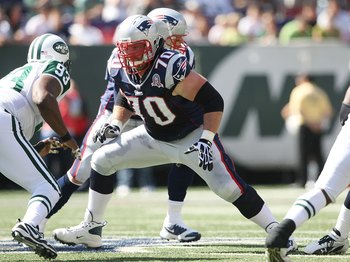 Nick Laham/Getty Images
The Patriots left guard isn't exactly unknown. He's a three-time Pro-Bowler and regarded as one of the best interior linemen in football. Still, offensive linemen rarely get the attention that they deserve.
Mankins is special because he's the key to the Patriots rushing offense.
In New England's first matchup against the Jets in Week 2, the Patriots managed only 52 total rushing yards with Mankins on the sideline in the midst of a holdout. The 6'4", 310-pound giant returned midseason and the Patriots running game took off. In their Week 13 rematch against the Jets, the Patriots ran for 101 yards and two rushing touchdowns.
BenJarvus Green-Ellis is New England's leading rusher and he will attack the left side early and often as Mankins punishes the Jets defenders.
Brad Smith, KR, New York Jets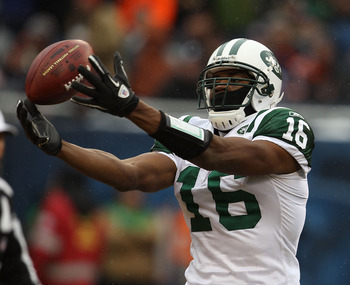 Jonathan Daniel/Getty Images
The Jets offense isn't good enough on its own to keep up with the Patriots, but they could stay close if they get some help from their special teams unit. Smith is the key to that unit.
The former quarterback-turned-wide receiver is one of the best return men in the NFL. Smith returned 50 kicks during the regular season for a total of 1,432 yards, good for a 28.6 average and two touchdowns.
He returned seven kicks in the Patriots 45-3 whooping of the Jets, but only earned 140 yards. A 20 yard average isn't going to get it done, so Smith better be at his best on Sunday if New York wants to keep this game close.
Israel Idonije, DE, Chicago Bears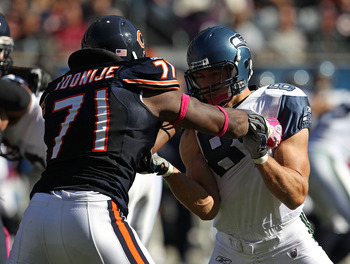 Jonathan Daniel/Getty Images
With Julius Peppers typically drawing double teams, the responsibility falls on Idonije to fuel the Chicago Bears pass rush.
Idonije has a good season at defensive end, recording 49 tackles, eight sacks and three forced fumbles. He was quiet in Chicago's regular season game against the Seahawks, tallying only two tackles. But the entire Bears defense was awful in that loss, giving up 353 total yards and not recording a single sack.
That will have to change if Chicago wants to get to the NFC Championship, so Idonije will have to be at his best.
Jon Ryan, P, Seattle Seahawks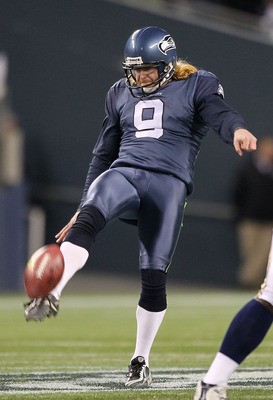 Otto Greule Jr/Getty Images
Yes, even punters matter. Especially when the player you're kicking to is Devin Hester, the best return man in the history of the NFL.
Ryan booted the ball a season-high 10 times first time out against the Bears and only two of those punts were returned, one of them for a touchdown. He's had a decent season, punting the ball an average of 41.7 yards with 34.6 percent of his kicks landing inside the 20-yard line. He's been even better in the playoffs, dropping his average to 38.8 yards but getting three out of four kicks inside the 20.
Ryan will have to keep up that kind of performance if the Seahawks hope to keep the ball out of Hester's hands and win the game.
Bryant McFadden, CB, Pittsburgh Steelers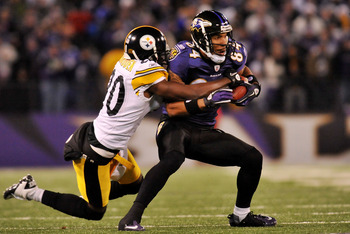 Larry French/Getty Images
If there's a weakness in the Steelers defense, it's definitely in the secondary. Troy Polamalu is a stud and leads the league in interceptions, but neither Ike Taylor nor McFadden are shutdown corners.
The Ravens have a ton of weapons on offense, between Anquan Boldin (837 yards, seven touchdowns), Derrick Mason (802 yards, seven touchdowns), Todd Heap (599 yards, five touchdowns), T.J. Houshmandzadeh (398 yards, three touchdowns) and Ray Rice (556 yards, one touchdown). Joe Flacco is one of the better quarterbacks in the league and he threw for 256 and 266 yards in Baltimore's two games against Pittsburgh during the regular season.
McFadden was a non-factor in those two games, recording three and four tackles. He's had a decent season with 81 tackles, 10 passes defended and two interceptions, but he's not good enough to cover either Boldin or Mason without help. One big play by McFadden on Saturday could set the tone for the rest of the game and keep the Ravens offense conservative.
Matt Birk, C, Baltimore Ravens
Larry French/Getty Images
The Steelers have the No. 1 rush defense in the NFL, anchored by massive nose tackle Casey Hampton. They give up an average of 62.8 yards/game.
The Ravens, meanwhile, rely heavily on their running game and have the 14th ranked rushing attack in the league, led by 1,000-yard rusher Ray Rice. But Rice had only 20 and 32 rushing yards in Baltimore's two games against Pittsburgh in the regular season.
Rice will have to do better than that if the Ravens want to win, and that means veteran center Matt Birk is going to have to push Hampton around all game. Can he do it?
Shaun Suisham, K, Pittsburgh Steelers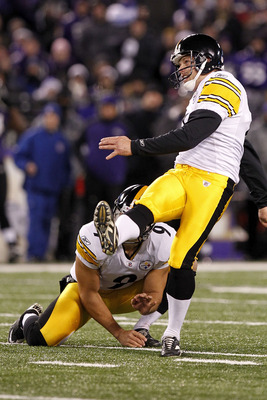 Geoff Burke/Getty Images
The Steelers released longtime kicker Jeff Reed and picked up Suisham midseason, and the results have been terrific. The fifth-year kicker has connected on 14 of 15 field goals and hit all 19 of his extra-point attempts.
But Suisham's postseason record isn't quite so impressive. He's three of six in his career, and missed two field goals in Dallas' huge 34-3 loss to the Minnesota Vikings.
Both of the regular season matchups between the Steelers and Ravens were won by just three points, so it's clear that kickers will be playing an important role. Suisham hit both of his field goal attempts in Pittsburgh's 13-10 victory in Week 13, but can he handle the pressure of the playoffs?
Dunta Robinson, CB, Atlanta Falcons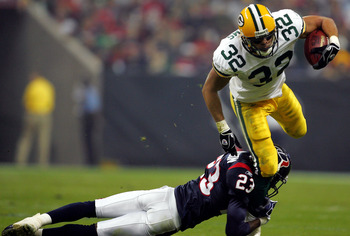 Ronald Martinez/Getty Images
The Packers love to throw the ball and they exploded for 341 passing yards in Green Bay's 20-17 loss to the Atlanta Falcons in Week 12. Greg Jennings caught five passes for 119 yards and eight different Packers recorded a reception.
The Falcons have a good defense, but defending the pass is not their strong suit. They have the 22nd ranked pass defense in the NFL and only 22 interceptions on the season.
Dunta Robinson is Atlanta's best player in the secondary, and he will line up opposite Jennings. He recorded one interception and seven passes defended the entire regular season, but he'll have to be even better if the Falcons hope to slow down the Packers and their fifth ranked passing attack.
B.J. Raji, NT, Green Bay Packers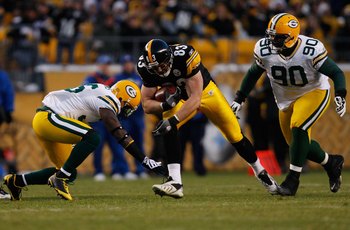 Jared Wickerham/Getty Images
The Falcons love to run the ball, and they do it as well as any team in the NFL. Michael Turner is a terrific running back and he racked up 1,371 rushing yards and 12 touchdowns during the regular season. With former NFL Defensive Player of the Year Charles Woodson roaming the backfield for the Packers, Atlanta's offensive game plan will focus on the running game.
The Falcons had 117 rushing yards against Green Bay in Week 12 and an average of 4.3 yards/carry. Packers nose tackle B.J. Raji only had one tackle in that game and could do little to slow down the onslaught.
The 6'2", 337-pound former first round pick will have to do better than that if the Packers hope to force the Falcons to throw the ball. He had a good regular season with 6.5 sacks and three tackles for a loss, but was swallowed up by Atlanta's offensive line. He'll have to push a little harder if the Packers want to win.
Keep Reading