Bring in the New Guys: The Future NFL All-Decade Team, Offensive Edition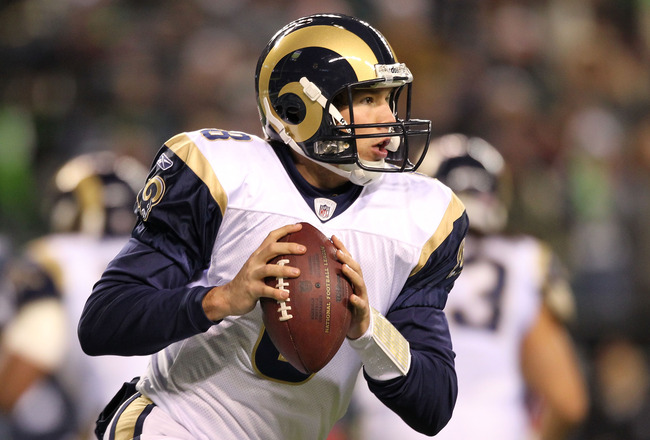 Sam Bradford of the St. Louis Rams
Otto Greule Jr/Getty Images
Happy New Year! As the New Year has come and gone, we must not forget that this is the start of a new decade, as well. This past decade the faces of the NFL have been Peyton Manning, Tom Brady, Troy Polamalu, Brett Favre, Terrell Owens, Randy Moss, Ray Lewis and so on. As these players will be gone in the next few years due to retirement, there are many players aiming to take their place as household names. There are a lot of young budding stars out in the NFL today, but I am here to tell you about who I believe will be apart of the next All-Decade Team.
Quarterback: Sam Bradford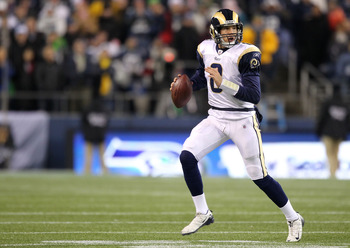 Sam Bradford
Otto Greule Jr/Getty Images
Confidence. Leadership. Throwing Accuracy. Determination. Athletic. Competitive.
What more could you want from a quarterback? Many people were critical of the Rams picking him ahead of Ndamukong Suh because of the injuries that he sustained in his college career, but it turned out very well for them. He took the dismal Rams offense and actually made them a force to be reckoned with very little receivers at his disposal. I believe he will win multiple championships by the end of his career. The one thing he needs to work on is consistency, but other then that he has proven to be a legitimate quarterback of the future.
Running Back: Jamaal Charles/ LeGarrette Blount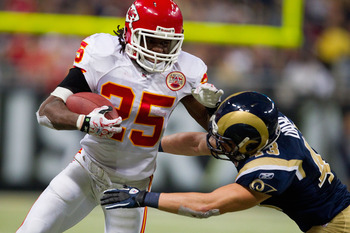 Jamaal Charles
Dilip Vishwanat/Getty Images
I had to put both of them on here as both completely shred defenses apart. They both proved doubters wrong this year as Jamaal Charles ran for one of the most impressive seasons in NFL history and LeGarrette Blount still rushed for 1,000 yards despite not receiving significant carries until the middle of the season. Charles posted an incredible 6.3 yards per carry second to only Jim Brown's record. Plus, he almost beat Foster for the rushing title despite being in a time share with fellow running back Thomas Jones.
Blount was suspended a year-and-a-half ago when he punched an opposing player. After the incident he was not drafted and went to the Titans training camp before he was cut. The Bucs took a chance on him and he has proved to be the best rookie running back.
Fullback: Jerome Felton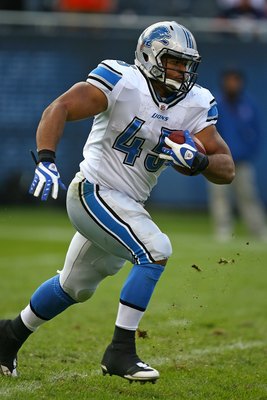 Jerome Felton
Jonathan Daniel/Getty Images
A fifth-round draft pick by the Detroit Lions, he has blossomed into a very serviceable fullback. With not much overwhelming young talent coming from this position, he seems to have the most potential in the league.
Wide Receivers: Calvin Johnson/DeSean Jackson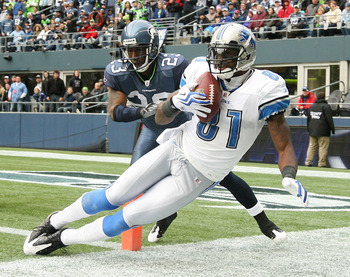 Calvin Johnson Jr.
Otto Greule Jr/Getty Images
Both of these players are limited by whom is throwing them the ball. I know many people believe that Micheal Vick is a great quarterback, but I believe he is a better "football player" then quarterback. He does not have superior accuracy and struggles with the deep ball, which happens to be Jackson's strongest part of his game. The former Cal wideout has tons of potential and phenomenal speed as you all know.
Calvin Johnson, also known as Megatron, is one of the most dominant wide receivers in the game despite having players like Shaun Hill and Drew Stanton throwing him the ball. He has insane size, great speed and when you add his great hands and amazing work ethic, he seems to be one of the best receivers in the league. He has hinted at leaving the Lions in the future and a potential suitor is the Chargers. I can't even imagine how productive a Rivers-to-Johnson connection would be.
Tight End: Jermichael Finley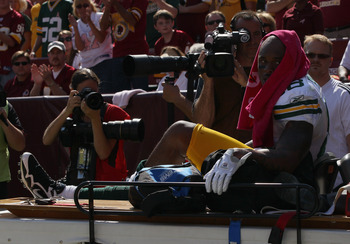 Jermichael Finley
Win McNamee/Getty Images
Before the latest catastrophic injury, Jermichael Finley was a rising force to be reckoned with. He has a skill set similar to Antonio Gates. He had phenomenal speed, was a great competitor and had one of the best QB's feeding him the ball. I'm not sure how he will bounce back, but you have to remember he is only 23 years old.
Tackles: Jake Long and Ryan Clady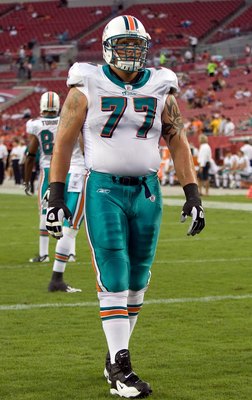 Jake Long
J. Meric/Getty Images
These two tackles are considered to be two of the best in the game. Jake Long plays for the Miami Dolphins and in his short career has been extremely effective. He played college football at Michigan and was drafted with the first overall pick of the 2008 NFL Draft. He has not disappointed and has plenty of potential, as he is only 25.
Ryan Clady played for Boise State and was the next tackle drafted in 2008 after Long. He, like Long, is a monster standing at 6'6" and weighing over 325 pounds. He is considered the best tackle in the game right now, although he has dealt with some injury problems. The scariest thing about Clady is his potential, as he is only 24.
Guards: Mike Iupati and Louis Vasquez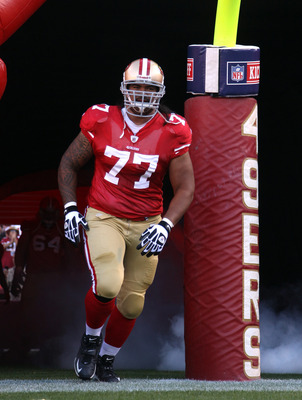 Mike Iupati
Ezra Shaw/Getty Images
Iupati and Vasquez have tons of talent to go with their amazing potential. Both are extremely strong. Vasquez benched 225 pounds 39 times, which was a best at the 2009 NFL combine. He was drafted in the third round out of Texas Tech and nobody believed he was going to blossom into the player he is today. However, he does struggle with consistency, but so do most young linemen.
Iupati is a complete beast. The 6'5", 331-pound guard was drafted with the 17th overall pick in last year's draft to the 49ers. He has not failed to disappoint, as he is already one of the best guards in the league. He does sometimes struggle in pass protection, but other than that he is a fantastic player.
Center: Maurkice Pouncey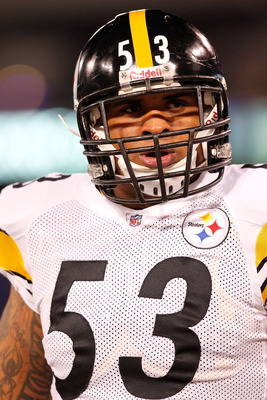 Maurkice Pouncey
Geoff Burke/Getty Images
Pouncey already made the Pro Bowl in just his first year! He comes from a winning environment in Florida and has a chance of winning his first Super Bowl ring this year. He is thought of as a leader and has great size for a center. By the end of his career, he could be the best center in NFL history.
The End!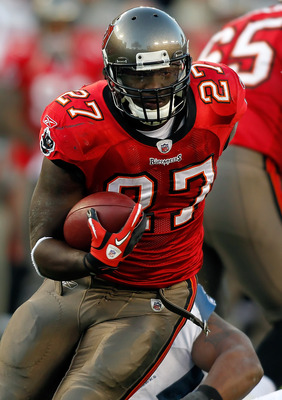 LeGarrette Blount
J. Meric/Getty Images
Thanks for reading!
Please check out The Future NFL All-Decade Team, Defensive Edition!!!!
Which you can find here: http://bleacherreport.com/articles/573671-bring-in-the-new-guys-the-future-nfl-all-decade-team-defensive-edition
If the hyperlink does not work you can find the article on my channel!!!
Thanks for reading!!
Keep Reading

Pittsburgh Steelers: Like this team?