Pittsburgh Steelers: Keys for Divisional Round Matchup with the Baltimore Ravens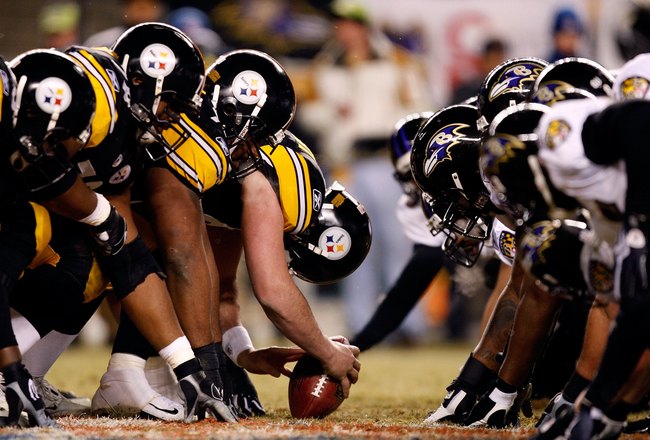 Streeter Lecka/Getty Images
Following the Baltimore Ravens 30-7 win over the Kansas City Chiefs, Ray Lewis put it best, "Here we go again."
For the third time this season, the Ravens and Steelers will meet in the most physical rivalry in the NFL, and this time, it will have a trip to the AFC Championship on the line.
The AFC North Rivals split the season series, with Baltimore winning the first meeting 17-14 and Pittsburgh winning the second meeting 13-10.
Expect the third meeting to be another nail-biter. Since Mike Tomlin took over the Steelers in 2007, seven of the nine meetings between the teams have been decided by less than a touchdown, with five decided by three points, including the past four regular season meetings.
According to James Farrior, these games are so close because the two teams mirror each other.
"They run the ball and they (have) a good defense—that's a good formula to have, especially in the playoffs. That's why our games are so close, we feel we do the same thing."
That is what makes the rivalry so great. Each team represents tough, hard-nosed, physical football that values defense.
"This is the NFL at its best," Ravens defensive end Terrell Suggs said. "This is what the world wants to see. They want to see Baltimore and Pittsburgh."
Count Tomlin as one of those who wants to see this game, but he also has his vision set on a larger goal.
"Of course we are excited about playing these guys as always," said Tomlin. "More than anything, we are excited about being in this single-elimination tournament and moving forward with our quest to be World Champs."
Underneath Coverage
Al Bello/Getty Images
It became evident very early in how the Ravens were attacking the Chiefs. With the lack of outside speed, Baltimore successfully was able to get the ball to its playmakers on screens and crosses. They were able to stretch these underneath passes into big gains.
Of particular concern will be Ray Rice, Todd Heap, and Anquan Boldin. The three combined for 20 of Baltimore's 25 completions and 214 of the 265 receiving yards. Heap had 10 receptions alone for 108 yards, and Rice and Boldin each had a touchdown reception
While Flacco did not go down field, his completions to these three targets averaged 10.7 yards, just enough to keep the chains moving. Against a tough defensive team like Pittsburgh, this is all that the Ravens will ask for.
Ike Taylor will match up against Boldin, and it is important that the Steelers keep him locked on Boldin all game. So far this season, Boldin has burned the Steelers for 186 yards and a touchdown on 12 receptions. In the previous two games, Boldin has badly abused Bryant McFadden and Ryan Clark.
Heap is an additional weapon for Baltimore, as he left the last game early with an injury. Coming off of his best game of the season, he will have to be a major focus of the Steelers defense, which has historically had trouble defending tight ends.
Against Pittsburgh, Rice is not always the feature back as they tend to use Willis McGahee a lot. But given his success in the receiving game last week, Rice will be an integral part of the Ravens short passing game on Saturday.
Both Rice and Heap will be used as quick outlets to combat the Steelers pass rush, and they will look to turn short completions into long gains.
For Pittsburgh, Troy Polamalu and Lawrence Timmons can be used interchangeably to defend these two receiving threats. They are the most athletic defenders for the Steelers and will be able to use their closing speed and sound tackling to prevent big gains.
Wallace To Warp Speed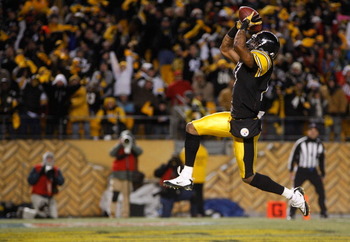 Jared Wickerham/Getty Images
Kansas City star receiver Dwayne Bowe did not have a reception against Baltimore last week. The same cannot happen to Mike Wallace if the Steelers are to win Saturday.
In the first game of the year, Wallace was held to only two receptions, but that was with Charlie Batch at quarterback. He was much more successful in the second game when he had five receptions for 76 yards.
Baltimore does not have a defender who can stay with Wallace one-on-one deep. Roethlisberger is clicking with Wallace right now and may be able to connect with him on a deep pass that could either set up or score a touchdown.
Even if the deep ball is defended well with safety help, Wallace has shown that he can break a quick slant into a touchdown. The elite speed possessed by Wallace allows him to pull away from defenders and leave them in his dust.
Wallace is on a roll right now too. Over the last five games of the season, he had 24 receptions for 465 yards and two touchdowns, including three straight 100-yard games to end the season. The last game at Cleveland, Wallace had his longest reception of the season on the Steelers first pass from scrimmage, 56 yards.
Roethlisberger and Wallace are clicking at the exact right time that the Steelers need them to. A big play from a speedy receiver may be just enough to break a close game wide open; well, as wide open that it can be for a Steelers-Ravens slug fest.
The Blindside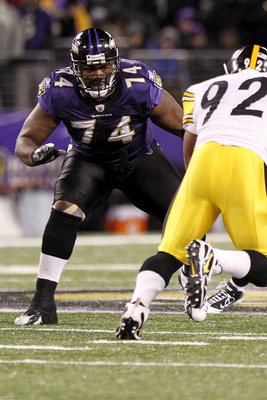 Geoff Burke/Getty Images
The Steelers are more than prepared for their match up with the Ravens, and they know exactly what to expect come Saturday.
"We are familiar with them, they are familiar with us," said Tomlin. "Not much has changed since the last time we played them."
That includes starting left tackle Jonathan Scott.
Terrell Suggs had a field day with Scott in the last outing, accumulating five tackles and one-and-a-half sacks. He would have had another sack if not for Roethlisberger's strength to escape Suggs' grasp to throw the ball away.
Pittsburgh will have to overload the left side of their line to give Scott the help he needs to defend against one of the top pass rushers in the league.
The Steelers have one of the best on their roster as well.
James Harrison faces Michael Oher of Baltimore. Oher had a very good rookie season last year at right tackle, but has not had the same success in his first year on the left side.
Oher is a talented and massive tackle that Harrison gets to face, and he is also one that will look to stop Harrison by any means necessary.
Harrison may look to exploit the second year tackle to try to draw a holding call. The crowd could also be a factor, as Oher often has a very quick release, so quick that it looks like it should be called for a false start.
Oher may be jumping even quicker on Saturday because he will have to face a determined Harrison, who has fresh legs after a week off.
Spotlight Player: Offense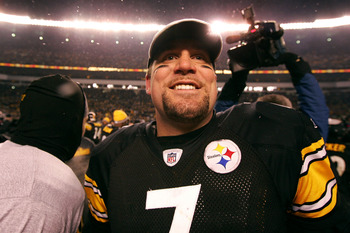 Al Bello/Getty Images
It is quite simple for the Steelers. Their playoff success will hinge on Ben Roethlisberger.
Roethlisberger has not only been very successful against Baltimore, but he also carries an 8-2 record in the playoffs. He has the knack to make the big play when needed.
Whether it is making a deep pass to Wallace or escaping a potential sack, Roethlisberger is one of the best in the game and one of the most clutch playoff performers in the league.
There are not many better competitors in the league, and the Steelers are glad to have Roethlisberger on his side.
Spotlight Player: Defense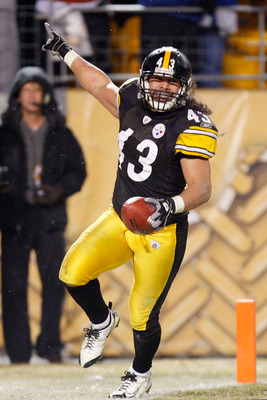 Gregory Shamus/Getty Images
As though there was any doubt, Troy Polamalu is the Steelers key player on defense.
Every time the Steelers and Raven, play the talk is always "Who is the better safety? Troy Polamalu or Ed Reed?"
Each safety is outstanding in their own right, but Polamalu has made two game-changing plays in recent meetings.
In the 2008 AFC Championship game, Polamalu made an interception in which he returned an interception for a touchdown to put the game out of reach. This year, he forced Flacco to fumble the ball, which set up the Steelers game-winning touchdown which helped them win the AFC North.
After battling an Achilles' injury at the end of the season, Polamalu came back in a big way in the last game of the season against Cleveland, where he made his career-best seventh interception and Pittsburgh will look for at least one big play this weekend against Flacco and the Ravens.
Game Notes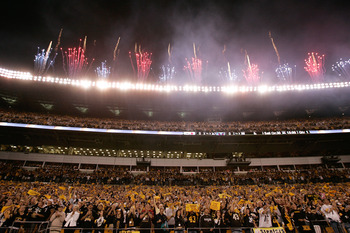 Scott Boehm/Getty Images
Pittsburgh is 2-0 against Baltimore in the playoffs. They last met in the 2008 AFC Championship game with the Steelers winning 23-14.
The Steelers are 5-3 in playoff games at Heinz Field, including 3-0 in the Divisional round.
Baltimore is 4-2 in the playoffs with Joe Flacco at quarterback. All four wins have been won on the road.
Follow me on Twitter.
Keep Reading

Pittsburgh Steelers: Like this team?