Buffalo Bills: An Early Look at the Team's Top Prospects in the 2011 NFL Draft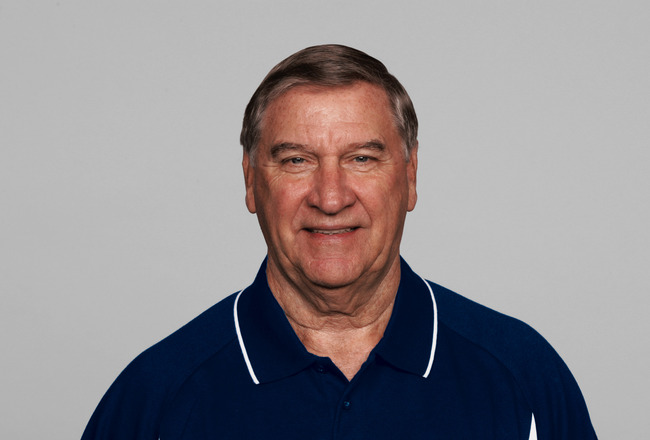 Bills General Manager Buddy Nix needs to hit a Home Run with this year's 1st round pick
NFL Photos/Getty Images /Getty Images
The 2011 Draft is still about three and a half months away, but already the buzz is building about who belongs at the top of the NFL's annual college job fair. With a very entertaining National Championship game (and college season) now behind us, it serves as a nice time to take a look at what the Buffalo Bills need to start thinking about in terms of the prospects who have risen (and will rise) to the top.
With that in mind, I present to you the five best options for the Bills as I see them today, if they should still be there when the #3 pick comes up. With Andrew Luck off the board, it is hard to say just who will be gone when the Bills go on the clock, so at this point we'll assume that everyone is fair game.
Da'Quan Bowers, DE Clemson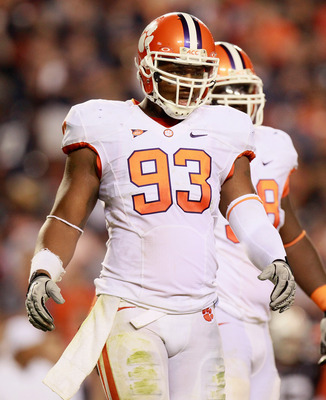 Kevin C. Cox/Getty Images
The explosive Bowers just finished a very impressive season with the Tigers, earning ACC Defensive Player of the Year honors. Bowers has been highly touted since his high school playing days and has the versatility to play multiple positions, although he is probably best suited as a 4-3 end in the NFL. Comparisons to Bruce Smith will surely have some Bills fans salivating at the prospect of him falling into their laps at #3.
How he fits in with the Bills:
Bowers would line up at end no matter what set the Bills were in. He would draw double teams continuously and allow for other players along the line to be more effective making plays in the backfield. He also would take pressure off the OLB playing behind him, allowing for greater pass coverage responsibilities and run coverage, something the Bills were pretty lacking in last year.
A.J. Green, WR Georgia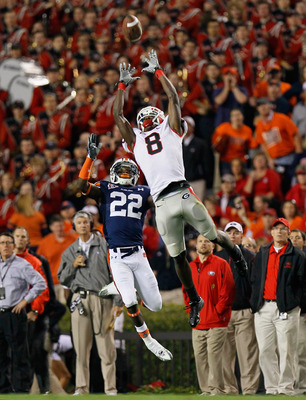 Kevin C. Cox/Getty Images
There are some very good receivers in the NFL these days, but I have little doubt that Green will be among the very best in the coming years. He has all the physical tools that make him an elite prospect - great size and solid speed to go with top end athleticism. But beyond that, he has shown the necessary knack to be a "wise beyond his years" route runner.
How he fits in with the Bills:
He would instantly be the Bills number one receiver, pushing Johnson to the inside and making Evans possibly expendable. The effect he would have on opposing defenses would be immediate, and it would give a QB with the smarts of Ryan Fitzpatrick the wrinkle he was missing this last season to make the whole system effective. Add in an offensive-minded coach like Chan Gailey and you have a recipe for immediate success and huge dividends.
Marcell Dareus, DT/DE Alabama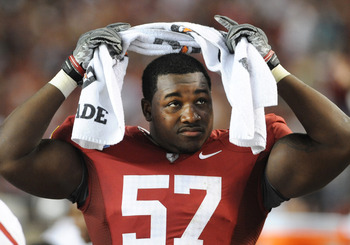 Al Messerschmidt/Getty Images
Talk about a feel good story... Dareus has overcome more tragedy in his young life than most of us would endue in our entire lives. After overcoming the death of both his father and a coach with whom he lived, Dareus has become one of the most dominant defensive linemen in college football today, earning the Defensive MVP of the 2010 National Championship game. He has a very complete all-around game for a defensive lineman, with the only concern about him being whether he can hold up as an every down player.
How he fits in with the Bills:
His versatility would be a plus for a Bills defense in transition and looking at a possible hybrid situation this season, as he could be on the field in both 4-3 and 3-4 sets. Lining up next to Kyle Williams would give the Bills solid run stopping and pass rushing from the defensive interior and draw attention to give the ends more freedom to attack the outside. It would also make life easier for the MLB, giving him the chance to play with greater range in the second level. With Dareus at end in a 3-4, the Bills would have a long-term replacement for Marcus Stroud and a perfect compliment to Dwan Edwards.
Nick Fairley, DT Auburn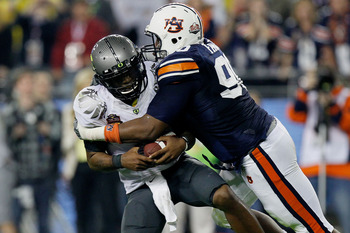 Kevin C. Cox/Getty Images
On talent alone, Fairley is in contention for the #1 overall pick. He has been compared to Ndamukong Suh, and to some extent the comparison is with merit. Anyone who watched him against Oregon saw an interior lineman who can be a huge difference maker. The 2010 Lombardi Award winner finds seams in the opposing line and wreaks havoc in the backfield. The thing that keeps him from the top of my board is his sometimes dirty play. You want your guys to have grit and play tough, but some of the things Fairley has done throughout the year go beyond that.
How he fits in with the Bills:
Fairley would play beside Kyle Williams and give Buffalo a tough 1-2 punch on the inside of the defensive line, much like Dareus would. In fact, Fairley would probably be more effective in this sense. It'll be interesting to see if defensive coordinators try and use him on the end as well. He has a big frame and will probably add a little more weight to his frame, so end may not be a fit long-term.
Patrick Peterson, CB LSU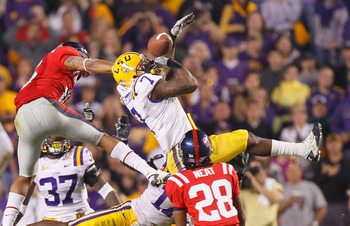 Kevin C. Cox/Getty Images
Peterson defies the physical characteristics of the typical top end CB prospect, standing 6'1" and weighing over 200 pounds. However, his unique set of coverage skills make him a top 5 worthy talent. His recently completed junior season saw a wave of accolades come his way, including the award as the 2010 SEC Defensive Player of the Year, no small task considering the talent on SEC defensive rosters this year. His ball hawking skills and size will allow him to go head to head with the elite receivers in the NFL right away.
How he fits in with the Bills:
The Bills corners, thought to be a strength heading into the season, turned out to be a little less than ideal. Although not a weakness, a player of Peterson's stature would undoubtedly improve our lot. The problem is that the Bills just invested a high first round pick in a corner three years ago with Leodis McKelvin. If the Bills decided to go with Peterson, he would give them a pair of young solid corners for the foreseeable future. It would also probably mean the end of Terrence McGhee's career as a Buffalo Bill.
Keep Reading

Buffalo Bills: Like this team?