NFL Playoffs Divisional Round: Who Wins And Why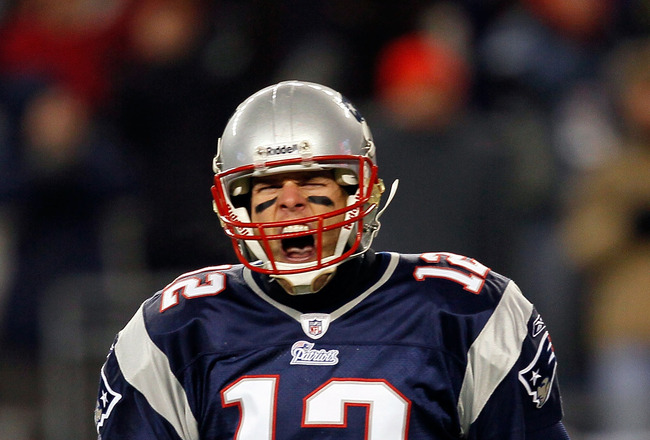 Jim Rogash/Getty Images
After a great opening wild-card act the NFL Playoffs move into the second round this weekend with four good looking games. All four teams met during the season, including two division rivals.
There are story lines aplenty including Rex Ryan and his mouth, the up-start Seattle Seahawks and both top seeds taking the field for the first time.
In the AFC the Jets' circus goes back to Foxboro to try and avenge their humiliating 45-3 loss to Tom Brady and the top-seeded Patriots. The Steelers and Ravens renew their rivalry in frigid Pittsburgh in a game that will be as physical as they come.
Over in the NFC Green Bay will try to continue their roll in Atlanta against Matt Ryan and the number one seeded Falcons. In Chicago the surprising Seahawks will try to beat the Bears for a second time this season.
Here is your guide to who is going to win and why.
Baltimore Ravens at Pittsburgh Steelers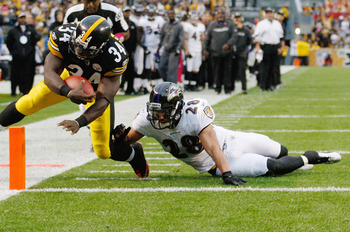 Jared Wickerham/Getty Images
The Ravens dominated Kansas City last week and earned another trip to their favorite city to play the Steelers. This will be the third time these AFC Rivals have met this season. Historically these two teams play tough, physical low scoring games and that's what will happen Saturday.
The Ravens have proved themselves to be road warriors. They have experience playing and winning on the road in the playoffs and beat Pittsburgh in Heinz Field earlier this season on a late Joe Flacco touchdown pass. They like to run the ball and hit you in the mouth on defense. Running the ball against the Steelers is always easier said then done but if the Ravens can get some production out of Ray Rice it should free up some play action chances for Flacco.
The Steelers should be confident going into this game. Even though the Ravens beat them in week four, they played that game without Ben Roethlisberger. Big Ben got his revenge later in the season leading the Steelers to a victory in Baltimore. In this game the Steelers will try to pound the Ravens defense with running back Rashard Mendenhall and use their blitz scheme to disrupt Joe Flacco. If they can get him to force some throws the Steelers should be in good shape.
Who will win? This game will not be for the faint of heart. Both of these teams are built the same and the game will be won at the line of scrimmage. The Ravens have proved they can win on the road in the playoffs and will here. They will get just enough out of Rice and Flacco will manage the game perfectly to a win.
Ravens 17 Steelers 14
Green Bay Packers at Atlanta Falcons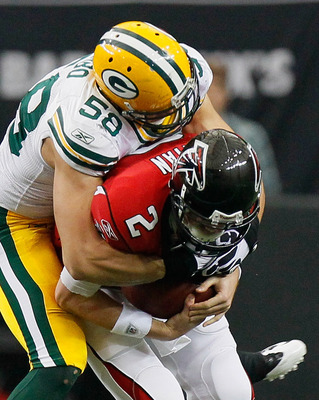 Kevin C. Cox/Getty Images
Green Bay heads to Atlanta Saturday night in a game that may feature the two best teams in the NFC. The Falcons are well rested, and they'll need to be as the Packers were impressive in their win last week.
Injuries hampered Green Bay all year long and they ended up having to crawl their way into the playoffs. They are here now and are dangerous. Sunday they showed that they could run the ball with unknown James Stark running for 123 yards in the win. If they can duplicate that kind of ground attack Saturday night the Falcons secondary could be in for a long day as Aaron Rodgers will have a field day.
The Falcons don't beat you with big plays. They beat you by maintaining the ball, working it down the field and punching it in. They can bruise you on the ground with Michael Turner or in the air with Roddy White. When they get in the red zone watch for future Hall of Fame tight end Tony Gonzalez to be Ryan's main target. They play at home where Matt Ryan is near perfect and that alone might push them over the edge.
Who will win? Green Bay with a running game is a scary proposition. However, Atlanta will keep the Packers high-powered offense off the field by controlling the clock and riding Turner to victory. The Packers will fall behind and have to abandon the run for the pass and that will ultimately be their downfall.
Falcons 24 Packers 17
Seattle Seahawks at Chicago Bears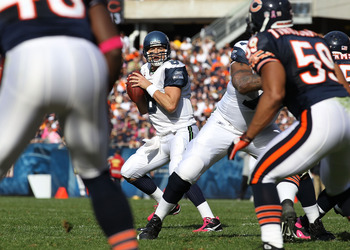 Jonathan Daniel/Getty Images
The Seahawks are the team that shouldn't and couldn't win and yet shocked the world with their upset of the Saints in Seattle last week. Can they ride that momentum to a win against the Bears in chilly Chicago?
The Seahawks beat the Bears 23-20 earlier this season in a game that they sacked Jay Cutler six times and kept the Bears from converting any third downs. They will need a defensive effort like that if they expect to have a chance to win. The Seahawks have been able to run the ball in their last two games but haven't faced a defense as tough as Chicago's in a while. They will need to get production out of Marshawn Lynch to take pressure off Matt Hasselbeck.
In Chicago, as it's been for years, the defense is their key to victory. They are stout against the run and if they can stop Lynch they will be able to pressure Hasselbeck into some mistakes. The Seahawks are weak against the run and the Bears should get a good game out of Matt Forte in this one. Jay Cutler continues to be a wild card when it comes to the passing game and can not make mistakes that allow Seattle a short field.
Who will win? Seattle is again a huge underdog. They showed they can win when it matters the last two weeks but their magical ride ends here. The Bears will stuff the run and hit Hasselbeck all day and the Bears will not be challenged by the Seahawks defense. It's been a strange and exciting run for the Seahawks who can hold their heads high.
Bears 33 Seahawks 20
New York Jets at New England Patriots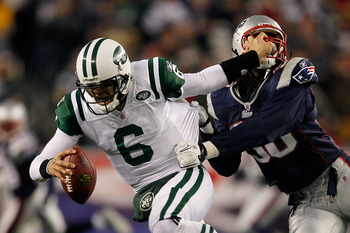 Jim Rogash/Getty Images
The last time the Jets played in Foxboro Stadium they were humiliated 45-3 in in front of the whole world on Monday Night Football. As they prepare to take on the New England Patriots for the third time this year you can bet that Rex Ryan will use that as motivation.
The Jets hang their hat on a defense that will attack you from all angles. In that Monday Night game they could not pressure Tom Brady and didn't have any answers for the Patriots high powered offense. They will need to devise a better game plan this week if they hope to hang in the game. One way to help their defense will be to get their running game going. If the Jets want to win they will need to get Ladainian Tomlinson and Shonn Greene going which will keep Brady off the field.
For New England its simple. Just keep doing what you've been doing. They will ride Tom Brady who has been as close to perfect as you can get this season. The Patriots don't have any other big names on offense but Brady is one of those players that make everyone around him better. He gets great protection and has a good chemistry with Wes Welker and Deion Branch making them tough to stop.
Who will win? Rex Ryan has been talking smack about Tom Brady for two weeks and now is his chance to walk the talk. Unfortunately for Ryan the Patriots will be too much to handle for his Jets. Tom Brady isn't intimidated by Ryan or the Jets and will pick them apart again.
Patriots 33 Jets 10
Keep Reading