Cincinnati Bengals: 5 Reasons Why the Bengals Should Sign Nnamdi Asomugha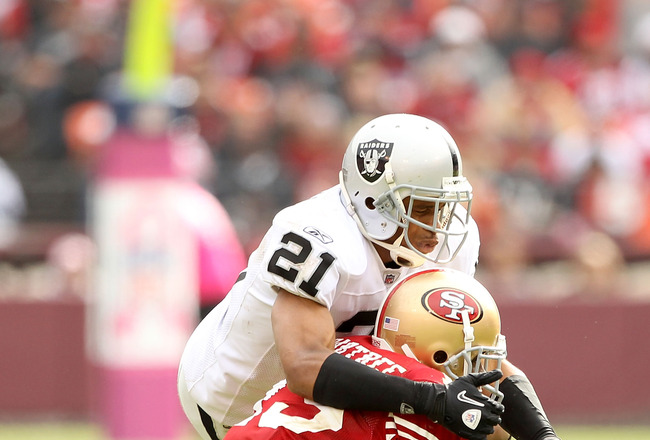 Nnamdi Asomugha
Ezra Shaw/Getty Images
As most NFL fans know by now, the Oakland Raiders have voided Nnamdi Asomugha's contract. The Raiders cannot use the franchise tag to keep him. Asomugha is now free to go to any NFL team.

Asomugha went to the University of California and was the 31st player taken in the 2003 NFL Draft.

He became a starter for the Raiders in 2005 when he had 60 tackles 14 passes broken up.

In 2006, Asomugha ended up with 50 tackles, eight picks and 19 passes broken up.

In 2007, he only had one interception but opposing quarterbacks avoided him like the plague. Throughout the year, they tested him only 31 times with only 10 completions to show for it. This turned out to be a trend. In 2008, 2009 and 2010 opposing quarterbacks threw his way 27 times completing only eight, 13 and 10 passes respectively.

Asomugha is a shutdown cornerback in every sense of the word.
1. Nnamdi Asomugha > Jonathan Joseph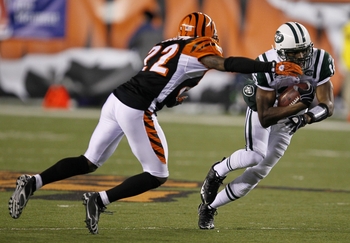 Jonathan Joseph
Jonathan Daniel/Getty Images
Jonathan Joseph is no slouch. He has been a very good player for the Bengals. On top of that, Joseph seemingly wants to stay with the team after a horrible season.
However, Joseph has been injured a lot. He has only played two seasons healthy. In 2010, he played 12 games but was nicked up for many of them. Still, Joseph is a hard worker who battles through injuries.
Joseph is a free agent. The Bengals could put the franchise tag on Joseph. If they want to sign him, he will likely end up with similar money to Dunta Robinson of the Atlanta Falcons.
In March of 2010, Robinson signed a six-year, $57 million contract with $25.5 million guaranteed. Asomugha will end up with a deal that is similar to the one Darrelle Revis signed in September when he was given a four-year, $46 million contract with $32.5 million guaranteed.
For that kind of money, the Bengals would be wise to go the extra millions and get Asomugha.
2. AFC North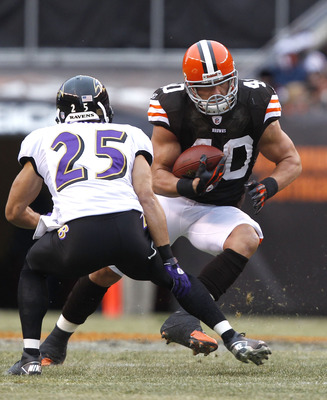 Peyton Hillis
Matt Sullivan/Getty Images
The AFC North is not a division known for their high-power passing games. Indeed, the Baltimore Ravens, Pittsburgh Steelers and Cleveland Browns rank 24th, 27th and 28th in passing attempts. On the surface, some people may think that the Bengals should not concern themselves with a shutdown cornerback like Nnamdi Asomugha.
However, a cornerback tandem of Leon Hall and Nnamdi Asomugha (along with Pacman Jones) would require limited help from the safeties. A cornerback like Asomugha can shut down an elite wide receiver with minimal help up top.
That would allow the Bengals' safeties to give help to Hall or Jones if needed, cover a pass-catching running back like Ray Rice, cover the tight end which has always been a problem for them, load up the box to stop the run or blitz on passing downs.
3. Pittsburgh Steelers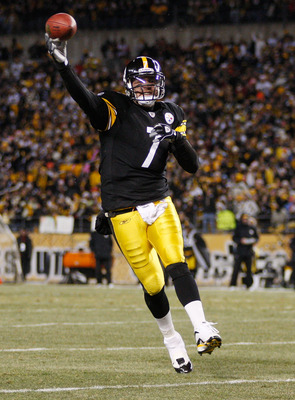 Ben Rothlisberger
Jared Wickerham/Getty Images
The Steelers don't throw the ball as much as other teams. When they do throw, they pick up yards in big chunks. Last season, the Steelers were fifth in the league in net yards per pass attempt.
The road to the AFC North title goes through Pittsburgh. The Bengals need their cornerbacks to shutdown the Steeler's receivers so they can get to quarterback Ben Roethlisberger. Asomugha would take care of Mike Wallace the same way he shut down Reggie Wayne.
4. Commitment to Winning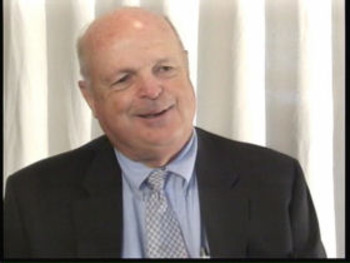 Mike Brown
Let's face it, the Bengals have not shown the fans that they are committed to putting a winning team on the field. They re-hired Marvin Lewis and all of his coaches after a four-win season. In the press conference, they gave no reason to believe that 2011 will be any different to 2010.
The Bengals need a bold move to show that they want to win. Instead of whining to the county about getting a new unnecessary scoreboard, maybe they should try signing one of the top defensive players in the game like Asomugha. This would prove to the NFL that they want a Super Bowl victory.
There will surely be a salary cap with any new CBA. Not many teams will be able to afford Asomugha. The Bengals will be one of those teams that can.
5. Ticket Sales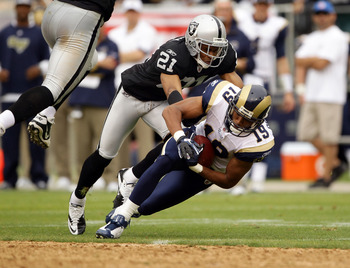 Nnamdi Asomugha
Ezra Shaw/Getty Images
Mike Brown was right when he said this about selling out Paul Brown Stadium: "You do it one way: you go out on the field and win ballgames, and when you do that, they come. That's what we have to do. We can spiel all we want—maybe that will help some, but there's only one real answer, and that's to win on the field."
The Bengals have always been tight with money. When they do spend it, it is wasted like this or this.
Unlike those busts, Nnamdi Asomugha will make an immediate impact on the win column which will affect the Bengals' wallets.
Keep Reading

Cincinnati Bengals: Like this team?