2011 NFL Mock Draft: Cam Newton Lands in Top 3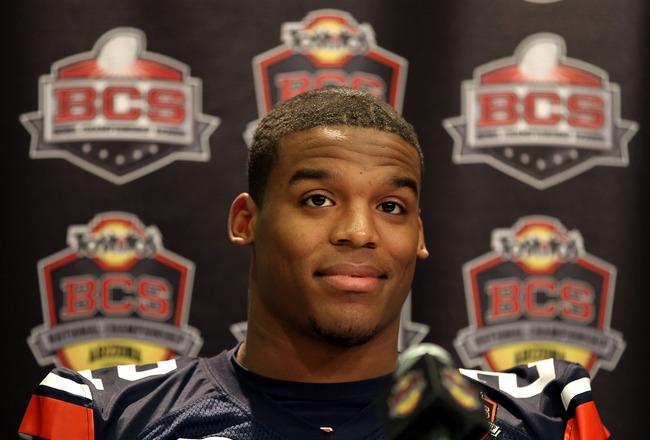 2011 NFL Draft Prospect Cam Newton.
Christian Petersen/Getty Images
2011 NFL Mock Drafts have been under massive reorganization mode ever since Andrew Luck pulled his name out of the race. Now with Cam Newton and Nick Fairley heading into the biggest game of their lives, mock drafts could be headed towards their second massive shift.
(Click For My Most Recent 2011 NFL Mock Draft)
We're already getting a solid list of underclassmen in the draft, including A.J. Green and Mark Ingram. Prospects still have a little over a week to declare, and from there we will have our first real look at how the 2011 NFL Draft could shake out.
This mock takes all of the recent rumors and moves into consideration. Of course, when it comes to rumors, you have to determine what's for real and what's a bluff.
This mock has also been adjusted to account for this weekend's NFL playoff action. Seattle moved up four picks, while the Saints are picking much earlier than originally expected.
Follow me on Twitter @JohnLorge
1. Carolina Panthers: Nick Fairley, DT, Auburn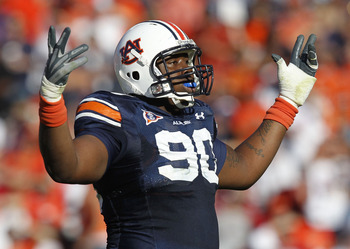 Mike Zarrilli/Getty Images
Carolina has a good but tough decision to make here. Going with any of the top defensive prospects would upgrade their lineup.
The Panthers also need help at WR, which could make A.J. Green the pick. Some are also calling for a new QB, and we don't even know what their new coach will want.
Fairley is the best pick to make the Panthers a better team in 2011. The ends are much better than their tackles, and Fairley will start from day one and bring a new attitude to the Panthers defense.
2. Denver Broncos: Patrick Peterson, CB, LSU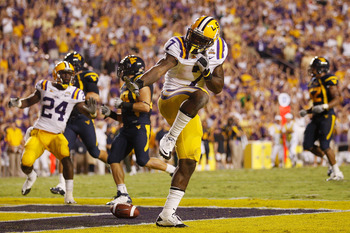 Chris Graythen/Getty Images
Although Champ Bailey has said he would be happy sticking in Denver, those are sentiments we've heard many times before from free agents with one foot out the door.
Peterson is going to be tough for any team to pass on. He looks like a legit shutdown corner, and he could also be a Pro Bowl-caliber safety.
We could see the top two picks swapped, and I'd expect Denver to pick either prospect over Da'Quan Bowers.
If Bailey stays in Denver, all the better.
3. Buffalo Bills: Cam Newton, QB, Auburn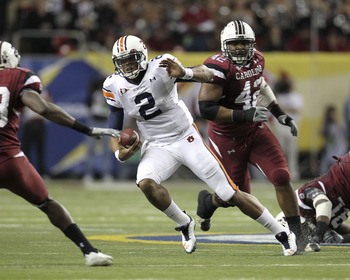 Mike Zarrilli/Getty Images
The BCS National Championship Game will be the biggest shake-up to the draft since Andrew Luck heading back to school.
If Newton puts on a show, leading his team to a win where he shows his passing skills are equally as impressive as his rushing, he could even move onto Carolina's radar.
If Newton flops, or even if he just struggles in the passing game, there is a chance he could fall out of the first round.
While the verdict is still out, Newton looks like a great NFL QB prospect heading into the championship. He's a stellar pick for the Bills; the attention he demands from defenses will open things up for his playmaker teammates.
4. Cincinnati Bengals: Da'Quan Bowers, DE, Clemson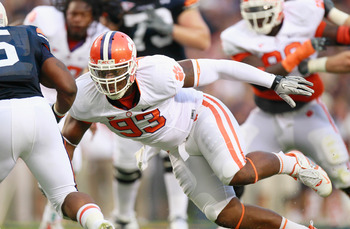 Kevin C. Cox/Getty Images
Marvin Lewis is back in Cincy; it looks like his top two WRs are out the door, however. This could mean A.J. Green is moving up the board, but the Bengals' young receivers played very well in the final two weeks of the season.
The Bengals have brought in some boom-bust DEs the past few years like Carlos Dunlap and Michael Johnson, but both look like rotational guys. Antwan Odom is good when healthy, which is rare.
If the Bengals aren't targeting a QB, then Bowers should be their selection here.
5. Arizona Cardinals: Blaine Gabbert, QB, Missouri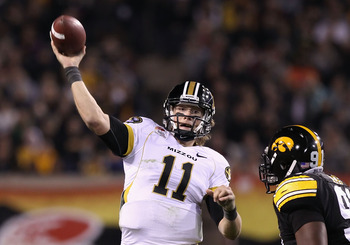 Christian Petersen/Getty Images
It doesn't seem like Arizona is too far away from the playoffs in the NFC West, and instead of going with a rookie QB, I think bringing in Donovan McNabb and drafting A.J. Green would be the best option. The rumors are that it's not happening as of now.
Either Blaine "Yo Gabba" Gabbert or Ryan Mallett is a great pick if you're going the rookie QB route.
Currently, Gabbert is getting the positive NFL draft vibes, but there is still plenty of competition to be had. He's big, has a live arm and showed progression from his sophomore to junior seasons.
6. Cleveland Browns: A.J. Green, WR, Georgia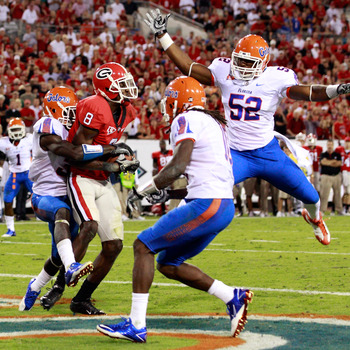 Sam Greenwood/Getty Images
With Eric Mangini out, it increases the chances Mike Holmgren will take a WR in the first round to aid in the development of Colt McCoy.
Green is being called the best WR prospect since Calvin Johnson. Some are calling him the best WR prospect ever.
It feels like there will be a lot of trades this year, and Green is a player someone could move up to get because of his overwhelming talent.
7. San Francisco 49ers: Ryan Mallett, QB, Arkansas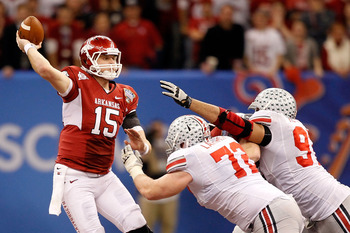 Matthew Stockman/Getty Images
There is still a lot of mining to do regarding Jim Harbaugh and his draft strategy, but instead of dealing with the bag of damaged goods at QB in San Francisco, starting fresh seems like a good idea.
Harbaugh is a great QB evaluator and a great QB coach. There is no questioning Mallett has talent, but does he have everything Harbaugh is looking for?
Scouts are really picking Mallett's game apart. They say he can't move, can't throw under pressure and has a bad attitude.
Give him some guys who can catch the ball and the scouts might have a change of heart.
8. Tennessee Titans: Stephen Paea, DT, Oregon State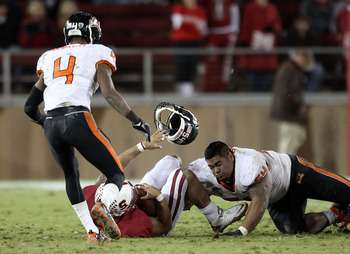 Ezra Shaw/Getty Images
This pick might surprise some of you, but Tyson Alualu in the top 10 sure surprised the hell out of me last year.
Paea is a legit top-10 prospect; he is a stout run-stuffer but more than a clogger. The big Beaver can get behind the LOS and do damage.
The Titans could use help at every level of their defense, and this pick will finally fill the hole that was created two years ago when Albert Haynesworth departed.
9. Dallas Cowboys: Marcell Dareus, DT, Alabama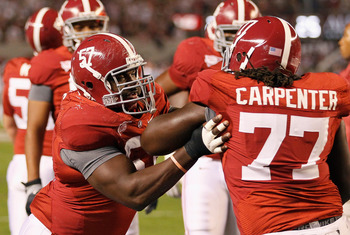 Kevin C. Cox/Getty Images
Some are calling Dareus a top-three prospect because of his size, strength and pedigree. I love this pick for Dallas, but I feel the bottom of the top 10 is a better place to start considering him.
The problem with Dareus is he doesn't always let his presence on the field be known. Maybe he's lazy, or maybe his talented teammates are making the plays instead.
When he's on, few have been able to stop him.
Dareus is a great fit anywhere in Dallas' 3-4 front, and he adds more value to Dallas than Prince Amukamara would.
10. Washington Redskins: Jake Locker, QB, Washington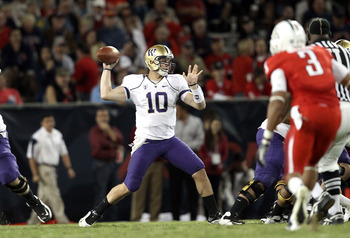 Christian Petersen/Getty Images
As a developmental pick, this feels high, but we've seen Philip Rivers and Carson Palmer picked higher only to learn as backups.
Decision-making and accuracy are the only two concerns with Locker—they just happen to be the two most important things for a QB.
Mike Shanahan has a good track record when it comes to QB development, so Locker is in good hands.
The 'Skins have plenty of needs on both sides of the ball, though, so if winning now is really important, they will go BPA (best player available), possibly landing Julio Jones or Justin Blackmon.
11. Houston Texans: Robert Quinn, DE, North Carolina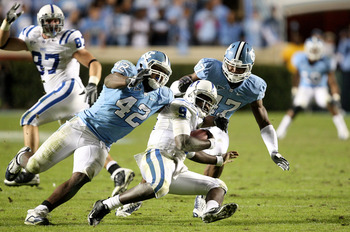 Streeter Lecka/Getty Images
Entering the season, Quinn was supposed to be the NFL's next great sack artist. That may still be true, but a year away from the game has to hurt his skills and draft stock.
Houston is in a place where it can make a high-risk, high-reward pick. If Gary Kubiak doesn't win soon, his days are numbered.
Wade Phillips will start bringing 3-4 looks to the Texans, and Quinn has the ideal build to play as a 3-4 rusher. Sending him at the QB from the same side as Mario Williams would be ruthless.
12. Minnesota Vikings: Prince Amukamara, CB, Nebraska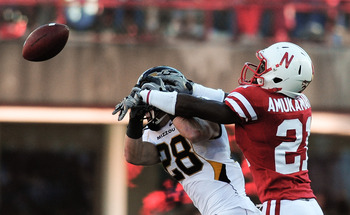 Eric Francis/Getty Images
The Vikings may get their pick in on time if Amukamara is still on the board (is that joke still relevant?).
Prince has everything teams look for in a corner prospect. He is over six feet tall, can run with speedy receivers and aggressively plays the run.
There is still a premium on corners in the NFL, which means Amukamara could be long gone here. I don't see the Vikings rolling with a rookie QB, so an LB, CB or DT would be the pick if he's gone.
13. Detroit Lions: Janoris Jenkins, CB, Florida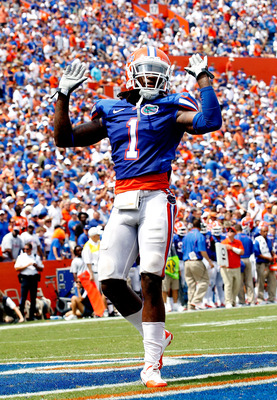 Sam Greenwood/Getty Images
Note: Since publishing, Jenkins has said he will return to Florida.
Chris Houston said he's going to test the FA market this offseason, potentially increasing Detroit's already high demand for a corner.
We know Detroit wants to go BPA, and Jenkins grades out towards the top of the remaining board.
If the Lions aren't sold on Jenkins or another CB, Akeem Ayers would be a great selection at LB, and there are plenty of good DEs on the board.
Many fans want to see Detroit take a tackle, but they need to keep adding elite talent to their defense.
14. St. Louis Rams: Justin Blackmon, WR, Oklahoma State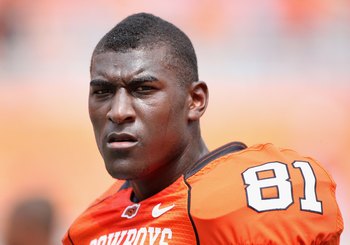 Christian Petersen/Getty Images
It was a nice bounce-back season for the Rams, but the rebuilding process isn't nearly over. Luckily the talent on the board meets STL's biggest need.
Picking between Julio Jones and Blackmon isn't easy. Jones is bigger, and most are more familiar with him. Much like the Rams' rebuilding process, the debate on the two WRs is also far from over.
Blackmon posted one of the most successful WR seasons ever this year. His 20 TDs in 2010 are more than Jones has in his career.
In order for Blackmon to unseat Jones, he needs to outshine him at the combine by posting a significantly faster 40 and running cleaner routes.
Blackmon is a guy Sam Bradford can force-feed the ball, and in recent history the Rams have been leaning towards Big 12 (and Big Ten) prospects over SEC ones.
15. Miami Dolphins: Mike Pouncey, G/C, Florida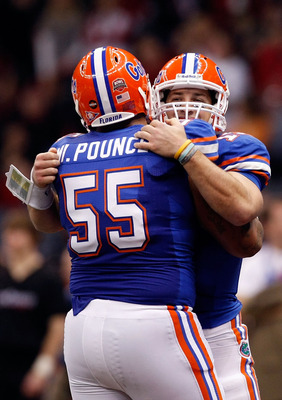 Kevin C. Cox/Getty Images
Miami could be losing both of its backs to free agency. Picking a back makes sense, but if the interior OL remains the same, it won't matter who is running the ball for Miami.
Pouncey has a very high floor. He might not be a Pro Bowler as a rookie like his brother, but he is ready to start at guard or center—and could reach that All-Pro status one day.
Without a second-round pick, the Dolphins may have to get their guy in the third. Signing Michael Bush would be the best option in my opinion, though.
16. Jacksonville Jaguars: Rahim Moore, S, UCLA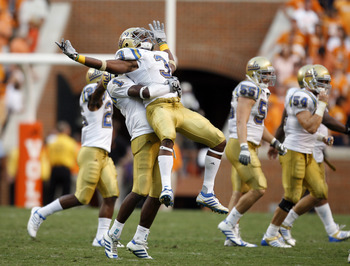 Joe Murphy/Getty Images
I've had Moore mocked to the Jags for a while now, so I'm running out of creative ways to say their secondary is terrible.
Most mockers have Jax going for a DE with all of the talent on the board, and that could be the case. Moore is the only legit first-round safety prospect at this time, though, which could heighten his demand.
Keep an eye on who impresses at the Senior Bowl, too. It worked for the Jags' pick last year.
17. New England Patriots: Ryan Kerrigan, DE, Purdue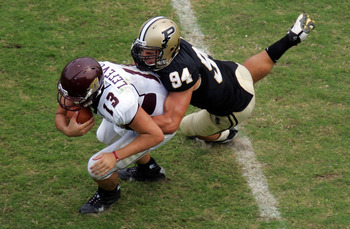 Ronald Martinez/Getty Images
Ourlads Scouting Services has Ryan Kerrigan as their top senior prospect in the draft. There is a strong chance the Pats will try to trade down, but if they can get elite talent at a position they need, New England may stick and pick.
Kerrigan has been consistently productive at Purdue. He would be a 3-4 OLB for the Pats and has a size/skill combo that would allow him to play every down.
The way this draft has mocked out the Pats would have their pick of OTs here, which is also a high possibility.
18. San Diego Chargers: Julio Jones, WR, Alabama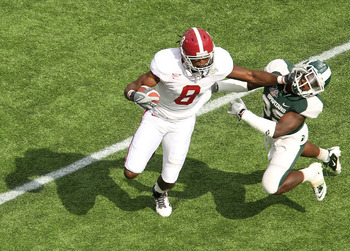 Mike Ehrmann/Getty Images
This would be the steal of the first round. Julio Jones is a legit top-10 talent, and it's more likely someone would have traded up to get him by now than him sliding this far.
The two biggest needs being mocked for SD are 3-4 OLB and OT. Receiver is a much bigger need than is being talked about, though.
We don't know if Vincent Jackson will be returning, and even if he is, the Chargers' receivers (including Antonio Gates) are injury-prone to the max.
Getting Jones would save SD money and upgrade their roster at the same time.
19. New York Giants: Akeem Ayers, LB, UCLA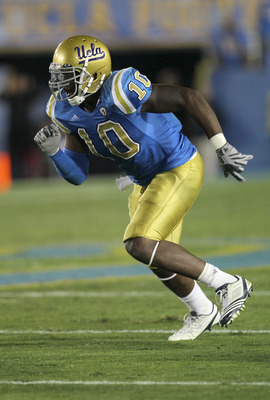 Stephen Dunn/Getty Images
The perfect pick for New York.
Ayers is a huge linebacker with pass rush potential.
The Giants don't have any glaring needs, so they can take the best player on their board. In this case that happens to be the best player on the general big board as well.
We tend to underrate linebackers in the draft, considering their production, and Ayers reminds me a lot of Brian Cushing as a prospect.
20. Tampa Bay Bucs: J.J. Watt, DE, Wisconsin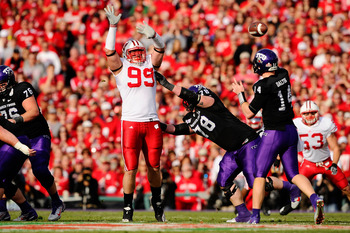 Kevork Djansezian/Getty Images
All of the defensive end talent in this draft has to have Tampa very happy.
The Bucs DL was better than a year ago but they were still at the bottom of the NFL in rush D.
Watt is the biggest end prospect in the draft. He has the girth to dominate the run game, and his power and motor make him tough to block for four quarters in the passing game.
If Ayers were still on the board, Tampa does need help at LB. Von Miller could be in play too, but Watt is a terrific fit for their 4-3 scheme.
21. Kansas City Chiefs: Mark Ingram, RB, Alabama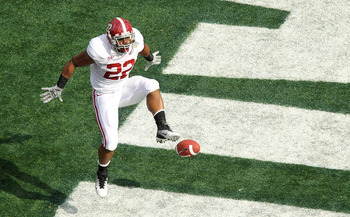 Mike Ehrmann/Getty Images
Thomas Jones isn't getting it done. KC has the lightning, but their thunder is silent.
Yes, Jamaal Charles deserves to be treated like a No. 1 back. The Chiefs want to run the ball well over 500 times, though, which means two backs earn a serious workload.
Keeping Charles fresh is key, which makes Ingram the perfect complement for KC's rushing attack. He has great burst, can catch the ball and maintains a team mentality even with his impressive individual accolades.
22. Indianapolis Colts: Nate Solder, OT, Colorado
Most scouts have the top four tackle prospects lumped together, but Solder is one guy who could really use the draft process to separate himself from the pack.
He is one of the two best athletes in the position group, and his 6'8" size is extremely rare. Those attributes will wow at the combine, as will his intelligence. Solder is noted for his intelligence on and off the field.
The Colts need a lot of help on defense, which means they will probably draft offense in the first round. Their line does need help, however, and Solder will give them some flexibility in free agency.
23. Philadelphia Eagles: Aaron Williams, CB, Texas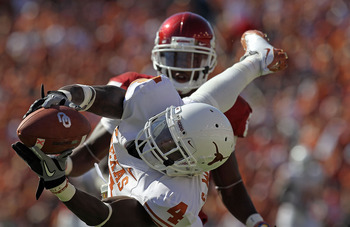 Ronald Martinez/Getty Images
I do not expect the Eagles to be making the 23rd pick in the 2011 NFL Draft. They love to trade picks and have some rare assets and some bigger contracts to sign.
Philly does need to add depth to its secondary, and Williams would be a great pickup for them in the draft. He has the potential to be a top-tier corner in the NFL, and his size and skills give him a very high floor.
24. New Orleans Saints: Von Miller, LB, Texas A&M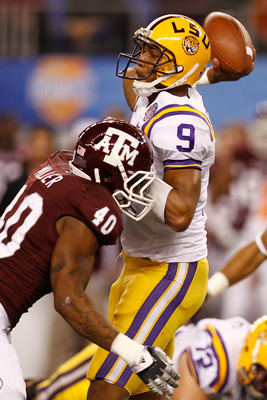 Chris Graythen/Getty Images
Losing to the Seahawks just plain sucks for Saints fans, but on the positive, they get a slightly better draft pick!
Von Miller is getting his best looks as a 3-4 OLB, but watching him against LSU, I have no concerns about him playing LB in the 4-3.
Miller is comfortable covering the pass, and the Saints love to bring pressure from their LBs, which is what Miller does best.
NO has several 'backers hitting the market this offseason, and this pick will allow them to spend money where it's needed most.
25. Seattle Seahawks: Derek Sherrod, OT, Mississippi State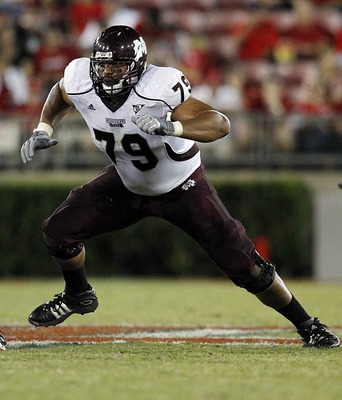 Seattle can't expect #BEASTMODE to take over every play. The Hawks' current leadership likes athletic offensive linemen, and like last year with Russell Okung, need meets BPA here.
Seattle also needs corner help, but there are some huge names hitting the market, and spending the cash on Nnamdi Asomugha or Champ Bailey would allow them to continue building their line through the draft.
At first, some Seattle fans were mad about making the playoffs because of how it hurt their pick, but now they hope to keep moving back in the draft order.
26. Green Bay Packers: Gabe Carimi, OT, Wisconsin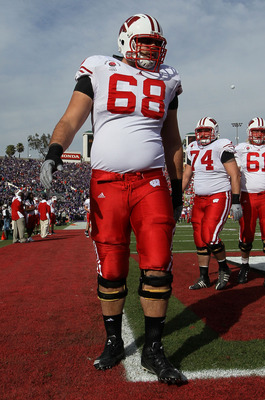 Stephen Dunn/Getty Images
Picking Bryan Bulaga paid off in year one for Green Bay, and they are one play away from needing another tackle.
Carimi is the perfect Packers tackle. He's blue-collar, cold weather acclimated and stout in both phases of the game.
The Rose Bowl may have moved Carimi's stock out of GB's reach. If that's the case, there will be other tackles here. Any defensive position would be good, too.
27. New York Jets: Cameron Jordan, DE, California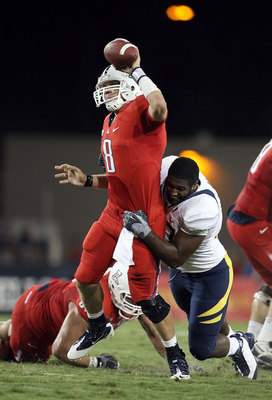 Christian Petersen/Getty Images
The Jets could really use a stud OLB, but they aren't going to reach on just a guy who can get sacks. Same goes for safety.
A player they wouldn't be reaching on is Cameron Jordan.
Built to play 5-tech, Jordan is a three-down player. He didn't get any national attention this season, but scouts are well aware of his ability.
Shaun Ellis isn't dead yet, but he doesn't have the same burst Jordan will bring.
28. Baltimore Ravens: Adrian Clayborn, DE, Iowa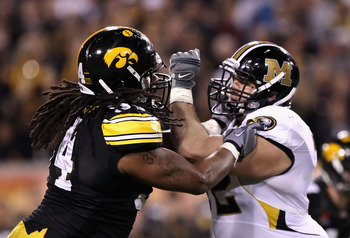 Christian Petersen/Getty Images
After a lackluster season, Clayborn's draft status is up in the air. He's still a first-round prospect, but the range is spanning 20 spots.
Clayborn has good size, but it's not elite size. In the 4-3 he looks like a bit of a tweener—which isn't a bad thing, but it can scare those teams off.
Baltimore would love to have Clayborn. He can take some pressure off Haloti Ngata and will help Baltimore maintain its reputation as one of the top run Ds in the NFL.
29. Chicago Bears: Anthony Castonzo, OT, Boston College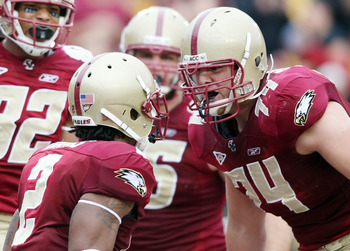 Elsa/Getty Images
I've mocked several different players for the Bears in the 2011 NFL Draft. The common theme? Offensive tackle.
The Bears need line help, bad—as much as JAX needs secondary help.
Not only did Jay Cutler almost die, but it also took six games—and the Carolina Panthers—before Matt Forte posted a single-game YPC over 3.0.
30. Pittsburgh Steelers: Drake Nevis, DT, LSU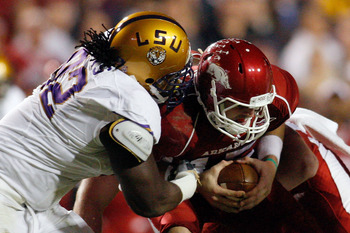 Chris Graythen/Getty Images
If you're a big fan of size, you won't find it in Nevis. At 6'1", 285 pounds, he isn't your typical first-round DT prospect.
Once you get over his atypical stature, you'll realize Nevis would be a great youthful addition to the Steelers' aging defensive line.
Pitt also needs OL help, but with brother Pouncey long gone and no good tackles, stick to your bread-n-butter.
31. Atlanta Falcons: Jonathan Baldwin, WR, Pittsburgh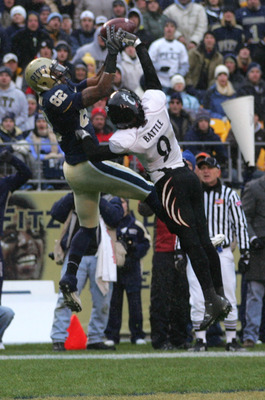 Jared Wickerham/Getty Images
I've yet to move Baldwin off the Falcons this offseason because, unless one of the top three WRs slips, he seems like the perfect fit.
With the size to dominate one-on-one matchups, Baldwin can consume 50 to 70 catches and take pressure off Roddy White.
If Atlanta wants a quicker guy, I like Ryan Broyles, Jerrel Jernigan or Torrey Smith for them.
Either way, Atlanta needs to find a No. 2 receiver.
32. New England Patriots: Cameron Heyward, DE, Ohio State
Kevin C. Cox/Getty Images
In the Sugar Bowl, Heyward showed everyone he's for real heading into the NFL. With the added attention this season, Heyward's production dropped, but he's still the same first-round prospect he was this time last year.
The bigger ends like Heyward look great in the 3-4. The Pats defense has been undergoing a youth revolution, and the Buckeye stud is ready to make an impact.
Then again, do we really expect the Pats to hold on to this pick?
Follow me on Twitter @JohnLorge
Keep Reading