Jim Harbaugh San Francisco 49ers: The 5 Biggest Challenges He's Facing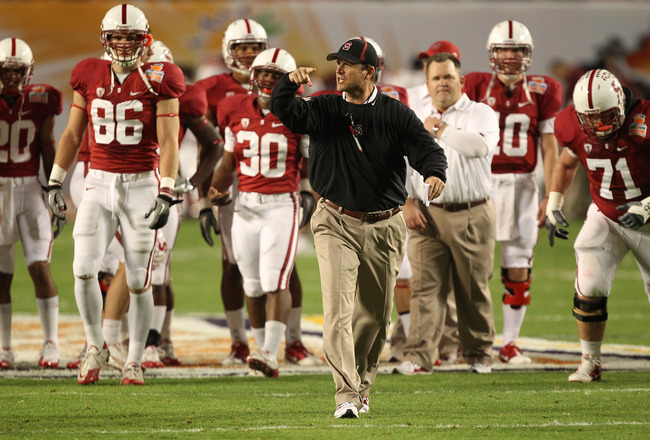 Streeter Lecka/Getty Images
Jim Harbaugh will coach the San Francisco 49ers next year, according to various sources. The 49ers have scheduled a press conference for 3:30 pm this afternoon, and according to CSN's Matt Maiocco, Harbaugh is in the building.
This signing of Harbaugh comes after aggressive courtships from several NFL and college teams.
Harbaugh does not inherit a season pass for a cable car that runs down Easy Street by accepting the position as 49ers head coach. Rather, he'll have his hands full with all the dramas and stresses that come with coaching at the professional level.
Cleaning House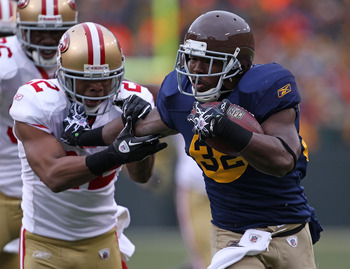 Jonathan Daniel/Getty Images
Much of Jim Harbaugh's allure has been his ability to build a program from the ground up, but the thing about the San Francisco 49ers is that a structure is already in existence there.
It's certainly not the best structure, since the 49ers haven't been to the playoffs since Steve Mariucci was their coach, but Mike Singletary did leave the organization with a foundation worth building on.
Harbaugh will need to tailor the team to his own fitting, and that will likely mean letting go of certain underachieving players and coaches.
San Francisco is far from an empty canvas for the former Stanford coach to throw paint on, but there is plenty of room for him to improve it.
Winning the Hearts of Established Players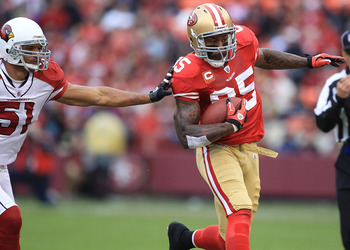 Jed Jacobsohn/Getty Images
Vernon Davis is by far the team's most outspoken and emotional presence in the locker room. Davis became a leader with his words and his actions under Mike Singletary, and winning his opinion is the first step to winning the rest of the team.
When Mike Singletary was dismissed, several fans voiced their fear that Davis would regress to his former problem-child attitude. Davis, however, is not going to be like that. The tight end is keeping his understanding of the team-first mentality that is necessary for a club to succeed in the NFL.
Other captains, such as Patrick Willis, Frank Gore and Justin Smith may also need a small adjustment period to Harbaugh's way of doing things, but the transition should actually be fairly smooth.
The first domino in this chain is Davis, though. Win Davis; win the team.
Finding/Grooming a Quarterback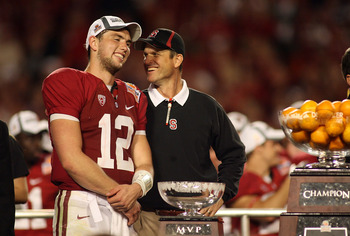 Marc Serota/Getty Images
Andrew Luck is not going to be a 49er this year, nor will he be a Panther or Bronco. Luck, Harbaugh's prodigal student quarterback at Stanford, will be returning to Stanford for the 2011 season.
The current quarterback situation in San Francisco is bleak. The Smiths are both free agents and will likely be gone next season. Nate Davis is a monstrous question mark on the practice squad, leaving only David Carr, which isn't much to write home about.
The 49ers will almost certainly draft a quarterback in the draft, and which passer they choose will be crucial down the line.
Harbaugh is expected to be instrumental in the grooming of a young quarterback to lead the offense, and he will work closely with Trent Baalke in an effort to improve the team at the passer position.
Whatever measures the 49ers new coach takes in this endeavour, they will surely be criticized by a fan base that has been graced by some of the best to ever play the sport.
Filling Some Enormous Shoes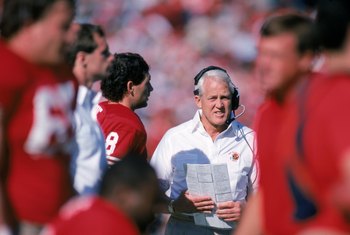 George Rose/Getty Images
The Walsh comparisons are almost automatic. But are they really?
The Silver Fox (as Walsh was sometimes called) revolutionized football and created a dynasty that went beyond his own tenure as a 49ers head coach.
Sure, Harbaugh and Walsh have certain commonalities. They both coached at Stanford, for instance. They both run offenses that center around a quarterback. Many of the similarities stop there though.
Expecting Harbaugh to be Walsh is just downright foolish. Expecting Harbaugh to be anybody except Jim Harbaugh is ridiculous.
Nevertheless, it will probably happen.
Dealing With the Media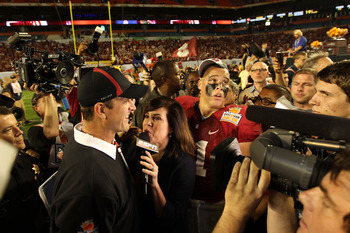 Mike Ehrmann/Getty Images
This is where it gets real sticky, and this is where Harbaugh can excel. There's a tradition in sports between head coaches and the media. Basically, the media gets a sick pleasure out of kicking a team's leaders when they are down. Coaches typically snap at some point and blast reporters with some kind of impressive verbal assault.
Harbaugh showed poise after the Orange Bowl when reporters badgered him and Luck about their future intentions in spite of Jim's requests to respect the game and focus on the victory they had just accomplished.
Luck and Harbaugh bobbed and weaved their way around those questions like consummate professionals, which is exactly what he will need to do at the NFL level.
The questions don't get any easier.
Keep Reading

San Francisco 49ers: Like this team?