Andrew Luck's Decision: A.J. Green Now the Big Winner in the 2011 NFL Draft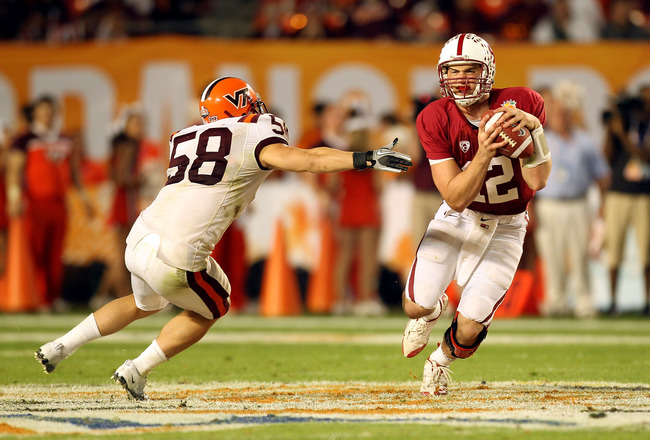 Mike Ehrmann/Getty Images
Andrew Luck has decided to stay in school and bid adieu to all the guaranteed money the NFL would have thrown at him this year had he declared for the draft.
Granted, the labor uncertainty and the possibility of a rookie salary cap probably weighed into his decision, but no matter what, Luck was going to get paid.
There is no salary cap on endorsement deals.
But this brings up a real good argument for mock draft enthusiasts and the NFL in general. It was assumed Luck would declare and that he would go No. 1 overall. This set up the draft boards a certain way.
That's not going to happen now, so let's look at how this will affect the top five picks.
Rules of the Game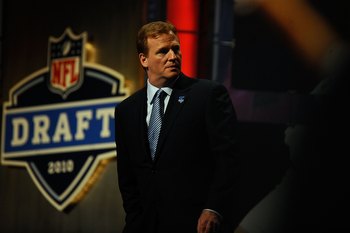 Jeff Zelevansky/Getty Images
When thinking about how this affects the draft, remember that Luck may have set off a bidding war by declaring for the draft.
The Panthers had the No. 1 overall pick and they stated publicly their interest in taking him. Whether they were serious or whether they were trying to start a bidding war is now a moot point.
The possibility of trade ups and trade downs always exist in the draft, but since you can't really predict those, especially this early in the process, trades will not be taken into account.
How Many Players Are Affected?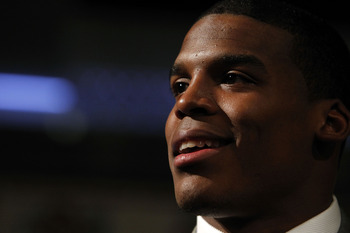 Jeff Zelevansky/Getty Images
With Luck now back in college, that doesn't just affect one or two players. It affects the first five picks in the draft directly and probably the top 10 in general.
The quarterback class especially is affected, as a now near-certain No. 1 overall pick is off the board in a year in which quarterbacks are plentiful and the needs equally as plenty.
So let's take a first look at how the top five draft picks will work out and how this will affect the following five picks, plus the quarterback deployment as the draft moves on.
1. Carolina Panthers, A.J. Green, WR Georgia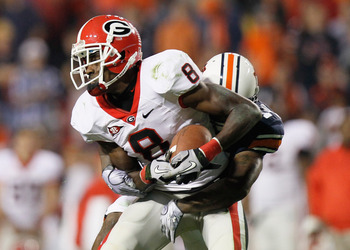 Kevin C. Cox/Getty Images
A.J. Green is the big winner here as we look at the situation in early January.
The Panthers have needs at every position, but with Luck out of the picture, there's no other quarterback the Panthers would take a chance on at this spot. With Jimmy Clausen on the roster along with Tony Pike, and with how cheap the Panthers are planning on being for the next few years, Green makes the most sense.
If you're going to stick with Clausen, give him somebody to throw to. Steve Smith is the only halfway-decent receiver on the roster and he's probably leaving, so that leaves the Panthers with very thin depth at the position
The Panthers could conceivably go defense as well, maybe Da'Quan Bowers or Nick Fairley, but for the moment, we'll send Green to Carolina.
2. Denver Broncos, Nick Fairley, DT Auburn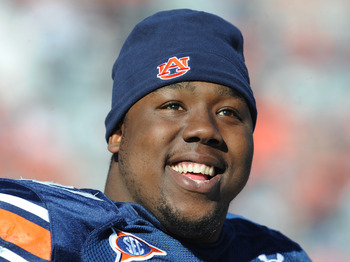 Al Messerschmidt/Getty Images
I put Patrick Peterson here in my last few mocks, including one I did earlier this week here.
But I'm starting to waffle on that selection and I am taking this opportunity to change it. With John Elway in the front office now, it's hard to predict what the Broncos are going to do at the moment. With Champ Bailey possibly leaving, Peterson isn't a bad pick.
But the more I look at Fairley, the more I think the Broncos will value Fairley's skills over Peterson's.
And Elway just might convince Bailey to stay.
3. Buffalo Bills, Marcell Dareus, DT Alabama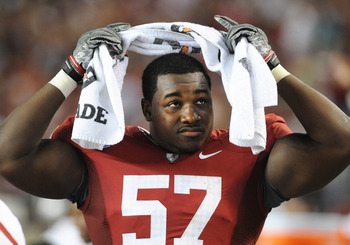 Al Messerschmidt/Getty Images
I originally had the Bills taking Nick Fairley, but with Fairley off the board, Dareus moves into this slot, as there is little separating the two prospects.
The Bills need a quarterback, but with Luck out and Ryan Fitzpatrick performing well under Chan Gailey, there's no pressure to take one in the first round now. They will pick up a quarterback to develop in the second round.
4. Cincinnati Bengals, Da'Quan Bowers, DE Clemson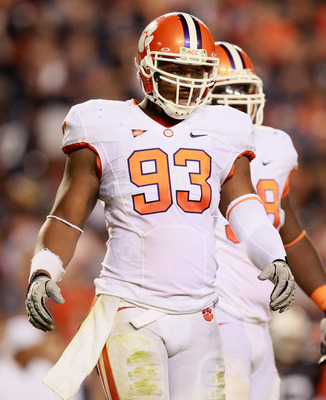 Kevin C. Cox/Getty Images
This is where I originally had A.J. Green mocked due to the presumed departures of Chad Ochocinco and Terrell Owens. But with Green now in Carolina, the Bengals go to my backup pick for them, Da'Quan Bowers.
The Bengals couldn't generate a real good pass rush in 2010 and Bowers will change that.
5. Arizona Cardinals, Cam Newton, QB Auburn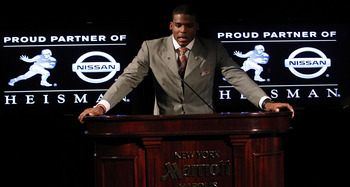 Jeff Zelevansky/Getty Images
This pick presumes the Cardinals don't go out and get Vince Young, Donovan McNabb or Kevin Kolb in free agency or through a trade.
Because if they don't, it's John Skelton and he's as good a bet as Cam Newton at this point. So if Newton is available, I think the Cardinals take him.
*Note: I truly think the Cardinals get a quarterback through free agency or a trade and then try and develop Skelton, so expect this pick to change before the draft, assuming labor peace of course.
The Next Two Picks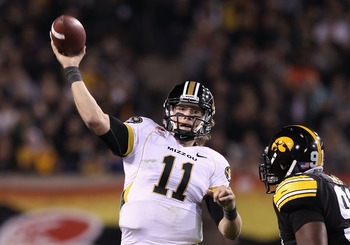 Christian Petersen/Getty Images
6. Cleveland Browns: You can bet the Cleveland Browns are going to be seriously affected by Luck going back to college.
The Browns' main needs coming into the draft are wide receiver, defensive end and secondary.
So with the sixth pick, the best man on the board is Patrick Peterson and the Browns still fill a major need and get a major boost in the secondary to go along with Joe Haden and T.J. Ward.
7. San Francisco 49ers: The 49ers stick with Blaine Gabbert as their pick, which matches my last draft. Ryan Mallett and Jake Locker's stock has fallen at the moment, but this could all change before April. This pick is not locked in by any stretch of the imagination.
Rounding Out the Top 10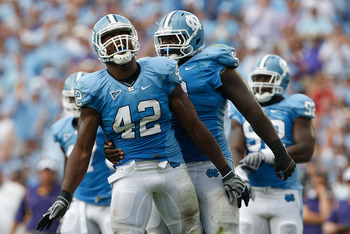 Streeter Lecka/Getty Images
8. Tennessee Titans: The Titans probably go with Robert Quinn at this point to better their pass rush.
9. Dallas Cowboys: The Cowboys have to upgrade their secondary here with Prince Amukamara.
10. Washington Redskins: The Redskins have a big decision: Do they go with Mallett or Locker, or go to another position? For this draft, we'll stick to quarterback and have them take a chance on Jake Locker.
Quarterback Depth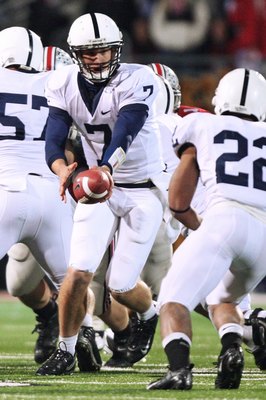 Jamie Sabau/Getty Images
The rest of the teams looking for quarterbacks will probably wait until the second round, except for the Minesota Vikings, who probably take Ryan Mallett with the 12th pick.
The Bills probably grab Pat Devlin in the second round and the Titans may try and take Christian Ponder with their second pick.
The Dolphins need a new quarterback, but with only one pick in the first two rounds and a glaring hole at running back, Mark Ingram is probably their pick, with the quarterback need addressed through a trade or free agency. They'll then look for another prospect in the third round—maybe Colin Kaepernick.
Keep Reading