Andrew Luck: Is Luck Making a Stupid Decision Returning To Stanford?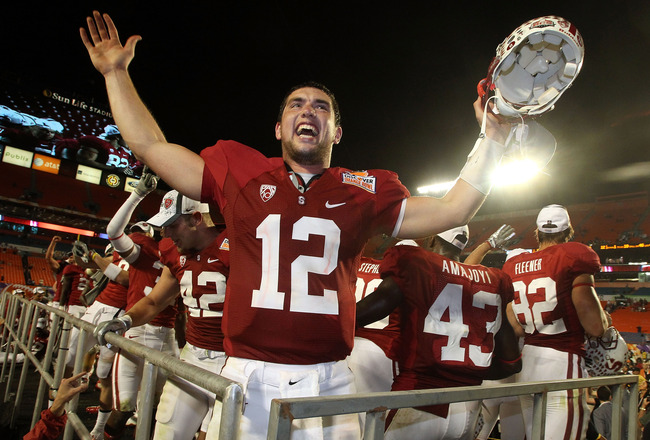 Streeter Lecka/Getty Images
Andrew Luck, fresh off of a commanding performance in his team's 40-12 Orange Bowl victory earlier this week, is the toast of the college football world right now.
Not only is he considered the best pro quarterback prospect in the country, but he's still an underclassman, and is now basking in the glow of leading his proud school to its first bowl victory in 12 years.
And on top of all of that, today he made the announcement that he will continue to bleed Cardinal next season, forgoing the NFL draft to make one more run at a national title. All around the Bay Area, Stanford fans are rejoicing as I type.
But he's also taking a big risk. There's no doubt that he would have been the number one overall pick had he opted to go pro. Now, who knows what the future may hold?
Well, there is one guy who foresaw this turn of events a few days ago. *ahem* So, what do I foresee this meaning for Luck? Let's find out.
It's Stupid: He's Already The No. 1 Pick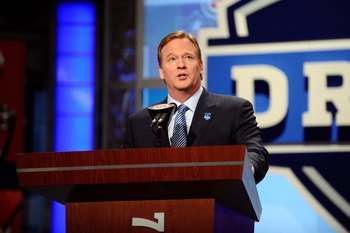 Jeff Zelevansky/Getty Images
It's no secret that Luck was the surefire number one pick in the upcoming draft if he had gone pro.
So, what's he waiting for? Obviously, lots of athletes turn pro too soon every year, only to have to face the harsh reality of not being drafted as high as they thought, or worse, not being drafted at all. Luck doesn't have to worry about that. His stock is secure. They probably wouldn't even have been taking bets on it in Vegas.
If he wanted to be a marine biologist or something, and didn't care about the NFL, then great, stay in school all you want. But he wants to be an NFL quarterback. So Andrew ... why not go be an NFL quarterback?
It's Smart: He Can Be The No. 1 Pick Next Year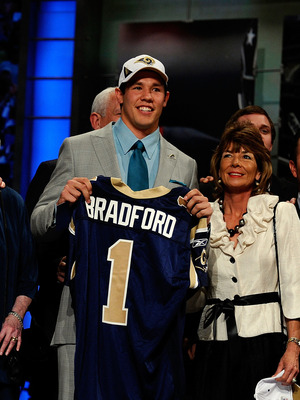 Jeff Zelevansky/Getty Images
We need look no further than last year for a perfect example of someone who made the same decision as Luck, and had it work out just fine.
Sam Bradford was the presumptive number one pick coming off of a magnificent, Heisman Trophy winning 2008 season at Oklahoma. But he made the unpopular decision to stay in school to make another run at the national title.
And look what happened to him. He was still the number one overall pick in 2010, and he just wrapped up a rather impressive rookie season with the St. Louis Rams. He'll probably be the offensive rookie of the year, and led the team to the cusp of a division title. He's easily the brightest young quarterback star in the league today.
If Luck used Bradford as a measuring stick, it's easy to see why he made this call.
It's Stupid: He Could Get Hurt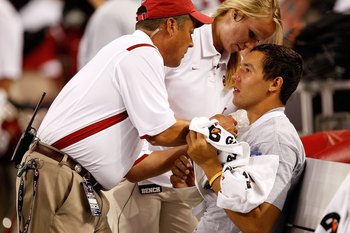 Ronald Martinez/Getty Images
Oh, wait. Now I remember. Bradford got hurt.
Even though things have worked out for him rather nicely, there was a long time last fall and winter when it appeared they might not.
Right out of the gate, Bradford sprained his throwing shoulder in the opening game of the season against BYU. He returned after missing three weeks, and in only his second game back, he re-injured the same shoulder against Texas and was forced to have surgery and miss the rest of the season.
Immediately, commentators, columnists, and bloggers across the country began to scream bloody murder about Bradford no longer even being a first round pick. And truthfully, if his shoulder hadn't healed as well as it did (and there was no guarantee that it would), the decision to return to college would've ended up costing him dearly.
It could still end up costing Luck.
It's Smart: He Values His Education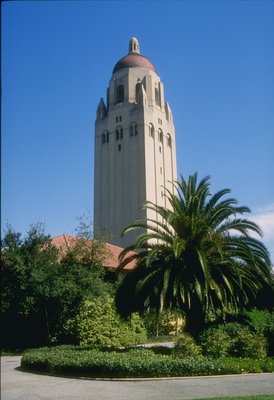 Ken Levine/Getty Images
Luck isn't one of those athletes that simply uses college as a stepping stone to a pro career. Sure, he wants to do that, but there's more to it than that for him.
He actually values the college experience. He values his education. He's majoring in Architectural Design, and actually going to his classes, taking his tests, and doing his homework.
And Stanford isn't some run-of-the-mill state school. It's Stanford. That name means something. It's one of the most well respected institutions of higher learning in the country.
Luck himself has said that he's on track to earn his degree by the Spring of 2012, and that obviously means something to him, as it should. Sure, you can always go back and get your degree via online classes and the like, but it's not the same.
Kudos to him for understanding and appreciating just what this time in his life means.
It's Stupid: What If Coach Harbaugh Leaves?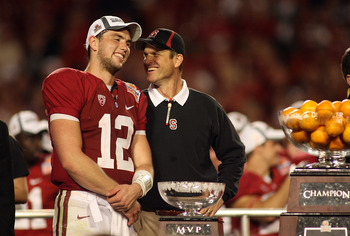 Marc Serota/Getty Images
Luck wasn't the only member of the Cardinal who had rumors swirling around his status for next season.
Coach Jim Harbaugh, a former NFL quarterback himself, is one of the hottest coaching names in the country right now after building Stanford into a Pac-10 powerhouse. Any number of NFL teams would love to have him, specifically the Dolphins, the 49ers, and the Broncos.
Harbaugh's been reported to be very close to taking the Dolphins' money. After all, he has great recent memories of playing in Miami. But Stanford is still determined to keep him.
He has less to lose than Luck if he stays, of course. He'll still get paid a nice sum of money, and he's not an injury away from losing his livelihood. But the NFL is going to be awfully tempting.
Will Stanford be able to stay on top without its sideline general?
It's Smart: He Can Add To His College Legacy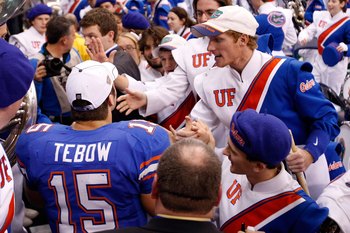 Kevin C. Cox/Getty Images
We of course have another very recent example of a star college quarterback engendering unabashed love among his classmates by staying in school.
Tim Tebow won the Heisman as a Florida sophomore in 2007. But he chose to remain on campus not one, but two more years, playing out his senior season in the swamp, and becoming a local legend in the process.
He also firmly cemented his reputation as one of the greatest college players of all-time. None of that would have happened had he jumped for the brass ring as soon as he could.
Now, Tebow wasn't exactly the same case. He wasn't going to be the number one pick, and the jury has always been out as to his NFL potential. Nevertheless, he's another success story Luck could have used to show himself why this is a smart call.
Really, with this recent history to draw from, it should've been a surprise if Luck had left.
It's Stupid: Who's He Going To Throw To?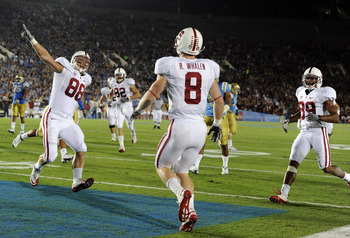 Harry How/Getty Images
Let's look at Stanford's, and Luck's, top receivers this past season, shall we?
Doug Baldwin, who had 58 catches for 857 yards and 9 touchdowns, leading the team in all three categories, is a senior.
Ryan Whalen, who finished second on the team with 41 catches for 439 yards, is also a senior.
Colby Fleener, second on the team with 7 touchdown receptions, senior. Fellow tight end Konrad Reuland ... yep, you guessed it. Senior.
Luck will have to depend on a lot of new, inexperienced faces as his targets in 2011. And sure, they could very well step up and deliver, but why take that chance?
It's Smart: He Doesn't Want To Play For Carolina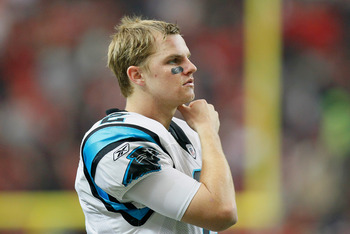 Kevin C. Cox/Getty Images
The Carolina Panthers have the number one overall pick in the upcoming draft.
Let's try to remember how they got themselves into that position. Oh right, it was by virtue of being the worst team in the league this year, finishing a miserable 2-14.
Now of course, even next year, whatever team has the number one pick will have had the worst record in the league (unless the pick gets traded), but at least there's the hope that it won't be a franchise mired in as deep a hole as Carolina is right now.
Carolina drafted Jimmy Clausen out of Notre Dame in the second round last year to be their quarterback of the future, and look how well that has worked out for them. Clausen threw just 3 touchdown passes in 13 games. How is that even possible? Combined, Carolina QB's threw just 9 touchdowns all season. It doesn't help the passing game that longtime star wideout Steve Smith has seen his production drop steadily over the last couple of years, and his best days seem to be behind him.
With longtime coach John Fox, as well as the rest of the field staff, being let go, the Panthers are a team without a rudder. Luck is right to not want to join a sinking ship.
It's Stupid: He'll Be A Victim of a Rookie Salary Cap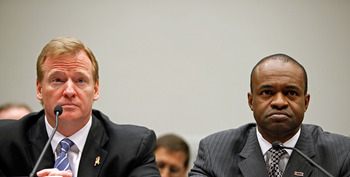 Chip Somodevilla/Getty Images
One of the major sticking points in the battle between the league and the NFLPA over a new collective bargaining agreement is the issue of the pay scale for rookies.
The league sees rookie salaries as incredibly out-of-whack. Top picks like Bradford are able to sign enormously lucrative contracts rivaling those of top veteran free agents. Bradford's record deal last year was for 6 years at $78 million, with $50 million of that money guaranteed.
Numbers like that are why you can count on the league taking a hard line on this issue and forcing the PA to accept some form of rookie salary restrictions. These restrictions may not kick in until next year, leaving a window for this year's rookie crop to still score big.
But even if the restrictions were to take effect now, this year's rookies still have an advantage, simply because they'd reach free agency one year sooner. By staying in school, Luck all but ensures that his negotiating power will be drastically reduced, if not eliminated altogether.
It's Smart: He'll Avoid The Lockout Mess
Mike Hewitt/Getty Images
Despite having to miss out on a big rookie payday, by staying in Palo Alto, Luck also misses on having to be on the front lines of the lockout battle. Trust me, nobody's looking forward to being a part of this debacle-waiting-to-happen. It will taint everyone associated with it.
By virtue of being the number one pick this year, owners would surely want to make an example out of him, and would take a hard line in any contract negotiations. Plus, he'd have to deal with the spectre of not being able to play football at all next season.
Now, he gets to put off those concerns and let the drama play out for him, while he guarantees himself of having actual games to play, and fields to play them on. Plus he gets to beat up on lowly college foes for one more year, instead of having to get beat up by scary NFL linemen.
In The End: It's Smart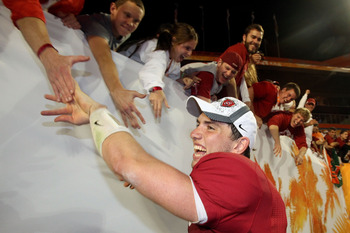 Streeter Lecka/Getty Images
Luck's building something bigger here than his next payday. He's building his brand.
Staying at Stanford not only makes football fans up and down the West Coast worship him more than they ever would have otherwise, but it creates an image of him as a pure-hearted kid who values old fashioned things like hard work and finishing what you've started. Overnight, he's become 'the uncorruptable kid'. You can't buy that kind of brand equity.
And yeah, the facts that, barring catastrophe, he should still have no problem being the number one pick next year, and he should still have no problem having a long and successful NFL career, make this decision actually make sense if you think about it.
Who wants to be a part of the quagmire the NFL is primed to become in the next few months? How many of us look back fondly on our college days, wishing we could go back?
Andrew Luck doesn't have to wish.
Keep Reading

Stanford Football: Like this team?