MLB Trade Rumors: 10 Ways Yankees Can Replace Andy Pettitte's Clutch Pitching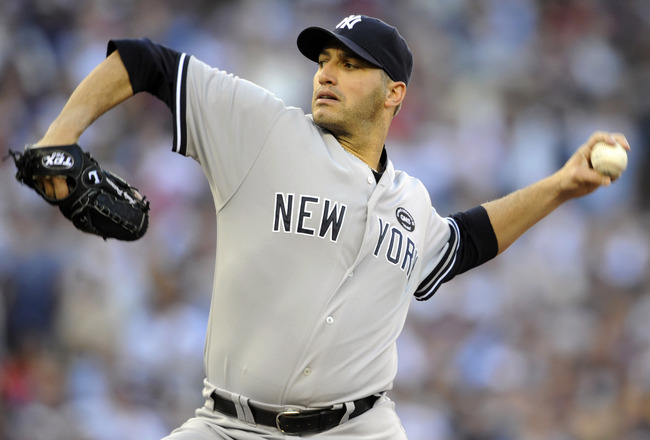 Hannah Foslien/Getty Images
It is impossible to imagine a postseason game without the reliable Andy Pettitte walking up to the mound and pitching the game to victory. The starting pitcher's future with the New York Yankees continues to remain undetermined. As he leans towards retirement, the Yankees are reliant on him now more than ever.
When the Yankees' hopes of advancing to the World Series and winning their 28th title came to an unfortunate end in October, the reason for their defeat fell upon the shoulders of the entire team. Pettitte was one of the few players who stepped up throughout the ALCS. With a 2.57 ERA, nine strikeouts and one walk, he held up his reputation of being one of the best postseason pitchers in Yankee history.
If Pettitte decides to retire, the Yankees will lose more than just a dependable pitcher. They will lose a pitcher who is the record holder for the most postseason wins and clinches, a pitcher who has contributed to five World Series titles. The Yankees' chances of winning another World Series will take a big hit in 2011.
Since Pettitte is the most proficient starter for the job, finding a replacement with both playoff pedigree and veteran experience is not going to be an effortless task for the Yankees.
Here are 10 ways the Yankees can replace Andy Pettitte's clutch pitching.
10. Jamie Moyer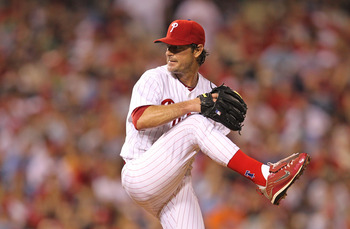 Hunter Martin/Getty Images
Using the words experienced, dedicated, inspirational and unstoppable to describe Jamie Moyer are all understatements. Not only is he the oldest pitcher in the league, but he also has the most wins, losses and strikeouts than any other pitcher.
Maybe it would be in the Yankees' best interest to not sign a starter who has just undergone Tommy John surgery, resulting in his return to the field at the age of 50. But can this risk be worth a beneficial reward?
Having a rocky start in the 1997 postseason with a strained elbow, Moyer rebounded in 2001 with a 1.89 ERA. At the age of 45, Moyer continued to excel as a pitcher. He made his first World Series start with the Phillies against the Tampa Bay Rays in 2008 and won the World Series. At 47, Moyer was the oldest pitcher to pitch a two-hit shutout and also the oldest pitcher to defeat the New York Yankees.
Throughout his career he managed to break numerous records, win prestigious awards and proved that the impossible is in fact possible. After having undergone Tommy John surgery, Moyer is determined to return to his pitching roots and make a miraculous comeback as the oldest active pitcher in baseball history.
9. Derek Lowe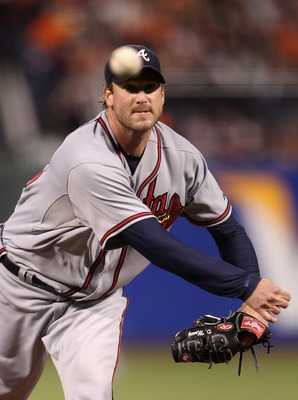 Ezra Shaw/Getty Images
After pitching in seven postseasons since 1998, how can Derek Lowe not be a contender for a position requiring both experience and guile?
Who can forget Lowe's most memorable performance in the 2004 postseason? After 86 years of torture the Boston Red Sox were forced to receive, Lowe finally put an end to the haunting curse. He was the first pitcher in baseball history to pitch the Sox to their first World Series Championship, depleting the Curse of the Bambino. His unforgettable performance won him a World Series.
Although Lowe did not possess the amount of success Pettitte had throughout the years, losing most of his postseason games in 2006, 2008 and 2010, Lowe pitched incredibly in September 2010. His 1.77 ERA and 5-0 record helped the Braves advance to the playoffs with the NL Wild Card.
Though mediocre and struggling at times, Lowe has the potential to ensure a saving performance when needed.
8. Mark Buehrle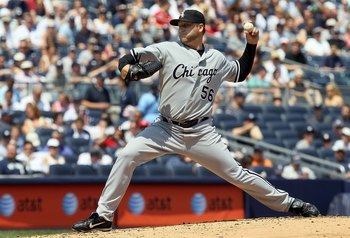 Jim McIsaac/Getty Images
Unfortunately for Mark Buehrle, he has not gotten the opportunity to show off his efficient postseason expertise since 2005, especially with his 2008 defeat in the ALDS against the Tampa Bay Rays. However, his 2005 performances make him the No. 8 candidate for Pettitte's position.
The White Sox pitcher pitched seven innings in Game 2 of the ALDS against the Boston Red Sox, a complete game in Game 2 of the ALCS against the Los Angeles Angels, seven innings in Game 2 of the World Series against the Houston Astros and had his first career save in Game 3 of the World Series. His contributions in this postseason helped the White Sox win their first World Series Championship since 1917. The pitcher was rewarded for his memorable performance by being announced World Series Champion.
Throughout the years, Buehrle has continued to display his pitching ability. He pitched a no-hitter on April 18, 2007, pitched a perfect game on July 23, 2009 and was the Gold Glove winner for 2009 and 2010. His postseason history and numerous accomplishments make him a reliable replacement for Pettitte.
7. Roy Oswalt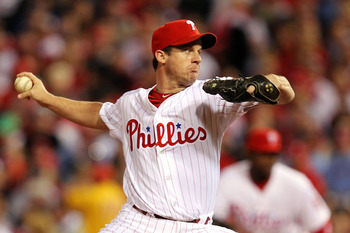 Al Bello/Getty Images
With three seasons of postseason experience and a 3.39 postseason ERA, it wouldn't be fair to exclude Roy Oswalt, especially if he is replacing his former Astros teammate Andy Pettitte.
Despite injuries in 2003, Oswalt achieved early success in his MLB career. In his first postseason appearance in 2004, Oswalt helped his team advance into the NLCS before losing in seven games to the St. Louis Cardinals.
In the 2005 postseason, Oswalt started in four games and brought his team to three victories. His performance won him the NLCS MVP award.
In the 2010 postseason, Oswalt started in three games, relieved one and allowed eight runs, losing the NLCS to the San Francisco Giants.
6. Dan Haren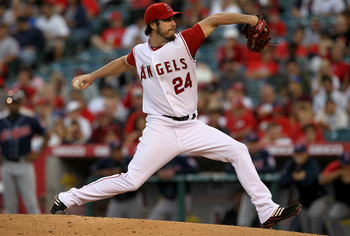 Stephen Dunn/Getty Images
Throughout the years, Dan Haren has not only helped his team achieve postseason success, but he has been held back from it as well.
He began his postseason career in 2004 with the St. Louis Cardinals. He pitched in the NLDS, NLCS and World Series, contributing to two wins and three losses.
In 2005, Haren was traded to the Oakland A's and was ninth in innings pitched, sixth in strikeouts and fourth with three complete games in the American League.
Haren brought his team to the ALCS in 2006 but unfortunately lost in Game 4, ending his postseason career with a 3.26 ERA. Haren's postseason career stops in 2006 due to his teams' inabilities to reach the playoffs.
Haren continues to portray his effective pitching ability. His success as a pitcher continued in 2007, ending the season with a 3.07 ERA.
He ended his 2008 season with a 3.33 ERA, a 3.14 ERA in 2009 and a marvelous 2.86 ERA in 2010. His pitching has remained effective throughout the seasons, and if presented with another opportunity of pitching in a postseason, Haren is expected to shine.
5. Roy Halladay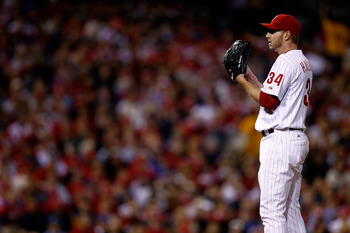 Jeff Zelevansky/Getty Images
Although lacking in postseason experience, when presented with the opportunity, Roy Halladay will be able and ready to deliver.
Having 58 complete games and 19 shutouts, Halladay is the only active pitcher to complete this feat. His career took off in 2002 with a 2.93 ERA and continued in 2003 with a 3.25 ERA. After being on the disabled list in 2004, Halladay rebounded in 2005 with a 2.41 ERA.
Halladay's career continued to skyrocket from there. On May 29, 2010, Halladay pitched a perfect game against the Florida Marlins, and threw a no-hitter in Game 1 of the 2010 NLDS against the Cincinnati Reds.
With a 3.32 career ERA and a 2.45 postseason ERA, it is a shame Halladay has not had the opportunity to pitch in more postseasons. Now that he is involved in one of the best starting rotations in baseball, along with Cliff Lee and Roy Oswalt, Halladay is expected to display his full pitching potential in the upcoming 2011 season.
4. Chris Carpenter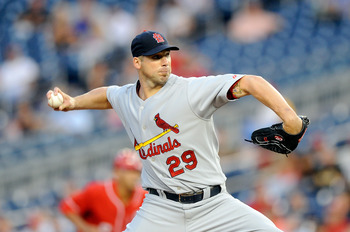 Greg Fiume/Getty Images
Despite the injuries that plagued St. Louis Cardinals pitcher Chris Carpenter from pitching in the 2004 postseason, he was healthy and effective in 2005. Unable to reach the World Series, Carpenter stepped up and pitched brilliantly with a 2.14 ERA, winning the Cy Young.
His postseason success continued in 2006 when Carpenter pitched three winning games in the NLDS and NLCS against the San Diego Padres and New York Mets. In Game 3 of the World Series against the Detroit Tigers, Carpenter pitched eight innings and allowed two runs, helping his team win the World Series.
As injuries continued to affect Carpenter's performance, he remained ineffective and absent for most of the 2007 and 2008 seasons. He returned in 2009 like his old 2006 self, pitching five shutout innings. Throughout that year, Carpenter won NL Comeback Player of the Year, NL Bullet Rogan Award and the Tony Conigliaro Award.
Carpenter has a 2.93 postseason ERA and despite injuries is a productive pitcher when healthy.
3. Cole Hamels
Ezra Shaw/Getty Images
Pitching in four postseasons and 12 series, 27-year-old Cole Hamels has an ERA of 3.45 and multiple achievements to make him a solid replacement for Pettitte.
Hamels remained consistent throughout the beginning of his career and reached his full potential in 2008 when he pitched in Game 1 of the NLDS against the Milwaukee Brewers. He pitched eight innings and received his first playoff win. He was named MVP of the NLCS, World Series Champion and pitched in five starts with a 1.80 ERA.
Hamels continued to gain experience by starting in both the 2009 and 2010 postseasons. He started in four games in 2009, going 2-2, and in two games in 2010, going 1-1. Although only 27, Hamels has enough successful postseason experience to become a major contributor to the Yankee rotation.
2. Cliff Lee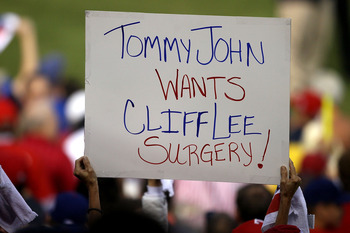 Elsa/Getty Images
With the prospects of attaining pitcher Cliff Lee falling short for the Yankees, Lee continues to be a top runner in the replacement of Andy Pettitte's clutch pitching.
Lee's surprising return to Philadelphia gives the Phillies the best rotation in baseball, leaving the Yankees dreaming of the damage Sabathia, Lee and Pettitte could have caused together if Lee accepted the generous $140 million deal.
With a 2.13 postseason ERA, Lee is considered one of the best postseason pitchers, behind Andy Pettitte of course.
In the 2009 postseason, Lee pummeled his opponents in the NLDS and NLCS with a 0.74 ERA in three starts. He helped bring his team to the World Series and pitched a complete game in Game 1 of the World Series. Although he started Game 5 of the series and won, his team fell short, losing the Championship to the New York Yankees.
In the 2010 postseason, Lee's World Series dreams were robbed from him once again. He pitched impressively in his first two starts in the ALDS against the Tampa Bay Rays, allowing only 11 hits and striking out 21. He called for revenge on the New York Yankees in Game 3 of the ALCS and contributed to helping his team advance to the World Series. Unfortunately, the efforts of Lee and the Rangers could not ensure a World Series victory and they lost to the Giants.
Giving Cliff Lee the No. 2 spot over the No. 1 spot was a tough decision. He would be an outstanding pitcher in replacement of Andy Pettitte, and in the long run Philadelphia's star rotation will cause trouble for the Yankees and other teams facing them. They sure are lucky to have him.
1. Josh Beckett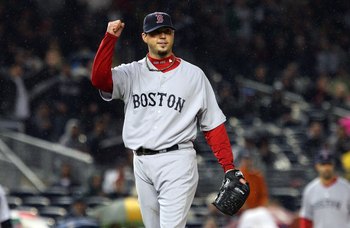 Jim McIsaac/Getty Images
Based on experience and overall postseason greatness, I have to give the No. 1 spot of whom can replace Pettitte the best to Josh Beckett.
Beckett showed off his ability to dominate in the postseason in 2003 with the Florida Marlins. Starting in six games Beckett finished the postseason with a 2.11 ERA. In Game 6 of the World Series against the New York Yankees, Beckett pitched a complete game shutout on just three days rest and brought his team to a World Series victory. This performance won Beckett the World Series MVP.
Beckett returned to the postseason in 2007 with a different team, the Red Sox, but with the same amount of success. He started in Game 1 of the ALDS and pitched a shutout, helping the Red Sox sweep the Los Angeles Angels. In the ALCS against the Indians, Beckett was 2-0 with a 1.93 ERA. In Game 1 of the World Series against the Colorado Rockies, Beckett allowed just one run in seven innings. Beckett led his team to another World Series victory.
Josh Beckett has an overall postseason ERA of 3.07. He has contributed to two World Series wins, multiple prestigious awards and will hopefully have more opportunities to pitch tremendously in the postseason just as before and just as Andy Pettitte has.
Keep Reading

New York Yankees: Like this team?