Vince Young Trade? 10 Biggest Questions Facing Tennessee Titans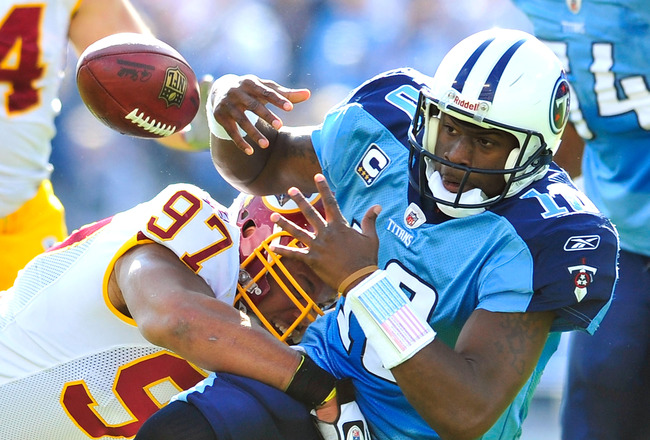 Grant Halverson/Getty Images
Vince Young is on his way out in Tennessee with the announcement by Titans owner Bud Adams that they would be trading or cutting the former third overall pick.
During his tumultuous time in Tennessee, Young has had many ups and downs. He won Rookie of the Year before being benched a few times.
However, now that he is no longer an option for the Titans, a ton of questions have to be raised.
Here we will be looking at the top 10 questions to come from this news.
Read on and let us know what you think.
10. Is There a Lack of Control in Tennessee?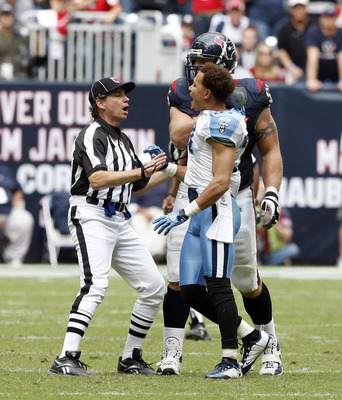 Bob Levey/Getty Images
The Titans were among the teams with the most fines and the most personal fouls this season. They also had a player get ejected for fighting and players who made "incendiary hand gestures," according to the Tennessean.
All of these incidents raise the question: Is there a lack of control over this Titans team?
Looking back a few years, owner Bud Adams was caught on camera flipping the bird to the crowd, and assistant coach Chuck Cecil was fined for an obscene gesture made to a referee.
Answer: In short, yes, there is a lack of control over these Titans.
Between the fighting and Vince Young ripping off his jersey and pads and throwing them to the crowd, there needs to be more change than just the departure of Young.
9. Was Vince Young the Biggest Problem?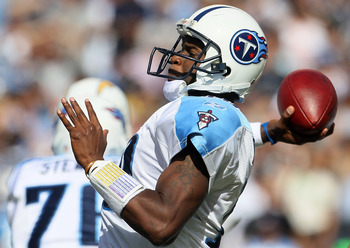 Jeff Gross/Getty Images
No question about it, Vince Young was a problem in Tennessee. He often let his emotions get the best of him, and he has admitted that. However, the team was still bad, even when Young was not around this year.
So that begs the question, was Vince Young the biggest problem for the Titans?
Answer: The Titans were the 26th-ranked defense in the NFL this year. However, they were still +17 in scoring differential.
While Young was a problem, the defense needs upgrading, especially in the secondary.
8. How Much Can Tennessee Get for Vince Young?
Jeff Gross/Getty Images
With the news that the Titans would be either trading or cutting Vince Young, one has to wonder if Young has any trade value.
Typically in trades, teams don't get full value when trading away players, but with Young's value already dwindling, can the Titans find a team that would even consider trading for him?
Answer: Honestly, if I were an NFL team looking for a quarterback, I would be more willing to wait for the draft to see if I can get my guy then, rather than giving up assets for Young and his baggage.
The Titans would have been smarter to not make an announcement that they would be trading or cutting Young. Then on draft day, when teams start missing quarterbacks, they could have shipped him to a more desperate team.
If I am a team that is considering Young, I would be willing to wait until he has been cut before talking to him.
7. Who Did Bud Adams Side With?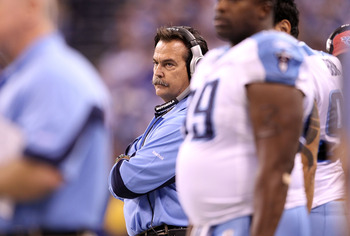 Andy Lyons/Getty Images
From the outside looking in, this appeared to be an either/or argument. Either you keep Vince Young, or you keep head coach Jeff Fisher.
However, rumors have been coming out that Fisher is still being evaluated by owner Bud Adams, and that it is possible that neither could return.
Answer: While it looks like Adams did side with Fisher, the news that he is still being evaluated makes this one still up in the air.
6. Could Jeff Fisher Take Another Coaching Job?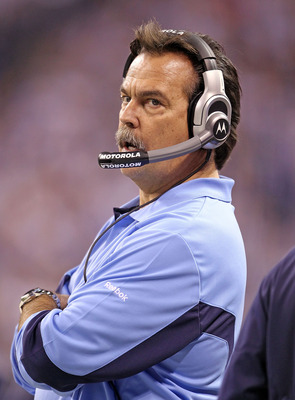 Andy Lyons/Getty Images
Jeff Fisher is the longest tenured head coach in the NFL, but it looks like he is firmly on the hot seat and might just be in need of a fresh start elsewhere.
With the numerous coaching openings in the NFL right now, Fisher would have no problem finding a job somewhere else.
Answer: Could Jeff Fisher take another job? Yes. Will he? I highly doubt it.
If I were San Francisco or Denver, I would love to get Fisher to run my team. However, I think ultimately Fisher is the head coach in Tennessee next year.
5. How Does This Impact Chris Johnson?
Ezra Shaw/Getty Images
Chris Johnson and Vince Young have always seemed to get along for the Titans. However, now that Young is gone, how will that affect Johnson?
In an interview on ESPN, Johnson said that he was shocked that Young was done in Tennessee.
Answer: Should this have an effect on Johnson? No. But will it? It might.
Johnson has always seemed to do better with Young in the lineup. Now that Johnson is really the only running threat for the Titans, I think his production could dip.
4. What Free Agents Will They Pursue?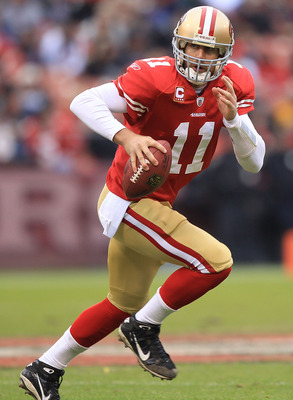 Jed Jacobsohn/Getty Images
One way the Titans could find a new quarterback is through free agency. The only problem with that is the fact that there aren't a lot of franchise quarterbacks.
The Titans could target other positions to get better, but there aren't a ton of top-tier guys they could try for in free agency.
Answers: Alex Smith from San Francisco is a free agent, and he probably won't be back for the 49ers. The Titans could possibly go after some defensive help in free agency to help get the defense better.
Here are the top free agents that could help the Titans:
Alex Smith QB
Matt Hasselbeck QB
Matt Moore QB
Ronnie Brown RB
Michael Bush RB
Steve Breaston WR
Mathaias Kiwanuka DE
Marcus Spears DE
Barrett Rudd LB
Desmond Bishop LB
Champ Bailey CB
Ike Taylor CB
Eric Weddle S
Bernard Pollard S
Atari Bigby S
3. What Does This Mean for the Draft?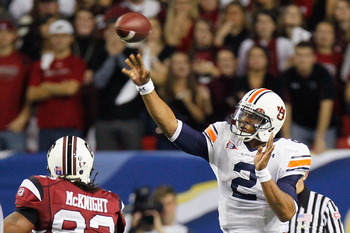 Kevin C. Cox/Getty Images
The Titans have the eighth pick in the NFL Draft this year. They have a lot of leverage with that pick.
If there is a quarterback they like enough, they could draft him there, or they could trade up or trade down to find the player they like.
Answer: I think the Titans will draft a quarterback with their first pick. They might have to trade the eighth pick to get to the position they want, but they will take a quarterback.
If they stick at eighth, they could target Cam Newton, Ryan Mallett, Jake Locker or fast-riser Blaine Gabbert.
2. Will Jeff Fisher Be Back?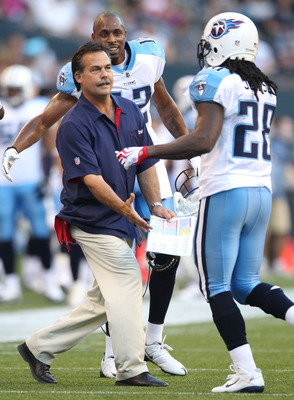 Otto Greule Jr/Getty Images
Another question about Jeff Fisher? Yes. His job is that important.
He and the rest of the coaching staff are still being evaluated, but that doesn't mean a decision has been made.
Answer: According to NFL.com, Jeff Fisher is expected to be retained, but the rest of his staff will be overhauled.
Fisher sticking in Tennessee does provide some stability to the Titans. However, the staff overhaul could really help make the team better.
1. Who Will Play Quarterback?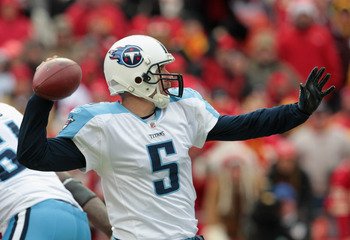 Jamie Squire/Getty Images
Absolutely the biggest question now that Vince Young is on his way out has to be who will play quarterback for the Titans next year.
There appear to be many venues for the Titans to find a quarterback. They have a high draft pick where they could take a quarterback. They could sign one in free agency. They could try to find a quarterback to trade for.
Answer: Obviously the Titans still have Kerry Collins on the roster, but they will bring a few more quarterbacks in to try and unseat the veteran.
I expect one quarterback to come in via draft, maybe one in free agency, and if they are ambitious enough, they could trade for a proven guy.
Kevin Kolb, Kyle Orton and Carson Palmer may all be available for the right price, and they all could fit in Tennessee.
Keep Reading