Denver Broncos: Enthusiastic John Elway Puts the Franchise on a Winning Theme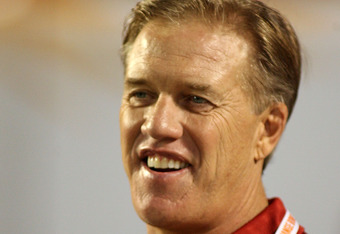 John Elway brings a certain college spirit to his new gig.
Marc Serota/Getty Images
I remember the original terrible date in 1970 when all but four of the Marshall University football team was killed in a plane crash. There were only snippets on the news, and I was a very young kid at the time.
Still, I remember it being a tragedy and recall it being horrible to see the wreckage burning in the night through the silhouette of the black forest.
It was only a mile from the scheduled destination, and it was a tragedy our country would not soon forget.
What stood out to me the most was the big question that surrounded Marshall afterward.
Would they ever heal or rebuild and start another football program again?
It's an interesting question that really deserved an answer at the time, but it was controversial for the University to start up again with its football program.
I remember having an interesting talk with my father specifically about that question. I really was interested to see what people were going to decide, probably based on my early drive to learn about the sport of football.
My father asked me what I thought they should do and I remembered telling him I thought they should start up the program again. My father was opposed to the idea out of a reverence for what was lost by so many.
Furthermore he was right in feeling that life was bigger than sports, because it is. Still it seemed there could be a way of moving forward.
It was a horrible situation for the college program to be in at the time. Nowadays, we know there can be a lasting, living legacy to the past and others who went before. It's possible to build a living tribute with emotional resolution and a hope for the future.
As everyone knows, Marshall did restart their program from the ground up and the suffered many losing seasons and pains along the way.
However, as a school and a program, they built a living legacy and attained meaningful championships along the way.
It seems there are so many lessons to be learned somewhere in there.
Now don't get this wrong, the Denver Broncos on the whole are not easily comparable to the Marshall University program or its football history, nor should they be.
There are however unfortunate similarities and in all likelihood something the Denver Broncos football franchise can draw upon for insight, inspiration, and direction to steer the team into the future.
The Denver Broncos in their own right have seen the implosion of a once great and proud franchise. It has experienced off the field tragedies that have taken the lives of three young players over the last five seasons.
It has been a ship lost at sea; it started near the end of Mike Shanahan's era and only got worse and more confusing by the end of Josh McDaniels' stay.
Then came the cosmic time when John Elway was asked to be a key piece of the future. Somewhere back into the fold of the Denver Broncos franchise at a meaningful press conference, John Elway found his heartfelt purpose.
I've personally sat at the foot of great college football coaches, but none of them compared to Coach Bill McCartney. In a room full of coaches, he had all of us ready to go to bat and fight for him out on the grid-iron.
The cruel reality was Coach Mac was out of coaching and the coaches were no longer players, but the message was sent. If you're going to play or coach the game of football, you do it with a purpose.
John Elway brought that same sort of enthusiasm, charge and purpose to a press conference that meant a great deal to the franchise, his friend Pat Bowlen, and the entire Rocky Mountain region.
John started out by thanking everyone and saying "…this is what I've wanted to do for a long time and it's really exciting for me. I'm gonna tell you this, I never thought I'd say this but, it is damn nice to see you all (referring to the press)."
John was very well-received to chuckles and smiles and a return of the type of energy he presented.
Elway made it clear that he came back to the Broncos because he loves the organization and mentioned the orange and blue had the second best winning percentage in the NFL since Mr. Bowlen purchased the franchise.
John clarified that the Broncos had obviously lost touch with the fan base and part of their history.
What Elway conveyed so well to the crowd is that there is a new sense of challenges and obligation to get things back to where they once were for the Denver Broncos franchise.
He had to face a myriad of hard questions and the perception on a controversial decision in keeping Brian Xanders at the helm of General Manager due to his close association to the failed drafts under Josh McDaniels.
It was mentioned that Xanders would remain GM, but more importantly that there were three days of meeting and interviewing him.
Additionally, Elway stated his due diligence in seeking out Xanders' references and researching his background a little more in depth. Elway sees Xanders as "smart, organized, and loyal."
It was very clear that John feels confident in Xanders' skill set but clearly has the expectation for him to step up as the General Manager of the Denver Broncos and carry his weight within the franchise.
John Elway made it clear the Broncos will find a coach who understands the emotional connection that the fans have to the franchise and he needs to be ultra competitive. The franchise will only hire who Elway views will be the best for the Denver Broncos to hire.
In other words the Denver Broncos are returning to their winning culture with a new and greater emphasis on team work internal to the front office that should carry itself out on the field given time.
Still John made it crystal clear there is a familiar and formerly lost vocabulary back in Denver when it comes to the professional football team.
Words like: expectation, accountability, AFC West Champions, AFC Champions, Super Bowls (plural mind you), and team...all resonated to the tune of striking a chord.
John reiterated his enthusiasm and excitement about the emphasis on the challenge to return to the championship culture.
It was refreshing to hear, not just know it needed to happen, but to hear that the Broncos are focused on the experiences of their past to make a brighter future for the franchise.
Elway also stated that the fans are a vital part in re-establishing the home field advantage for the franchise that has been lost since the opening of INVESCO Field at Mile High.
It was about being a part of something special. It's about not forgetting what that special something was, as the franchise had over the last few seasons.
The press conference went on, and it's strongly suggested that you listen to it online, but the point was clear in John's voice. This is a serious job to John Elway and it's going to be a challenging road for him and the franchise, but it's a doable one as well.
The Broncos front office now see a humble reflection on the misfortunes of life and football that have tarnished the franchise that worked so hard to reach the very top.
So despite the criticism from outsiders and naysayers about John Elway being selected to fill such a high executive position inside the Broncos front office, there's a new theme in the crisp Rocky Mountain air.
It came from the local legend's heart and his passion to see his professional football alma mater return to the championship form that it once held year in, and year out, for over 30 seasons.
When it comes to the Denver Broncos franchise, the past is not forgotten, near or far, however tragic or elated and joyous.
That's why it's so easy to embrace John Elway's message and his theme. If you really want to know what it is, it's simple.
"We Are Denver!"
--
Follow Chaz's national sports feed and other linked list on Twitter!
http://twitter.com/Chaz_Mattson
This article is
What is the duplicate article?
Why is this article offensive?
Where is this article plagiarized from?
Why is this article poorly edited?

Denver Broncos: Like this team?