Tennessee Titans: In Defense of Vince Young vs. Jeff Fisher, Part 2
January 6, 2011
Grant Halverson/Getty Images
Let me preface this by saying that if Vince Young had shown a little more maturity in dealing with the Tennesse Titans coaching staff, made a little more of an effort to earn respect from his teammates, and simply stayed healthy, he might still be the Titans starting quarterback.
But let me also say that the one thing that solves frayed relationships in professional sports is winning. And I'm not sure Jeff Fisher and the Titans did what it took to put Young in the best position to win.
Since Week 8 of the 2009 NFL season, when he returned from injury for only his second start of the season, and up until his thumb injury in Week 11 of 2010, Young actually played pretty well as a passer. During that span he completed 241/471 of his passes, with 3,183 yards passing, 22 TDs, nine INTs and three fumbles lost.
Of course after Young had his thumb taped up following the injury in Week 11, Fisher wouldn't let him return to the game. Well Vince flipped out, threw his jersey and pads into the crowd while leaving the field, and walked out on Fisher when he was confronted in the locker room. Young claimed he walked out on Fisher and not his teammates when asked about it.
Obviously Young acted way out of line in disrespecting his head coach like that, but it seemed like he was healthy enough to play, and if not for that game, certainly well enough to return in a couple games at most.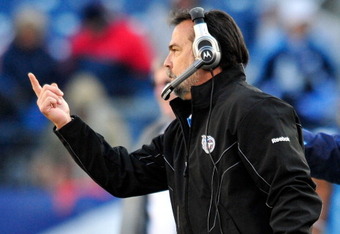 Grant Halverson/Getty Images
Fisher put him on the injured-reserve list.
Maybe all the injuries finally got to Fisher, and he was just tired of rotating the QB position and messing with the offensive tempo.
In the five games leading up to the confrontation, Young was injured at some point in three of them. He missed one due to injury and eventually replaced Kerry Collins in another.
That's a bad stretch. Maybe Fisher thought Young was exaggerating injuries, or (i.e. Randy Moss), decided to play when he wanted to play.
But that's speculation and I'm not ready to accuse Young of that.
However I don't believe Fisher ever really believed in Vince Young or trusted him enough to commit to him as the starter. In Week 2 of this season, Young struggled against an excellent Pittsburgh team and was immediately benched. He threw 10 passes and completed seven of them for 66 yards. Unfortunately, two of his three incompletions were interceptions and he also added a fumble to his turnover total.
But after a solid Week 1 performance in which Young threw for two TDs and only four incompletions, it's very questionable whether that decision was the right one.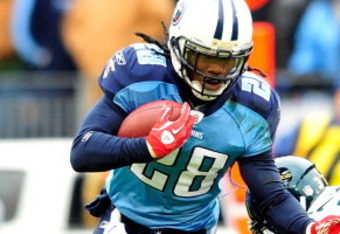 Grant Halverson/Getty Images
That was a moment where Fisher could've shown he was committed to Young and supported him by leaving him in to finish the game. But he instead replaced him with Collins who threw an interception and also offered up a fumble to the Steeler defense. From that moment on, the Young-Fisher relationship was all downhill.
When the news broke to Chris Johnson that VY was going to be cut or traded, he said he was shocked and didn't expect it at all. He added that Young was a guy that he always wanted to play with, that he was a good teammate, and that he produced all the wins.
Make what you will of it from Johnson, but it's clear the team's franchise player had Young's back.
Now everybody's saying that he can play well in a system that doesn't rely as heavily on a pocket-passer if given the opportunity and that maybe this divorce is good for him.
Yeah maybe all that's true. But why can't the Titans' system adapt so it's not pocket-passer driven? Why does Jeff Fisher win out when being stubborn about his system of choice? He's been there for 16 years and maybe it's his time to go.
Just imagine Chris Johnson and Vince Young in a wild cat offense of sorts. Oh the possibilities! They could've been the most explosive backfield in the league.
A simple quarterback read option where he could take it himself or hand it off to Johnson would've been successful. Then throw off of a play-action read option and have the defense second guessing themselves all day long. Even incorporate a traditional option play and pitch it to Johnson on the edge or not.
That's just scratching the surface. Maybe they were afraid of Young getting hurt even more but the Titans never delved deeper into the realm of possibilities with their athletic quarterback at all. They settled for the straight-forward, pocket-passing, Kerry Collins-like approach.
That's not Vince Young. He just wasn't given enough freedom to be able to make the plays he's capable of.
Now the Titans are stuck with Collins and eventually will have to start from scratch at the quarterback position because he won't be playing at a high level for very long.
As for Vince Young, I said it in Part 1 and I'll say it in Part 2: If the Titans aren't willing to give him a legitimate chance as a starting quarterback in this league, another team should.