New York Giants: Keeping Tom Coughlin Was The Right Move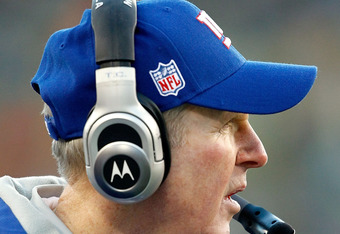 Matthew Stockman/Getty Images
Part of the beauty of football is that every piece of an organization is integral to sustain a winning franchise.
In baseball, some managers are merely directed to stay out of the way. In basketball, the head coach only has to manage 15 egos on the roster. I don't mean to take away from the workload these men take 365 days a year, but coaching a football team is a whole different animal. It is virtually impossible to hoist the Lombardi Trophy at the end of the season in spite of the head coach.
Tom Coughlin may have been the biggest reason the Giants surged to win the Super Bowl in 2007. He has done a fantastic job since taking over for Jim Fassel, whose lax approach permeated throughout the locker room and demanded a disciplinarian to cure it.
Since his arrival, Coughlin went 6-10 in 2004, and has not lost more than 8 games in a season since.
Frankly, the constant speculation regarding his job status is utterly mind blowing. Sure, Coughlin has his faults. Some found it distasteful he lashed out at his rookie punter even though in the grand scheme of the game, the game's final punt should never have happened if it weren't for questionable coaching decisions. Others get frustrated by his monotonous press conferences.
Here is a little tidbit that is emblematic of Coughlin's coaching skill. In the 2010 season, the Giants losses came via a trio of two-game losing streaks. And after each streak, the media and fans were calling for this man's job and inaugurating Bill Cowher as the 18th coach of the New York Giants. And each time, the Giants bounced back with a critical win.
But let me ask you this. Aside from that "pretty good team up north," as Mike Westhoff would put it, is there one fan base and one media outlet completely content with how the coach runs his team?
Rex Ryan is beloved throughout the nation for his propensity to draw attention to himself on a regular basis through humor and unconventional behavior, but those that watch the game are beginning to recognize his in-game coaching may be among the worst in the NFL.
I'd be hard-pressed to say there is a head coach that has an approval rating through the roof aside from Belichick. The only other exception may be Sean Payton. But then again, if Hank Baskett was able to corral the onside kick off the foot of Thomas Morstead, then it's a totally different story.
That play is indicative of the fine line of being a head coach in the NFL. One break can define the legacy of a head coach.
And by the way, before saying Coughlin failed to do his job by not leading the Giants to the playoffs a year after John Mara went off on everyone involved with the Giants organization, think back to last August. How many were predicting the Giants would have vast success this season? This guy coached his team to ten wins through tons of adversity and a plethora of injuries a year after an absolutely disastrous campaign. How many coaches in the NFL can do that?
Given the events of the Miracle at the New Meadowlands, some are quick to point to collapses of the past. But that game was a freak instance. It occurs once every 1,000 games, if that. If the Giants held on and won 11 or 12 games to clinch the second seed in the NFC, Coughlin should have been one of the favorites for Coach of the Year. See that fine line I was referencing?
The only reason to legitimately question his job status is if his players were passive in response to questions regarding his future with the Giants. And throughout the season, the majority of the players have been adamant in endorsing their head coach, the same guy who in 2004 the Giants filed a grievance against.
One of those players on that team was Amani Toomer, who said in a recent interview on WFAN that Coughlin never failed to have his players prepared for every single game.
Reflecting on the events of this season, I can't think of one legitimate reason to fire Tom Coughlin. Why should he be fired if his coaching skills can't be denied, and his players constantly reiterate they would run through a brick wall for him? There isn't a single reason. Not one.
Also on sportshaze.com, and up and coming sports hub
This article is
What is the duplicate article?
Why is this article offensive?
Where is this article plagiarized from?
Why is this article poorly edited?

New York Giants: Like this team?