NFL Coach Rankings, Week 18: Black Monday Quiet, More Moves Loom Ahead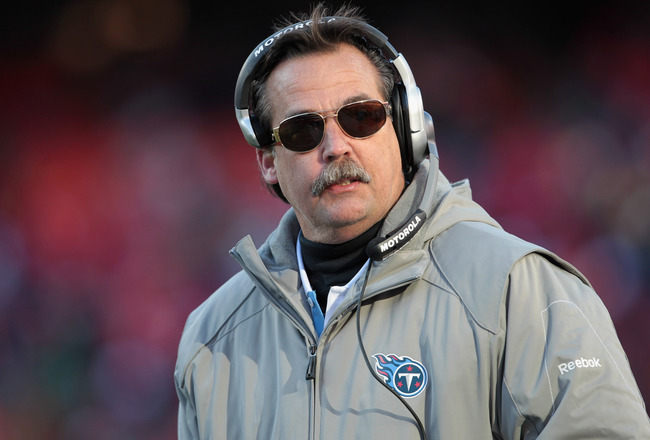 Jamie Squire/Getty Images
And so it ends. For all but 12 of the NFL's 32 teams, the season is now over.
For several teams, that means that changes will need to be made at the top.
If you count Dallas, there are currently five open head coaching jobs in the league. That number could increase by as many as four over the course of the week, with Miami, Cincinnati, Oakland and Tennessee all rumored to be shopping for new leading men.
Here's a look at what's happened since last week and a look ahead at what we can expect going forward.
Who's In, Who's Out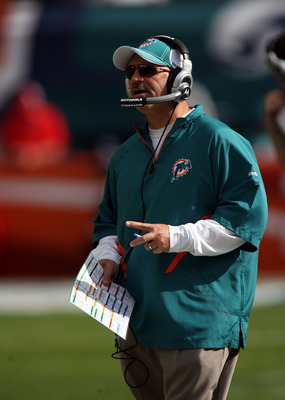 Marc Serota/Getty Images
Here's a quick checklist of who's already in and who's already out:
Saved from the Fire
Tom Coughlin, New York Giants
Coughlin's Giants have once again faded down the stretch, with Eli Manning leading the way.
Big changes are likely ahead for Coughlin's staff as the team continues to look for answers. For now, Coughlin is still the man in charge. He won't have much leash at all from here on out, however.

Gary Kubiak, Houston Texans
Surprisingly, the Texans retained Kubiak after a backslide to 6-10 in 2010.
He'll have to make sweeping changes to his staff, particularly on defense. He also will have to win next season. Another non-playoff year and the Texans will likely move in a new direction.

Jack Del Rio, Jacksonville Jaguars
Del Rio was probably much safer than the first two men, but his status was largely uncertain after the Jaguars failed once again to make it to the post-season.
Del Rio's teams tend to fade down the stretch and this year reflected that. He'll have to win next year or face elimination.
Gone
Eric Mangini, Cleveland Browns
Consecutive 5-11 seasons spelled the end for Mangini, who coached under Mike Holmgren's nose.
Where Cleveland goes next is anyone's guess, but Mangini should land on his feet as a defensive coordinator somewhere before returning to head coaching in a few years.

John Fox, Carolina Panthers
Fox may end up in Cleveland, but after the sad sack effort he put out this season he should come with warning labels.
He's supposed to be a good motivator and defensive coach, but his inability to build a long-term success on offense in Carolina has to be a concern.

Mike Singletary, San Francisco 49ers
Not able to build off of his "I want winners!" speech early in his tenure, Singletary was booted after changing quarterbacks continuously in 2010 and showing a tendency towards sideline outbursts and cluelessness.
He should land on his feet somewhere as an assistant.

Wade Phillips, Dallas Cowboys
Phillips has been here before and will be fixing somebody's defense next season. He got longer than most thought to turn Dallas around, but in the end he lost out to Jerry Jones' desire to bring another championship to Dallas.
Phillips' head coaching days are likely over, but he's an elite coordinator hire.
Brad Childress, Minnesota Vikings
This was ugly from the start.
Childress doesn't relate well with players, isn't a people person and couldn't develop a quarterback. He had the reputation of an offensive guru, but his teams always leaned heavily on defense.
He may get an assistant gig somewhere, but he is damaged goods for now.

Josh McDaniels, Denver Broncos
Is he the next Bill Belichick? Time will tell.
McDaniels has a lot of growing up to do. He needs to be less confrontational and more motivational next time. He'll go back to coordinating offenses for awhile and then get another shot when he's got more experience.
He's got talent, its just too raw for now.

Trouble In Tennesee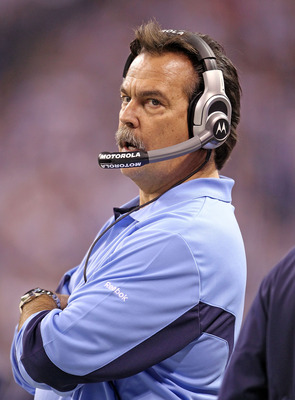 Andy Lyons/Getty Images
Now for a look at who's still in danger of losing their jobs. Let's start with Jeff Fisher in Tennessee.
Fisher has been on the block ever since Vince Young had a locker room tirade over how he disliked Fisher and his style. Normally, this wouldn't be much of an issue. Established coaches almost always get the nod over hot-headed quarterbacks with nothing proven.
This is not, however, an entirely normal situation. Far be it for me to quarrel with Titans owner Bud Adams, who's had a great run with Fisher for almost two decades, but his handling of this whole thing is ludicrous.
Quite frankly, he's in love with Vince Young as his team's quarterback. Forget that Young has shown no aptitude for learning and running an NFL offense, that he's prone to frequent outbursts and poor decisions off the field and that he's mediocre at most core skills required by the position.
That love may cost him one of the NFL's finest head coaches.
Fisher has made no secret that he has no intention of playing Vince Young again. He would likely have cut the quarterback already if the owner wasn't so enamored with him. Fisher has control over the roster, but Adams cuts his checks, so this is a situation on a collision course.
My guess is that Fisher resigns and moves on to one of the open jobs. He could be a candidate anywhere, but is more likely to take over a team with significant defensive problems since that is his forte.
Time Running Out in Cincinnati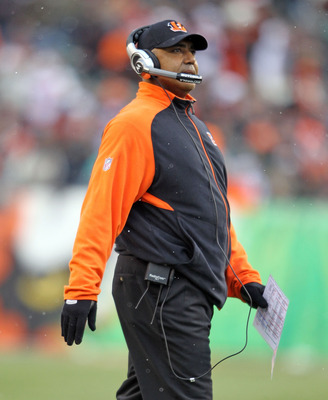 Andy Lyons/Getty Images
Now let's look at Marvin Lewis' situation in Cincinnati:
Of all the things that didn't happen yesterday, I was shocked that Marvin Lewis wasn't sent packing by the Bengals. Cincinnati looked awful this year and continued the trend of Lewis-lead teams to flounder after finding success the previous year.
This time, however, they didn't just flounder. The Bengals started 2-1 and then sank like the Titanic. It was ugly, it was painful to watch and it was sudden.
Lewis has to be on the chopping block. He's never really been that safe in years they haven't made the playoffs and he's had ample time to pull this team together. They came into 2010 looking more sound and talented than in 2009 when they made the playoffs.
You can't even blame Terrell Owens, who put up an excellent season and, until the end, was pretty quiet about the team's struggles. Nor can you blame Chad Ochocinco, who accepted a lesser role in the offense to accommodate Owens.
This is a team at a crossroads and it's high time they found someone else. Lewis lost the team early on this season and it was apparent. The Bengals racked up penalties and stupid plays like they were going out of style.
Lewis will land somewhere else. He could be a candidate at Pitt, a school almost as messed up as Cincinnati is in the NFL. He could go back to being a defensive coordinator and bide his time for a better gig too.
The Dolphin Debacle in Miami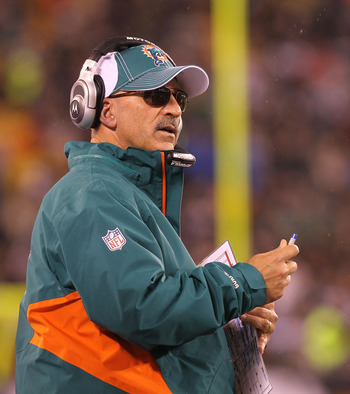 Nick Laham/Getty Images
Let's check in with Tony Sparano in Miami:
Whenever a coach is described as another coach's "guy" that means that the new coach needs credibility of his own. Tony Sparano has always been a "Bill Parcells guy." He failed to shed that title in three years on the job.
Now he may just shed the job. Parcells is gone. Jeff Ireland, the team's GM, doesn't seem intent on holding onto Sparano now that it's his show. He's looking at other targets including former Pittsburgh coach Bill Cowher.
Sparano failed to develop a quarterback in three years in Miami.
He won his first year with Chad Pennington and most of the players acquired by ex-coach Nick Saban. Then, he drafted Chad Henne to be the future. That didn't work out. Henne proved this season that he's a serviceable backup.
Sparano's team couldn't win at home in 2010, going 1-7 and finishing third in the AFC East.
The Dolphins looked listless at times, throwing away games they should have won, barely getting wins that should have been easy and failing to make big plays when it counted. They were the very definition of a mediocre team.
Now Sparano will likely have to ply his trade as an assistant once again. He, like the other endangered or already canned coaches, will find somewhere to land. Former head coaches always do find a place it seems.
Raiders Could Be Looking Again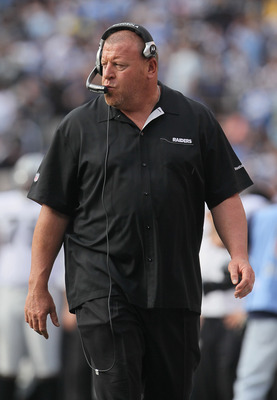 Jeff Gross/Getty Images
Finally, let's see about Tom Cable in Oakland:
When you're a head coach in Oakland, you live under the constant notion that Al Davis can fire you for anything at any time.
Tom Cable was an interim replacement who made good, got the gig full time and then turned the Raiders back into a respectable team this season. They finished 8-8, their first non-losing season since 2002, when Bill Callahan led them to the Super Bowl.
That doesn't mean he's safe. In fact, it seems more and more like Cable will be replaced.
He didn't have the best year once you look past the record. He couldn't settle on a quarterback, starting Jason Campbell and Bruce Gradkowski at different points. His team faded after emerging as mid-season contenders.
There were bright spots. The 8-8 record was obviously good, but going 6-0 in the AFC West was huge. The Raiders, even in their glory days, rarely made it through the division in such good shape. Darren McFadden emerged as a true game-changer. The Raiders defense and offense both seemed to make strides.
I'm not the biggest fan of Cable, but I think that the consistency and style he has brought to the team plays very well. I'd say he should get an extension and not a pink slip, but Al Davis isn't usually one for the logical play.
If he does get axed, he'll be a shoo-in somewhere else for an assistant.
Predictions For The Offseason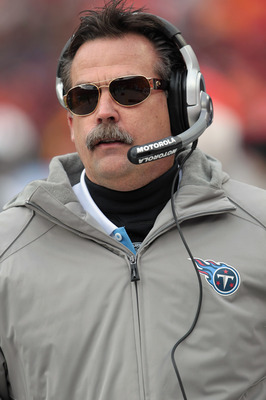 Jamie Squire/Getty Images
As we wrap up the regular season portion of this column, I'm going to give you my take on what should happen in each of the cities without a coach or who may be without one in the coming days.
Tennessee
Jeff Fisher will likely be allowed to resign. As for a new coach, I'd look at Bill Cowher or Jon Gruden as potential replacements.
After such long consistency, it would make little sense to drop an inexperienced guy into the job. If they do look at someone, they could stay in-house with Mike Heimerdinger. They need someone with strong discipline if they're going to keep going with Vince Young.
Denver
Eric Studesville isn't going to be retained, so obviously this is a team headed for a transition. John Elway is coming in to head up the football operations, so he'll probably have final say in who coaches the team next season.
Gary Kubiak could be a candidate if Houston will part with him, but the Broncos need someone with a defensive background. Jeff Fisher would be my pick.
Cleveland
John Fox's name has come up, Mike Holmgren could name himself coach, or someone else could step in. I don't like the scenario that has Holmgren coaching the team. It just doesn't fit.
Fox isn't ideal either. I'd like to see something innovative here. Maybe Hue Jackson from Oakland or even in-house candidate Rob Ryan.
Dallas
Jason Garrett deserves the job full time.
He's motivated this team and lead them to a strong finish. The possibility of Jeff Fisher being available hurts his chances for the time being, but he should be the guy in the end. Garrett's style fits this team. The only problem is that they need strong defensive help.
Minnesota
Leslie Frazier got the job, as he should have. Now he's got to find a quarterback and a few other pieces.
Oakland
Keeping Tom Cable should be the priority. The team needs consistency. Let him stay and draft a franchise passer to take over the team from Jason Campbell in a year or two.
Cable's worked wonders with mediocre talent, so now it's time to start giving him more tools instead of a pink slip.
San Francisco
The 49ers aren't too far from being competitive. They need a quarterback, another running back,and a few other pieces. They need stability at the top, something Mike Singletary didn't provide.
Jon Gruden could be a candidate here, but he may not want the job. If not him, then the team should strongly consider another offensive guru.
Carolina
This team needs help on offense, but its hard to argue against Ron Rivera, who's emerged as an early favorite. He might get the job. The Panthers have had a long time to plot out their next move, so it's safe to say they're more than ready to pursue someone. I'm surprised Cowher's name hasn't come up. He may not want the job.
Miami
They need a lot of help and someone who's patient. A coach who can develop a quarterback would be a plus. They could go to the assistant trail and hire Rob Ryan or Hue Jackson. The status of the team will be cleared up a lot once they drop Sparano. It's hard to read right now exactly which way they want to go.
Cincinnati
This is a team in need of some veteran leadership. If not that, then they need someone who's young and tough-minded. Rob Ryan would be a good hire here. Ron Rivera could also be a candidate. They could also look at someone like Gruden, although it's unlikely they'll pay his asking price. This team needs help everywhere, but it's easy to imagine that discipline and motivation from the top could fix what ails them most.

Keep Reading