Blaine Gabbert Declares for the 2011 NFL Draft: 5 Reasons He Is First Rounder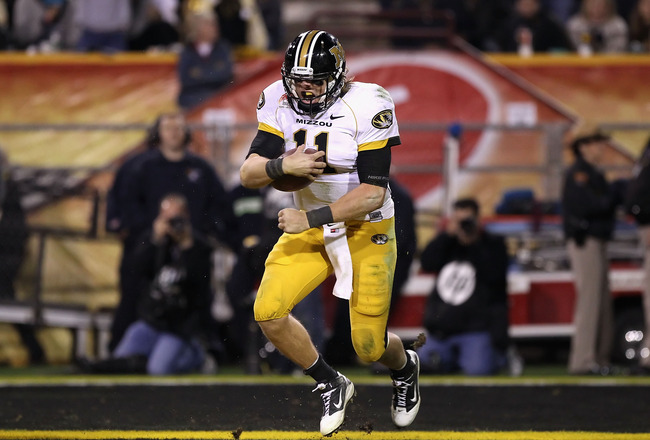 Christian Petersen/Getty Images
Blaine Gabbert has chosen to forego his senior season and declare for the 2011 NFL Draft. The junior quarterback had an impressive career for the Missouri Tigers and now hopes that will translate into the NFL.
When can we expect Gabbert to hear his name called? Answers to this question vary significantly. While some consider the Mizzou signal caller a mid-round prospect at best, he has all the making of a first-round draft pick and has a great chance of hearing his name called on Day 1 of the 2011 NFL Draft.
Experience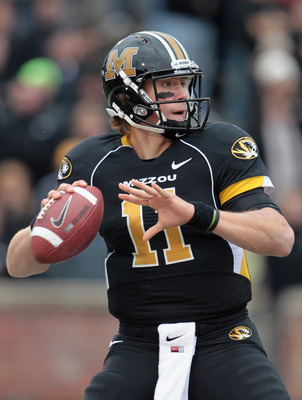 Jamie Squire/Getty Images
Blaine Gabbert has two full seasons of experience at Mizzou under his belt—a time frame in which he collected 18 victories for a Tiger team that was not all of that great throughout his career as a starter. Gabbert came to his home state university despite being one of the most highly sought after recruits in the country and earned playing time right away. Prospects with Gabbert's level of experience are always hot commodities on draft day.
Toughness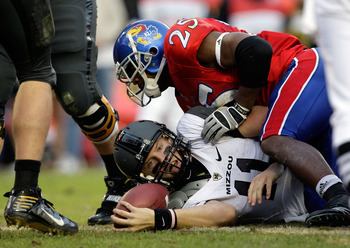 Jamie Squire/Getty Images
Blaine Gabbert is no stranger to injury. Missouri's signal caller has played through a number of injuries throughout his career, including a severely sprained ankle suffered at the hands of Ndamukong Suh. Gabbert also battled a rib injury this season. He is as tough as nails and willing to take a hit in the pocket.
Gabbert Has All of the Tools (Arm Strength, Accuracy, Size, Etc.)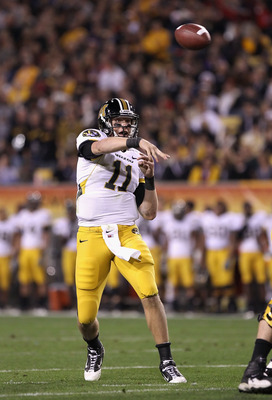 Christian Petersen/Getty Images
There is no debate that Blaine Gabbert has all of the tools necessary to be an NFL quarterback . He has a lazer arm, adequate accuracy and great height and bulk for an NFL prospect a 6'5'', 235 pounds. Gabbert is athletic and makes smart decisions with the football (for the most part). His production has not always matched his elite physical tools, but he has the makeup of a franchise quarterback.
Intangibles (Leadership, Confidence, Work Ethic, Intelligence)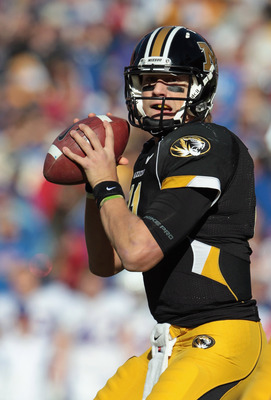 Jamie Squire/Getty Images
In addition to his impressive physical measurables, Blaine Gabbert possesses a lot of the intangibles necessary to find success in the NFL. Gabbert played his best football in Mizzou's most important games. He led them to victories over Texas A&M and Oklahoma and performed admirably in the Insight Bowl until that one misguided throw that led to Iowa's game-winning touchdown. Gabbert relishes the spotlight and excels in clutch situations.
Someone Will Fall in Love with Him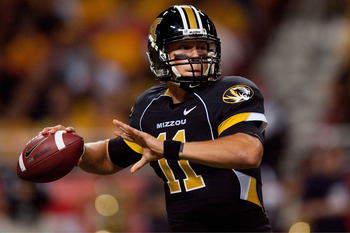 Dilip Vishwanat/Getty Images
We see it every year. A junior quarterback declares early and picks up steam throughout the combine and interview process becoming a first-round pick in the process. Gabbert could be that guy in the 2011 NFL Draft. Blaine Gabbert will deliver eye popping results at both his combine workouts and his pro day, and I suspect he will knock the interviews out of the park with his high football I.Q. and charismatic personality.
I find it hard to believe that Blaine Gabbert would forego his senior season for his hometown team unless he had reason to believe he would be drafted in one of the first couple rounds. ESPN reports that some scouts have given him a first-round grade. Gene Smith, the general manager for the Jacksonville Jaguars, personally attended the Insight Bowl, and there is reason to believe Gabbert was on his list of targets.
Blaine Gabbert could hear his name called on Day 1 of the 2011 NFL Draft if his stock continues to pick up steam.
Keep Reading