The 10 Most Idiotic Owners in Sports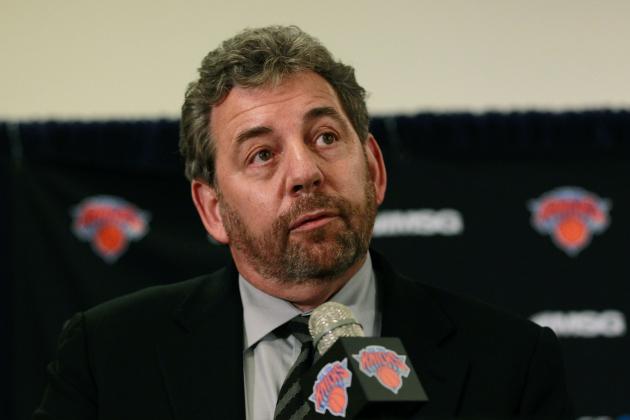 Chris Trotman/Getty Images

If someone has enough zeroes in the bank account to purchase a professional sports franchise, it's hard to imagine that same person acting in a completely idiotic fashion.
However, these 10 guys seem to achieve the impossible on a regular basis. Boy, do these guys really know how to make complete fools out of themselves in the public eye.
Maybe these gentlemen should have read How to Own a Franchise for Dummies, because it sure would help them tremendously.
Begin Slideshow

»
Mike Stobe/Getty Images

Wang has made a commitment to spend big dollars, and that usually makes fans happy.
However, that's not exactly the case here. He's had no problem throwing big dollars toward the payroll, but these investments have really crippled the team's financial flexibility.
Having said publicly that he regrets buying the team, it's certain that the Islanders' fans share the same dissatisfaction.
Marc Serota/Getty Images

While it's hard to argue with his two World Series rings that came as a result of blowing up the team, Loria has really given Marlins fans little to cheer about in the last few years.
With the recent unwillingness to give Dan Uggla a reasonable extension, Loria may as well have officially given the finger to the entire Florida faithful.
It's no wonder they can't draw anyone into a game; with the exception of Hanley Ramirez and Mike Stanton, there is little reason to draw optimism about the direction of this team.
Lisa Blumenfeld/Getty Images

Moreno fought extremely hard for the Angels to have the team officially from Anaheim.
Then, he fought extremely hard once again to bring Los Angeles back into the name.
Now, he's promised to go all out with big money in an offseason that featured SP Cliff Lee and OF Carl Crawford.
He came up with neither, and if 3B Adrian Beltre winds up being the grand prize for an Angels team that sorely needs offense, it's going to be a long year in Anaheim, Los Angeles, or wherever Moreno might be.
Scott Boehm/Getty Images

America's team, huh?
The 2010 regular season and the Wade Phillips saga was the perfect illustration of why any professional franchise should not make the owner, the general manager and president the same person.
Jones might be a worth a boatload (or two) of money, and the Cowboys' impressive new stadium is absolutely jaw-dropping, but he needs to make some serious business decisions that improve the infrastructure of that team, and I'm not sure he'll be willing to relinquish that power.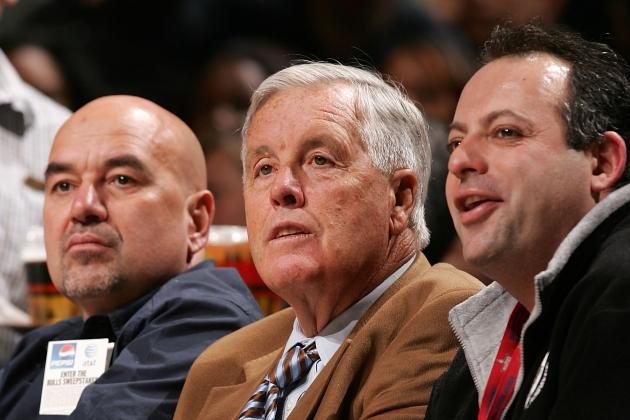 Jonathan Daniel/Getty Images

After promising to keep the franchise in Vancouver upon purchasing the team in 2000, Heisley promptly moved the team to Memphis in 2001.
He agreed to sell the majority share in 2006, but the deal fell through, and he's been particularly apathetic since that time.
With an insane temper that is paired perfectly with his tightly sealed wallet, this loud-mouthed buffoon should not be anywhere in front of a microphone.
Gregory Shamus/Getty Images

Mr. Gilbert, I know that your intentions were proactive in that LeBron letter, but boy, did you mess up.
Not only did you look like a complete moron on television for the following few weeks, but the Cavs are a complete mess since your boy left town, and his Heat are setting the rest of the league on fire.
But it's cool, because you've got promising young talent like J.J. Hickson and a veteran leader in Mo Williams to run your team, right?
Wrong.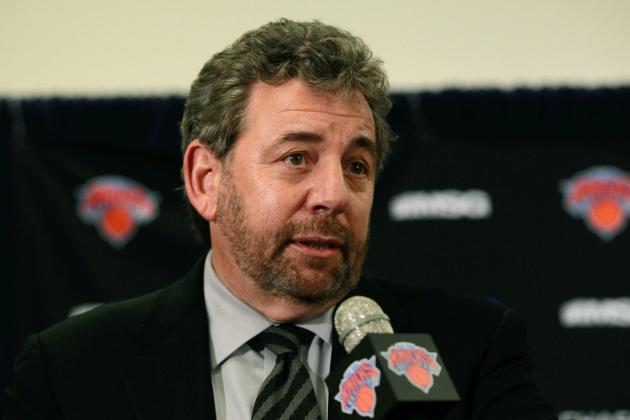 Chris Trotman/Getty Images

Two words: Isiah Thomas.
And now there are reports circulating that Dolan would actually consider bringing back Thomas despite his historically bad stint at the helm?
Maybe he needs a CT scan, or maybe he's just incapable of logical thought. With the Knicks actually playing well, somebody better strip Dolan of his title before he unleashes any more fury.
Larry French/Getty Images

It's still shocking to watch Snyder think that he can win through free agency.
Instead of building through the draft for any chance at sustained success in the nation's capital, this deep-pocketed owner tries to make a big splash every offseason, only to rarely see it work.
It hasn't been pretty in Washington since Snyder bought the team, and the guy he gave a $100 million deal to? Well, he hasn't exactly provided an adequate return on investment.
But at least he was willing to shell out the dough for Donovan's extension, right? Let the good times roll.
Jed Jacobsohn/Getty Images

Remember the Lane Kiffin letter?
Senile doesn't even begin to describe Mr. Davis.
Granted, he has relinquished some of his power in these latter days of his career. Davis ran the Raiders into the ground for far too long and really devalued the franchise that NWA helped to make mainstream.
Now reportedly looking to make yet another coaching change despite an 8-8 season, Davis would do everybody a favor by selling his team sooner rather than later.
Jonathan Daniel/Getty Images

Really, nobody is worse than Sterling.
After reportedly screaming courtside jeers at Baron Davis this season during home games, it seems that the oft-disinterested owner has finally lost control.
The Clippers have been the bottom-feeders of the NBA for quite some time now, and although there's some light at the end of the tunnel with their youth infusion led by super-rookie Blake Griffin, Sterling set this franchise back further than most thought remotely possible.