Jeff Fisher: Five Reasons It's Time for the Titans To Fire Their Head Coach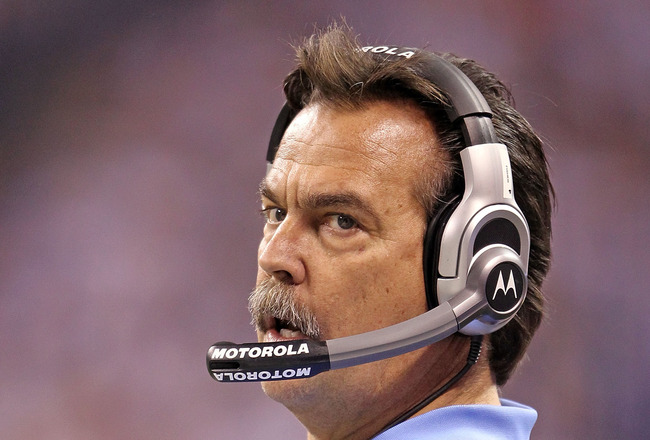 Andy Lyons/Getty Images
As everyone knows the coaching carousel is spinning and one coach that may be getting kicked off the rid is Tennessee Titans head coach Jeff Fisher.
It is a situation that has the fanbase torn down the middle as to whether their team should keep their head coach or keep their quarterback, because it seems as though the two can't resolve their issues and work together.
Over the next few slides I am going to break down a few reasons as to why it may finally be time to fire their head coach. You may agree or disagree with the opinions and facts presented on these slides, and I ask that you will share your opinion.
5. Losing Streaks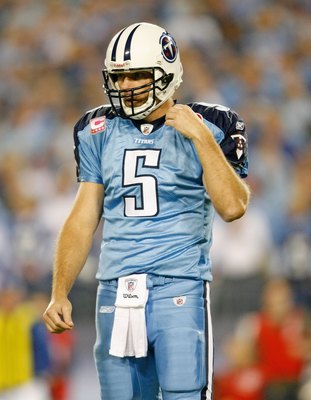 Andy Lyons/Getty Images
That is a quarterback after a six game losing streak, and in five of the last seven season under Jeff Fisher the Titans have had losing streaks comparable to that one.
In fact the Titans started 0-6 last year, and went from 5-2 and sitting pretty in the AFC to 5-8 and out of the race. In 2006 the Titans drafted Vince Young, but continued to start Kerry Collins until the team was 0-3 and headed nowhere. Finally Young got his first chance under center and the team ended up at 0-5 before he got in the groove of the NFL and led the team to an 8-8 season.
Young had a knee injury that sidelined him for most of 2008 and didn't retain his starting job until the 0-6 start to last year.
The losing streaks are typically because of injuries, which injuries aren't a coaches fault. The reason Fisher is to blame here though is because his teams don't typically deal with adversity very well. Unless Vince Young is making a 99-yard game winning drive against the Cardinals.
Anyways, the Titans need a coach who can deal with issues like injuries and still win. Belichick did it when Brady went down.
4. Too Old School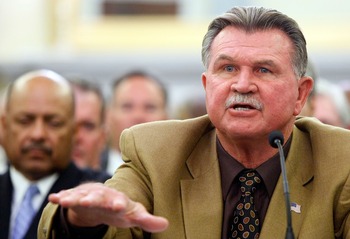 Win McNamee/Getty Images
Mike Ditka was a great coach in the 80's, and that is where Fisher learned a lot of his techniques.
Fisher plays with the mindset of running the ball and playing solid defense, but it's not 1985 anymore it is 2011 and the NFL is a passing league. Sure teams have success running the ball. Who wouldn't say the Chiefs are based on that principle? The Chiefs have a coach that supports their best option at quarterback and gives him a chance to be efficient.
Jeff Fisher unlike Todd Haley does not trust Vince Young and will not let him lay efficient football. Fisher runs on first and second down and expects whoever the quarterback is to pick up 7 or 8 yards on third down. That is not manageable or reasonable to expect any player to do all the time.
It is like attempting a game winning drive with no timeouts from your own 15 in the last 1:30 of a game. Most drives like that end in interceptions because the defense knows you have to pass, and Fisher just makes it easy on opposing defenses on third down.
The outdated system isn't working, and needs a change.
3. Lack of Playoff Success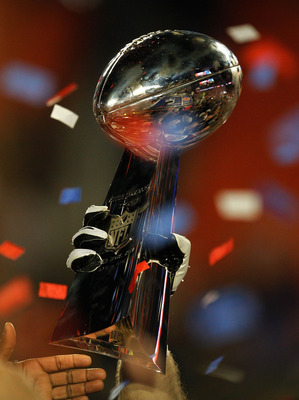 Jonathan Daniel/Getty Images
Not once has the Titans franchise had the opportunity to hoist the Lombardi Trophy, and Fisher hasn't changed that in sixteen seasons. When does a guy run out of mulligans? Marty Schottenheimer was great in the regular season, but couldn't lead the Chargers to the Super Bowl and he got cut, but Fisher keeps going even though he is going down this road of failure.
Some may argue that just because he hasn't won the big game doesn't make him a failure, to which I ask what is every teams ultimate goal at the beginning of the year? To win the Super Bowl. You don't reach the goal then you fail, and that has happened 100% of the time with Fisher who has only made the playoffs six times.
Sixteen seasons and only six playoff appearances, not cutting it by a long shot. Then when he makes the playoffs half the time he leads his team to a one and out, which is completely unacceptable. To be a coach in the NFL you have to be able to coach on the big stage.
2. He Is Supposed To Be a Defensive Minded Guy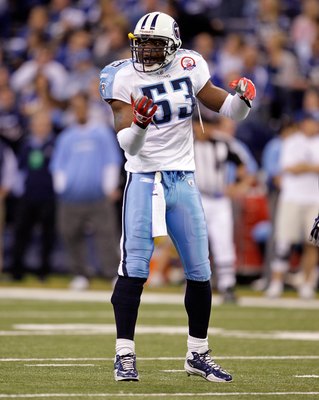 Andy Lyons/Getty Images
It is no secret that Jeff Fisher likes for his teams to play defense and run the ball, but the problem is his defenses are never really as good as they should be in the NFL.
His teams may have one of the best run defenses over the past 16 years, but what good does stopping the run do in a passing league? It has allowed his defenses to have a top 5 scoring defense only two times. I used the scoring defense because points win games, not yards.
Now that we see he has a top notch defense one in every eight seasons how many times has he had a defense in the bottom five in scoring? Four times is the answer to that question. Simply put, he wants to be a defensive coach, but he doesn't know ho to utilize the talent he has to make it work.
On average Fisher's scoring defenses finish 16th in the league, considering the Texans have only been a team for half of his tenure as head coach he doesn't even crack the top half of the league.
1. Only Six Winning Seasons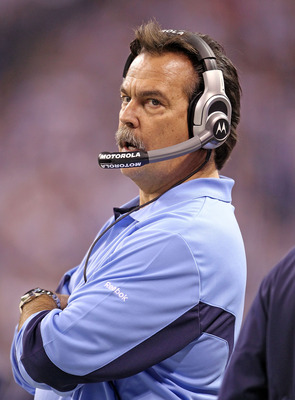 Andy Lyons/Getty Images
Everything else aside in this sport that every young boy plays as he grows up for fun is actually all about winning. Fisher's overall record is above .500, but just by a bit.
In 16 full seasons as the head coach of the Titans, Fisher has a record of 141-115. All of those wins that keep Fisher on the green side of things come in six separate seasons. With a win count of 10, 11, 12, 13, 13, and 13 wins in his six winning seasons.
Those are impressive numbers I am not going to lie, but the fact he has coached sixteen seasons and has only had six winning records is not impressive in the least to me. Especially when you factor in that he has had five losing seasons and five 8-8 seasons.
Jeff Fisher is not the great coach a lot of fans and the media make him out to be, he is simply a coach. Just an average coach and the Titans need to get an above average coach while they still have some of the talent they have.
Keep Reading

Tennessee Titans: Like this team?