MLB Trades: 15 Important Minor Trades You May Have Missed This Offseason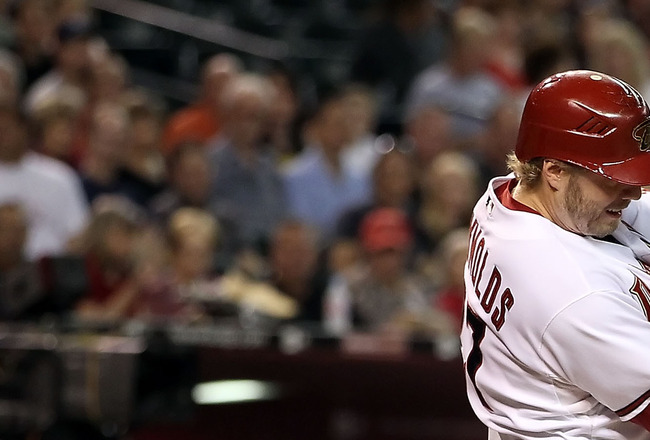 Christian Petersen/Getty Images
Blockbuster trades, like the one that sent slugger Adrian Gonzalez to the Boston Red Sox, get all of the attention from fans and analysts. But they are no more or less important than any other trade a general manager might make this offseason.
These under-the-radar trades are a valuable way to fill up a final roster spot, or to acquire some depth for the big league team or to bring in prospects as part of a rebuilding effort. No team can be built entirely from major trades and big free agent signings, and these deals show that winning in baseball is harder than it looks.
This offseason has been one of the busiest in recent memory, and dozens of players are now with new teams. Here is a look at the 15 most important minor trades made so far.
15. Jose Lopez Goes To Colorado, Chaz Roe Comes To Seattle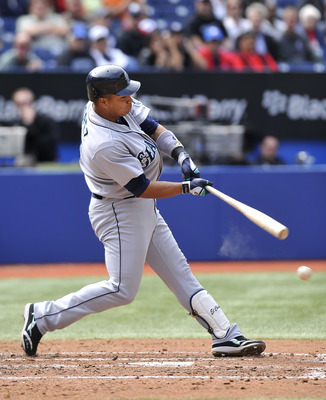 Brad White/Getty Images
Lopez was atrocious last season, batting only .239 and slugging a career-low .339. But the 27-year-old infielder has put up great power numbers in the past (25 home runs in 2009) and should be more than able to replace Clint Barmes in Colorado. He'll see action at second base and shortstop.
Roe, 24, pitched in AAA last season and posted a 5.98 ERA in 27 starts. He's a former first round pick and is regarded as a good sinkerball pitcher, but it doesn't appear he's ready for the big leagues just yet.
The Mariners were going to non-tender Lopez if they couldn't find a trade partner, so getting anything of potential value is a good move.
14. Dodgers Deal Ryan Theriot To St. Louis For RHP Blake Hawksworth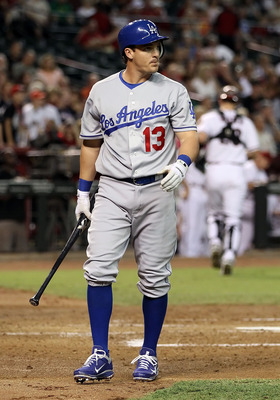 Christian Petersen/Getty Images
Theriot's stint with the Dodgers became short-lived after Los Angeles picked up Juan Uribe to be their starting shortstop. But the 30-year-old infielder has a new home in St. Louis, where he is expected to be the shortstop.
Theriot spent most of his career in the NL Central with the Chicago Cubs and, though he's not much of a hitter (career .704 OPS), he's a good fielder with speed and position flexibility.
Hawksworth, 27, made 45 appearances for the Cardinals last season and had a 4.98 ERA in 90.1 innings. He does a good job of keeping the ball in the park, but he gives up a lot of hits. He's likely to pitch out of the bullpen with the Dodgers, but he could also see some action as a spot-starter.
13. Yankees Swap 1B Juan Miranda For Diamondbacks RHP Scott Allen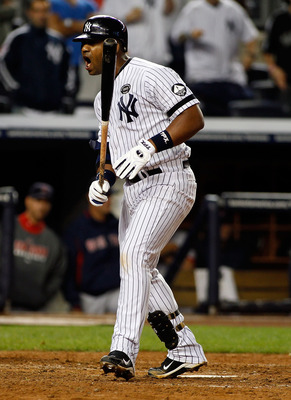 Mike Stobe/Getty Images
The Yankees didn't have much need for the 27-year-old Miranda, with Mark Teixeira at first base and Jorge Posada as the DH. But the left-handed slugger does have a .788 OPS in 94 Major League at-bats and should be able to compete for the unoccupied first base job in Arizona.
Allen, 19, is a minor league pitcher with 95.2 career innings and a rate of 8.9 strikeouts per nine innings. The righty was used mostly as a starter, but he's only in A ball and won't factor into New York's big league plans for several years.
12. Rockies Trade Clint Barmes To Houston For RHP Felipe Paulino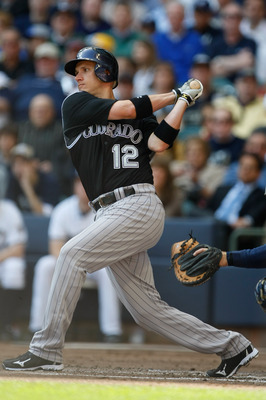 Scott Boehm/Getty Images
Barmes has bounced around the Rockies' infield and outfield ever since Troy Tulowitzki was called up. He had a good year in 2009, hitting 23 home runs and posting a .734 OPS, but he regressed badly in 2010. Last season, he hit only .235 and his OPS dropped to .656.
Paulino, 26, was 1-9 last season in 14 starts for the Astros. His 5.83 career ERA over parts of three seasons is hard to look at, but his career 8.1 BB/9 ratio is impressive. He throws hard and is especially good against right-handed batters. He has a shot to crack the Rockies' rotation, or at the very least be the long-man out of the bullpen.
The 31-year-old Barmes is expected to play mostly shortstop for the Astros, but he could see action elsewhere as well. He in his last year of arbitration eligibility and was at risk of not being tendered a contract, so Colorado did a good job of getting something for him.
11. Scott Linebrink Joins The Braves, Kyle Coefield Goes To The White Sox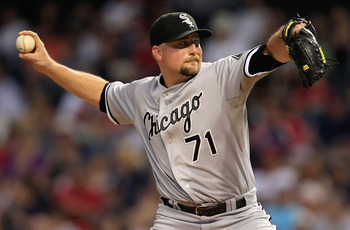 Jared Wickerham/Getty Images
Linebrink, once one of the best set-up men in the game, has been a disaster for the White Sox since signing a four-year, $19 million deal back in 2008. He has a 4.28 ERA in three years in Chicago and hasn't pitched more than 60 innings in a season since 2007.
He was brilliant a few years ago with the Padres, and a return to the National League could be a boost to his numbers. But at 33 years old, it's unwise to expect much from Linebrink. The Braves will only have to pay the righty $2 million, and Linebrink is still a great strikeout pitcher who will see some action in the seventh and eighth innnings.
Coefield is a 23-year-old minor league starting pitcher who has made it as far as AA, where he had a 4.39 ERA in 55.1 innings last season. He has at least one Major League pitch (his fastball), but his control numbers (career 4.9 BB/9) don't project well to the big leagues.
The White Sox were fortunate to be able to unload at least some of Linebrink's contract, but Coefield doesn't provide much value in return.
10. Zach Duke Designated For Assignment, Acquired by Diamondbacks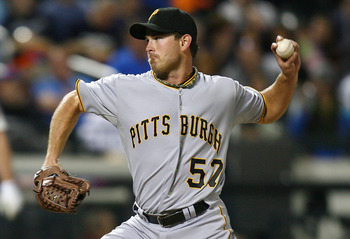 Andrew Burton/Getty Images
Duke was supposed to be the future ace of the Pirates rotation, and he even pitched like one for a few years. He was an All-Star in 2009 after making 32 starts and posting a 4.06 ERA. But he had a terrible season in 2010, his ERA rising to 5.72 and his WHIP ballooning to 1.65.
Still only 27, the left-hander has been unable to fool Major League hitters over his six seasons. He's regularly among the league leaders in hits allowed, and his career rate of 4.7 SO/9 is awfully low for a starting pitcher.
The Diamondbacks signed Duke to a $4.25 million contract, so the expectation is that he will join their rotation.
Pittsburgh got righty Cesar Valdez in return, a 25-year-old who made his debut for the Diamondbacks last season and had a 7.65 ERA in nine games. He needs more time in the minors, but he could be a back-of-the-rotation starter in the near future.
9. Matt Lindstrom Joins Colorado Bullpen For Two Minor Leaguers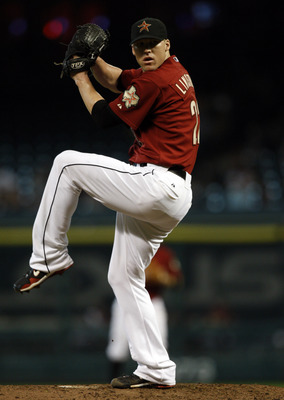 Bob Levey/Getty Images
Lindstrom, 31, had a decent season out of the Houston bullpen in 2010. He saved 23 games while pitching to the tune of a 4.39 ERA in 53.1 innings. He doesn't strike out too many batters, but he does generally keep the ball in the ballpark (career 0.5 HR/9).
He joins a Rockies bullpen that already features Huston Street, Matt Belisle and Rafael Betancourt. He won't be asked to close in Colorado, but he's a good addition all the same.
The Astros got minor league pitchers Jonathan Aristil and Wes Musick. Aristil, 24, is a converted starting pitcher who has a 4.47 ERA in his minor league career. Musick, 24, is a left-handed starter with a 3.78 career ERA, but he's never pitched above the A level.
Both Aristil and Musick are several years away from even sniffing a chance at the majors, but Houston isn't in any rush to compete right now, anyway.
8. Blue Jays Get Rajai Davis From Oakland For Dany Farquhar and Trystan Magnuson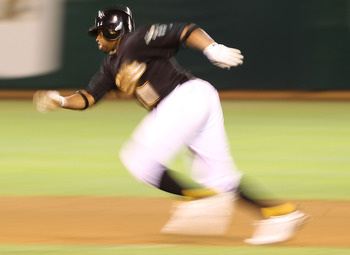 Jed Jacobsohn/Getty Images
Davis became expendable after the Athletics got David DeJesus from the Kansas City Royals (later on this list), and he fills an immediate need for a Toronto team that is desperately slow.
Davis stole 50 bases in 143 games for Oakland last season and is one of the fastest men in baseball. He's not much of a hitter (career .713 OPS), but as a Blue Jay he should be able to lead off and set the table for a collection of thumpers that includes Jose Bautista, Vernon Wells and Travis Snider.
Farquhar, 24, and Magnuson, 25, are both relievers who have never made it above AA. They put up good numbers last season, but minor league middle relievers with no closer potential are not in very high demand these days.
Both have a chance to one day pitch out of the Oakland bullpen, but they are at least a season or two away from making any sort of impact. At best, they provide the Athletics' farm system with some more pitching depth.
7. Athletics Add Josh Willingham, Nationals Get Henry Rodriguez and Corey Brown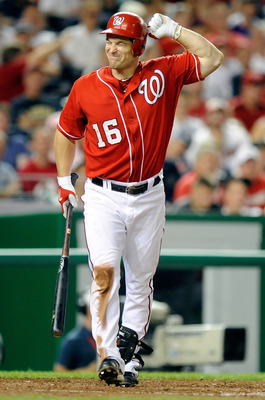 Greg Fiume/Getty Images
The Nationals had to make room for free agent signee Jayson Werth, and that meant Willingham's time in Washington was over.
The 31-year-old outfielder is a productive Major League player who has hit 102 home runs over the last five seasons. He doesn't contribute much else, but his .841 career OPS is still a major improvement for an Athletics team that didn't have a single outfielder who hit more than eight home runs last year (Coco Crisp).
Rodriguez is a promising 23-year-old pitcher who made 29 appearances out of the Oakland bullpen in 2010 and had a 4.55 ERA. He's a power pitcher with control problems, but if he can lower his 4.2 BB/9 rate from last season, then he has the potential to be a Major League closer.
Brown is a 24-year-old minor league outfielder with strong power numbers (career .856 OPS) and good speed (22 steals in 2010). He has good potential and could join the Nationals as a starting outfielder in a year or two.
6. David DeJesus Traded to Oakland For Vin Mazzaro and Justin Marks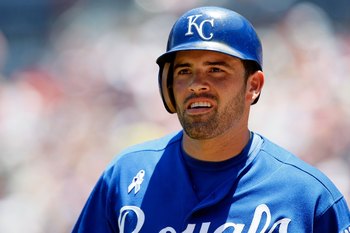 Kevin C. Cox/Getty Images
DeJesus has been on the trading block for quite some time now, and the Royals finally pulled the trigger on a deal with the Oakland Athletics for two pitchers.
DeJesus, 30, suffered an injury midway through the 2010 season that ended his year. But the left-handed-hitting outfielder owns a career .289/.360/.427 line and is a very competent Major League player.
The Athletics were miserable offensively once again in 2010, batting only .256 as a team and slugging a pathetic .378. DeJesus is not an All-Star, but he's a definite upgrade over the Oakland trifecta of Gabe Gross, Rajai Davis and Ryan Sweeney that combined to hit all of seven home runs last season.
Mazzaro, 23, had a decent season in the Athletics rotation, making 18 starts and earning a 4.27 ERA. But there was no room to keep him in the rotation, so Oakland was in a good position to move him. Marks, 22, is a left-handed starting pitcher with a career 5.29 ERA in 129.1 minor league innings.
Marks still has a long way to go to be Major League-ready, but Mazzaro has a chance at being the temporary ace of the Royals rotation with Zack Greinke now gone.
5. Marlins Send Mega-Prospect Cameron Maybin to San Diego For Relief Help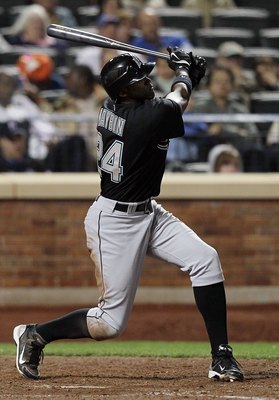 Jim McIsaac/Getty Images
The Marlins were desperate to retool their bullpen and they made a controversial move trading the 23-year-old Maybin to the Padres for relievers Edward Mujica and Ryan Webb.
Maybin, acquired in the Miguel Cabrera blockbuster trade a few seasons ago, was supposed to be the Marlins' future center fielder. But Maybin struggled over parts of three seasons in Florida and owns a career line of only .246/.313/.380. Many evaluators felt that the Marlins gave up on Maybin too soon, but he's San Diego's project now.
Both Mujica and Webb were effective relievers for the Padres last season. Mujica, 26, had a 3.62 ERA in 59 appearances, while Webb, 24, had a 2.90 ERA in 54 appearances. Both pitchers will be under team control for several more seasons and should be immediately effective out of the Marlins bullpen.
The Padres had no reason to hold on to two middle relievers when they have no plans of contending any time soon. Instead they acquired Maybin, who has a shot at still developing into the five-tool talent everyone thought he would be. This was a great low-risk, high-reward trade for San Diego.
4. J.J. Hardy, Brendan Harris Find a New Home In Baltimore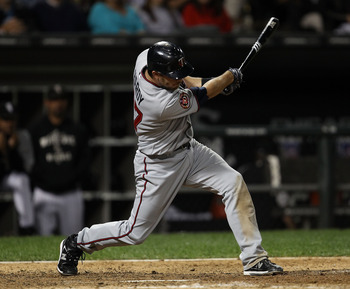 Jonathan Daniel/Getty Images
The Orioles made a shrewd move to acquire Hardy and Harris from the Minnesota Twins for Brett Jacobson and Jim Hoey.
Hardy was once a big-time prospect for the Milwaukee Brewers and had a career season in 2007, when he hit 26 home runs and batted .277. His numbers have fallen each of the last three seasons and he only played in 101 games for the Twins in 2010. But he's still only 27 years old and has excellent power for a shortstop. He will replace Cesar Izturis in the Orioles' lineup and should be a welcome addition to a team that collectively slugged only .386.
Harris, 29, is a utility infielder who only batted .157 for the Twins last season. But he can play all over the infield and is a decent depth acquisition. Jacobson is a 23-year-old righty who had a 2.79 ERA as a reliever in high A last season, while Hoey is a 24-year-old righty who has seen limited action out of the Orioles bullpen over the last two seasons and has a career 8.13 ERA.
Jacobson is a decent prospect who should one day help out the Minnesota bullpen, but neither he nor Hoey are anything to get excited about. The Twins were lucky to get any sort of return for Hardy, who they were on the verge of non-tendering.
3. Rays Unload Jason Bartlett For Four San Diego Prospects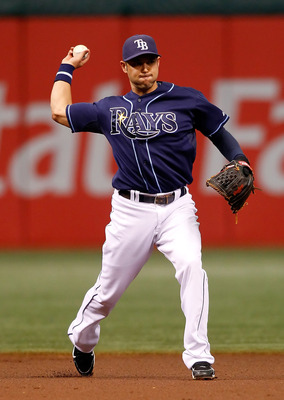 J. Meric/Getty Images
The Tampa Bay Rays made way for young shortstop Reid Brignac when they traded away the 30-year-old Bartlett for Cesar Ramos, Brandon Gomes, Cole Figueroa, and Adam Russell.
Bartlett will take over for Miguel Tejada as the Padres' everyday shortstop, but he is unlikely to match his production from 2009, when Bartlett was named an All-Star for the first time. Last season, he hit just .254 and slugged .350, and he is now moving to a pitcher's park. He won't put up big numbers in San Diego, but he is still a decent role player to have.
In return, the Rays got four prospects. Ramos is a 26-year-old lefty who pitched in 14 games out of the Padres' bullpen in 2010 and also has some experience starting. Russell is a big 27-year-old lefty who has a 4.50 ERA in 54 career innings out of the bullpen. Gomes is a 25-year-old lefty who last season in AA sported a 1.87 ERA and 11.6 SO/9. Figueroa is a 23-year-old middle infielder who batted .303 last season in high A.
None of these players figure to be future All-Stars, but they provide outstanding depth for a Rays team that lost practically its entire bullpen to free agency.
2. Brewers Add Shaun Marcum For Prospect Brett Lawrie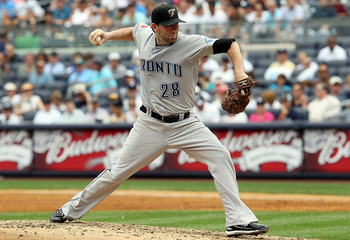 Jim McIsaac/Getty Images
The Brewers set out to improve their starting rotation this offseason and they got a great head start by acquiring the 28-year-old Marcum from the Toronto Blue Jays.
Marcum had a coming-out party in 2010, making 31 starts for the Blue Jays and compiling a 3.64 ERA in 195.1 IP. He had a terrific 3.84 SO/BB ratio and should put up ace numbers pitching in the National League.
The Brewers gave up the highly regarded Lawrie, a second base prospect who was blocked on the Major League team by Rickie Weeks. Lawrie is one of the top ranked prospects in all of baseball after being drafted 16th overall in the 2008 draft. He posted a .285/.346/.451 line in AA last season, and even added 30 steals.
Lawrie should see some action in Toronto late next season and is in line to be the Blue Jays' starting second basemen by 2012.
1. Orioles Get Mark Reynolds For RHP David Hernandez, Kam Mickolio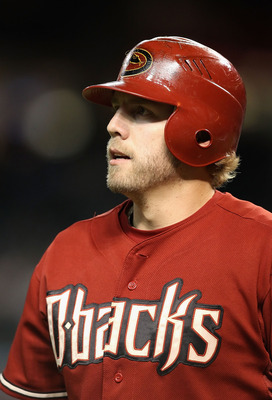 Christian Petersen/Getty Images
The Arizona Diamondbacks had to break up their lineup with the way their hitters were striking out, and Reynolds saw more than his share of third strikes. He struck out a Major League-record 223 times in 2009 and followed that up by whiffing 211 times last season.
But one thing that Reynolds does do very well is hit home runs. He's smacked 121 in four seasons and owns a career .817 OPS. That's good news for the Baltimore Orioles, who have only one returning hitter with at least 20 home runs in a season (Luke Scott—27). Reynolds is also just 26 years old and signed through the 2013 season with a reasonable contract.
Reynolds joins a lineup that now features Adam Jones, Nick Markakis, Matt Wieters and Derrek Lee. This is not yet a team capable of competing with the Yankees or Red Sox, but they should at least challenge for third place in the AL East.
The Diamondbacks are in full rebuilding mode and they got a couple of good arms to set them in the right direction. David Hernandez is a 25-year-old righty who made eight starts for Baltimore in 2010 and enjoyed a 4.16 ERA. He also spent some time closing for the Orioles, but he should be used primarily as a starter in Arizona.
Mickolio is a big, 26-year-old righty who has seen limited action out of the Baltimore bullpen in parts of the last three seasons.
Keep Reading