2011 NFL Mock Draft: HäMMëR Predicts the Detroit Lions v. 1.2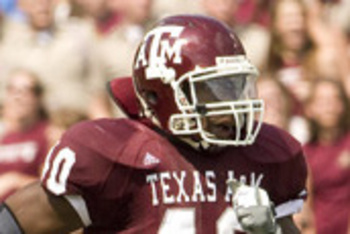 Could the Detroit Lions make Texas A&M linebacker Von Miller their first selection in the 2011 NFL Draft?
The Detroit Lions are on a serious winning streak, three games in a row now, and are moving down the draft board. With their latest road win over the Miami Dolphins, the Detroit Lions would find themselves holding the ninth overall selection in the 2011 NFL Draft in April 2011 if the season were to end today.
Should the Detroit Lions take care of business down at 2000 Brush Street against the Minnesota Vikings during the season finale this coming Sunday, January 2, 2011, the Lions could pick immediately following the Vikings around the 14th overall selection in the first round.
To be certain, the Detroit Lions coaches and players will not be entering this weekend's contest with draft position in mind, rather focusing their efforts on winning, and finishing the 2010-11 campaign with a 6-10 record.
This past weekend it was awesome to watch the Lions score 17 fourth-quarter points to defeat the Miami Dolphins after the "Dolfans" had already begun to exit the stadium. Those Phish fans weren't familiar with my Detroit Lions, as it can require 60 minutes of battle focus to beat the Leos.
Thank you Chad Henne.
While I don't know if rookie quarterback Joe Webb will be the starter for the Minnesota Vikings on Sunday or if Brett Favre will make his final appearance at Ford Field, I do know that the Detroit Lions "Disassembly Line" (courtesy to Pete Ledesma) is providing fans with plenty to cheer about, and rookie defensive tackle Ndamukong Suh has been named a starter for the NFC Pro Bowl team.
As the Detroit Lions continue to win and move down the 2011 NFL Draft board, there are new players to consider along the way. With this movement, I have added four new prospective draft choices to my latest mock draft.
Just to provide continuity, here are links to my two previous Detroit Lions mock draft articles:
2011 NFL Mock Draft: Predicting the Detroit Lions
http://bleacherreport.com/articles/544130-2011-nfl-mock-draft-predicting-the-detroit-lions
2011 NFL Mock Draft: HäMMëR Predicts the Detroit Lions v. 1.1
http://bleacherreport.com/articles/549700-2011-nfl-mock-draft-hmmr-predicts-the-detroit-lions-v-11
I have been a Detroit Lions mock draft enthusiast for several years. My selections are largely guided by the information made available by the fine people at NFLDraftScout (www.nfldraftscout.com) and Drafttek (www.drafttek.com). Michael Sudds is a draft prospect authority and his opinion is one that I highly value. I would like to credit these sources and make them available to you in your quest to "mock the Detroit Lions draft" like many of the Pride Faithful.
Here is the template from which I will be working as of today, Thursday, December 30, 2010. The Detroit Lions have their own picks in rounds one through six, plus Philadelphia's sixth-round pick, but owe a conditional sixth-round pick to the Atlanta Falcons (Chris Houston), for a current total of six picks in the 2011 NFL Draft. For sake of discussion, I'm going to make the pick gained from Philadelphia the selection to be parlayed to Atlanta.
No. Rnd Ovrl
1. 1. (9)
2. 2. (42)
3. 3. (68)
4. 4. (104)
5. 5. (138)
6. 6. (177)
I try to allow for a reasonable number of compensatory picks beginning at the end of the third round, and each round thereafter, to give a more realistic feel for where the overall selection will be made. When appropriate, I will offer primary and alternate player picks for each prospective draft selection.
Let's get started by bringing home one of Detroit's own!
HäMMëR
Pick No. 6, Round 6, Joseph Barksdale, Offensive Tackle, LSU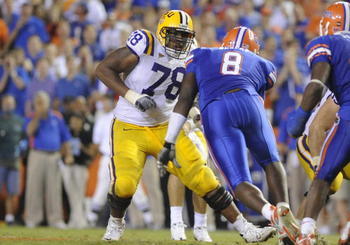 LSU offensive tackle Joseph Barksdale in action against former Florida Gator Carlos Dunlap
Allow me to say that there is no disrespect intended to any of these fine young men, who are each outstanding, special athletes, and where I slot them in my mock draft process is not a slight to them or their ability, rather my guess as to where they might fall in the draft resultant from a myriad of factors.
I think a good many of the Detroit Lions faithful enjoy it when the front office is able to bring home to play Detroit's sons who have sojourned through the professional football farm system we know as college football. This big Detroiter went all the way down to the Bayou to learn under one of the "Sons of Bo", the mad hatter himself, Les Miles.
When you consider which players may be available in the sixth round of the 2011 NFL Draft, you're looking for value plain and simple, and a "big ugly" like Barksdale can be a very good get in the later rounds. Joseph has seen plenty of starting action against some of the SEC's best defensive talent, and could make for good depth as a player who might be able to contribute at tackle or guard, most likely on the right side of the line.
Pick No. 5, Round 5, Lee Ziemba, Offensive Tackle, Auburn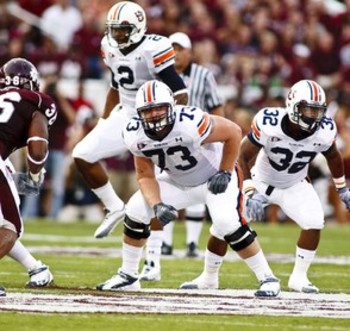 Auburn left tackle Lee Ziemba, No. 73, making reading for pass protection.
I can't think of a better spot to select an All-America offensive tackle who competed victoriously through the Southeastern Conference in 2010, providing blind-side coverage for 2010 Heisman Trophy winner, Cam Newton.
Auburn left tackle Lee Ziemba has prototypical size for the National Football League and could immediately compete for the right guard position in 2011, or even find himself at tackle as Cory Hilliard has this season. This type of player who is a swing tackle or can play guard has tremendous value for the folks in Allen Park.
Ziemba has competed at a high level since his true freshman season at Auburn University, and with Mayhew and Schwartz placing a high premium on games played, Big Lee would be a nice road grader for the Detroit Lions offensive line at about the 138th overall selection in the 2011 NFL Draft.
Pick No. 4, Round 4, Curtis Marsh, Cornerback, Utah State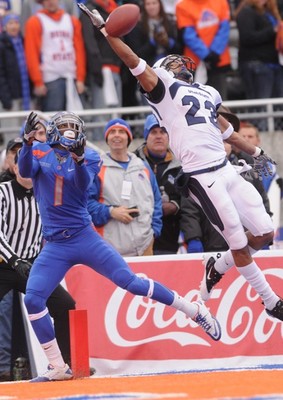 Utah State cornerback Curtis Marsh plays "keep away" from Boise State!
As the shape and scope of the 2011 NFL Draft continues to unfold for the Detroit Lions, so do the prospective players who could eventually become Detroit Lions during the 2011 season. The changing landscape has unearthed a potential fourth-round gem, Curtis Marsh, a running back turned cornerback from Utah State.
While sitting in section 103 at Sun Life Stadium in Miami Gardens, Florida, there were times when it seemed like the Lions defensive backs were just giving up too much cushion. Curtis Marsh comes from an aggressive bump and run coverage background at Utah State, yes, complete with pass interference penalties to boot, and boasts 4.44 40-yard speed on a 6', 193-pound frame to stay with elite receivers.
Despite the fact that Marsh is a converted running back and has only been playing cornerback for the past couple of seasons, his athleticism and raw talent have landed him an invitation to the Senior Bowl, where he can be further evaluated against the top receivers in the nation.
If the selection of a player like Curtis Marsh, whose father played in the NFL, could blossom into an Asante Samuel-type pick, the Pride Faithful would be more than appreciative of the efforts of the Detroit Lions front office.
Pick No. 3, Round 3, Nate Irving, Linebacker, North Carolina State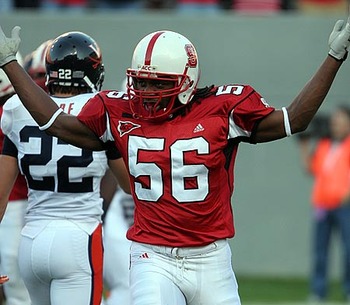 North Carolina State linebacker Nate Irving fires up the troops against the Virginia Cavaliers.
It is my estimation, as draft day draws nearer, that North Carolina State linebacker Nate Irving's draft stock is going to climb. How far his stock rises is yet to be determined, but Mayhew and Schwartz have an affinity for adding multidimensional players who are both fast and quick, can make a play on the ball, and can help to flip the field on defense. That is Nate Irving.
As I detail my thought process in my mind's eye, I can't see Nate Irving falling out of the third round of the 2011 NFL Draft. I have a strong feeling that his combine numbers are going to solidify a high third-round grade. In this week's scenario, the Lions hold the 68th overall selection atop the third round, which at this point seems to be sufficient to be able to acquire Irving.
Mason Foster remains an alternate pick atop the third round, as does Texas cornerback Aaron Williams or Miami (FL) linebacker Colin McCarthy.
Whatever approach the Detroit Lions take to adding to or rebuilding their linebacker corps of the future, suffice to say that I hope each player is evaluated both for the near- and long-term. If the Lions add a pair of multidimensional, playmaking linebackers in the 2011 NFL Draft, it will be interesting to see how head coach Jim Schwartz, defensive coordinator Gunther Cunningham, and linebackers coach Matt Burke deploy their new starting group.
Bobby Carpenter had a strong day in Miami, leading the Lions in tackles on the day with eight solo and one assisted for nine total tackles against the Dolphins. Bobby actually looked comfortable on the field playing against his former team, and the silver on his helmet must have been energized in Columbus, because I haven't seen him play that effectively at linebacker since his days as a Buckeye.
If the Detroit Lions were to strike pay dirt during free agency by signing the likes of Minnesota Vikings linebacker Chad Greenway and New York Jets linebacker, former Michigan Wolverine via Grand Rapids Ottawa Hills High School, David Harris, it could alter the Lions draft plans from acquiring too much young help at the linebacker position. Harris or Woodley should have been Lions anyway, not the Spartan, so it is only right that David should return "home."
Whether the Detroit Lions secure new talent to bolster the linebacker corps for the 2011 campaign via free agency or the draft, they need a group who is more consistent at tackling, shedding blocks, and defending the pass against backs and tight ends. If the Lions could be set with the base of Carpenter and Levy going forward, it could lessen the need to find quite as many bodies.
Pick No. 2, Round 2, Jimmy Smith, CB, Colorado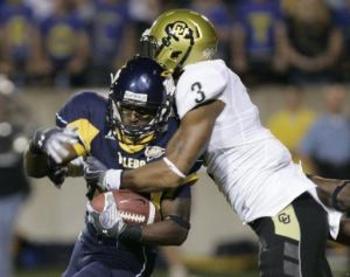 Colorado cornerback Jimmy Smith making a tackle.
In the event that the Detroit Lions miss out on acquiring either Patrick Peterson or Prince Amukamara with their first-round selection in the 2011 NFL Draft, the Detroit Lions would do well to take a good look at the best cornerback still available when the team picks in the second round.
Jimmy Smith, the 6'2" 205-pound speedster from the University of Colorado, has seen action in about 40 games, but as a full-time starter only for the past couple of seasons. His play earned him 2010 First Team All Big 12 honors.
Big 12 teams tend to throw away from Jimmy Smith, so the opponent's respect for his coverage ability has resulted in fewer opportunities for "stats" for Smith. Jimmy Smith is another playmaker who can take it "all the way to the house" anytime he is able to get his hands on the ball.
Colorado's Jimmy Smith has a similar size/speed combination as former Utah defensive back Sean Smith, the Miami Dolphins starting cornerback opposite Vernon Davis. I'll be at the game in Miami to get a closer look at the Davis-Smith cornerback tandem, and hope that Calvin Johnson and Nate Burleson each have a banner day.
And the results were victory! Miami's Smith wasn't big enough or good enough to contain Calvin Johnson all day, but if Jimmy Smith had the opportunity to practice against Calvin Johnson every practice, I'd have a feeling that our Smith would be better than their Smith. The Detroit Lions also have a Pro Bowl Johnson with enormous talent.
And my new top selection for the Detroit Lions in the first round of the 2011 NFL Draft is... (It's Miller time, folks!)
Pick No. 1, Round 1, No. 9 Selection Overall, Von Miller, Linebacker, Texas A&M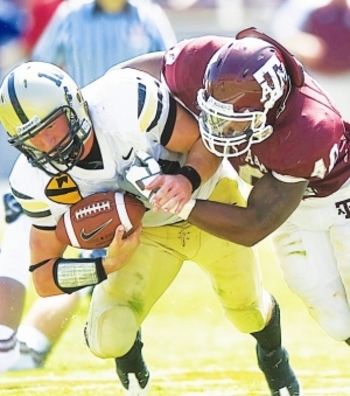 The young man on the left is wearing my combat patch, the 1st Cavalry Division, and will professionally defend the freedom of the man tackling him, Texas A&M linebacker Von Miller.
Just a few years back the Detroit Lions spent the ninth overall selection on a fast and athletic linebacker from Florida State. He made such an impression on the new leadership in Allen Park that they went out and traded to acquire his brother, then sent him packing in a three-way trade that brought former Denver Broncos tight end Tony Scheffler to Detroit.
Thank you for your service, Ernie Sims.
Philly is winning and Scheffler is hardly making a noticeable difference on game days, so thank goodness for the increased production by Brandon Pettigrew, which was more than noticeable during his sophomore season with the Detroit Lions.
There was once a linebacker out of Texas A&M whom the Detroit Lions selected in the first round, passing on NFL living legend and former Hurricane, Ray Lewis, and that selection was ultimately met in tragedy when the former Aggie Reggie Brown was lost to a paralyzing and near-death neck injury.
My prayer is that this time around, the Detroit Lions would land a true keeper in Texas A&M consensus All-America linebacker Von Miller.
At 6'2" and 243 pounds, Von Miller runs a 4.56 40-yard dash, which would be very competitive with Aaron Curry when he came out of Wake Forest. Not only is Miller fast, but he should test very well at the 2011 NFL Combine, where his 20-yard short shuttle and three-cone drill performances should be among the best of the linebacker group. If Von can bench press 225 pounds 25 times or more, he will demonstrate that he possesses the upper-body strength to handle the physical rigors of his rookie campaign.
Von Miller could be my first-round draft pick candidate the rest of the way home at this point. I'm a former collegiate middle linebacker, so I won't be able to help myself. I hope Martin Mayhew will find this selection equally irresistible and opportunity met with preparedness.
Here's to winning 11 regular-season games in 2011!!!!
GO LIONS WIN!
HäMMëR
2011 NFL Mock Draft: HäMMëR Predicts the Detroit Lions v. 1.2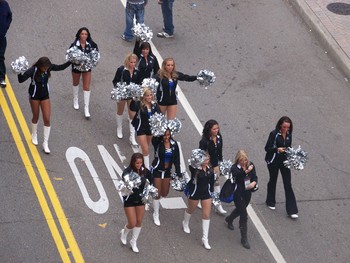 Detroit Pride Cheerleaders parade down Brush Street following the Lions win over the Redskins. Lions fans hope for victory this Sunday in the season finale against the Minnesota Vikings.
Did I mention there will be an article forthcoming about the Detroit Pride Cheerleaders?
2011 NFL Mock Draft: HäMMëR Predicts the Detroit Lions v. 1.2
| | | | | | | | |
| --- | --- | --- | --- | --- | --- | --- | --- |
| Rnd | Ovrl | Player | Pos | College | Ht | Wt | 40-yd |
| 1. | (9) | Von Miller | OLB | Texas A&M | 6'2" | 243 | 4.56 |
| 2. | (42) | Jimmy Smith | CB | Colorado | 6'2" | 205 | 4.49 |
| 3. | (68) | Nate Irving | MLB | North Carolina State | 6'1" | 232 | 4.68 |
| 4. | (104) | Curtis Marsh | CB | Utah State | 6'0" | 193 | 4.44 |
| 5. | (138) | Lee Ziemba | OT/OG | Auburn | 6'6" | 320 | 5.22 |
| 6. | (177) | Joseph Barksdale | OT/OG | LSU | 6'5" | 318 | 5.26 |
Rock on, Lions fans!
Keep Reading

Detroit Lions: Like this team?