NFL Picks Week 17: Predictions for Every Game This Weekend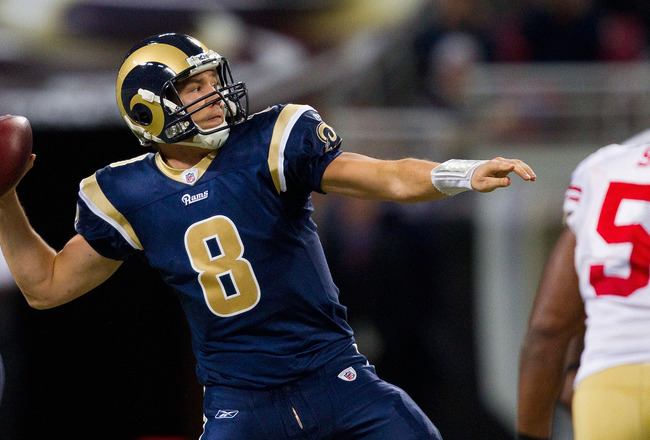 Dilip Vishwanat/Getty Images
The NFL regular season is coming to a close this week and there are still two divisions up for grabs.
In the NFC West, Seattle hosts St. Louis in a winner-take-all game for the division title and a home playoff game.
In the AFC South, Indianapolis holds a one-game lead over Jacksonville. If the Colts can beat the Titans they are in. However, with a Jaguar win and a Colt loss, Jacksonville will be hosting a playoff game.
There is also a bit of intrigue when it comes to playoff seeding. A few teams need wins to improve their chances at bye weeks.
Read on here to find out how the regular season is going to end and let us know what you think. Is your team going to win this week? Tell us why.
16. Miami at New England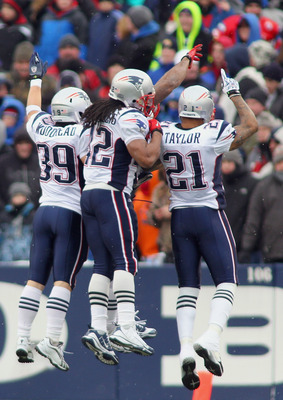 Rick Stewart/Getty Images
Line: New England by 4

How Miami Could Win: The Dolphins have the rare opportunity to finish a season 1-7 at home and 7-1 on the road, all they need is a win in New England this week. They can accomplish this if the Patriots decide to rest their players for the playoffs.
Really, Miami has quite a few problems this year when rushing the ball. When the Dolphins have been good in recent years they were always great running the ball. If they want to win, they are going to have to be great running the ball this week.
How New England Could Win: In recent years, the Patriots have usually had a tendency to keep their foot on the gas in these types of games. Bill Belichick is not the type of coach that is going to really rest his guys late in the season.
Tom Brady has a chance to lock up an MVP with just an average game this week against a good Dolphins defense. If the Patriots don't turn the ball over, they win running away.
Prediction: New England 31, Miami 10

15. Carolina at Atlanta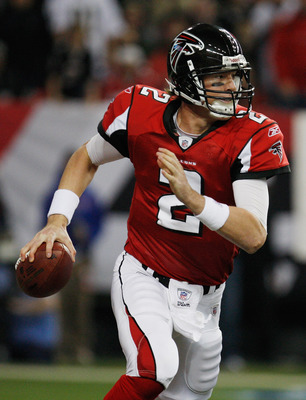 Scott Halleran/Getty Images
Line: Atlanta by 15

How Carolina Could Win: Honestly, the only way the Panthers win this one is if the Falcons miss the bus to the stadium. The Panthers are the worst team in football right now, they are guaranteed the top overall pick in the draft and they have a ton of holes to fill on this roster.
Unless Jimmy Clausen suddenly has a personality change, the Panthers aren't winning this one.
How Atlanta Could Win: Atlanta really just needs to show up. They absolutely have a better roster than the Panthers and will have no trouble taking care of business against a division rival.
I do expect Atlanta to actually try in this one. The Falcons need a win to lock up home field throughout the playoffs. I think they will have the desire to shake off a late loss to New Orleans last week and they don't want to rely on other teams to lose for them to get the top seed.
Prediction: Atlanta 45, Carolina 14

14. Minnesota at Detroit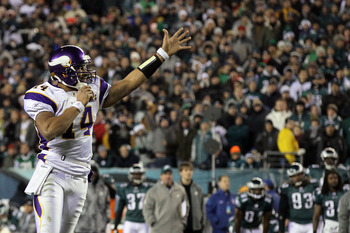 Jim McIsaac/Getty Images
Line: Detroit by 3

How Minnesota Could Win: Brett Favre failed another neurological exam yesterday and has likely played in his last NFL game, that means that rookie Joe Webb will have another chance to show what he can do as a quarterback in the league.
Speaking of Webb, I was very impressed with him last week in the win over Philadelphia. He was a guy that I thought would never be a quality NFL starter, looks like I could be wrong.
Head Coach Leslie Frazier and Webb are both fighting for jobs with Minnesota next year, so I expect them to pull out all the stops to get a win in this one.
How Detroit Could Win: Detroit has been fantastic against the spread this year. The Lions might not have won many games this year, but it looks like they have some nice pieces to build toward the future and Detroit deserves to start having some success,
I think Minnesota has more reason to win this one, but the Lions win if they have pride to take care of business as a home favorite.
Prediction: Minnesota 21, Detroit 20

13. Pittsburgh at Cleveland
Jared Wickerham/Getty Images
Line: Pittsburgh by 6

How Pittsburgh Could Win: Pittsburgh needs this win to lock up the two seed and a bye in the playoffs. If they lose and Baltimore wins, the Ravens would have the two seed.
All the Steelers need to do to win this one is to not take the Browns lightly. If they play like they are still fighting for a playoff spot, they win this one.
How Cleveland Could Win: If Pittsburgh doesn't play with a sense of urgency, the Browns would love to play the role of spoiler. If the Browns help the Ravens get the two seed, it could be one of the defining moments of their season.
For the Browns to win, they need to hope the Steelers are satisfied where they are. If the Browns play to win and the Steelers play apathetically, Cleveland wins this one at home.
Prediction: Pittsburgh 24, Cleveland 20

12. Oakland at Kansas City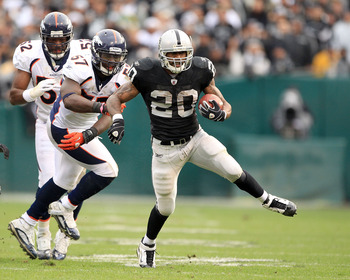 Ezra Shaw/Getty Images
Line: Kansas City by 4

How Oakland Could Win: Oakland is just playing for pride at this point. The Raiders have a chance to win eight games for the first time since they made the 2002 Super Bowl. They also have a chance to go undefeated in the AFC West.
Darren McFadden also is a guy that should have quite a bit of motivation in this one. The running back was snubbed in the Pro Bowl voting and now he has a chance to show voted just what they are missing out on.
If Oakland plays motivated they could win this one.
How Kansas City Could Win: Kansas City's only motivation in this one is keeping a perfect home record. Right now the Chiefs are 7-0 at home and with a win over the Raiders they will go 8-0. However, as far as the playoffs go, the Chiefs are locked into the three seed, win or lose.
The Chiefs win this one if they want to go for the perfect home record.
Prediction: Oakland 24, Kansas City 20

11. Tampa Bay at New Orleans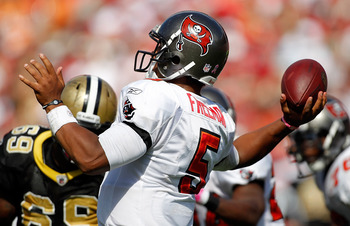 J. Meric/Getty Images
Line: New Orleans by 8

How Tampa Bay Could Win: Believe it or not, the Buccaneers still have a chance at the playoffs. With a Bucs win and losses by both the Giants and the Packers, Tampa Bay will sneak into the playoffs. If the Bucs play like their lives depend on the outcome, they have a chance to beat the Saints.
How New Orleans Could Win: The Saints will likely be going hard in this one. They still have a chance at the division title and a first-round bye if Atlanta falls to lowly Carolina. However, their first priority has to be getting a win over Tampa Bay.
If the Saints play with pride and play with a desire to get better, they win here.
Prediction: New Orleans 31, Tampa Bay 24

10. Cincinnati at Baltimore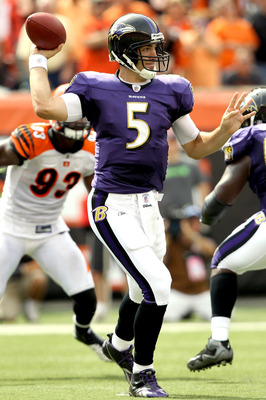 Matthew Stockman/Getty Images
Line: Baltimore by 10

How Cincinnati Could Win: The Bengals embraced their roles as spoilers last week, when they knocked the Chargers out of the playoff race. This week they have a chance to seal the Ravens' fate as a wild-card team and not a division winner.
The Bengals win if Carson Palmer doesn't feel the need to force the ball to his "marquee" receivers. It seems like Palmer was at his worst this year when both Terrell Owens and Chad Ochocinco were demanding the ball. Now that they both are hurt, Palmer can just play football.
How Baltimore Could Win: Baltimore will be fired up in this one. They have a chance to steal the division if Pittsburgh falters. However, in order to do that, they need a win over the Bengals this week.
If Ray Rice runs the ball like he did two weeks ago in a win over the Saints, the Ravens will run away with this one.
Prediction: Baltimore 24, Cincinnati 10

9. Buffalo at NY Jets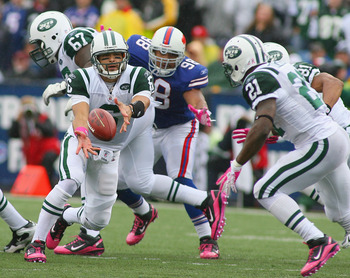 Rick Stewart/Getty Images
Line: Even

How Buffalo Could Win: There isn't a whole lot of motivation for the Bills in this one. The only thing they are playing for is a win over a division rival that is headed to the playoffs.
The Bills win this one if they feel that a win over the Jets will build confidence towards next year.
How New York Could Win: New York is pretty much locked into the six seed, so they could use week 17 as a chance to rest Mark Sanchez.
The Jets win if the Bills play like a team that hasn't made the playoffs in 10 years.
Prediction: NY Jets 21, Buffalo 17

8. NY Giants at Washington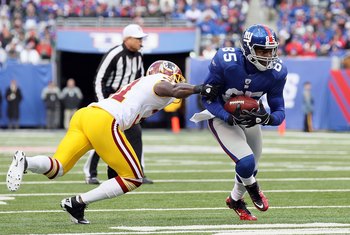 Jim McIsaac/Getty Images
Line: NY Giants by 4

How New York Could Win: The Giants fell out of the playoff driver's seat last week when they got smoked by Green Bay. Now to have any chance at a playoff berth, they need to win this week.
If the Giants can keep from turning the ball over in a hostile environment, they will win this one. They have the running game, quarterback, and defense to be a playoff team. However, without a win, they will certainly be on the outside looking in.
How Washington Could Win: It looks like benching Donovan McNabb for Rex Grossman wasn't a terrible choice for Mike Shanahan. While Grossman hasn't lit the world on fire, he hasn't been awful either.
If Grossman can keep from having historically bad games that he has had in the past, the Redskins have a chance, albeit a small one.
Prediction: NY Giants 24, Washington 17

7. Tennessee at Indianapolis
Andy Lyons/Getty Images
Line: Indianapolis by 10

How Tennessee Could Win: Tennessee has not lived up to preseason expectations, but with Vince Young injured and the rest of the offense really struggling to put up points, the Titans are not headed to the playoffs.
The Titans will likely need to win this one to save Jeff Fisher's job and even then it's doubtful he is back next year. However, if the Titans play like their collective lives are on the line, they could knock off an under-performing Colts team.
How Indianapolis Could Win: Indianapolis has had one of its most disappointing seasons in recent history, yet despite the struggles they are still in control of a playoff spot. However the Colts are in need of a win to lock up the playoffs.
For the Colts to win, Peyton Manning needs to play like Peyton Manning.
Prediction: Indianapolis 27, Tennessee 24

6. Chicago at Green Bay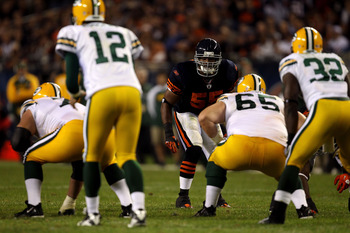 Jonathan Daniel/Getty Images
Line: Green Bay by 10

How Chicago Could Win: Chicago has locked up the NFC North division crown but they do have a chance at a first round bye if they win this one.
If the defense keeps up the pressure on Aaron Rodgers and if the Bears don't rest their players, they could win this one.
How Green Bay Could Win: The Packers have a lot more at stake than the Bears. They need a win to get into the playoffs and after a huge win over the Giants last week, they look as motivated as ever.
The Packers win if they can keep that motivation going.
Prediction: Green Bay 27, Chicago 24

5. Arizona at San Francisco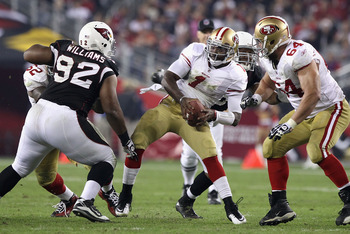 Christian Petersen/Getty Images
Line: San Francisco by 7

How Arizona Could Win: How this Arizona team has won five games is beyond me. They are a terrible team and need some offseason work to get them back to playoff contention.
They win this one if the 49ers play without an identity and Cardinal quarterback John Skelton plays like he has something to prove.
How San Francisco Could Win: If San Francisco has enough pride to play as a team in a game that doesn't matter, they will win this one.
Arizona is a bad team and even though the 49ers just fired their coach, they should still win this one pretty easily.
Prediction: San Francisco 31, Arizona 20

4. Dallas at Philadelphia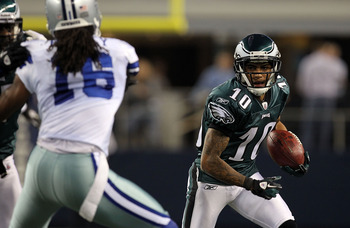 Ronald Martinez/Getty Images
Line: Even

How Dallas Could Win: The Cowboys don't have much incentive to win this one. They are a good team that has struggled with an identity this year and with a high draft choice, they will likely be back in contention next year behind a new head coach.
The only reason I could see them wanting to win this one is if Jason Garrett thinks he has a chance to get the head coaching job with a win here. If that is the case I could see them pulling out all the stops here.
How Philadelphia Could Win: Philadelphia is locked into the three seed and it looks like Michael Vick is going to rest this week and get healthy,
The only way they win this one is if Kevin Kolb plays well.
Prediction: Dallas 31, Philadelphia 28

3. San Diego at Denver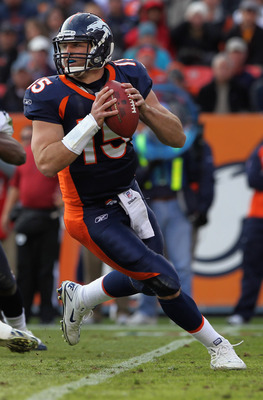 Doug Pensinger/Getty Images
Line: San Diego by 4

How San Diego Could Win: San Diego has absolutely no incentive to win this one. The owner just came out and said that Norv Turner and general manager A.J. Smith will both be back for the Bolts in 2011. A loss means a higher draft pick, a win means nothing.
The only way the Chargers win this one is if the Broncos decide not to try.
How Denver Could Win: The Broncos are already looking at a high draft pick, but with the prospect of a new head coach next year, Tim Tebow is going to be trying to show that he can be a quarterback in the league.
If Tebow plays like he did last week, the Broncos win this one.
Prediction: Denver 24, San Diego 14

2. Jacksonville at Houston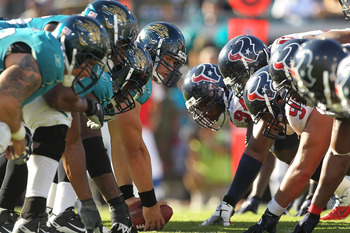 Mike Ehrmann/Getty Images
Line: Jacksonville by 3

How Jacksonville Could Win: Jacksonville needs this win to keep its playoff hopes alive. However, they will be going at it without starting quarterback David Garrard and possibly Maurice Jones-Drew.
If Jones-Drew plays, I think the Jags have no problem in this one.
How Houston Could Win: Houston needs to clean house. A win here isn't going to change that.
Houston wins if Gary Kubiak feels like he is coaching for his job.
Prediction: Jacksonville 27, Houston 20

1. St. Louis at Seattle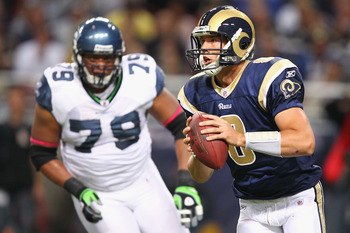 Dilip Vishwanat/Getty Images
Line: St. Louis by 3

How St. Louis Could Win: This is a makeshift NFC West championship game. The winner here heads to the playoffs and the loser heads home.
The Rams are the better team but playing in Seattle is not an easy task. If the Rams offensive line can play without holding and false starts, Sam Bradford should lead the Rams to victory.
How Seattle Could Win: Pete Carroll has decided to start Matt Hasselbeck this week but that isn't necessarily a good thing. The aging quarterback looks to be on his last legs.
The Seahawks win if Hasselbeck doesn't kill them.
Prediction: St. Louis 17, Seattle 14

Keep Reading