2011 NFL Draft: Ranking the Top 25 DBs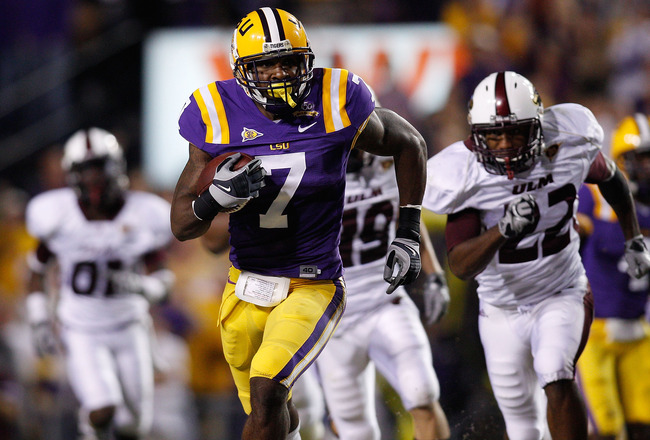 Chris Graythen/Getty Images
The 2011 NFL Draft is starting to take on a little more meaning as we approach the final week of the 2010 NFL regular season.
The final draft order is beginning to sort itself out, and teams' needs now can be debated. That doesn't mean free agency and trades won't change everything, but we're also assuming labor peace at this point.
So let's turn our attention to the defensive backs, the corners and safeties who are supposed to shut down the passing game, and see how they fall.
25. Chykie Brown, CB Texas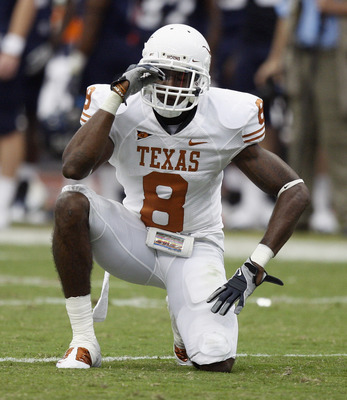 Bob Levey/Getty Images
At 5' 11", 187 lbs., Chykie Browns is a good-sized prospect with good speed. He can get beat, though, which is why he's low on this list.
However, he's a good developmental prospect and should get drafted in the late rounds.
24. Ahmad Black, S Florida
Sam Greenwood/Getty Images
Ahmad Black shows great natural instincts for the position and is good at reading quarterbacks. He's a good athlete, but his 5' 7" height will knock him to the bottom of the draft as taller wide receivers will have an edge on him in jumping for the ball.
23. Shareece Wright, CB USC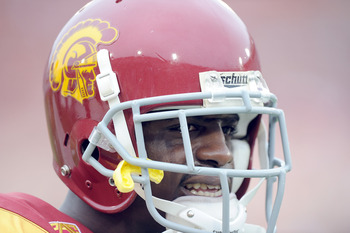 Harry How/Getty Images
Shareece Wright missed the entire 2009 season due to academic ineligibility. That affects his draft status because he didn't play and gain experience, otherwise this prospect might be ranked a lot higher.
Wright is very good in man-to-man coverage, and is reported to be a very physical player for his size. Some team will take a chance on him in the later rounds.
22. DeAndre McDaniel, S Clemson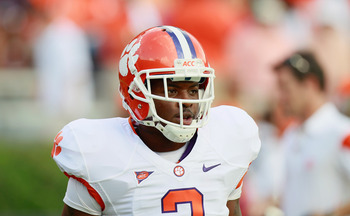 Kevin C. Cox/Getty Images
DeAndre McDaniel has the prototypical size and strength you want to see out of a safety, six feet, 200 lbs.
He's considered a great run defender whose weakness is man-to-man coverage, but he has long legs and finds the ball quickly.
He gets knocked down in the draft because of character issues, and that's just the way it is in the NFL today. He'll probably get taken in the fifth round.
21. Chimdi Chekwa, CB Ohio State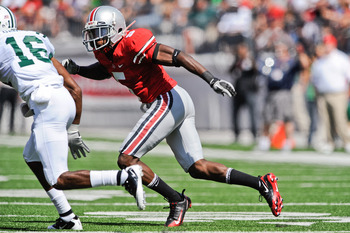 Jamie Sabau/Getty Images
Chimdi Chekwa is a great physical prospect, but grades out average across the board on instincts, cover skills, ball skills and run support.
However, he does have big play potential and would make a great "project" pick in the fifth round.
20. Jaiquawn Jarrett, S Temple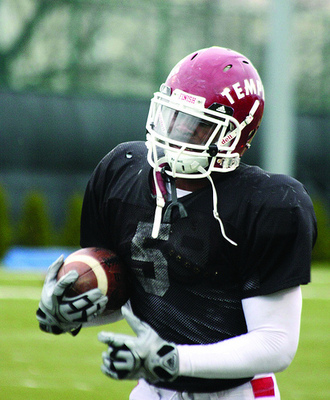 Jaiquawn Jarrett has all the heart you want to see in an NFL prospect, but because he's considered undersized for a safety at 5' 11", 196 lbs., he's gong to have to work that much harder to make it in the NFL.
That drive will make him a winner, though, and teams will recognize that. He definitely goes no lower than the fourth round.
19. Davon House, CB New Mexico State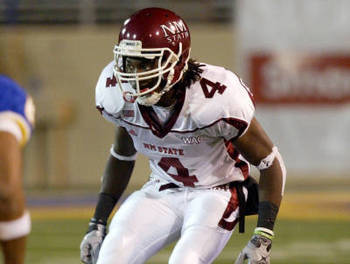 Davon House is a great physical prospect with average on-field skills as graded by the scouts. However, all of these skills can be developed.
He stays with receivers, but his aggressive play will get him flagged, so that's something that will get him noticed enough that he should go in the fourth round and hopefully get his mistakes corrected.
18. Marcus Gilchrist, CB Clemson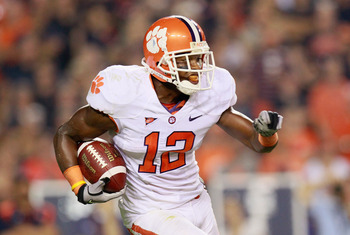 Kevin C. Cox/Getty Images
Marcus Gilchrist shows great instincts, but barely has any interceptions to show for it. His cover skills are above average, and he has shown great instincts and ability in run coverage.
However, the lack of interceptions will be counted against him, dropping him into the fourth round.
17. Kendric Burney, CB North Carolina
Elsa/Getty Images
Burney is a guy who will surprise you with his ability if you don't know what he's capable of. Burney is a playmaker who is going to be a star in the NFL.
His skills still are developing, which is going to knock his draft status to no lower than the beginning of the fourth round.
16. Brandon Boykin, CB Georgia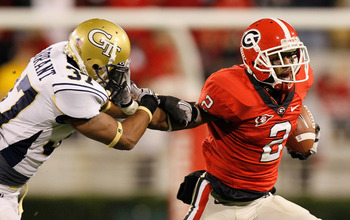 Kevin C. Cox/Getty Images
Brandon Boykin is a tremendous athlete with explosive moves. He is speedy and physical in his play. .
Boykin is slightly undersized, but he is very good at reading quarterbacks and should be a solid fourth-round pick.
15. Rashad Carmichael, CB Virginia Tech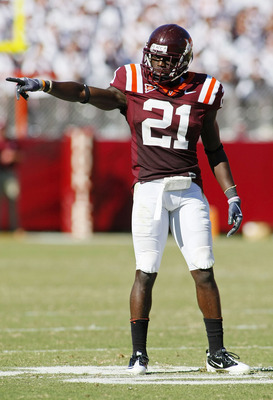 Geoff Burke/Getty Images
Rashad Carmichael scouts out very well, with the scouts noting he reads routes well and is very effective in man-to-man coverage.
Carmichael isn't the best tackler on the field, but he's smart, works hard, and is a good "football" player.
Carmichel gets picked no later than the beginning of the fourth round.
14. Deunta Williams, S North Carolina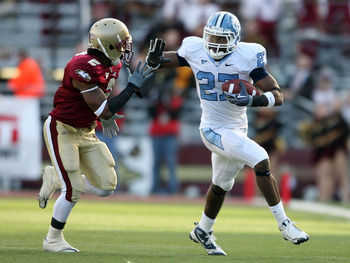 Elsa/Getty Images
Williams has ideal size and strength, is quick, and shows great skills when closing in on receivers.
Williams is an above average athlete, but he gets knocks for his tackling and below average run blocking skills.
Williams should go toward the end of the third round.
13. Mark Barron, S Alabama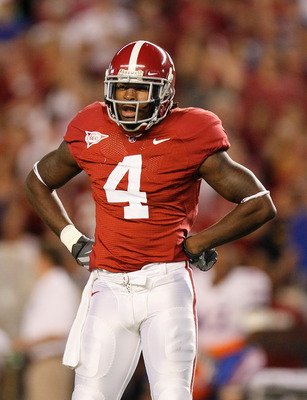 Kevin C. Cox/Getty Images
Mark Barron grades out high on pretty much every area scouts look for in a safety except his tackling.
Barron shows great cover skills, though, and already is a playmaker. Barron will be a third round pick.
12. Brandon Burton, CB Utah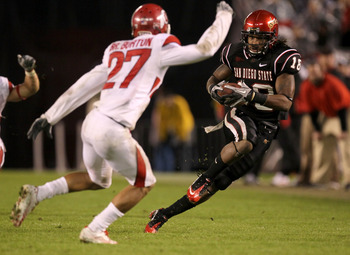 Stephen Dunn/Getty Images
Brandon Burton projects out as a solid third round draft pick. Burton is fast, tall enough to play with the big boys, and is coachable.
However, at 187 lbs., he'll probably have to bulk up to stay consistent in the pros and avoid getting killed.
11. Curtis Brown, CB Texas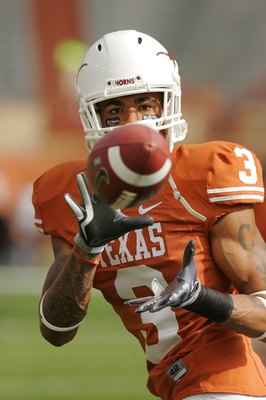 Brian Bahr/Getty Images
Curtis Brown plays with great effort, doesn't take plays off, locates the ball, stays with his receiver, and already has good awareness of route-running and what the quarterback is going to do.
Brown isn't considered an elite playmaker at this point, though, which probably drops him into the third round.
10. Jimmy Smith, CB Colorado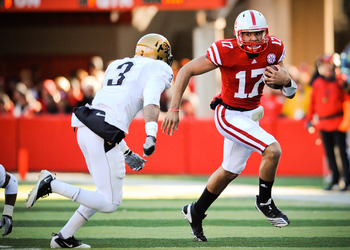 Eric Francis/Getty Images
At 6' 2", 203 lbs., Jimmy Smith is a great physical specimen, and he's good at recognizing routes and getting good angles.
He gets knocked for his athleticism and some of his skills are listed as "good," but not "elite."
He still should go no lower than the top of the third round.
9. Aaron Williams, CB Texas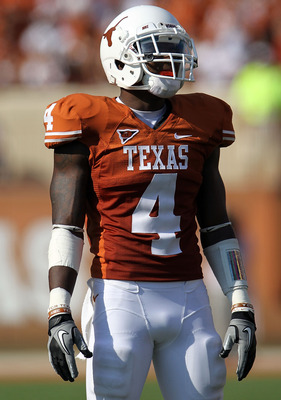 Ronald Martinez/Getty Images
Open field issues blocking the run is the only skill set keeping Williams from being a first-round draft pick.
Other than that, Williams understands his position at a pro level and has the body, skills, and athleticism to succeed at the pro level.
Definitely a second round pick.
8. Ras-I-Dowling, CB Virginia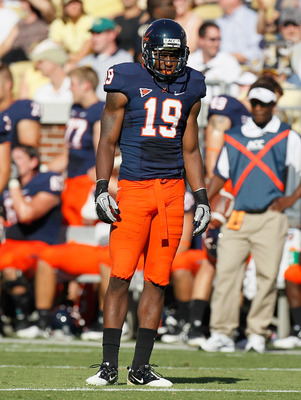 Kevin C. Cox/Getty Images
Ras-I-Dowling has great potential in the NFL. His tackling skills already are seen as superior, his zone coverage is above average as well.
Dowling gets knocked for his speed, and that will drop him into the second round as only the fastest guys go in the first.
7. Robert Sands, S West Virginia
Kevin C. Cox/Getty Images
Robert Sands gets top marks in all the major scouting categories. His only weakness appears to be a flash for over-agressiveness that leaves him vulnerable and allows the "big play" to happen when he's caught out of position.
Sands is a solid second-round draft pick.
6. Quinton Carter, S Oklahoma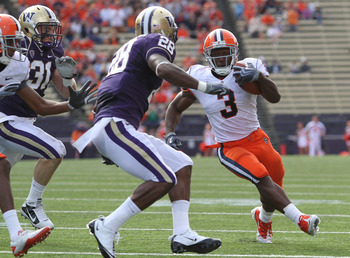 Otto Greule Jr/Getty Images
Quinton Carter is a lock for the second round with his ability to recognize routes, find the ball, and make the play. He has great skills, can turn and keep up with receivers, and is a solid tackler.
5. Brandon Harris, CB Miami (FL)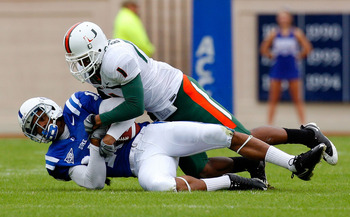 Kevin C. Cox/Getty Images
Brandon Harris should be a first round pick, but there's so much depth at the position this year he may be on the board for a steal in the second round.
Harris is a greath athlete, has good instincts, and knows when to attack the ball. His interceptions are down, but scouts note quarterbacks aren't challenging him as much this year.
4. Rahim Moore, S UCLA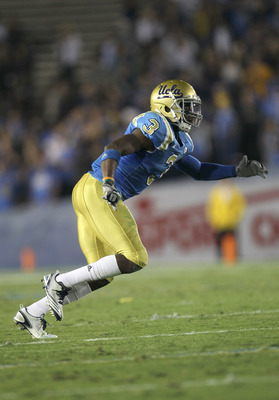 Stephen Dunn/Getty Images
Rahim Moore could sneak into the first round depending on how things fall before and during the draft. Scouts note he models his game after Ed Reed, so that's going to perk up a lot of general managers.
Moore already is very good at reading quarterbacks, recognizing routes, and has a natural instinct for the position. He is a great athlete with elite speed and the agility to give him a very wide range on the field.
The only thing that might keep him out of the first round is that he's slightly undersized for the position, and that can lead to problems getting off of blocks.
3. Janoris Jenkins, CB Florida
Sam Greenwood/Getty Images
Janoris Jenkins already is being rated as an elite cover corner with great ball skills and the ability to make highlight reel catches. He has great field awareness, is good at reading the quarterback's eyes, and has shown great ability to locate the ball.
Jenkins is a near-lock for the first round, probably somewhere in the middle.
2. Prince Amukamara, CB Nebraska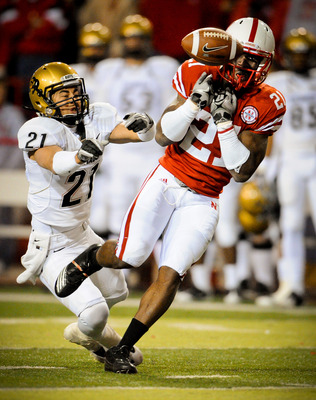 Eric Francis/Getty Images
Prince Amukamara is the real deal. Amukamara is a playmaker with shutdown corner potential who has great instincts, field awareness, and the skills to succeed at the pro level his rookie season.
Amukamara is a Top 10 pick.
1. Patrick Peterson, CB LSU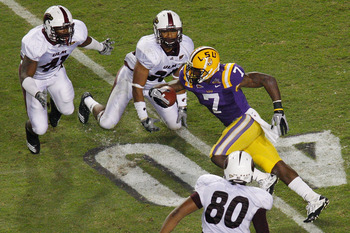 Chris Graythen/Getty Images
Patrick Peterson is being described as one of the best cornerback prospects to come out of college in quite a few years.
A rare talent who has bloodline connections to three other NFL players, Peterson has elite ball skills, knows at a fundamental level how route-running works and can stay with receivers as they make their cuts.
Peterson rarely makes mistakes, and when he does, he learns from them and comes back better.
Peterson is a Top 5 selection in this year's draft.
Keep Reading