NFL Week 17: Previews and Predictions For 5 Big Games This Week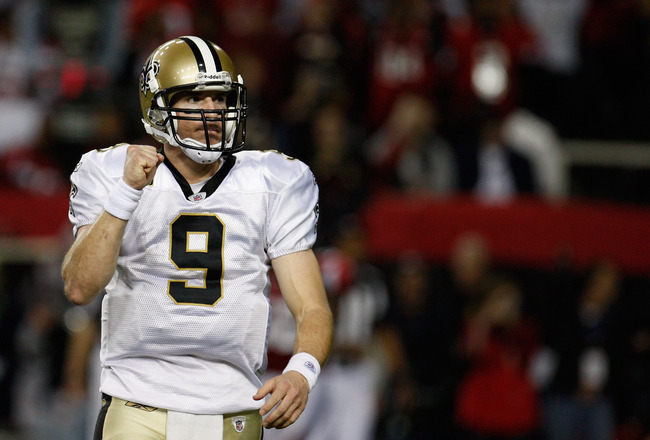 Scott Halleran/Getty Images
The NFL regular season will wind to its end this week, but before it does, a half dozen or more teams face critical games. The Green Bay Packers, New York Giants, Seattle Seahawks and St. Louis Rams are all playing for their playoff lives in Week 17, and they are not alone. The playoff picture has come into focus over the past few weeks, but the world could still turn upside down with just one or two strange upsets this weekend.
Fantasy football is not over, and there is a certain pure enjoyment to be had in just watching a football game on a winter's Sunday for the heck of it. Read on for the five games that demand your attention this week, as well as previews and predictions on each.
Tampa Bay Buccaneers at New Orleans Saints: The Preview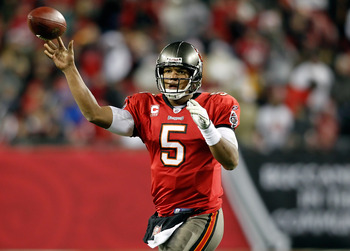 J. Meric/Getty Images
This game pits the Bucs, who need to win and get help just to sneak in the back door, against a Saints team riding high and with a goofy outside shot at home-field advantage throughout the playoffs. Tampa has much more to play for, but the Saints are a veteran team with a ton of intensity and are not going to give anything away to their division rivals.
As talented and impressive as Drew Brees and Josh Freeman are, this game will not decided by the quarterbacks. Rather, the Bucs will turn to LeGarrette Blount, who has fueled a seventh-ranked rushing game behind which Tampa is 8-3 when rushing for at least 100 yards.
Bucs-Saints: The Prediction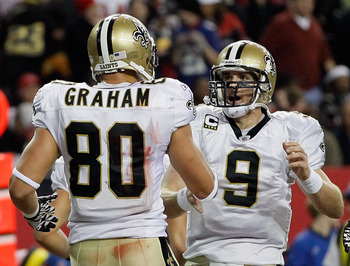 Kevin C. Cox/Getty Images
As they have all season, the Bucs will keep it close and play to the final gun, but the Saints are the better team and should pull this one out at home. Tampa Bay is a young squad, though, with an underrated pair of weapons in Freeman and Blount upon whom to build. They will be back to challenge for a playoff spot in 2011, if the season actually goes off.
Score: 30-24 Saints
Oakland Raiders at Kansas City Chiefs: The Prediction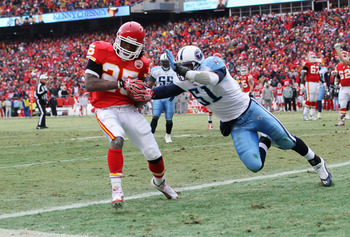 Jamie Squire/Getty Images
This is one of those games you should watch purely for the fun of a rivalry game to end the season. Sports are supposed to be fun, and if we all spend all our time looking only toward the playoffs this weekend, we will miss at least one good game that realistically has very little playoff implication.
With the Chiefs, unbeaten at home this year, playing host to the Raiders, there will be plenty of fireworks. Oakland dealt Kansas City a tough loss in Week 9, and the Chiefs lost again the next week in Denver, but they have won five of six since and may be the most fun team to watch in the AFC. Their multi-faceted rushing attack, led by the prodigiously talented Jamaal Charles, meets the best approximation of its match in Oakland's duo of Darren McFadden and Michael Bush. These are the two best rushing offenses in football, as it happens.
Raiders-Chiefs: The Prediction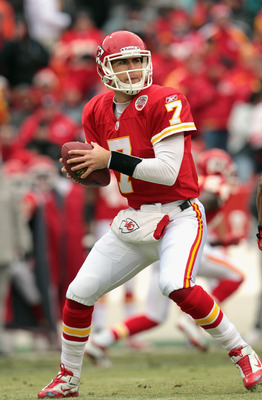 Jamie Squire/Getty Images
The Chiefs could actually slip to the fourth seed with a loss, but that seems unlikely. Revenge is due for them over the Raiders, and the crowd at Arrowhead Stadium will certainly be behind them. If it comes down to it, Matt Cassel's obvious superiority at quarterback over whomever Oakland throws out there will help Kansas City charge into the playoffs with some momentum.
Score: 23-14 Chiefs
Chicago Bears at Green Bay Packers: The Preview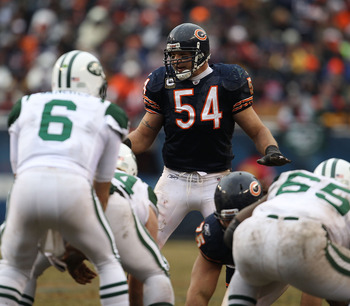 Jonathan Daniel/Getty Images
Very indirectly, and perhaps not even tangibly, the Minnesota Vikings did the Packers a favor Tuesday night when they took down the Philadelphia Eagles. That Eagles loss clinched a first-round bye for the Bears, who are now much less likely to enter Sunday's contest at Lambeau Field with an attitude of exclusion toward the Packers.
Green Bay needs to win, but they control their own destiny after handily beating the New York Giants on the same field Sunday. Aaron Rodgers is back from concussion, the crowd will be ready and roaring and the NFL's oldest rivalry will unfold in one of its most dramatic iterations in recent memory. Even if the playoff implications were less obvious for Green Bay, this one would merit watching for fun.
Bears-Packers: The Prediction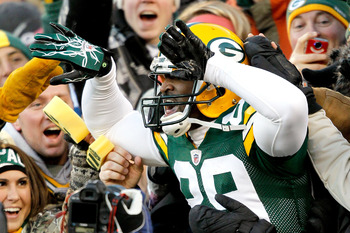 Matthew Stockman/Getty Images
Green Bay needs this game much more than the Bears, so as much as Lovie Smith loves to remind us of his disaffection for the Packers, he will be hard-pressed to get his team to match the Pack's intensity on Sunday. Green Bay has battled injuries all season, but Rodgers is healthy and ready for the biggest game of his career to date: He will not stumble. Look for the Packers defense to bring pressure on Jay Cutler early and often, after Cutler sliced up the Jets when they gave him too much time to operate last week.
Score: 27-17 Packers
Tennessee Titans at Indianapolis Colts: The Preview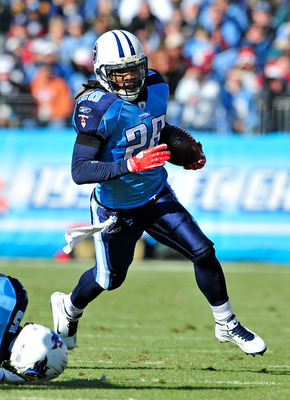 Grant Halverson/Getty Images
The Colts need a win in this one to keep the AFC South under control; if they lose, the Jaguars could knock them out of the playoffs with a win over Houston. It is hard to imagine a playoff without Peyton Manning.
Then again, it was a bit hard to imagine that the Colts could even be in position to reach the post-season after their rough patch in the middle of the season. Peyton Manning threw 11 interceptions during a three-game losing streak that started against the Patriots in Week 11, and it wasn't until they beat the Jaguars in Week 15 that they really righted the ship and took hold of the division race yet again. At any rate, they now find themselves well-positioned to win the division after all, but they need one more victory.
Titans-Colts: The Prediction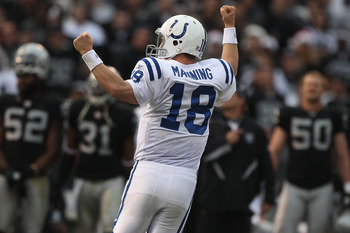 Jed Jacobsohn/Getty Images
The Titans were once 5-2, and to earn their fifth victory to that point, they had just beaten the rather impressive Eagles without much difficulty. Since then, they have:
1) Lost quarterback Vince Young to injury, and then to temper, for the season.
2) Picked up Randy Moss off the waiver wire, the only team to claim the brooding idiot. Since arriving, Moss has five catches for 62 yards in seven games.
3) Watched corner Cortland Finnegan get the worse end of a fight he picked with Texans receiver Andre Johnson
4) Posted a 1-7 record
The Colts come in having won three in a row, including one game over the Titans in Week 14. Who do we think has the edge?
Score: 24-7 Colts
St. Louis Rams at Seattle Seahawks: The Preview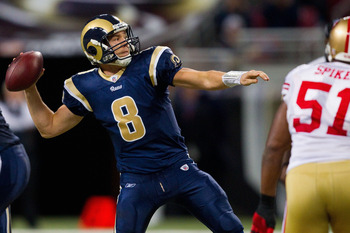 Dilip Vishwanat/Getty Images
No one really deserves to win the NFC West. The NFL could hold its head higher from a perspective of competitive decency if it simply left them out altogether. Since that is not in the cards, though, the Rams and Seahawks will play this week for the right to lose to a much better team next week. The game has been flexed to Sunday night so the entire nation can watch what promises to be a chippy game for a division title.
The Rams are probably the bigger surprise, although the Seahawks' reclamation projects have met impressive success so far. Pete Carroll is a heck of a coach. Seattle is probably better-rounded, although Charlie Whitehurst probably will start in lieu of Matt Hasselbeck, whose body and skills have deteriorated badly over the course of the season.
Rams-Seahawks: The Prediction
Otto Greule Jr/Getty Images
Seattle just has a better blend of mobility and muscle in the trenches on either side, plus their running backs have been quite a bit better this year than has been Steve Jackson of the Rams. St. Louis may actually be the better overall team, but in the presumptive cold of Washington and before one of the league's loudest crowds, they will not quite be equal to their task against Seattle.
Score: 17-16 Seahawks
Keep Reading