Seattle Seahawks 2010 Year in Review: Top 25 Moments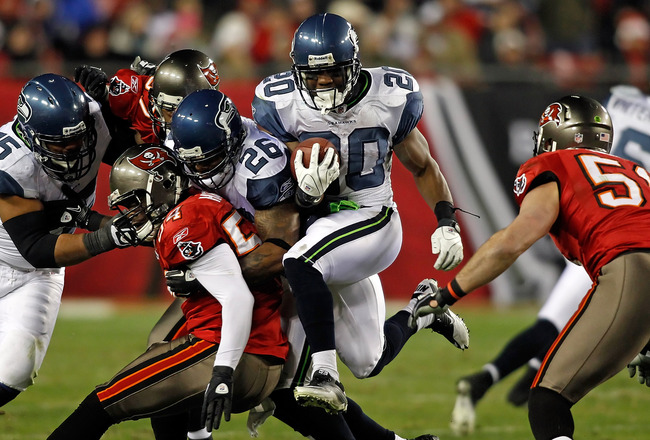 J. Meric/Getty Images
The 2010 season has been topsy-turvy in the world of the NFL. Kansas City leads its division while the Cowboys bottom-feed in theirs. Head coaches are losing jobs all over the country and injuries run rampant.
The Seattle Seahawks are no exception.

 Since the first of the year, they've revamped the front office and coaching staff. They've spent time leading the NFC West and treading water in third place. Many of the team's individuals have hit milestones and/or career lows and many have been lost to injuries
That new front office has made a whopping 275 roster moves.
Here are some highlights of what the 12th man endured this year.
Jan 8: Jim Mora Jr is Fired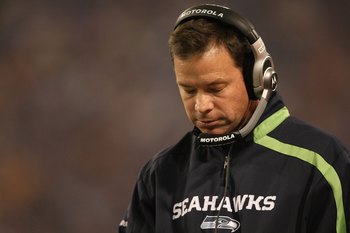 Nick Laham/Getty Images
After leading the Seahawks to a terrible 5-11 finish to the 2009 season, Jim Mora Jr. was relieved of his post. It was only his first year as Seattle's head coach and he handled it poorly, once even placing the weight of a dramatic loss on the shoulders of kicker Olindo Mare.
During his tenure, the Seahawks also lost general manager Tim Ruskell. Two weeks before the end of the 2009 season, Ruskell resigned from the position he had held since 2005 and moved on to serve as an assistant GM for the Chicago Bears
Jan 11: Pete Carroll is Hired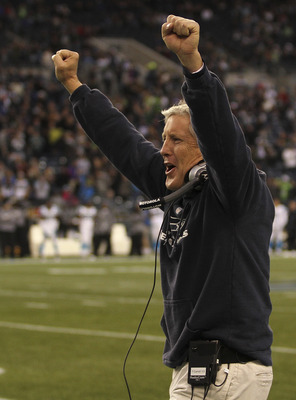 Otto Greule Jr/Getty Images
Moments after Seattle announced the dismissal of Mora, it was rumored that USC's long-time head coach Pete Carroll was the leading prospect for the job. Only a few days later (whether to avoid pending USC sanctions or not) Carroll made it official, becoming Seattle's eighth coach in franchise history. His "always compete" motto is the source for Seattle's ever-circulating roster.
Mar 5: Nate Burleson Signs With Detroit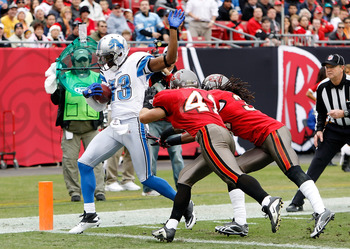 J. Meric/Getty Images
Seattle suffered the first major blow of 2010's free agency signing period.
Wide receiver Nate Burleson waited only hours to sign a five year, $25 million contract with the Detroit Lions.

 Burleson had 63 catches for 812 yards and three touchdowns in the 13 games he played for Seattle in 2009.
Reunited with Scott Linehan in 2010, he capitalized on less yardage for five total TDs.
Mar 6: Brandon Marshall Courted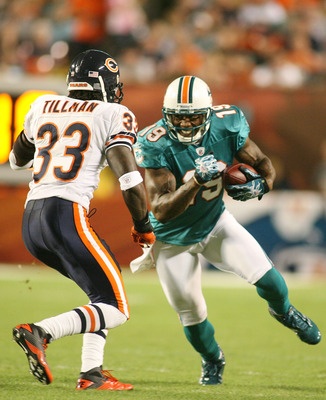 Marc Serota/Getty Images
The Denver Broncos began the offseason by marketing their talented and problematic receiver, Brandon Marshall. Marshall sports a lengthy resume of encounters with law enforcement and has seen time at the top of the NFL charts.
After three consecutive years of over 100 receptions, Marshall's price tag was lofty. Denver wanted a first round draft pick for him.

 In light of Seattle's recent loss of veteran talent and with two first-round draft picks to barter with, Carroll set up a meeting and it looked as though Marshall would find a new home in Seattle.
Negotiations ultimately fizzled, though, and Marshall ended up going to Miami.
Mar 8: Seneca Wallace Traded
J. Meric/Getty Images
For many fans, the marquee move of the offseason was the trade of backup quarterback Seneca Wallace to the Cleveland Browns.
Browns president and former Seattle coach Mike Holmgren was happy to reclaim the longtime second-stringer for a conditional 2011 draft pick.
This trade illustrated in many ways Carroll's willingness to do whatever it takes to make a playoff run and establish a future for Seattle. It quickly became clear that he intended to shop for a new franchise quarterback to replace the aging Matt Hasselbeck.
Mar 16: Darryl Tapp Traded For Chris Clemons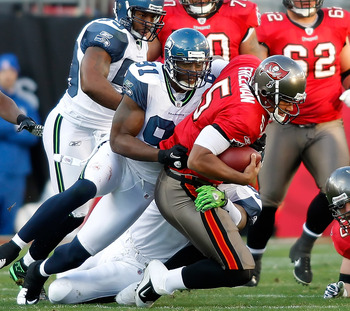 J. Meric/Getty Images
The ball kept on rollin' when Carroll traded linebacker Darryl Tapp to the Philadelphia Eagles in exchange for Chris Clemons.
While Tapp had been valuable to Seattle over the years, the addition of Clemons has contributed immensely. He has more than doubled his annual tackle total this year and leads the Seahawks in sacks with 10.5. He is the first Seattle player to have more than 10 sacks in a single season since Patrick Kerney in 2007.
Mar 17: Charlie Whitehurst Trade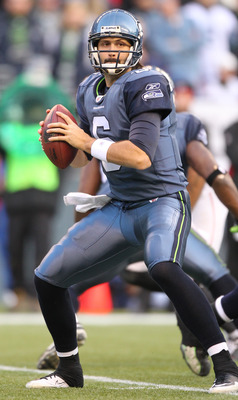 Otto Greule Jr/Getty Images
Perhaps the most controversial offseason move Seattle's front office made was the acquisition of San Diego's third-string quarterback Charlie Whitehurst.
Whitehurst had never played a regular season game in the five years he was a part of the NFL and yet Carroll was willing to trade down in the 2010 Draft, give up a third rounder in the 2011 Draft and sign him to a two-year, $8 million contract.
Fans waited impatiently all offseason to learn what it was Carroll saw in this untested backup.
Apr 13: Patrick Kerney Retires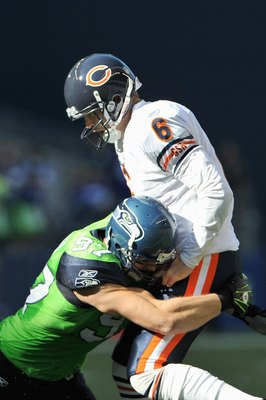 Otto Greule Jr/Getty Images
Just before the draft, veteran defensive end Patrick Kerney announced his retirement.
In 2007, Kerney led the NFC in sacks (14.5) and posted a career-high five forced fumbles and 62 tackles.
He finished his career with 82.5 total sacks.
Apr 15: Mike Williams Signed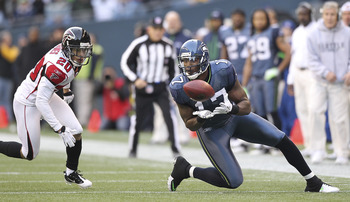 Otto Greule Jr/Getty Images
Pete Carroll made many moves in the offseason that made it seem as though the next one would be replacing the Seahawks mascot with a Trojan clad in blue and green. Though sometimes it made Carroll seem short-sighted, the rationale behind each move had to do with his "always compete" standard.
One of the many signings he made that embodied that ideal was receiver Mike Williams.
Williams had washed out of the NFL two years prior due to weight issues and came in ready to capitalize on a second chance.
And capitalize he did. Williams is now Seattle's top receiver.
Apr 22-24: 2010 Draft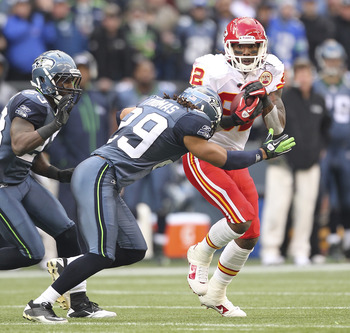 Otto Greule Jr/Getty Images
Seattle claimed what was arguably the best draft of 2010 claiming impressive prospects Russell Okung (OT), Earl Thomas (S) and Golden Tate (WR) among others.
Russell Okung struggled through ankle injuries all season, but when he was healthy he made a dramatic difference to the effectiveness of the offensive line.
Earl Thomas has five interceptions and proved to be one of the best rookies in the league.
Apr 24: Leon Washington Acquired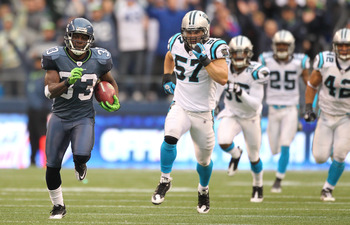 Otto Greule Jr/Getty Images
Carroll didn't stop with the draft on draft day. While he was in New York, he picked up Leon Washington in exchange for a fifth round pick in the 2010 Draft.
At the beginning of the season, the hot topic was whether or not Washington would be able to regain his talents after recovering from a gruesome broken leg.
This year he has been one of the best return men in the league and even holds the Seattle record for longest kickoff return for a touchdown (101 yards).
Apr 29: Walter Jones Retires
Otto Greule Jr/Getty Images
Unable to fully bounce back from a knee injury in 2008, offensive tackle Walter Jones announced his retirement.
Jones is credited with being one of the best left tackles to ever play in the NFL and played every game with the Seattle Seahawks.
The team retired his jersey during the Carolina Panthers game at Qwest Field in Week 13.
Jun 5: Golden Tate Stumbles Into Doughnut Shop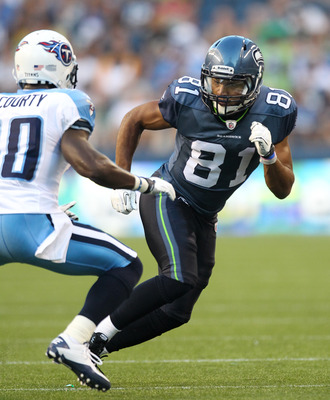 Otto Greule Jr/Getty Images
In the early morning hours of the offseason, rookie addition Golden Tate earned national publicity by stumbling into a closed doughnut shop in Seattle to retrieve some incarcerated maple bars.
He escaped the incident with nothing more than a trespassing warning from the Bellevue police and the country had a laugh at his expense.
Sep 4: Seahawks Release Houshmanzadeh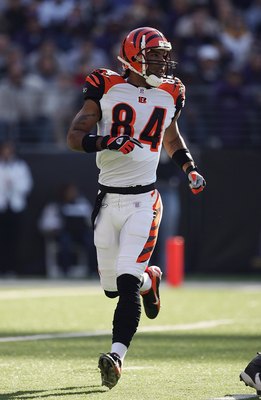 Harry How/Getty Images
Just before the start of the regular season, Seattle cut ties with another veteran receiver and released T.J. Houshmanzadeh. Housh had been under-performing since he was acquired from the Bengals the year before.
Sep 4: Alex Gibbs Retires
Bob Levey/Getty Images
As if it were a preseason twist-ending, assistant head coach and offensive line coach Alex Gibbs announced his retirement.
Gibbs had been brought in as part of Carroll's new coaching staff and cited no more than age (69) and a "worn-out" feeling as the reasons.
Seattle called on the aid of Pat Ruel who had been with Pete Carroll at USC.
Sep 13: Week 1 vs. San Francisco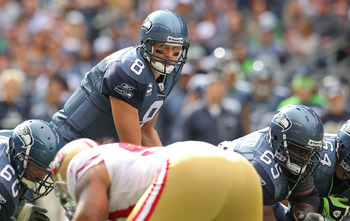 Otto Greule Jr/Getty Images
The Seahawks had a great start to the season. At home in Qwest Field they dominated division rival (and division favorite) San Francisco to the tune of 31-6.
Hasselbeck illustrated his leadership by scoring the first touchdown of the game himself with a one-yard run.
The season looked promising.
Oct 1: Leroy Hill Placed on Injured Reserve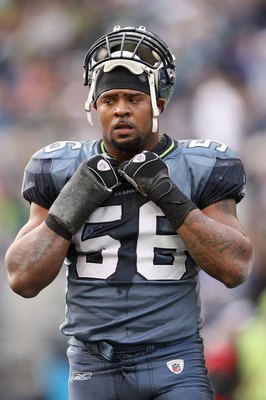 Otto Greule Jr/Getty Images
Team problem-child Leroy Hill found himself placed on injured reserve in the early weeks of the regular season due to an Achilles tendon injury.
He had already taken a dramatic pay cut just for the privilege of remaining on the team and was battling off-the-field issues. Hill sat out the season opener on an NFL mandated suspension (the result of marijuana possession charges) and is likely facing another suspension over a domestic violence case.
Oct 5: Julius Jones Cut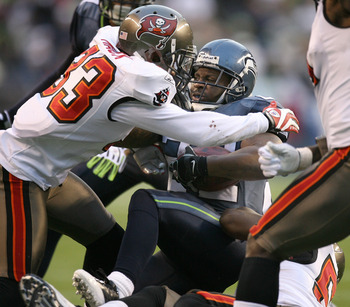 Otto Greule Jr/Getty Images
Better late than never, the Seahawks cut disappointing running back Julius Jones. Jones was intended to be the marquee player for the team (in the backfield, at least) and posting consistently average numbers, he never really posed a threat for opposing teams or proved himself an asset to Seattle.
Oct 6: Marshawn Lynch Acquired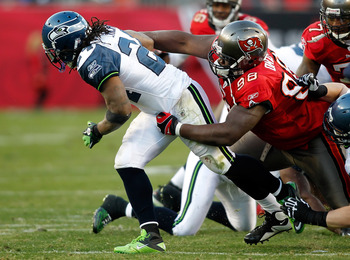 J. Meric/Getty Images
In a trade that changed the look of the Seahawks' entire playbook—and made the Jones decision clear—Seattle claimed running back Marshawn Lynch from the Buffalo Bills for a 2011 fourth round draft pick and a 2012 conditional pick.
Lynch was reunited with college pal running back Justin Forsett and the two reclaimed their former duo moniker "the priest and the beast".
Oct 11: Deion Branch Traded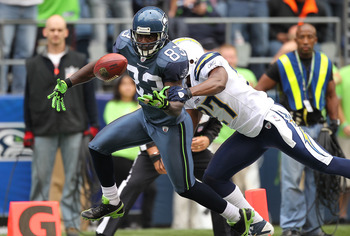 Otto Greule Jr/Getty Images
There had been rumors all season that both the Patriots and Deion Branch were interested in reuniting. The rumors were never confirmed or validated in any way.
Then when the Patriots surprisingly traded a fussy Randy Moss back to Minnesota, Seattle suddenly found themselves rid of another under-acheiving veteran and in possession of a 2011 draft pick akin to the one they forfeited for Lynch.
Oct 17: Week 6 at Chicago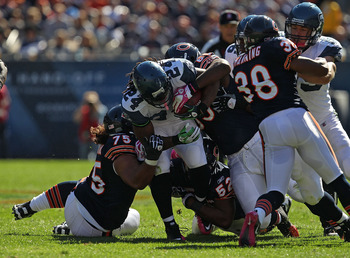 Jonathan Daniel/Getty Images
After the dramatic revamping the Seahawks underwent in the first half of October, it was a wonder to see the team come together so cohesively in their first outing as a full unit.
The backfield had a whole new look, the receiving corp had an altered scheme and rookie Russell Okung was back from injury.
With all the details stacked against them, Seattle played admirably (and won)...on the road...at 10 AM...against the Bears.
The road to the playoffs was starting to look well-paved and spit-shined.
Oct 24: Olindo Mare Field Goal Streak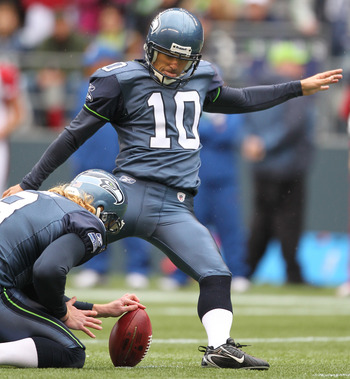 Otto Greule Jr/Getty Images
Seemingly in direct response to his former head coach's (Mora) misguided claims that his poor play is in direct relation to games lost by the Seahawks, kicker Olindo Mare topped off a streak of 30 consecutive field goals hit—that's every attempt since Mora made the accusation.
Nov 2: Red Bryant and Ben Hamilton Placed on Injured Reserve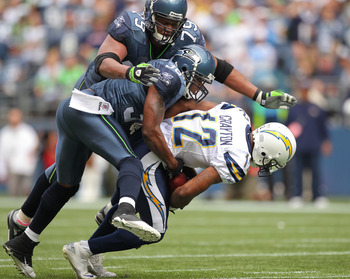 Otto Greule Jr/Getty Images
Following a brutal Halloween game in Oakland, two of Seattle's key linemen, defensive tackle Red Bryant and offensive lineman Ben Hamilton, were placed on injured reserve.
Many other Seattle players were injured that day, but the loss of these two staples would prove to be the loose rock that started the Seahawks' slide to the end of the season.
Nov 7: Charlie Whitehurst Has His First NFL Start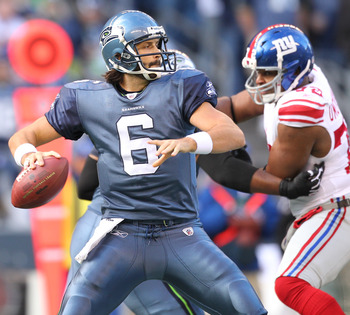 Otto Greule Jr/Getty Images
The Raiders game that ended the seasons of Bryant and Hamilton also benched veteran quarterback Matt Hasselbeck with a concussion. As a result, Charlie Whitehurst defaulted as the Seahawks' starting quarterback and claimed his first NFL start.
Whitehurst completed 12 of 23 pass attempts for 113 yards and his first career touchdown.
He also led the Seahawks to a humiliating defeat at home at the hands of the New York Giants.
Jan 2, 2011: Seahawks Become First 7-9 Team to Make the Playoffs (?)
Elsa/Getty Images
In an optimistic twist, the Seahawks will end a three-game losing streak with a win at home against the St. Louis Rams. The two teams will then be tied for the division lead with 7-9 records and Seahawks will advance by virtue of the tiebreaker.
Seattle will then be the first team in NFL history to make it to the playoffs with a losing record.
This event will only spur the debate that the NFL should add a rule that in order to qualify for the playoffs, a team must have a record of .500 or better.
Keep Reading

Seattle Seahawks: Like this team?