Breaking Down The NFL Network's Top 10 Pittsburgh Steelers of All-Time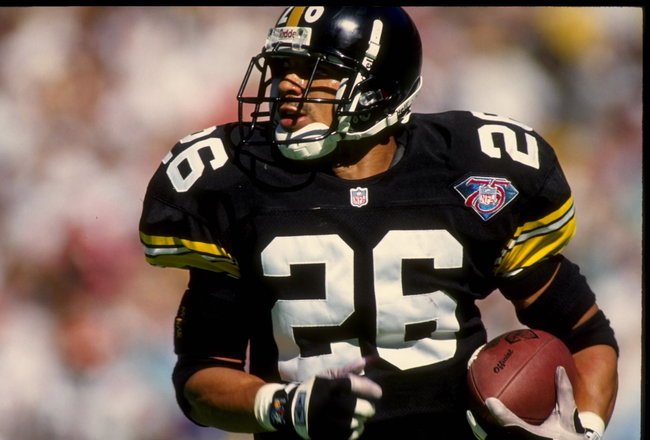 Doug Pensinger/Getty Images
The NFL Network revealed their "Top Ten Pittsburgh Steelers of All-time" last Friday on Christmas Eve. It was a great treat for Steelers' fans to sit back and watch the NFL discuss what players deserved to make the list, and which players got snubbed.
Like all lists, this one was subjective and very much criticized by most people. Who voted for it? Who's thoughts and opinions deserved to be counted? Was it just the ten best players of all-time, or was their other forms of criteria for the list?
As expected the list was very much debatable especially in my opinion. The NFL Network's Top 10 Steelers: 1. Joe Greene. 2. Terry Bradshaw. 3. Franco Harris. 4. Rod Woodson. 5. Jack Lambert. 6. Mel Blount. 7. Troy Polamalu. 8. Hines Ward. 9. Lynn Swann. 10. Jerome Bettis.
Not a terrible list, but it's far from perfect. As a show, it was great to have the NFL Network dedicate an hour to rank the ten best Steelers and show the world just how great the franchise truly is. Coming up with just ten players is a daunting task seeing as there are more than ten Steelers in the Pro-Football Hall of Fame.
There were a lot of thongs that I liked about the show, but at the same time I thought it was very flawed. I thought they left not only key players, but key members of the panel off. However, the list did it's job and created great debate. Which is what it's supposed to do.
What They Got Right on The List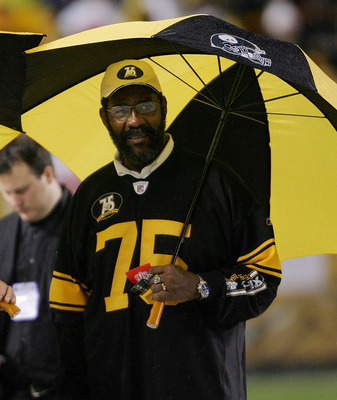 Chris McGrath/Getty Images
The show definitely got number one right and that's "Mean" Joe Greene being ranked No. 1. Greene is and always will be the cornerstone of the Pittsburgh Steelers. Greene changed the ways of the franchise when he was selected No. 1 overall in 1969, and was also Chuck Noll's first ever draft pick.
We all know about his famous commercial for Coca-Cola when he gave the kid the jersey, "thanks Mean Joe". Besides that, Greene was a hell of a football player. I personally think he's the greatest defensive tackle of all-time and was one of the most dominant players of his era.
Greene went on to go to 10 Pro-Bowls in his career and was also named the NFL Defensive Player of the Year in 1975. Without a doubt, Greene is and deserves to be first on every list and they got that right at least.
Besides Greene, other no-brainers included Terry Bradshaw, Franco Harris, Rod Woodson and Jack Lambert, who all made the list. I disagree with some of their rankings but they all deserve to be on there.
Troy Polamalu Ranked Number 7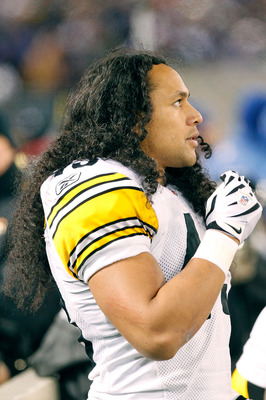 Geoff Burke/Getty Images
I didn't like the usage of active players. Troy Polamalu is nowhere done with his career and despite being an awesome player, he's been injury prone for much of his short career. Polamalu didn't just make the list, he was taken and/or placed ahead of Hall of Fame players that have finished their careers.
Now I have little doubt that Troy will be a Hall of Famer one day but I think they pushed it a little bit with this pick. They put Troy at No. 7 and I thought that way too high at this point. Let's wait and see how Troy's career pans out first before we start putting him up there.
Furthermore, if Troy makes the list then why wasn't Ben Roethlisberger on the list? Ben has been one of the most important players and draft picks in Steelers history. The Steelers had a Super Bowl type defense from the early 90's to the mid 2000's, yet always had poor quarterback play. Ben was the guy that put the Steelers from contenders to champions.
Since he's been the starter in 2004, Ben has two Super Bowl trophies, been to a Pro-Bowl, earned Rookie of the Year, and has been breaking almost all of Terry Bradshaw's records. He lead one of, if not the greatest Super Bowl game winning drive in Super Bowl history. Keep in mind that this iss only Ben's seventh year in the league.
Like Troy, Ben has had some major concerns about his health. Ben is one of the most physical quarterbacks to ever play the game and has only started all 16 games in a season once in his career. Ben has also been in the news off the field with two accusations of sexual crimes. I'm sure that had some effect on it.
I just think if Troy is on the list then Ben has to be on the list. When it's all said and done I believe Roethlisberger will be remembered as the best quarterback in Steelers history.
The Snubs: Where Was Jack Ham? Where Was Mike Webster?
Not that any of the ten players aren't deserving to be mentioned on this list, but I can't believe the lack of respect Jack Ham gets. Ham is arguably the most technically sound outside linebackers to ever play the game.
According to Steelers Head Coach Chuck Noll and teammate Andy Russell, he was the "fastest Steeler for the first ten yards." A lot of analysts believe that he was a better overall player than Jack Lambert. At one point, Ham went to eight straight Pro-Bowls, was elected to six All-Pros and retired with 32 career interceptions. That's amazing.
Ham was named to The Sporting Newslist's 100 Greatest Football Players, ranking at number 47. He was also selected to the NFL's 75th Anniversary All-Time Team.
Not having Ham on this list is outrageous to me and almost invalidates this entire list. He was definitely a better player than Franco Harris (third), Hines Ward (eighth), Lynn Swann (ninth) and Jerome Bettis (10), and I would have taken any of those players off the list for Ham.
I also thought Mike Webster could have very easily made this list. Webster was the anchor of a pretty good offensive line that won four Super Bowls.
Like Ham, Webster was named to the NFL"s 75th Anniversary All-Time Team and was named one of the 100 Greatest Football Players of All-Time by the Sporting Newslist. Webster also went to nine Pro-Bowls and was an All-Pro five times.
Webster is arguably one of the greatest centers of all-time and for that matter is probably one of the ten best offensive linemen of all-time. For a city that loves tough and rugged players, you would think Webster would get mentioned more.
Franco Harris and Ron Woodson Were Too High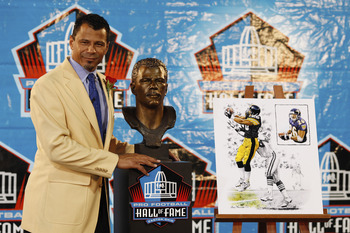 Joe Robbins/Getty Images
Both Rod Woodson and Franco Harris deserve to be on the list but they were way too high on it. Woodson, No. 4 was ahead of Mel Blount and Jack Lambert. That right there is very wrong.
Woodson didn't even play his entire career with the Pittsburgh Steelers. He won a Super Bowl as a Baltimore Raven and retired as one too. I would have liked to put Woodson at No. 6 and moved Lambert and Blount up.
That being said, Woodson was a tremendous player. Named to pretty much any "all-time" list, Woodson was a great cornerback, safety, and kick returner. I would also say that Woodson is probably the best athlete to ever wear the Steelers' uniform.
While a Steeler, he recorded 38 interceptions and 10.5 sacks, scoring five touchdowns. Early in his career he used his world class speed as a dangerous return man amassing 2,362 yards on 257 returns. No doubt that Woodson was a great player and deserved to be on the list, but shouldn't be fourth.
The same can be said by the guy that was ranked No. 3, Franco Harris. Harris was a hell of a football player and was a key cog in the Steelers winning four Super Bowls. He was also named MVP of Super Bowl IX and was voted the rookie of the year in 1972.
Harris is a Hall of Famer and one of the 100 greatest players of all-time but I can't see how you put him ahead of Lambert, Ham and Blount. All three of those guys were better players than Harris.
I think a lot of people put Harris so high because of the effect of the "Immaculate Reception". Yes, that was a great play and will never be forgotten, but one play doesn't make you a better player. Harris should be anywhere from 5-7. He's certainly not the third best Steeler of all-time.
Jack Lambert No. 5? Mel Blount No. 6?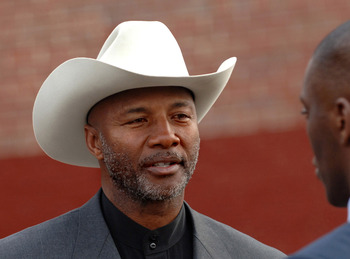 A. Messerschmidt/Getty Images
Jack Lambert as No. 5 is absolutely laughable. Lambert should have definitely been second on this list and every list like it. Lambert is the only player that I wouldn't be upset if they ranked him ahead of Joe Greene.
Lambert is and always will be one of the most intimidating players in the history of the NFL. From his look to his play, Lambert made sure that opponents would fear the "Steel Curtain". From his missing teeth to his manly stash, he was feared by most and respected by all.
He was just a man of intimidation, Lambert was a great football player. In his career Lambert won the NFL Defensive Rookie of the Year Award, along with being named to nine straight Pro Bowls, six time First Team All-Pro and was the NFL's Defensive Player of the Year once.
When most people think about the Steelers, they think about two players, and that's Joe Greene and Jack Lambert. Being ranked fifth is insane.
Along with the laughter, I saw that Mel Blount was ranked just sixth. Again laughable.
Blount was a great football player. He changed the way the game was played. Blount used to treat receivers like rag dolls, locking them up at the line of scrimmage, and then destroying them down the field. The way the game is played today is largely do to Blount.
But Blount wasn't just a physical corner, he was also a great ball-hawk. In 14 years, Blount intercepted 57 passes. His size and speed were unmatched by most and I still think you can make a case that he's the best corner-back of all-time in the NFL.
Blount should have been higher than Woodson and Harris, and at least in the top four.
What To Make Of Terry Bradshaw?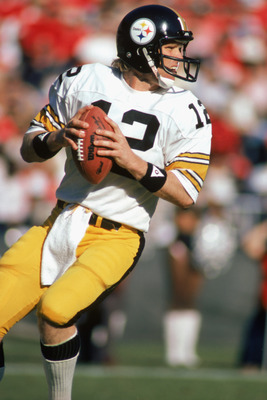 Scott Cunningham/Getty Images
Terry Bradshaw landed at No. 2 on this list and it's hard to argue. Despite his numbers not being great compared to today's standards, you have to remember that it was a completely different game back then. It was much harder to complete passes at high rates compared to today's NFL.
A lot of people take away from Bradshaw's accomplishments because he was on a great team. You have to realize that that's not Bradshaw's fault. Johnny Unitas played on some great teams as did Joe Montana. Bradshaw was by far the best and most important player on a offense that won four Super Bowls.
Terry didn't just turn around and hand the ball off and he didn't rely on the Steeler's defense to win games all the time either. He was the MVP of Super Bowls XIII and XIV and won the league MVP in 1978. That doesn't sound like a player that was "taken for a ride." Bradshaw was a great QB and had a great career.
That being said, I'm not sure if I put him second. I would definitely have Lambert ahead of him and would probably consider putting Blount ahead of him too.
I think a lot is going to depend on how Roethlisberger's career pans out. What if Ben wins another Super Bowl? That would give him three Super Bowl wins on a far less superior team in the free-agency era. What if he wins two more? After all, he's only in his seventh season.
If Ben can stay healthy he's going to break all of Bradshaw's records and I think will end up being remembered as the best QB in Steeler's history. Which means Terry slides down the list big time.
My List
The NFL Network gave you there top ten Pittsburgh Steelers of all-time so I'll give you mine.
Honorable mentions: Ernie Stauntner, L.C. Greenwood, Ben Roethlisberger, Troy Polamalu, Andy Russell, Jerome Bettis. (I think that Roethlisberger and Polamalu will be on this list when their careers are further along. They still have a lot left to accomplish.)
10. Lynn Swann/John Stallworth- I have Stallworth and Swann as a tie on my list because I think that they were indeed tied in importance to those teams in the 70's. Stallworth was the better overall receiver than Swann and retired with much better numbers.
Swann is most known for his amazing catches in Super Bowl X against the Dallas Cowboys as he went on to be named the MVP of that Super Bowl. I don't think either of them are truly great without being a tandem so I'll cheat here and put them as a tie.
9. Hines Ward- I'm not a huge fan of Hines Ward off the field but he belongs on the list. He's the best receiver in the history of the Steelers. Ward might go down as the toughest and best blocking receiver in NFL history and still managed to top over 10,000 career catches.
Ward is also a Super Bowl MVP and should eventually get into the Hall of Fame. I'm not sure if Ward will be on my list ten years from now but he certainly deserves to be right now.
8. Mike Webster- Like I said earlier, Webster is quickly becoming one of the most underrated under-appreciated Steeler of all-time. He was the anchor of an offensive line that won four Super Bowls and is considered by most as the greatest center in NFL history.
7. Franco Harris- Franco was a great all-around back and put up some very impressive numbers, including rushing for over 1,000 yards in eight straight seasons, which broke the great Jim Brown's record.
I just don't think Harris is better than any of the players I have in front of him. I think people tend to overrate him because of the "Immaculate Reception".
6.Rod Woodson- I hate to say this but if Woodson had played his entire career with the Steelers, he would probably be higher. Woodson is also the only player on my list to have not won a Super Bowl.
That being said he sure was a great player and a even better athlete. Woodson was named to the NFL's 75th Anniversary Team, and when it was announced, only five active players were on it. One of them was Woodson, a six-time Pro Bowler and the NFL's Defensive Player of the Year in 1993.
5.Jack Ham- Again I can't believe Ham gets left off of the NFL Network's list or any list for that matter. Ham is one of the greatest outside linebackers of all-time and was just as important as any of those other players on the 70's teams.
4.Terry Bradshaw- Winning one Super Bowl is hard, Bradshaw won four. Yes he played on a great team and had great players around him, but Bradshaw was very talented. He had good scrambling skills and had one of the greatest arms in NFL history.
Bradshaw is a two-time Super Bowl MVP and a former league MVP. Until Ben's career is over, Bradshaw will remain the best qb in Steeler's history.
3. Mel Blount- Mel Blount was just a great player. He was big, he was fast, and he played the game so in such a way that they changed the rules because of it. To me Blount is easily one of, if not the greatest cornerback in the history of the NFL.
2. Jack Lambert- One of the most feared players in NFL history, Lambert should never be higher than number two on these lists. He was a great linebacker and the man in the middle for the most talented defense of all-time. Instead of Steely McBean, the Steelers should just Lambert as their mascot.
1. Joe Greene- Arguably the most important player and draft pick in the history of the Steelers. Joe Greene was the cornerstone of one of the greatest dynasties in pro sports. It's really hard to think of anyone else that could possibly be #1 on the list other than the greatest defensive linemen in NFL history.
You can read this article and much more of my work at 412sportstalk.net and follow me on Twitter at twitter.com/madchad1187
Keep Reading

Pittsburgh Steelers: Like this team?