St. Louis Rams vs. Seattle Seahawks: Playoffs in Sight for Bradford and the Rams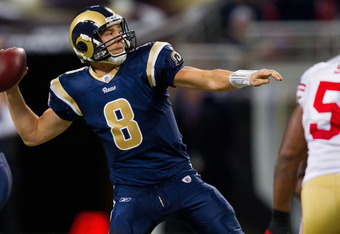 Dilip Vishwanat/Getty Images
You, me and just about everyone else has known all along that the NFC West would be determined in Week 17: The St. Louis Rams against the Seattle Seahawks.
One thing we definitely did not know is that the game would be in PRIMETIME, under the lights, on the big stage.
Pick a cliche' and I'll run with it.
Thanks to the lovely folks at NBC, the Rams will play their first game in primetime since—well, I don't how long, I just know it's been a hell of a long time.
So basically, the Rams just need to win and they're in. Easy enough, right? Win and they make the postseason for the first time since 2004.
Back in Week 4, the Rams beat the Seahawks 20-3 at the Eddie Jones Dome. Now, it's the Rams turn to head out on the road. The virtual playoff, play-in or whatever else you'd like to call it game has the biggest playoff implications of any matchup on the Week 17 slate.
Historically, Seattle hasn't been the easiest place to play a game of this magnitude, but luckily, we aren't living in the past; it's here and now, and now the Seahawks have forgotten how to utilize their home base.
Aside from the fact that ALL nine of their losses have been by at least 15 points, most were much higher; they've been outscored 131-80 and gone 1-3 in their last four home games.
What's your prediction for Rams-Seahawks Part II
The Rams have an opportunity to pull a rabbit out of a hat this season by making the playoffs, and this game is the end-all and be-all.
And now we move on to, "What to Watch For, Week 17 Edition."
Bounce Steven Bounce!
Do you remember all the way back in Week 3 against Washington when Steven Jackson injured his groin?
He wasn't even supposed to suit up for the Rams in Week 4 against Seattle, but he played through a lot of pain and wore some sort of harness which protected the ailment. I'm happy to report (not new information) that he is no longer injured. Jackson is healthy as one can be after 15 grueling NFL games.
Lately, I think Jackson has been largely misused. According to the numbers, he runs better to the outside than he does up the gut. Last time out against the 49ers, I found myself rubbing my eyes to see if I was suffering from déjà vu because I kept seeing the same run up-the-middle for a one to two yard gain, depending on how good the push up front happened to be.
Look for Shurmur to change the point of attack against the Seahawks because at some point, Steven Jackson is going to have to beat a team by himself.
Why not have it be now?
Who starts at QB for Seattle?
Hasselbeck a Long Shot?
If the Rams learned anything when they played the Kansas City Chiefs, it was to not believe the injury report. Nobody thought Chiefs QB Matt Cassel was going to start under-center against the Rams. He had just had an appendectomy something like 10 days prior.
Back in 2006, Ben Roethlisberger had the same kind of surgery and missed a few weeks of playing time. Cassel clearly has super-human recovery skills, because he played.
So when you hear Pete Carroll and the Seahawks say that they're going with Charlie "deer in headlights" Whitehurst, take it with a grain of salt.
Steve Spagnuolo should prepare the same way for both quarterbacks. The Rams' front four should have no problem creating pressure because both quarterbacks will be limited to the pocket.
If Hasselbeck plays, he won't move much. He'll likely sit in the pocket like a statue, and if needed, dump the ball accordingly.
If Whitehurst plays, I don't expect him to be able to make decisions that would throw the Rams' defense off its target. Both QBs have seen action this season and neither has been impressive.
I expect Chris Long to cap off a Pro Bowl caliber season with a bang against the Seahawks in the form of 2.5 sacks.
Dilip Vishwanat/Getty Images
Is Danario Ready To Be Da Man?
Do the Rams have the worst group of wide-receivers in the NFL? I think the answer is more toward yes than no.
The Rams offense has been short-sided all season.
Plays that involve a deep route haven't gotten the call much since Mark Clayton's departure from the lineup. Offenses struggle when they can't stretch the field or when they can only move the ball in five yard increments—as the Rams have gotten great at doing.
Danario has looked stellar at times being the deep man the Rams so desperately need. But, at other times, he's disappeared from sight.
Sam Bradford needs Alexander to step up and be a game changer. The guy who makes an impact just by being on the field.
He played the part well against the Niners by catching six balls for 99 yards—let's hope he's got something bigger up his sleeve for the Seahawks.
Bottom line is, if the Rams don't change their tune, every playoff team will soon have it memorized.
For more NFL coverage, head over to http://www.BearConsults.com or you can follow @BearConsults and @RamsReport on Twitter.
This article is
What is the duplicate article?
Why is this article offensive?
Where is this article plagiarized from?
Why is this article poorly edited?

St. Louis Rams: Like this team?