Pro Bowl Rosters: Aaron Rodgers and the 10 Biggest Snubs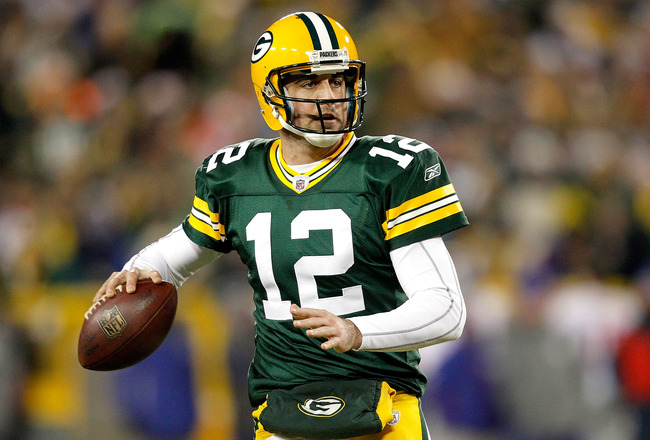 Matthew Stockman/Getty Images
Aaron Rodgers is the best red-zone passer in recent memory. He is among the most mobile and versatile quarterbacks in the NFL. No NFC quarterback has a passer rating as good as Rodgers' 101.9. Yet, when the NFC Pro Bowl rosters were announced Tuesday, Rodgers was left off.
Rodgers will not be alone come the end of the season in feeling short-shrifted, as a number of excellent and deserving players missed the cut. Admittedly, this kind of thing is part of the fun in having All-Star contests, and it happens every year that guys who should be there simply do not fit.
Still, some especially deserving players will have to pay their way to Hawaii, and it just is not right. Read on for 10 players who very much deserved to be on these rosters, and the players they could feasibly replace.
1. Chris Johnson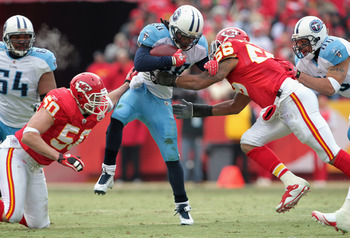 Jamie Squire/Getty Images
Johnson set a high bar in 2009, then boldly promised to clear it in 2010. To do so would have required about 800 yards more than Johnson ended up gaining this season, so perhaps the assembled decision-makers (fans, players, coaches, etc.) decided to punish him for his hubris.
One way or another, Maurice Jones-Drew got the nod over Johnson, which does not really make sense: Their overall rushing totals are nearly identical, but Jones-Drew has a lesser rushing average and six fewer touchdowns than Johnson.
2. Aaron Rodgers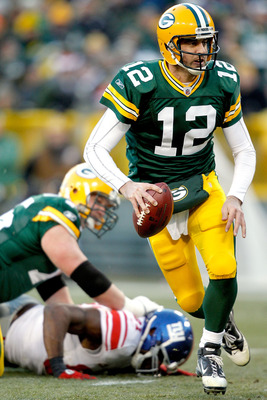 Matthew Stockman/Getty Images
Based on the case from the introduction, Rodgers is obviously deserving. Deserving players miss the cut every year, though, because Pro Bowl rosters can accommodate (for instance) only three quarterbacks from each conference. Under normal circumstances, it would be no huge injustice for Rodgers to be snubbed.
Given the guys who slipped in ahead of him, though, the rationality of the process disintegrates. After top vote-getter Michael Vick, who did earn his spot, two somewhat fraudulent NFC South passers stole Rodgers' slots.
Matt Ryan makes a pretty clean case: He has thrown 26 touchdowns against nine interceptions and the Falcons are the conference darlings. Brees, though, has suffered a serious setback this season after being on top of the world for the Saints in 2009.
Sure, the volume is still there: He has 32 touchdowns and over 4,200 yards. But Brees has also thrown 21 interceptions, or 11 more than Rodgers. That's hard to justify.
3. LeSean McCoy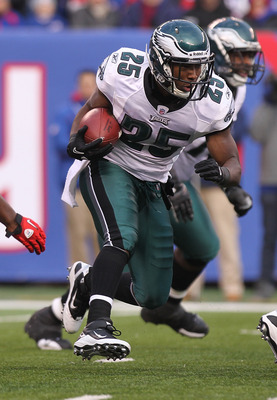 Nick Laham/Getty Images
McCoy never had a chance: He has just three 100-yard rushing games on the year, and one 100-yard receiving game. With the emergence of Vick and DeSean Jackson as the most explosive and exciting duo in the league, McCoy's role in the offense became somewhat smaller than what many envisioned this year.
When he got his hands on the ball, though, McCoy was fantastic. He has nearly 1,100 yards rushing on fewer than 210 carries, and (oh, by the way) 78 catches for nearly 600 yards and a pair of touchdowns. He does it all.
Steven Jackson does not do it all. He is old, plays through injuries he should probably rest for a week or two, and slogs his way to a lot of yards by getting the ball a lot. Jackson has 116 yards more than McCoy on the ground this year, which is great, but he also has 112 more carries.
Jackson's Rams need him badly, but that kind of consideration can come into play when deciding which guy to put 10th on your MVP ballot: For Pro Bowl purposes, McCoy should absolutely have gotten this spot.
4. Brent Grimes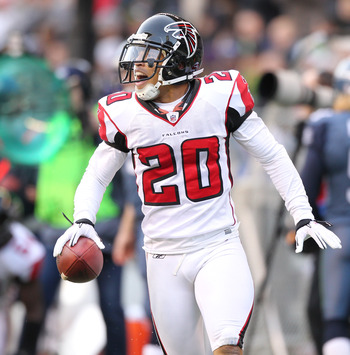 Otto Greule Jr/Getty Images
Grimes is one of the underrated cornerbacks in the league, and it looks like that is not changing yet. Grimes is physical and fast, plus perhaps the best pure leaper at the corner spot in the NFL.
Watching him go up for a jump ball against Andre Johnson would have been a blast. No dice.
Grimes is a more consistent performer and more physical presence than DeAngelo Hall, who got his spot mostly on the merit of one great game in Chicago. Hall has one more pick than Grimes this year, but four of his six takeaways were against Jay Cutler and the Bears that day.
Grimes, meanwhile, has seven more passes defensed and 10 more solo tackles than Hall.
5. Shaun Phillips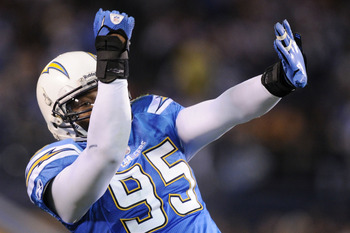 Harry How/Getty Images
Phillips has 11 sacks on the year, but that isn't even the best foundation for his case: He may also be one of the five best pass-coverage linebackers in the league. He has just one interception on the year, but he returned it for a touchdown. and he also has seven passes defensed.
He comes after the quarterback more often than not and swats some balls down at the line, but Phillips moves in space so well that he would have been a fun addition to a Pro Bowl roster.
Instead, we get Terrell Suggs, mostly on the basis of Suggs' superior tackle totals. One day, we will all realize that tackles tell a poor version of the story when it comes to defensive skills, but until then, Suggs types will keep beating out Phillips types for roster spots.
6. Matt Cassel
Dilip Vishwanat/Getty Images
Youth has not been served in the AFC, where the upstart Chiefs could easily have sent more than their three players to the Pro Bowl.
Cassel is an excellent young quarterback, much in the vein of Rodgers: Both are big but surprisingly mobile, both were stashed as backups for much longer than their excellent skills dictate, and both now remain home even as they lead their teams toward the playoffs.
Is there room on the roster for Cassel? Is there anyone whom we could displace? Hmm. Let's do a blind comparison:
Player A: 4,436 yards, 7.0 yards per attempt, 31 TD, 17 INT, 91.4 passer rating
Player B: 3,001 yards, 7.2 yards per attempt, 27 TD, 5 INT, 98.8 passer rating
Sure, Player A has the edge in the two overly simplistic stats NFL fans often use to judge quarterbacks, but for efficiency, it's Player B all the way.
Well, you probably guessed that Player A is Peyton Manning, and that Player B is Cassel. Manning might be more important to the banged-up and one-dimensional Colts, but again, the Pro Bowl voting should be different than the MVP voting.
7. Hakeem Nicks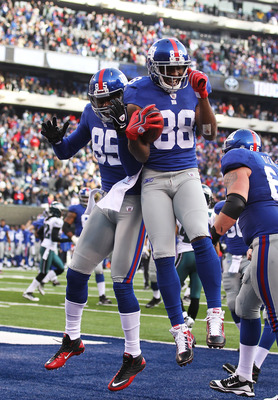 Al Bello/Getty Images
For some reason, I could only just barely bring myself to put Nicks on this list. It's a knee-jerk sort of reaction: Well, yeah, but he's Hakeem Nicks. That kind of thing.
By the numbers, though, he is right there with DeSean Jackson for the final wide receiver spot. It really makes no sense to compare their stats, because they are exceptionally dissimilar receivers. Suffice it to say that while Jackson is quite obviously the more explosive player, Nicks is more likely to make a good or even great play on any given play, and that their overall value washes out about equally.
I understand why people would rather watch the ridiculously fast and elusive Jackson, but if we never reward the kind of consistent and excellent season Nicks had this year, we will keep seeing the NFL get more frenetic and faster and less skillful as each year passes.
8. LaMarr Woodley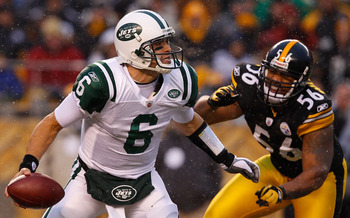 Jared Wickerham/Getty Images
When it comes down to it, you could probably put about nine of the Steelers' starting defensive 11 out there on Pro Bowl Sunday and feel darn good about it. That did not happen, nor should it have, but the omission of Woodley is a real shame. Like Phillips, Woodley plays all over the field, roaming and making plays.
He has an extra tidbit of allure, too: He is physical, angry almost, and the ball often pops up when he makes contact. For the sake of receivers' safety, since teammate James Harrison insists he does not know how to stop hitting people in ways that will hurt them badly, perhaps Woodley should get Harrison's spot for this exhibition.
9. Derrick Johnson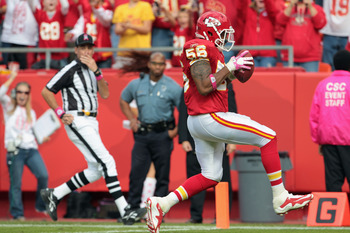 Jamie Squire/Getty Images
Johnson flies around the field. He is the best pass defender among NFL linebackers and defensed 15 throws this year. He also picked off a pass, which he brought back to the house. He also has forced four fumbles. He also has 116 tackles.
Remember how I said tackles don't really mean much? For middle linebackers, they do. Those are the guys that have to have the speed and strength to run down anyone at any time and make them hurt, and Johnson does it.
He can also drop into pass coverage and run confidently with wide receivers, one-on-one.
I know Jerod Mayo has a monstrous, ridiculous number of tackles this season. He has 169 of them, to be exact. That's insane. Good for him. But Johnson does everything else better, much better, and he did not get recognition for it, which is too bad.
10. Earl Thomas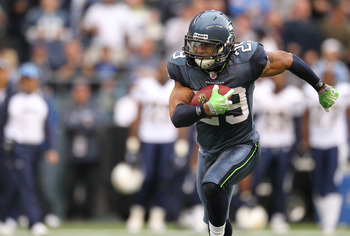 Otto Greule Jr/Getty Images
As a Packers fan, I love Nick Collins. He makes a lot of big plays within his defense, and he has a great nose for the football. He does get frustrating, though, because he blows crucial coverages about once per game, and because he often loses focus at the worst possible moments.
Of course, focus is not a key ingredient to Pro Bowl success, so perhaps Collins will be fine. But I think Earl Thomas might have been better. Thomas had two more picks and seven more tackles than Collins this year as a rookie, and although he, too, lapses sometimes in concentration, he made more plays for the Seahawks this year than Collins did for Green Bay.
Keep Reading