Holy Cow: Five Moves To Make The 2011 Cubs Season Worthwhile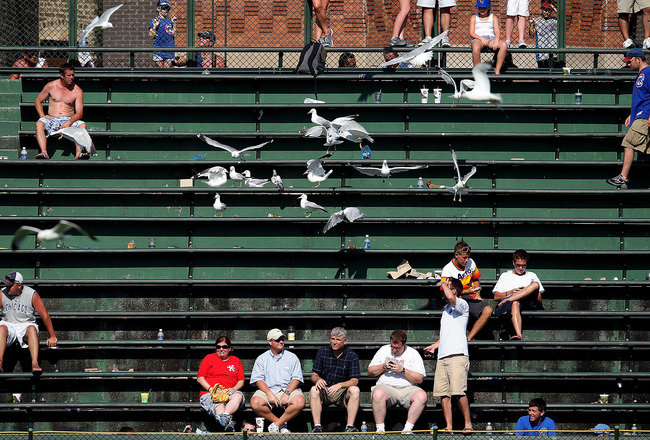 Bleacher Bums
Jonathan Daniel/Getty Images
Why the not-so-optimistic title? Because a fifth place finish in the NL Central isn't quite worthwhile when you're the Chicago Cubs. In 2010, the team sported the highest payroll in the senior circuit at $137.9MM and were 12 games under .500 by the trade deadline.
Under manager Lou Piniella, the Cubs played with little enthusiasm and became complacent with their reputation as a team with a curse.
It will be up to new manager Mike Quade to shake the curse and keep his team motivated during his first full season at the helm, one which needs more ups than downs.
So, as the calendar prepares to turn, let's offer some helpful tips to the team that could surely use them.
No. 1: Find a Backup First Baseman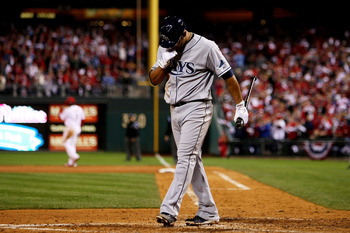 Carlos Pena
Elsa/Getty Images
The Cubs were fortunate enough to get their guy this offseason. Carlos Pena was a good signing given the price and the short-term commitment. His left-handed bat will fit nicely into their lineup and his ability to hit the ball out of the park will be much appreciated when the team undoubtedly encounters a run-scoring drought.
That being said, Pena also hit below .200 last year. That means he will encounter droughts of his own when he can't hit the broad side of a barn. It would be wise to give him some time off when facing the NL's toughest lefties such as Clayton Kershaw, Jaime Garcia, Cole Hamels and Cliff Lee, to name a few.
Now, I'm not talking about a straight left/right platoon. Not at all. I'm talking about signing a guy to get a few spot starts at first base in addition to pinch-hitting opportunities (when Carlos Zambrano isn't available (sarcasm, kind of)).
Troy Glaus, Mike Sweeney, Fernando Tatis and Willy Aybar are all still free agents and fit the description. Glaus may be out of the team's price range but the others could probably be had for around $1MM.
No. 2: Sign Freddy Garcia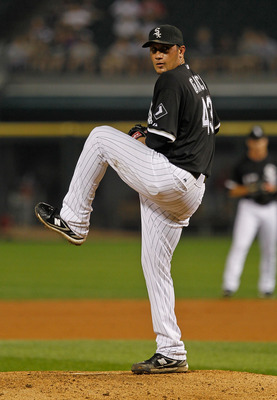 Freddy Garcia
Jonathan Daniel/Getty Images
On paper, the Cubs' rotation is five deep. But four of those five come with question marks:
Carlos Zambrano: He pitched like a Cy Young in the second half, but Big Z has been a big roller coaster for the last couple of years. You never know what you're going to get.
Randy Wells: Wells followed up a great rookie season with a bit of a sophomore slump. His ERA wasn't horrible but he got himself into too many jams.
Carlos Silva: He had a surprisingly great start with the Cubs only to encounter an irregular heart beat and an elbow strain near the end of the season.
Tom Gorzelanny: Gorzellany bounced back in 2010 after a couple rough seasons. He regained the ability to strike guys out but he also walked quite a few. Gorzelanny is a good pitcher but is probably best suited for long relief/spot start role.
Because Ryan Dempster is the only sure thing in the rotation, the Cubs need to bring in some depth. One guy who still on the market is Freddy Garcia.
Garcia's numbers aren't spectacular by any means, but he is consistent. He can keep his team in the game and that has lead to a lot of wins, especially in Chicago. Garcia has pitched parts of five seasons for the White Sox on the South Side and during that time he pitched to a record of 55-31, including a 12-6 record in 2010. Perhaps his good fortunes on the South Side could translate to wins on the North Side with a move to the National League.
Garcia would also be relatively inexpensive and could lighten the workload for Cubs' youngsters Casey Coleman, Chris Archer, Chris Carpenter and Jay Jackson, who could all be part of the picture as the year goes on.
No. 3: Find a New Backup Catcher
Koyie Hill
Jonathan Daniel/Getty Images
Why the Cubs continue to pay Koyie Hill to play baseball is beyond me. In 2010, he displayed good defense but he also hit .214/.254/.298 as the Cubs' backup catcher—a staggering line, I know. He drove in 17 runs over 215 at-bats which equates to one RBI every 12.647059 at-bats.
For a quick comparison, Carlos Zambrano drove in six runs over 52 at-bats which equates to one RBI every 8.666667 at-bats. I know, I know. Zambrano is an outlier when it comes to pitchers at the plate, but come on...
For this necessary upgrade, I recommend staying internal and bringing up Welington Castillo. He played well during his limited time with Chicago last year and he's an inexpensive alternative to other options. And for what it's worth, Castillo averaged one RBI for every four at-bats during his brief action in the Majors last year.
No. 4: Trade Kosuke Fukudome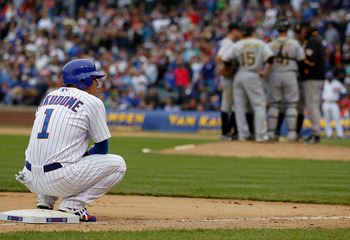 Kosuke Fukudome
Jonathan Daniel/Getty Images
The Cubs began the 2010 season with an interesting experiment underway in right field. It was a tale of two lefties, a veteran who had not lived up to lofty expectations and a rookie who surprised most by making the active roster out of spring training. A rare lefty/lefty outfield platoon.
The plan was to play Kosuke most of the time and get Colvin a couple starts a week. At year's end, the two actually finished with an even 358 at-bats and Colvin probably would have had more if his season wasn't ended prematurely after getting struck by a broken bat late in September.
Fukudome displays superb defense and is able to get on-base, but that will not be enough to earn him the full-time gig in 2011. Colvin's power and potential will earn him a lot of playing time and therefore it's time to make a move.
Fukudome is owed $13.5MM in 2011 (the last year of his contract). His hefty salary will be difficult to move and the Cubs will have to eat about half of his contract, but it can be done.
If Kosuke is moved, it would be ideal to bring in a right-handed fourth outfielder who could get at-bats in right field and left field. Reed Johnson, Lastings Milledge, Randy Winn and Gary Matthews Jr. could all be inexpensive options.
These moves let the Cubs get something in return for Fukudome before he hits free agency along with saving the team a couple million dollars.
No. 5: Sign Another Low-Cost / High-Reward Reliever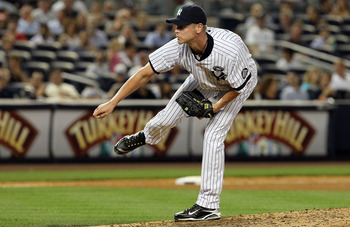 Kerry Wood
Jim McIsaac/Getty Images
The Cubs signing Kerry Wood was a blessing. Wood pitched poorly in 23 games for the Indians but masterfully in 24 games for the Yankees. Rejoining the team with which he built a strong history and accomplished so much should help to bring out his best pitching.
His leadership and determination will be a great addition to a young bullpen in the process of grooming young relievers like Jeff Samardzija, Andrew Cashner, Scott Maine, Justin Berg and James Russell. Angel Guzman is another young reliever with the team and he is currently rehabbing after another injury. Basically, it was an inexpensive, short-term deal that could easily become a long-term fit.
One question mark that's always looming with Wood, however, is his health. It's been a while since he's had a serious injury but it wouldn't hurt to have another veteran right-hander in camp and ready to go. There are many veterans still looking for jobs and the Cubs should at least make an offer to guys like Todd Coffey, Lance Cormier, Manny Corpas, Manny Delcarmen or Jose Veras. It's a minimal risk if the deal doesn't work out but it has the possibility of finding a diamond in the rough like the Rays did with Joaquin Benoit.
The Importance of 2011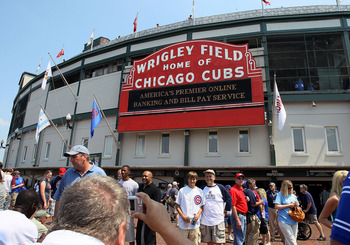 Wrigley Field
Jim McIsaac/Getty Images
The 2011 season presents an interesting dilemma for the Chicago Cubs. They will have to keep the team in contention in order to keep attendance up but they also need to continue looking forward, something that has not been of great importance over the last decade.
Cubs' management has realized that the over-priced superstars who have bloated their payroll are not the keys to success. Rather, they need to build on around the potential they have in young players such as Starlin Castro, Carlos Marmol and Tyler Colvin in addition to a strong farm system. That means holding back on the expensive free agents and efficiently filling the holes with capable role players, which is easier said than done.
The recommendations I have explained are cost-effective, short-term, protective and even somewhat competitive. These moves would allow the team to constantly re-evaluate until they are ready to make an impact addition that is truly necessary and worth the commitment. And that time is not this off-season.
If the Cubs can hold course they will have a solid team that will only get better after the 2011 season when many large contracts are off the books (Aramis Ramirez, Carlos Silva, Carlos Pena, Kosuke Fukudome, John Grabow, Jeff Samardzija, and hopefully Koyie Hill, though he doesn't have a large contract). They will have the chance to re-sign some of these guys but they'll also be in position to look at their options and make the best move possible.
Keep Reading

Chicago Cubs: Like this team?