Ed Rendell: Penn. Governor Says "We Have Become a Nation Of Wussies", W/ Audio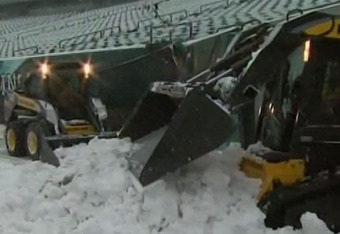 This past Sunday, the Minnesota Vikings were supposed to play Michael Vick and the Eagles in Philadelphia, but the game has been postponed until Tuesday because of the severity of the snow storm that had hit the East Coast.
The average NFL fan wouldn't have a problem with the game being played on a Tuesday, but Pennsylvania Governor Ed Rendell feels otherwise. Rendell called into "The Fanatic" sports talk show on a Philadelphia radio station, expressing his emotions about the postponed game.
Rendell began started his passionate rant by saying, "Maybe it's because I'm old, and I grant that I'm old. But it just goes against everything that football's all about. This is part of what's happened in this country. I think we've become wussies.
"I agree with Will Bunch and I think that in most places in the world, people would have sneered at us. This is football. I played football. I played in the snow. The fans can make judgments themselves. They can decide if they'll go to the game, or they'll drive home a little more slowly, or take Broad Street, which was fine last night. That's up to the fans."
Rendell does seem to have a point, but, to maximize the fan support for the Philadelphia Eagles, moving the game to Tuesday was the smartest decision to make. Why take the chance of not having a packed stadium when you can play the game on Tuesday and be the center of attention around the league with no other games being played?
Should this game have been rescheduled to Tuesday?
Fans will be more electrifying and passionate than ever with their beloved Eagles now having clinched the NFC East title, and being able to fight for a first round bye if they can win their next two games.
Rendell went on to say, "We have become a nation of wussies. The Chinese are kicking our butts in everything. If this was in China, do you think the Chinese would have called off the game? He's right, the people would have been marching down to the stadium, they would have walked, and they would be doing calculus on the way down. What do you think Lombardi would say? He would say we've become a nation of wusses."
Governor Rendell's main feelings are that football is a sport that should be played in all conditions, on the day the game was originally announced to be played on. From that standpoint, how can you not agree? But from a Philadelphia Eagles fan's point of view, you should try to maximize support for the team in conditions that will make the game possible to play in.
If Philadelphia would have received the expected 11 inches of snow this past weekend, playing conditions would have been horrendous and caused a very sloppy game. But, on the other hand, it would have been an extremely unique and interesting experience.
The bottom line is that the NFL, along with the city of Philadelphia, believed that the best decision was to move the game to Tuesday. That's the decision that was made, and it's a decision that will probably be made in the future under the same circumstances.
Sure, the Eagles will have to play their Week 17 game on short rest, but these players and coaches are professionals, and that's what they get paid millions and millions of dollars to do.
Link for audio of entire conversation: http://www.975thefanatic.com/teams/eagles/blogentry.aspx?BlogEntryID=10184724
This article is
What is the duplicate article?
Why is this article offensive?
Where is this article plagiarized from?
Why is this article poorly edited?

Philadelphia Eagles: Like this team?