The Greatest Fat-Guy Touchdowns in Football History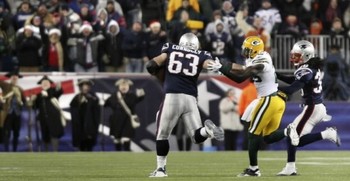 The New England Patriots offensive lineman Dan Connolly sparked the conversation of "best return ever" with his heroic 71 yard kick return. The return set up the Patriots offense to score and put them down three points in a game that they went on to win by four.
He didn't get into the end zone, but it was still one of the best plays by a lineman with the ball in his hands in NFL history.
Here are the greatest fat-guy touchdowns in football history:
Honorable Mention: Dan Connolly
Again, he didn't score, but his effort alone deserves an honorable mention.
Honorable Mention: Keith Traylor
This is one of the funniest plays ever, poor guy.
10. Andre Smith
Note the acceleration, he almost got caught.
9. Ndamukong Suh
Not only does he get the pick, he dishes out the punishment.
8. Myron Pryor
What's funnier than one fat guy running? Another fat guy chasing him.
7. Troy
Kevin Dyson who? This lineman didn't even need lead blockers after he took the pitch.
6. Domata Peko
The fat, the hair, what could make it better, but a hurdle?
5. Kevin Williams
Williams had as many interceptions this season as all of the Vikings cornerbacks combined.
Two-thirds of the Earth is covered by water, the rest is covered by Kevin Williams.
4. Dean Steinkuhler
Nebraska didn't win the game, but the trick is still the most remembered play of the National Championship.
3. Mike Patterson
Physical super freak Vernon Davis cramps up, but 300-pound Mike Patterson sprints the length of the field and is standing tall. What an athlete.
2. Shaun Rogers
That's 350 pounds folks, and the swan dive into the end zone only makes it more dramatic.
1. William Perry
The Refrigerator scored more touchdowns than any other lineman in NFL history. All I got to say is...
F-F-F-F-F-F-Football.
David Daniels is an NFL Featured Columnist and Writing Intern at Bleacher Report and a Syndicated Writer. Follow him at One Yard Short.com or on Twitter.
Keep Reading