Oakland Raiders Merry X-Mas: A Few Unsung Heroes Of The 2010 Season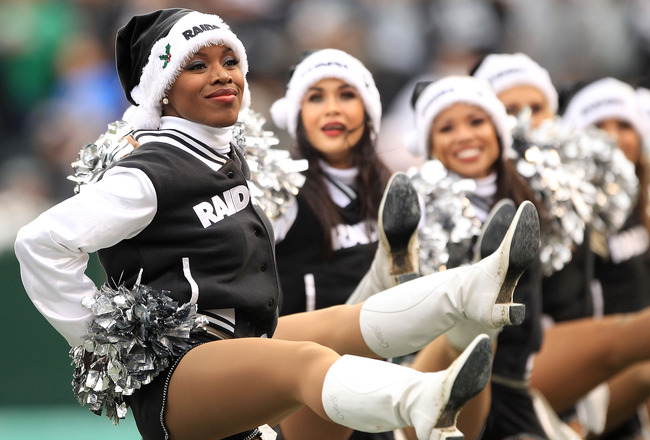 Ezra Shaw/Getty Images
We all know the big names in Oakland, Seymour, Nnamdi, McFadden etc.
But this slide is for the guys who do their job every Sunday, but still get no pub.
The glue guys, the dirty workers, the surprises for 2010.
These players have help make the season worth watching, a Christmas Gift for the Other Guys.
Matt Shaughnessy, Defensive End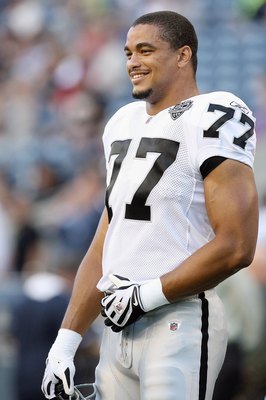 Otto Greule Jr/Getty Images
This Richard Seymour clone is one of those young core players with a bright future.
A Third Round pick in the '09 Draft, this Wisconsin product was thought to be an injury risk out of college.
In his second season, he has become a steady and reliable presence at DE. 58 tackles, and 7 sacks so far in 2010 and we still got two games left.
With big defensive names such as Seymour, Nnamdi, and Rookie Rolando McClain it has been easy to overlook Shaughnessy's impact.
Or maybe it just his long last name? Either way, he deserves some recognition for Christmas.
Hiram Eugene, Free Safety/ Special Teams
Doug Pensinger/Getty Images
Truly the othergGuy, I was thinking Hiram Eugene should have been cut this off season.
The Raiders had other plans and kept Eugene as a backup and special teamer.
Can you say good move?
Hiram has been a awesome on special teams, having a knack for being in the right spot at the right time.
#31 Scored a TD off the Blocked Punt in WK5, and continues to be a steady presence on Special Teams.
Of course, his stats won't amaze you, but if you watch every Sunday I'm sure you've taken notice.
#31 definitely deserves some Pro Bowl recognition this year.
Jared Veldheer, Left Tackle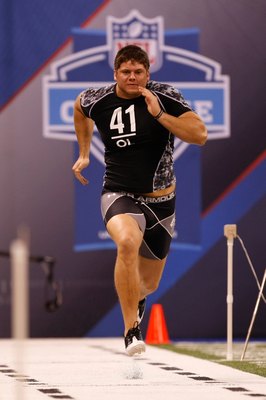 Scott Boehm/Getty Images
Yes you know his name, Yes you know he is a rookie.
But do you realize he has solidified one of the most crucial positions in football?
I just don't think this ROOKIE! gets enough recognition.
Mel Kiper recently did a Re-Do 2010 Mock Draft, and guess what? This Hillsdale(Where?) product was determined to be a first round pick.
What a steal!
Some writers have pointed out Veldheer's flaws (sorry Carl) poor technique, short arms, no big time experience etc.
But the bottom line is the Oakland Raiders have their left tackle of the future, and we can now forget not so super Mario. (im worried with him on the Right side this week).
Sure Veldheer has given up some sacks, but once again remember he is a ROOKIE! and can only get better.
He has a bright future.
Darrius Heyward-Bey, Wide Receiver (Satire)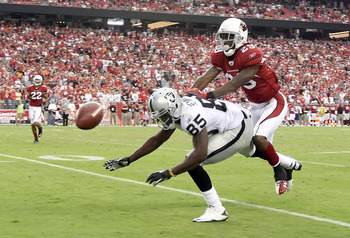 Christian Petersen/Getty Images
Well we cant forget the importance of DHB this season.
Sure he hasn't caught many balls, or scored many touchdowns, but hey, did you see that screen he gave in the Charger game! Wow exciting!
Hey, dont forget how he stretches the defense. You know, he runs as fast as he can down the sidelines hoping the safety and DB forget he couldnt catch a cold.
Sorry DHB lovers, I know you're out there. I haven't given up on the guy, seems like a hard worker, but being a wide receiver requires more than just straight line speed.
At least we have Jacoby Ford to help forget that #7 pick.
Merry Christmas (Hope Santa Delivers some Hands)
Keep Reading

Oakland Raiders: Like this team?