Marvin Lewis Will Move On, but the Cincinnati Bengals Won't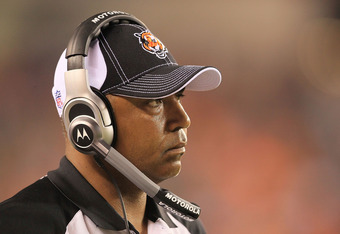 Andy Lyons/Getty Images
The 2010 season was supposed to be a special one for Marvin Lewis and the Cincinnati Bengals.
Multiple ESPN personalities picked them to make it to the Super Bowl. Mike Zimmer's defense was thought to be as good, if not better, than division rivals and perennial playoff contenders Pittsburgh and Baltimore.
Lewis, the 2009 AP NFL Coach of the Year, was finally believed to have the talent he needed to get Cincinnati to the playoffs for back-to-back years for the first time since 1981-82.
It's easy to remember the Bengals from 2003-2005. They were a young team, fun to watch, and most importantly, they filled a city with hope that was missing since Boomer Esiason was under center—and he was traded to the Jets in 1993.
Lewis coached the Bengals to 27 wins in his first three seasons in Cincinnati, which is a win more than the team had in its previous six seasons combined.
2005 was the pinnacle for the Marvin Lewis era.
Life was good in Cincinnati. Chad Johnson had a list of cornerbacks who couldn't cover him. Carson Palmer was being mentioned with Tom Brady and Peyton Manning as the best quarterbacks in the league. Odell Thurman was looking like the next great defensive star in the league. The sun hadn't glistened off the Ohio River like this since Pete Rose was managing the Reds.
But when the Bengals' 2005 team gave Cincinnati its first NFL postseason appearance since 1990, Kimo von Oelhoffen took out Palmer's ACL, and the Marvin Lewis era has appeared to be rehabilitating ever since.
After arguably the most disappointing season in Bengals history, it now looks as though the Marvin Lewis era will stop with the rehabilitation, understand that its chances of returning the franchise to what it seemed destined to be during its early years are all but zero, and move along to other opportunities.
Marvin Lewis will all but certainly be gone. He's a coach in the last year of his contract. This never happens. Except in Cincinnati, where owner Mike Brown runs a show that continuously goes against the grain and embarrasses itself.
Chad Ochocinco, Terrell Owens and Cedric Benson? Gone.
Carson Palmer's future is up in the air (fortunately for him, it's impossible for one's future to be intercepted).
Perhaps the biggest loss could be the least recognized, as starting cornerback Johnathan Joseph is set to become an unrestricted free agent. Could you really blame one of the most talented young defensive backs in the league for leaving?
With marquee players gone, a new coach likely to come in and arguably the most incompetent owner the NFL has ever seen, the Bengals look like they'll be returning to their Bungle form of the 1990s.
As for the new players and coaches brought in? Brown surely hasn't shown he's capable of bringing in the necessary personnel. Thus, as an owner, one would think Brown plans to fix that issue.
"A general manager brought in from the outside is not in the plans," Brown told his season ticket holders in a letter this week.
In other words: "We will continue the formula that has led to the organization to zero playoff wins since I took over the team."
Forget Joseph—why would anyone want to stay in Cincinnati?
Lewis certainly shouldn't want to. In eight years, Lewis' two winning seasons and three .500 seasons are the five best records the Bengals have generated since Brown took over in 1991.
Lewis has done a lot with a little and will almost certainly get the opportunity to roam greener pastures in the near future. Only time can tell what Lewis will do with an organization that is run with a general manager and an actual scouting staff.
While Lewis will move forward, the Bengals will likely stay stuck in neutral and endure another decade of underachieving.
This article is
What is the duplicate article?
Why is this article offensive?
Where is this article plagiarized from?
Why is this article poorly edited?

Cincinnati Bengals: Like this team?