Green Bay Packers Season in Review: Ranking the Top Plays of the Regular Season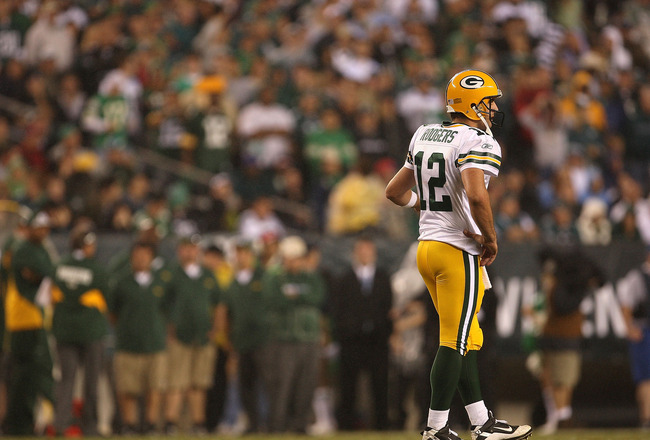 Mike Ehrmann/Getty Images
No matter what transpired for the Packers in 2010, there will always be those moments that took our breath away.
Starting their 2010 campaign as a Super Bowl favorite, there certainly was a boatload of pressure on Mike McCarthy and company to seize the moment and capture the dream—and with a Wild Card berth, the green and gold could be on their way to that ever elusive dream.
But as we take a brief look back at the individual accomplishments and outstanding play-making abilities that were bestowed upon us this regular season, there happens to be a plethora of awe-inspiring plays worthy of a season-best mention.
The following are the most outstanding of plays that made us proud to cheer on the Green Bay Packers this season.
Let's get started, shall we?
Honorable Mention: Matt Flynn's 66-Yard Strike to James Jones
Ironic, huh?
A top play coming from the backup quarterback must be worth while—and in this case, that fact holds true.
With a concussion sidelining Aaron Rodgers for a critical game against New England in a Week 15 matchup, Matt Flynn took over the commands from the Green Bay offense.
In the early stages of the contest, Flynn hit wide receiver James Jones for a 66-yard frozen-rope touchdown to put the Pack up 10-7 on the 'unbeatable' Patriots.
Although Green Bay would go on to lose the down-to-the-wire matchup on that Sunday night, Flynn certainly showed us all what he is capable of doing when the pressure is on.
Honorable Mention: Greg Jennings' Absurd One-Handed Grab
Green Bay's inaugural season-opener against the Eagles was chalk full of jaw-dropping plays, including Greg Jennings' superb one-handed grab from Aaron Rodgers.
The play was as baffling as it was heart-breaking for Eagles fans, as the Packers went on to a 27-20 victory over Michael Vick's new team.
In the game, Jennings managed 82 yards and one touchdown against Philadelphia.
Honerable Mention: Clay Matthews' Opening Day Sack on Kevin Kolb
Green Bay's opening day victory over the Philadelphia Eagles was one of the most remarkable performances from a defensive standpoint—and served as Clay Matthews' coming-out party of the 2010 season.
Matthew's sack on then Eagles starting quarterback Kevin Kolb knocked him out of the game, and would cause Kolb's entire 2010 season to spiral downward.
The "unexpected" hit issued by Matthews was a staple play in the Packers' 2010 season, as well as one of the most impressive showings by a defensive player throughout the entire regular season.
5. Charles Woodson's History-Making Interception
In a Week 4 matchup with the Detroit Lions, Charles Woodson might have officially punched his Hall of Fame ticket with a 48-yard interception for a touchdown.
A hard fought game between a determined Lions ballclub and a most likely overconfident Packers squad turned for the better with Woodson's interception return.
The touchdown was capped off with a diving effort by Woodson, sending the Green Bay crowd in complete commotion throughout Lambeau Field.
One of two interceptions in his 2010 campaign (Woodson also was defensive player of the year last season with nine total interceptions), Woodson continues to leave his everlasting mark on the football field—and should ultimately lead towards a Hall of Fame induction.
4. Clay Matthew's 62-Yard Touchdown Interception on Jon Kitna
In what would amount to a laughable victory for the Green Bay Packers over the Dallas Cowboys, Clay Matthews made his mark—in a superb way.
Dallas' Jon Kitna pass attempt was tipped by multiple Packers defenders, eventually ending up in the hands of none other than Matthews.
Returning the interception for a 62-yard touchdown was one of the many highlight reels Green Bay was able to pull off in their 44-7 victory over the Cowboys.
3. Aaron Rodgers' Bullet to Jordy Nelson with 56 Seconds Left in the Game
Arguably the most clutch play of the regular season, Packers quarterback Aaron Rodgers leads Green Bay on an awe-inspiring drive towards the end of regulation on the road against the Falcons.
The game-tying touchdown tied the game with :52 seconds left on the clock, again proving just how clutch Rodgers can be in pressure situations.
Although Green Bay went on to lose the game (20-17) due to a facemask penalty on the ensuing kickoff, the Packers gave the Matt Ryan led Falcons all they could handle.
2. Donald Driver's Spectacular Touchdown Effort
We've seen it time and time again: Donald Driver's tenacious strive to give every ounce of effort for nothing more than a Green Bay victory. Well, that's exactly what Driver was able to do.
In a 14-13 ballgame against San Fransisco, Aaron Rodgers threw to a wide open Driver—but that's not the half of it.
Driver went on to break over five tackles issued from the 49ers defense, scoring yet another one of the most breathtaking touchdowns in his historic career.
A sure-fire Green Bay Packers Hall-of-Famer, Driver attains some of the most inspiring catches titletown has ever witnessed in his tenure with the green and gold.
1. Aaron Rodgers' Game-Winning Touchdown Against Chicago in Week 17
Needing only a Week 17 victory against the hated rival Chicago Bears to secure their spot in the NFC playoffs, the Green Bay Packers came out of the gates rather sluggish.
In a defensive battle for the ages, there were offensive plays few and far between for both Jay Cutler and Aaron Rodgers.
However when the fourth quarter came around, all bets were off.
Rodgers finally completed a clutch pass to none other than Greg Jennings—putting Green Bay on the one-yard line of Chicago; which ultimately led to the difference in the final score, 10-3.
Aaron's one-yard touchdown to tight end Donald Lee gave the Packers the lead for the rest of the contest, all while sending Green Bay to the NFC playoffs.
Although it may not have been the most spectacular catch, it certainly was the most important.
Keep Reading

Green Bay Packers: Like this team?