2011 NFL Mock Draft: Revealing the First Round Picks
The 2010-2011 NFL season is slowly coming to an end. What do fans have to look forward to during the approaching off season? Yes, you've guessed it...The 2011 NFL Draft!
With all these talented players coming out of college, which player will go to which team and more importantly, why are they going to that specific team?
Here is the rundown of my first round draft picks for the 2011 NFL Draft.
Begin Slideshow

»
Face it. Having someone like A.J. Green on your team can potentially improve your record. The Panthers have a phenomenal WR, Steve Smith. With Steve Smith turning 32 years old within these next couple of months, the Panthers could use a fresh player like Green. Green is a 6'4" WR who had seven receptions within 119 yards during his recent 2010 college career. Green can work as a big target for any quarterback. While working under Smith, Green can easily learn the ropes.
The Denver Broncos have a 3-11 record and have been quite disappointing from the get go. It doesn't help that head coach Josh McDaniels has been fired. What do the Broncos need to amp up the team? A defensive tackle. Their defense hasn't played very well and gave away 29.6 points, ranking them 31st. With their current defensive tackle Jamal Williams approaching his 35th birthday, the Broncos could use someone stronger on their feet. During Dareus' sophomore year in college, he was able to get in 6.5 sacks, one interception and close to 33 tackles.
The Cincinnati Bengals have to be one of the teams I had high hopes for, considering they have two outstanding WR's, Terrell Owens and Chad Ochocinco. With them being ranked 22nd overall in rushing yards, they'll need a safety like Deunta Williams, who stands tall at 6'2" and weighs 215 lbs, to be the 8th person in the box to blitz in.
The Detroit Lions drafted Ndamukong Suh during the 2010 NFL Draft. How dangerous would it be to add a linebacker to that mix? The Lions are currently ranked 24th overall in rushing yards. Someone like Von Miller can help clog the hole and stop the run with his 6'3" height. He led his college team, the Aggies with 17 sacks and 21 tackles for a loss.
During the 2010 NFL Draft, the Buffalo Bills picked up RB C.J. Spillman. The Bills need a WR to compliment Spillman. Picking up WR Michael Floyd can help get their offense going. After a shoulder injury during his college career, Floyd was forced to sit out. When he returned onto the field, he received nine touchdowns and gained close to 800 yards within the span of seven games. Now that's talent!
Derek Anderson is the starting quarterback for the Arizona Cardinals. The Cardinals need a stronger quarterback since the departure of newly retired Kurt Warner. With Andrew Luck being projected as one of the top three draft prospects, the Cardinals would be lucky to have him. As of Week 14, his pass completions are only 51 percent, which is considerably low even with Larry Fitzgerald as your target. Luck has thrown over 3,000 passing yards and I'm sure he would know what to do with Larry Fitzgerald as his weapon.
The Washington Redskins have RB Clinton Portis but as he ages to 30 years old, the Redskins will have to look for a new pair of fresh legs. This is where Heisman trophy winner Mark Ingram comes in. Ingram finished his junior year at the University of Alabama with 11 touchdowns and over 800 yards.
Cam Newton is projected to be the overall first round draft pick. He's up against another quarterback, Andrew Luck from Stanford University. Newton has also been awarded the 2010 Heisman Trophy. Current San Francisco 49ers Quarterback Alex Smith has proven his inconsistencies throughout his entire career. Having Newton will help strengthen the 49ers and bring change. During Newton's 2010 career, he's thrown for over 2,500 yards and overall has 28 touchdowns.
The Houston Texans' defense is depleted. Their rankings are low and their defense is weak against the pass. Throwing Patrick Peterson onto the field will change that. Their pass defense is the weakest in the league, ranking them at 32nd overall. They need to bolster their secondary by adding Peterson who is a highly projected draft pick. He's also a versatile player being used as a return specialist. In addition, he's also been practicing as a wide receiver and running back. Who wouldn't want a player like that?
The quarterback always needs to be protected. Period. Drafting Marcus Cannon is the person who can get that job done! He's 6'6" and 350 lbs. He has the body to give Jon Kitna the protection to get rid of the ball.
The Cleveland Browns have no problems with their running game; it's their passing game that needs help. Jonathan Baldwin can be the Browns' ammo to increase their passing game. He stands tall at 6'5", making him an easier target for quarterback Jake Delhomme.
Brett Favre is going to retire. Who is going to take over once he departs Minnesota? His name.. Jack Locker. Locker threw for 2,800 yards resulting in 11 interceptions and 21 touchdowns.
The Tennessee Titans need to improve their passing game, considering Randy Moss has proven that he's ineffective. What has Moss done that Julio Jones can't? Jones can be used as the Titans' diamond in order to balance their offense. His height of 6'4" can be beneficial.
A quarterback's job isn't easy, especially for rookie quarterback Sam Bradford. Bradford needs extra help in getting the ball all the way down to the end zone. With Kyle Rudolph, Bradford may be able to do what his team needs, and that's score touchdowns. He is the only player to have played in every game during his freshman year at Notre Dame. Impressive!
The defensive line for the Seattle Seahawks is decent. The Seahawks need another CB to compliment current CB Marcus Trufant. With the pick up of SS Earl Thomas in last year's 2010 NFL draft, Prince Amukamara will do nothing except add more talent to the team.
The Oakland Raiders need an OT because they have a struggling offensive line. The Raiders need to keep the outside pressure off quarterback Jason Campbell and allowing Campbell more time in the pocket to step up. Derek Sherrod can work as the force that Campbell desperately needs.
There is no doubt that the Miami Dolphins have an impressive defense. Drafting Lance Kendricks could help improve their offensive game. Having WR Brandon Marshall on the field is an asset to any team, but he needs help. A TE compliments Marshall on the field, which gives Chad Henne more options to choose from when it comes to giving the ball away. This will take pressure off Marshall, who is constantly seen in double coverage.
The Tampa Bay Buccaneers need an ILB in order to beef up the front seven. They need to clog up the run since they are currently ranked 29th in the league when it comes to defending the ground game. Putting Quan Sturdivant will empower the defense with his 6'2" build.
The San Diego Chargers currently Jeromey Clary as their RT, but he hasn't been performing well, proving his inconsistency at the position. The Chargers deserve a change at tackle that is willing to pick up the slack that Clary has been leaving behind. Joseph Barksdale has the potential to do so.
The Jacksonville Jaguars defense is shaky. They need a FS like Rahim Moore in order to help out in pass coverage. Moore can assist in preventing deep throws from happening.
This one is easy. The Indianapolis Colts clearly need a running game. In order to do that, they need to draft a RB like Ryan Williams as backup for RB Joseph Addai. Having a strong RB will take pressure off quarterback Peyton Manning, which will keep the defense guessing Manning's next move. Manning is known for throwing deep passes, why not give the running backs the spotlight?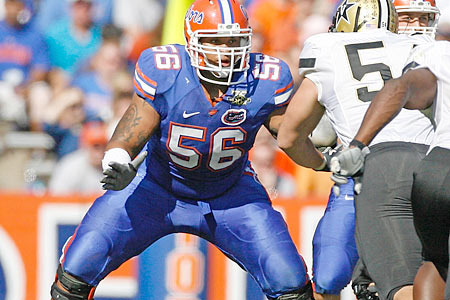 The Green Bay Packers need a guard who can open up holes for their running backs. Mike Pouncey can open holes and block on outside runs. Pouncey can play dual positions, both guard and center.
The New York Giants have established their solidness in both defense and offense. In order to add more depth, they should pick up ILB Chris Marve, who will work as a powerful impact to balance both pass coverage and stopping the run.
The Kansas City Chiefs are ranked 30th overall in the league for pass yards. They need a left tackle in order to protect quarterback Matt Cassel's blind spot. They already have the weapons at wide receiver, tight end and running back. All they need now is Jerrell Powe to give Cassel the time he needs in order to release the ball.
The Chicago Bears have an impressive defense. However, their offense isn't up to the general standard. Quarterback Jay Cutler desperately needs to improve their passing game. Adding DeVier Posey to the roster can help their offensive game tremendously. Cutler will be able to use Posey as ammo on the field.
We all know how strong Troy Polamalu is, but adding another safety into the mix will strengthen the defense. DeAndre McDaniel can work alongside Polamalu, making the Pittsburgh Steelers' defense even more dangerous. Last year alone, McDaniel captured a total of eight interceptions during his time at Clemson.
The Philadelphia Eagles are strained when it comes to their defense. Adding CB Brandon Harris to the team will help bolster their secondary defense. Harris can work alongside current CB Asante Samuel on opposite ends. Harris also has the ability to add depth, making the defense more powerful.
Drafting Austin Pettis to the New York Jets adds size and more talent on the New York Jets' receiving core. Pettis can play on the opposite side of WR Braylon Edwards and move WR Santonio Holmes to the slot creating a trio threat. Quarterback Mark Sanchez will have multiple receivers to choose from. Pettis captured 13 touchdowns during his senior year at Boise State.
In order for the New Orleans Saints to keep their pass-happy offense balanced, they need to improve their running game by adding G/C John Moffitt. Since he's able to play both positions as a guard or center, this makes him an even more flexible and valuable player.
The Baltimore Ravens have an aging C, Matt Birk who is slowly approaching his 35th birthday. The Ravens can benefit by having Stefen Wisniewski around when Birk makes his departure from the Ravens. The Ravens are solid in both defense and offense. Wisniewski can learn the ropes as a center from Birk and at the same time maintaining the stability of the offensive line.
The New England Patriots have had a difficult time managing the passing game. In order to recover, they need to add an OLB who will put pressure on the opposing team's quarterback. They are ranked 30th overall against the pass which makes their defense delicate. Robert Quinn is a highly projected OLB who can be the right person to support the front seven. Not only that, but he has the docility to play as a defensive end.
The Atlanta Falcons can enhance their defensive line by adding Jeremy Beal. His size and speed is perfect for the Falcons. Beal has the ability to not only rush the passer, but can also stop the running back on wide runs to the outside.
Some of the most talented college football players are entering the 2011 NFL Draft. Whether they get picked up in the first round or get signed as an Undrafted Free Agent, all players deserve the chance to showcase their talent.
These first round draft picks that I have chosen are the players who have stood out amongst the many players who have the dreams of one day playing for the NFL.
Either way, good luck to all the Draft Prospects!