NFL Power Rankings Week 16: NFL Playoff Picture Edition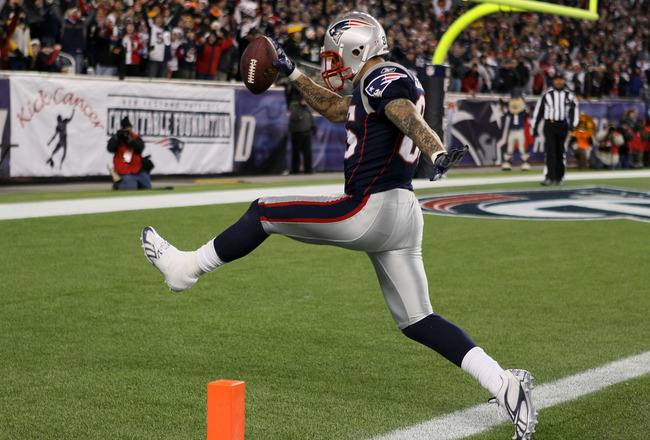 Elsa/Getty Images
NFL power rankings keep on shifting as we separate the contenders from pretenders this season.
The league still has parity this year, but there seems to be a lack of talented teams the further west you travel.
Just because a team is going to make the playoffs doesn't mean they are the more powerful team. Who you've played and how you play makes a big difference in power rankings.
Follow me on Twitter @JohnLorge
32. Carolina Panthers (2-11)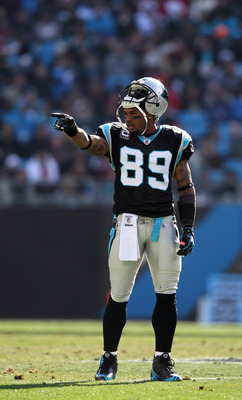 Streeter Lecka/Getty Images
Epic. Legendary. Colossal. Monumental.

None of those adjectives can be used to describe John Kasay's 19-12 win over Jay Feely on Sunday.

Not only did the Panthers give their fans an early Christmas gift, they also kept the No. 1 pick in the draft!

Fun Fact: Kasay has scored 46 percent of the team's points.
(Last Week: 32)
31. Denver Broncos (3-11)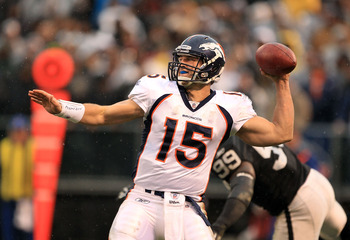 Ezra Shaw/Getty Images
The Tim Tebow era didn't start with a win for the Broncos, but it is an exciting brand of football.

Tebow only completed 50 percent of his passes, but he didn't throw an interception. He was able to gain 78 yards on the ground and scored both in the running and passing game.

Denver's 16-point defeat was better than the 45-point one Oakland put on them earlier in the year, so maybe the wild-gator-bronco-cat is the way to go.
(Last Week: 30)
30. Arizona Cardinals (4-10)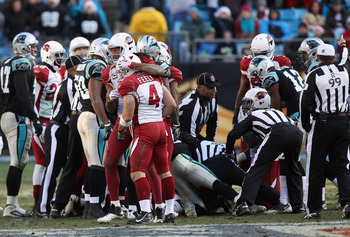 Streeter Lecka/Getty Images
Had Arizona's loss to Carolina been at home, we might see 'Zona in the bottom spot of the power rankings. That being said, they have managed to double Carolina's win total this season—somehow.

The Cards own the worst offense in football, no player has more than five TDs, and they have more turnovers than scores.
(Last Week: 29)
29. Seattle Seahawks (6-8)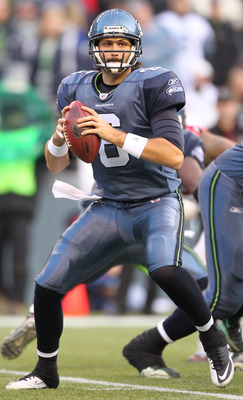 Otto Greule Jr/Getty Images
Oh, the NFC West. Believe it or not, somebody from this division will make the playoffs.

Mathematically, Seattle could be that team. All they have to do is beat the Rams and hope SF doesn't win out.

Regardless, being a playoff team doesn't equal being a powerful team. The Hawks are 2-6 in their last eight.
(Last Week: 27)
28. San Francisco 49ers (5-9)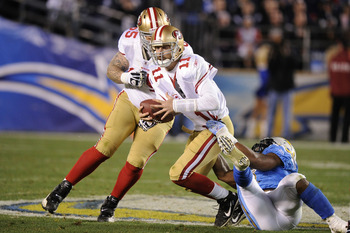 Harry How/Getty Images
Sitting at 5-9, the mighty 49ers control their own destiny.

Rumor has it the Shape-Ups have really paid off for Joe Montana, and he's ready to start next week against the Rams. Additionally, Bill Walsh will be calling the plays from the big box in the sky.

If a 7-9 team can make the playoffs, anything is possible.
(Last Week: 26)
27. Cincinnati Bengals (3-11)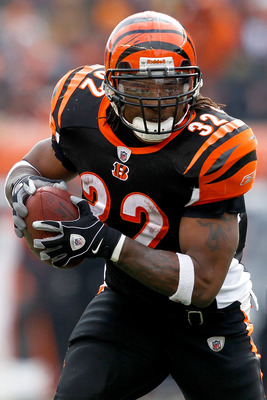 Matthew Stockman/Getty Images
I knew you had it in you Cinci! With rumors of Carson Palmer being traded away in the offseason, the Bungles strapped it up and showed the NFL what the 2009 AFC North champs are made of with a 19-17 win over Cleveland.

No TO, no problem.
(Last Week: 31)
26. Detroit Lions (4-10)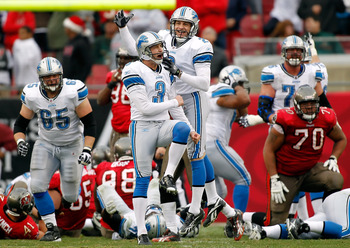 J. Meric/Getty Images
"Victory is sweetest when you've known defeat." - Malcolm S. Forbes

The Lions know road defeat. Congrats.
(Last Week: 28)
25. Minnesota Vikings (5-9)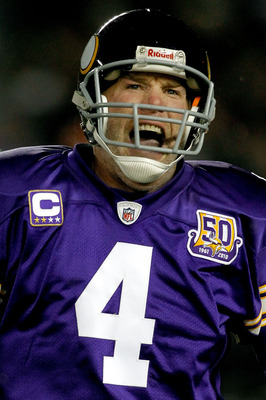 Matthew Stockman/Getty Images
Without Brett Favre, Adrian Peterson and Steve Hutchinson, the Vikings don't have much to offer opponents.

It won't prevent Willie Beamen from getting his scramble on, though.
(Last Week: 18)
24. Houston Texans (5-9)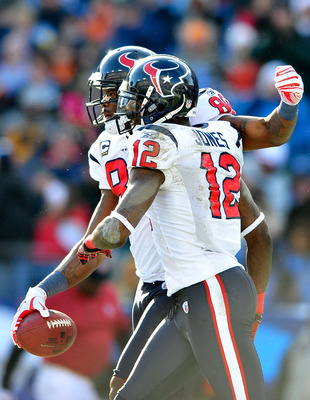 Grant Halverson/Getty Images
The hangover loss strikes again.

Coming off an OT loss, on a short week, Houston hardly put up a fight against Tennessee and lost their seventh in the last eight games.

Workhorse back Arian Foster was banged up, and if his injury is serious the Texans could drop one to Denver next week.
(Last Week: 24)
23. Washington Redskins (5-9)
Ronald Martinez/Getty Images
The Skins sure know how to put up a fight.

Washington hasn't won a game by a seven-point margin this year, and they've lost five by four points or less.

Fun Fact: Sunday's game brought Rex Grossman's career TD-to-INT ratio to 37-to-38. Almost there!
(Last Week: 22)
22. St. Louis Rams (6-8)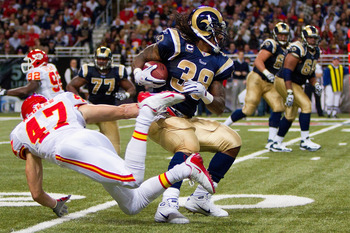 Dilip Vishwanat/Getty Images
The Rams are poised to rule the NFC West for years, but they're not there yet.

Stuck in the most embarrassing playoff race of all time, the Rams are still in control of their destiny.

All Sam "Ram Jam" Bradford has to do is win.
(Last Week: 19)
21. Cleveland Browns (5-9)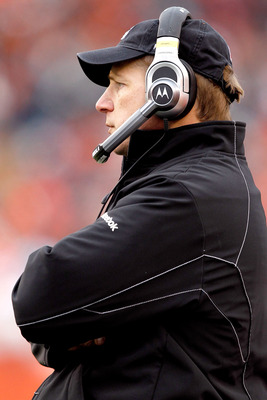 Matthew Stockman/Getty Images
On any given Sunday, the Browns could be a lot better or worse than you think.

Just when the team was getting the ball rolling, Colt McCoy's injury had them take a step back.

Losing to the Bengals isn't a surprise, but it is a game they could have won.
(Last Week: 21)
20. Tennessee Titans (6-8)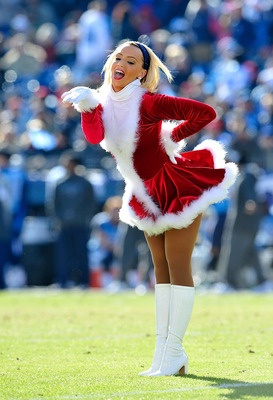 Grant Halverson/Getty Images
Finnegan vs. Johnson Round 2 didn't have the pay-per-view blows fans were hoping for.

Andre Johnson did score a TD, but the Titians were the hands-down winners in the fight.
(Last Week: 25)
19. Tampa Bay Bucs (8-6)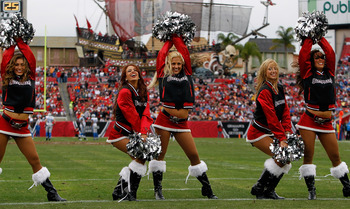 J. Meric/Getty Images
Tampa, Tampa, Tampa. Are you really going to let the Lions keep you from a 10-win season?

The truth is the Bucs' quality of win has been very poor, and they still haven't beaten a winning team all year. Now, they've started losing to them.
(Last Week: 15)
18. Oakland Raiders (7-7)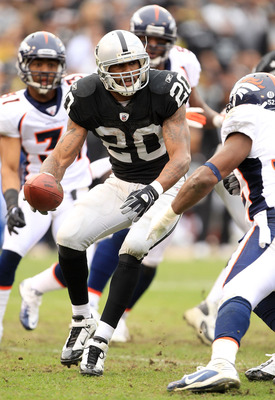 Ezra Shaw/Getty Images
The Raiders backfield trio has scored 21 TDs this year.

Last season, the entire team scored 17 total TDs.

Oakland has seen improvement in every aspect of the game this year, and combined with KC's resurgence, the sun is shining on the AFC West.
(Last Week: 17)
17. Miami Dolphins (7-7)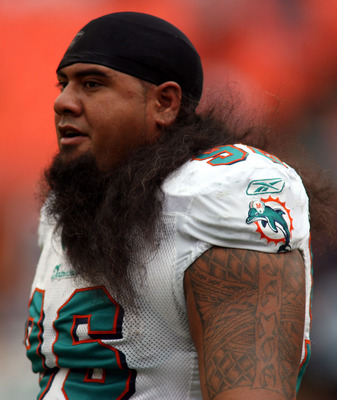 Marc Serota/Getty Images
Why for one second did I think Miami was going to win their home game against the Bills this week?

The Dolphins can win in the North, West, East and anywhere but the South.

Fun Fact: Dan Carpenter has scored 44 percent of the team's points.
(Last Week: 9)
16. Dallas Cowboys (5-9)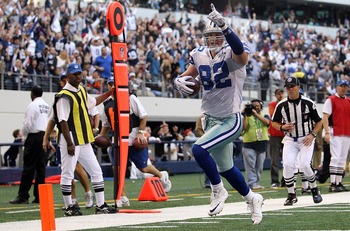 Ronald Martinez/Getty Images
Although their defense keeps giving up points, the Cowboys have been playing playoff-caliber football as a whole since firing Wade Phillips.

I don't think bringing in a rusty Tony Romo off an injury is the best move for the team, and while the odds are getting slimmer, it would keep things interesting.
(Last Week: 23)
15. Buffalo Bills (4-10)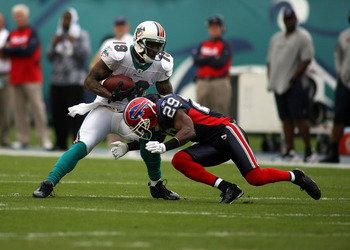 Marc Serota/Getty Images
The Bills got their best win of the season this week, traveling down to Miami and stealing one from a winning team.
It might be their last win of the season with NE and NYJ on the remaining schedule, but going .500 in the second half of the year is huge.
(Last Week: 20)
14. Jacksonville Jaguars (8-6)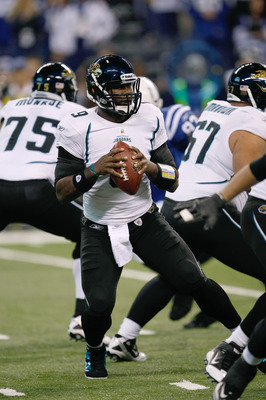 Scott Boehm/Getty Images
For the first time all year, Jacksonville lost a game where they scored 24 points or more.
The Jags aren't out of the playoffs, but it doesn't look good.
Fun Fact: Garrard has a better career passer rating than Brett Favre.
(Last Week: 13)
13. Green Bay Packers (8-6)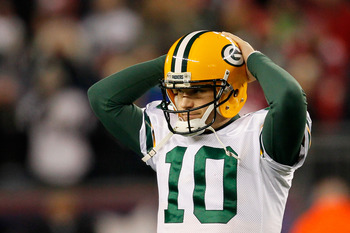 Jim Rogash/Getty Images
I was hard on the Pack last week after losing Aaron Rodgers, but their Sunday night performance showed it's a team effort up North.

A dropped interception by Charles Woodson and long kick return by an offensive guard might be the only things between them and a major upset.
(Last Week: 16)
12. Indianapolis Colts (8-6)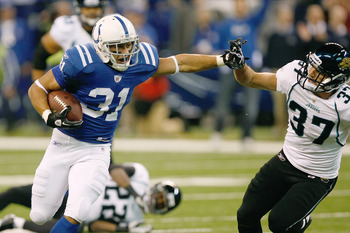 Scott Boehm/Getty Images
If this were player power rankings, Peyton Manning would be top-three, but the truth is the Colts are playing good-but-not-great football right now.

Injuries are hurting them on both sides of the ball. It was good to see Donald Brown get some sort of rushing attack going, though.
(Last Week: 14)
11. Kansas City Chiefs (9-5)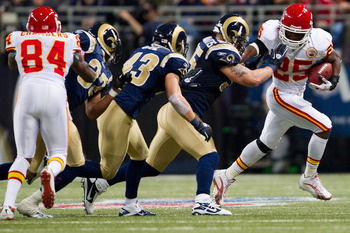 Dilip Vishwanat/Getty Images
I'm still shocked that Jamaal Charles was caught from behind on his 80-yard run.

The man once ran a 9.76 in the 100 meters in college.

Regardless, that run sealed the deal for KC in the battle of Missouri, and the Chiefs live to play another day.
(Last Week: 12)
10. San Diego Chargers (8-6)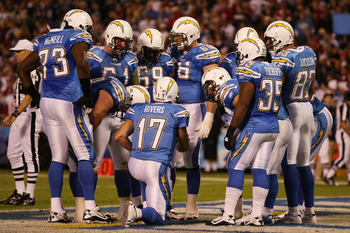 Donald Miralle/Getty Images
Phillip Rivers has spread 29 passing TDs to 10 different receivers.

Respect.
(Last Week: 11)
9. New York Giants (9-5)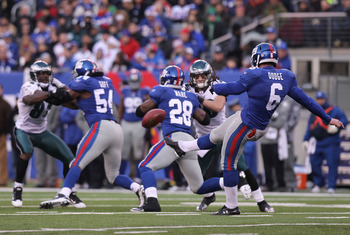 Nick Laham/Getty Images
Eli Manning is trying to prevent the Giants from falling victim to the hangover loss, but giving up four fourth-quarter touchdowns is hard to rebound from.

All of the Giants' losses have come in pairs so far this season—could this be the third set?
(Last Week: 7)
8. Pittsburgh Steelers (10-4)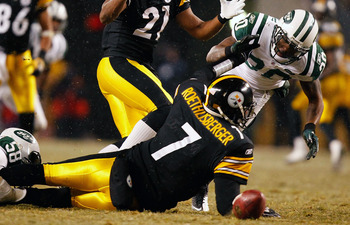 Jared Wickerham/Getty Images
Even with establishing a rushing attack, the Steelers couldn't secure a home victory against the Jets.

Big Ben was sacked three times, fumbled twice and finished with a 78.2 passer rating—not a recipe for success.
(Last Week: 4)
7. New York Jets (10-4)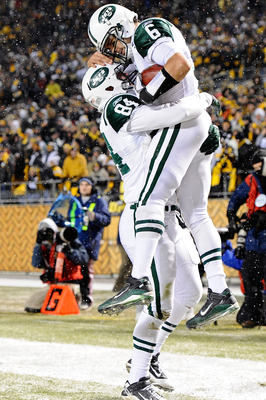 Karl Walter/Getty Images
The Jets "manned up" against Pitt and are looking like a playoff team once again.

Mark Sanchez is still a headache, but beating the Steelers at their own game has to feel good.
(Last Week: 10)
6. Chicago Bears (10-4)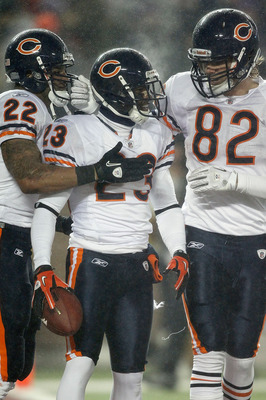 Matthew Stockman/Getty Images
The Bears use a rotation of three defensive ends who are all 6'6" or taller and 270 pounds or bigger. The size at the position group makes it almost impossible to attack the edges.

Jay Cutler continues to throw interceptions, but his positives are outweighing the negatives.
(Last Week: 8)
5. New Orleans Saints (10-4)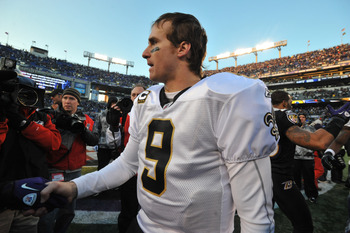 Larry French/Getty Images
Nobody is questioning if the Saints are good, but there is some concern whether they can truly repeat.

A strong finish against Atlanta and Tampa will show everybody they're for real.
(Last Week: 3)
4. Philadelphia Eagles (10-4)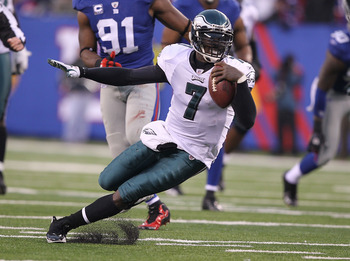 Al Bello/Getty Images
In an NFL where quarterbacks are built like Mack trucks, Michael Vick is a MV Agusta F4CC.

QB is a position, not a definition. Wins and losses will define how good Vick is as a QB.
(Last Week: 6)
3. Baltimore Ravens (10-4)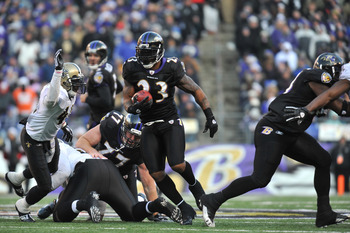 Larry French/Getty Images
Baltimore has been battling playoff-caliber opponents all season long, and they have a great shot at going from Wild Card to NFL champs.

Cleveland and Cincinnati should give them enough time to get healthy for the playoffs.
(Last Week: 5)
2. New England Patriots (12-2)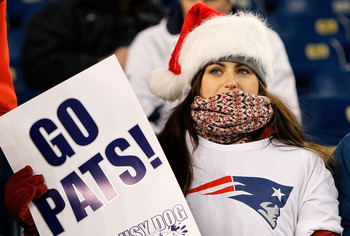 Jim Rogash/Getty Images
With blood in the water, New England didn't give Green Bay the throttling they have their last two opponents.

The Pats are without a doubt the best team in the AFC.
(Last Week: 1)
1. Atlanta Falcons (12-2)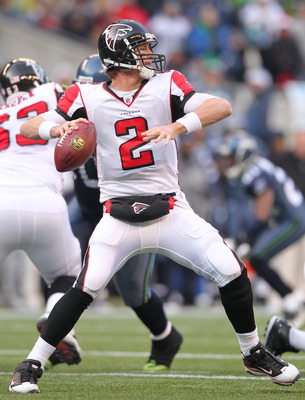 Otto Greule Jr/Getty Images
After trading positions with the Pats last week, the Falcons are back at No. 1.

They've beat their last two opponents by a combined 39 points.
(Last Week: 2)
Keep Reading