MLB Predictions: 50 Players Who Will Have Shocking Seasons in 2011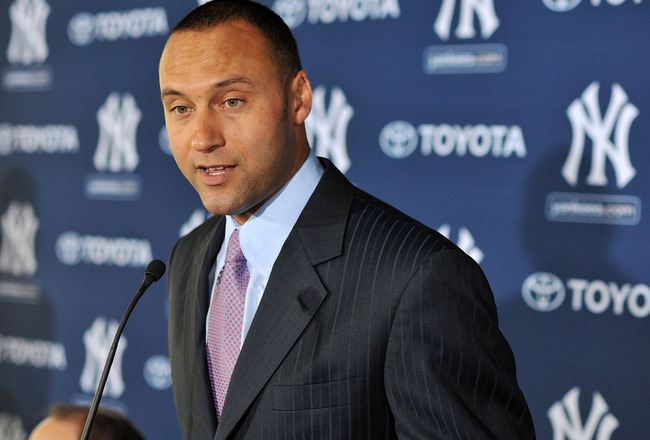 Tim Boyles/Getty Images
Baseball is one of the most unpredictable sports in the world.
Before the season starts, predictions are made of who will do this and who will do that. But, the truth is, there are so many different things that can and will happen. Every season, the unexpected happens.
It could be a young player having a monster year. A mediocre player who suddenly becomes a star. A veteran having one last kick at the can, or a perennial All-Star having an off year.
Either way, these things are hard to predict. But, I have created a list of players I believe will fall under one of the four categories mentioned above during the 2011 MLB regular season.
50. Vernon Wells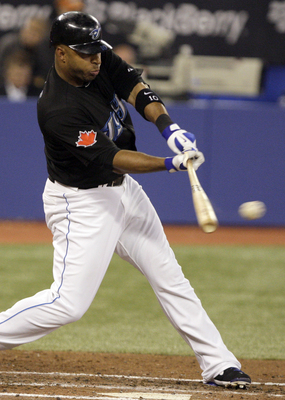 Abelimages/Getty Images
Vernon Wells will lose playing time and will see his numbers fall significantly.
2011 Predicted Stats: .242 AVG. 18 HR. 67 RBI.
Vernon Wells is well known for being one of the best defensive center fielders in baseball. Wells is also very well known for being one of the highest-paid players in MLB history and under-performing on a consistent basis.
Vernon has struggled with health problems that have really affected his game, like wrist and hamstring injuries that have seemed to linger with him. Playing center field is a strenuous task and for someone who's dealing with injuries and age, things can only go downhill.
Also, some of his playing time may be taken away by things like injuries and potentially by Rajai Davis, who the Jays recently acquired.
49. Bobby Jenks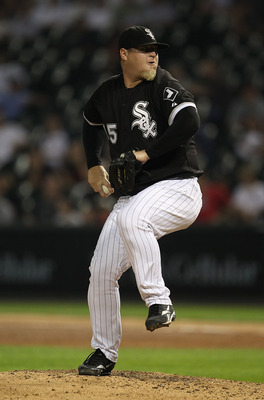 Jonathan Daniel/Getty Images
Bobby Jenks will thrive as the setup man for Jonathan Papelbon.
2011 Predicted Stats: 3-2 WL. 2.98 ERA.
Bobby Jenks had a turbulent and chaotic 2010 season. Jenks spent the entire season in a limbo role as both closer, setup man, and various other roles.
He wasn't terrible, but after a few blown saves, fell out of favor with the vocal Ozzie Guillen. It is perhaps possible that Jenks was feeling the pressure in Chicago and couldn't handle the role of closer.
Bobby has always had enormous potential and a superb fastball. In Boston he will thrive as the pressure of closing will be lifted off his shoulders. The veteran and classy Terry Francona knows how to handle his players and will give Jenks a lot of time and a lot of space to show just how good he really is.
48. Aaron Harang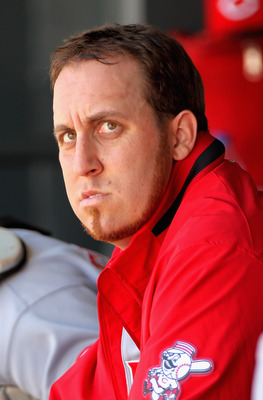 Doug Pensinger/Getty Images
Aaron Harang will continue his downward spiral and will be released by year's end.
2011 Predicted Stats: 3-10 WL. 6.99 ERA.
Aaron Harang has been a model of inconsistency. After having three really nice years in Cincinnati, Harang's numbers have plummeted. He certainly did not live up to the massive contract he was given.
But, now turns a now chapter in the career of Aaron Harang. He has signed with the San Diego Padres. I expect Harang to continue pitching poorly, especially considering he will be pitching for the offensively challenged Padres.
Like I said above, I expect the Padres to ditch Harang in the summer if he doesn't get traded at the deadline.
47. Fernando Rodney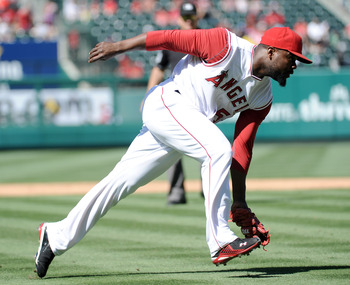 Harry How/Getty Images
Fernando Rodney will return to being one of the best closers in the AL.
2011 Projected Stats: 3-2 WL. 40/44 SV/O. 3.29 ERA.
Fernando Rodney became the closer in Detroit during the 2009 season. Rodney was spectacular as he saved 37 games and only blew one. Not bad.
Then, in the offseason, Detroit and Rodney could not agree on a contract so Rodney instead took his talents to Los Angeles. Unfortunately, the Angels brought Rodney in as a setup man to closer Brian Fuentes.
Rodney struggled in his role as setup man, but luckily for him, Fuentes was much much worse. When Fuentes was dealt at the deadline to Minnesota, Rodney immediately assumed the role of closer. Now, even with the addition of Downs to the pen, Rodney should still be a lock for closer and will probably return to being his old efficient self.
46. Brett Anderson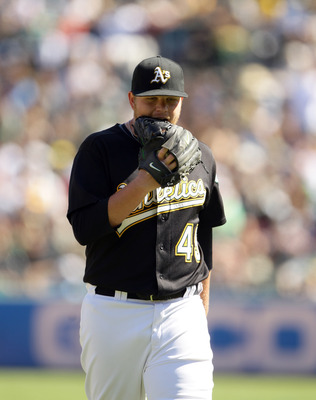 Ezra Shaw/Getty Images
Brett Anderson will put up dominant numbers in the AL West.
2011 Projected Stats: 17-8 WL. 2.87 ERA.
Brett Anderson is one of the best-kept secrets in baseball. He has quietly been one of the better young arms in baseball. Hidden in an also unknown group of Oakland studs, Anderson has put up really nice numbers when healthy.
I emphasize health, as that has been a concern for Anderson, but if he can remain healthy through what is a hard 182-game schedule, I am sure he will be great. Last season when healthy, Anderson had a 7-6 W-L, a 2.80 ERA, and a decent 75 K's.
45. Fausto Carmona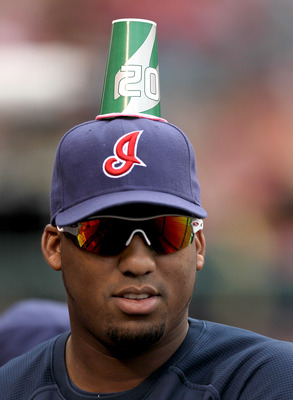 Stephen Dunn/Getty Images
Fausto Carmona will return to being one of the better pitchers in the AL and will be traded to the Yankees at some point for prospects.
2011 Projected Stats: 16-7 WL. 3.33 ERA. (With Tribe + Yankees)
One of the best sinker-ball pitchers in baseball emerged onto the scene in 2007, when he had a 19-8 W-L, a 3.09 ERA, and 137 strikeouts. Not bad to say the least.
Over the past few seasons, his numbers have taken a nosedive due to a lack of run support and a lack of consistency as far as health is concerned. Last year, though, Carmona showed glimpses of his old self as he had a 13-14 W-L, and a pretty nice 3.77 ERA.
I am predicting a fantastic year for the competitive Carmona, especially when he is traded to the Yankees, which I am 100 percent positive he will be.
44. Carlos Beltran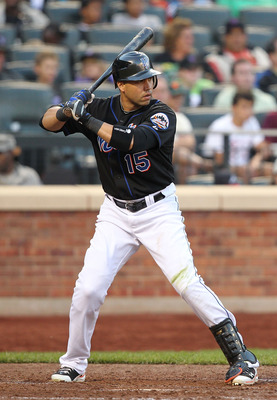 Al Bello/Getty Images
Carlos Beltran will come back healthier and better than anyone expects.
2011 Projected Stats: .289 AVG. 22 HR. 81 RBI. 22 SB.
Carlos Beltran is without a doubt one of the most talented players in baseball. He is one of the game's better all around players. He is a terrific defensive center fielder, has a quick and powerful bat, and has a lot of speed with lots of stolen base potential.
When Beltran went down with an injury last season, the Mets were devastated as Carlos was lost for the year. Now, the Mets are hopeful that Beltran can regain his playing touch. If so, the league better look out.
If the Mets struggle out of the gate and Beltran doesn't, my money is on a trade. Beltran is ranked this low because it is not as if we don't know he can be this good, most just don't think it will happen as soon as I think it will.
43. Chone Figgins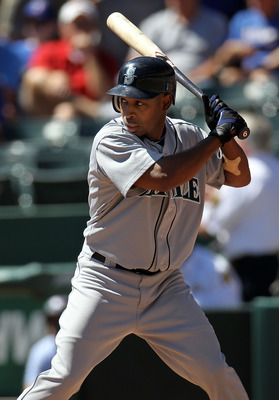 Ronald Martinez/Getty Images
Chone Figgins will prove critics wrong and have a very nice year.
2011 Projected Stats: .299 AVG. 3 HR. 29 RBI. 50 SB.
During the 2010 offseason, Chone Figgins left the Angels and signed a relatively lucrative contract with the division rival Seattle Mariners. Expectations were high for both Figgins and the Seattle Mariners going into the 2010 regular season. It s relatively safe to assume that both failed to live up to any of the hype.
Figgins had a wretched year as he had a mind-boggling .259, 1 HR, and 42 SB. Not exactly what we were expecting out of Chone.
Either way, Chone is far too talented to be put up these numbers for the rest of his career. I expect Figgins will have a much better year this year.
42. J.D. Drew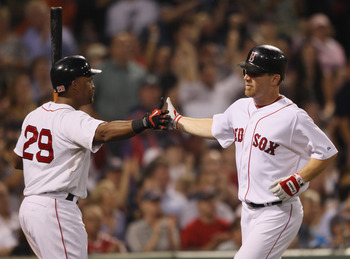 Elsa/Getty Images
J.D. Drew will find himself on the bench and will be scarcely used.
2011 Projected Stats: .210 AVG. 10 HR. 40 RBI.
J.D. Drew has certainly not lived up to the massive five-year, $70 million contract that he signed with Boston in the summer of 2007. His numbers haven't been too terrible, but in no way has he been as good as he should be for that kind of money.
One of Drew's very few memorable moments in Boston was his grand slam in the World Series.
Drew was decent last season, as he was for the most part the everyday right fielder and batted a mediocre .255, had a nice 22 HR, and a sad 68 RBI.
If Drew wants to maintain his spot in right field, he better start playing better, because his spot is being threatened. With the addition of Crawford and the return of Ellsbury, the younger players in Kalish and McDonald should be given a chance should Drew fail to produce.
41. Aaron Hill and Adam Lind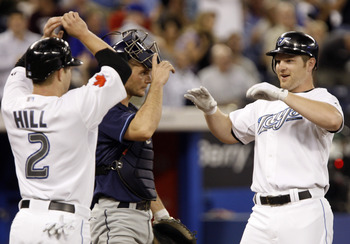 Abelimages/Getty Images
Adam Lind and Aaron Hill will rebound nicely for the Jays.
2011 Projected Stats: Hill: .297 AVG. 20 HR. 76 RBI.
Lind: .313 AVG. 27 HR. 89 RBI.
Adam Lind and Aaron Hill were both recognized in 2009 for their outstanding achievements with the bat. Coming into last season, expectations were high for both Adam and Aaron.
It is quite safe to say that neither lived up to them. Both still had an above-average amount of home runs and also drove in some runs. Unfortunately, neither were consistent and both had extremely low batting averages.
I believe Hill and Lind will rebound nicely because they have beautiful swings and work very hard. Hill and Lind will be given plenty of time to show their stuff and prove themselves once more. Perhaps they will flourish again under the leadership of new manager John Farrell.
40. Bronson Arroyo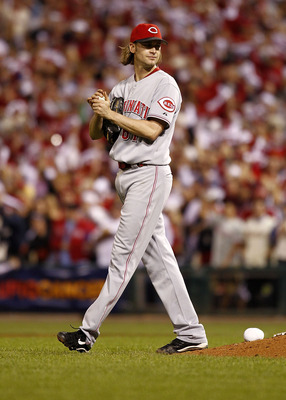 Jeff Zelevansky/Getty Images
Bronson Arroyo will prove to be a massive bust for the Cincinnati Reds.
2011 Projected Stats: 10-13 WL. 4.99 ERA.
Before I begin, allow me to say that for some odd reason, I seem to dislike Bronson Arroyo with a passion of some sort. Not sure why, perhaps it is the hair or the name, I am not entirely sure, but I digress.
Bronson Arroyo has had a very inconsistent career filled with very big highs and really low lows. Last year was a high as Arroyo collected a career high 17 wins to 10 losses with an ERA approaching 4.00.
His ERA has gone from 6.00 at some points to just below 3.00 at others. Regardless of his imperfections, Arroyo has gained the trust of the Reds organization and was given a three-year $35 million contract, which in my mind seems absolutely ridiculous.
Either way, the expectations are high and it is not a contract year, thus I believe he will crash and burn. :)
39. Ty Wigginton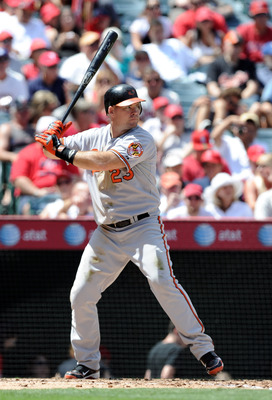 Harry How/Getty Images
Ty Wigginton will prove that last year was a fluke, and he is not actually that good.
2011 Projected Stats: .230 AVG. 14 HR. 53 RBI.
Ty Wigginton had a great season last year as he put up an OK .248 AVG, a nice 22 HR, and drove in 76 runs. Not bad numbers for an afterthought utility man who is aging quickly.
Wigginton has had a few good years, but has never been consistent. Up and down like a ball has the career of Ty gone. For this nice season Colorado gave him a two-year deal for about $8 million. I would say that's a tad pricey for someone so inconsistent.
Either way, I believe that especially in a spacious Coors Field, Wigginton will struggle to get hits like he did at Camden Yards. There are always injury concerns with Ty and with no DH in the National League, Wigginton might not have a lot of opportunity to rest his old legs.
38. Billy Butler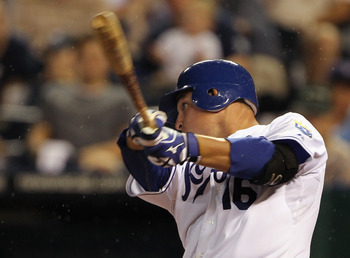 Jamie Squire/Getty Images
Billy Butler is one of the best, but most underrated first basemen in all of baseball.
2011 Projected Stats: .322 AVG. 22 HR. 81 RBI.
Billy Butler is one of the best young players in baseball; if you don't know who he is, it is because he plays for the lowly Kansas City Royals. Butler has had two really nice consecutive seasons in the bigs and has shown a ton of power while still maintaining an extremely high average.
For someone of Butler's size, it is hard to imagine anyone hitting above the .300 mark, but I digress. He has a quick bat and is a surprisingly good defender. He has done a great job of producing, especially considering the kind of players that surround him in the everyday lineup.
I expect a lot more people will know the name Billy Butler by the end of this season. I am also predicting an All-Star appearance for Billy.
37. Yunel Escobar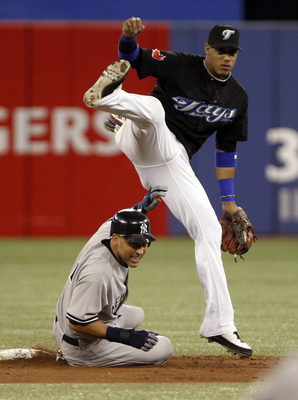 Abelimages/Getty Images
Yunel Escobar will hit .300 and will emerge as one of the best shortstops in baseball.
2011 Projected Stats: .300 AVG. 4 HR. 29 RBI. 12 SB.
Yunel Escobar (with Jo-Jo Reyes) was traded to the Toronto Blue Jays at the 2010 trade deadline by the Atlanta Braves, who in return acquired Tim Collins, Alex Gonzalez and Tyler Pastronicky. The move paid dividends for the Jays as Escobar flourished under Cito Gaston and proved to be a good hitter with a lot of potential and a good glove.
This year, Escobar looks to continue where he left off—this time, under new manager John Farrell. Escobar was nagged by a few minor but pestering injuries that kept him out near the end of the year. If Yunel can remain healthy, confident and focused, he will have a spectacular year.
36. Alex Gonzalez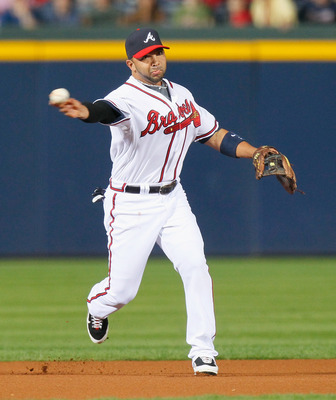 Kevin C. Cox/Getty Images
Alex Gonzalez will return to his former self and will struggle badly.
2011 Projected Stats: .216 AVG. 17 HR. 45 RBI.
Alex Gonzalez has always had a very very powerful bat and a fantastic glove. Gonzalez has never been the typical shortstop as he has always had plenty of home runs and several RBI but has always had an extremely low average. It was thought that Gonzalez was washed up after a few bad seasons but, last offseason, Blue Jays GM Alex Anthopolous decided to sign Gonzalez.
The signing paid dividends for the Jays as Gonzalez put up All-Star like numbers until he was flipped for Yunel Escobar and Jo-Jo Reyes at the trade deadline. When he joined Atlanta, he struggled a little but still put up respectable numbers.
Gonzalez is getting up there in age and his body has showed signs of shutting down. Gonzalez is not going to have this kind of season ever again.
35. Paul Konerko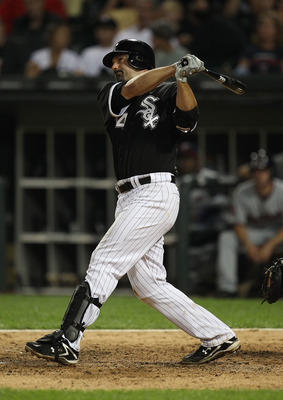 Jonathan Daniel/Getty Images
Paul Konerko had a MVP-like season, but it will not happen again.
2011 Projected Stats: .243 AVG. 28 HR. 78 RBI.
Paul Konerko has 365 home runs in his career and has always been a serious power threat. Konerko had an excellent year last season as he had 39 HR and 111 RBI. He also hit an unbelievable .311 AVG which was quite baffling. Paul has never hit this high in his career and he hasn't put up these kinds of numbers since the 2006 season.
There is no reason for anyone to believe that Konerko will replicate these numbers once more. Konerko is approaching 35 years of age and has had some injury problems but nothing major. The big $37.5 million contract that Konerko earned with these numbers leaves no incentive for him to perform and I don't believe he will.
Sorry, Chicago.
34. David Ortiz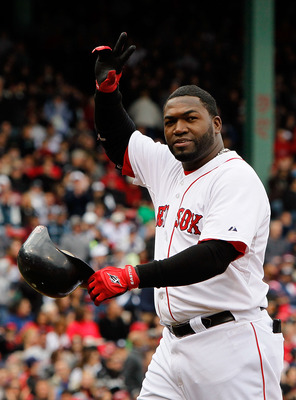 Jim Rogash/Getty Images
David Ortiz will surprise people by having another very productive season.
2011 Projected Stats: .289 AVG. 35 HR. 126 RBI.
David Ortiz has always been a fan favorite and has always been one of the most clutch hitters in the MLB. Last season, Ortiz silenced the critics by putting up monster numbers with 32 HR and 102 RBI. Ortiz put up great numbers considering the amount of injuries that had plagued the Boston Red Sox, limiting some of the production.
David is fortunate this year to have the new additions of Carl Crawford, Adrian Gonzalez, and the return of a healthy Jacoby Ellsbury. These additions will give him plenty of opportunities to drive in runs and will give his numbers a big boost.
I expect this to be Ortiz's last productive year.
33. Kyle Drabek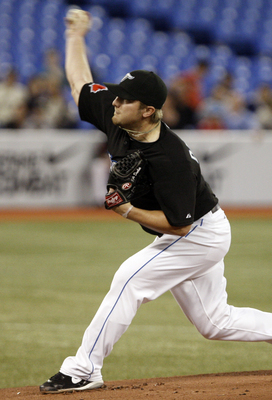 Abelimages/Getty Images
Kyle Drabek will win Rookie of the Year.
2011 Projected Stats: 13-7 WL. 3.48 ERA. 167 K.
Kyle Drabek was the centerpiece of the blockbuster trade that ended with Roy Halladay in a Phillies uniform. He is one of the top prospects in all of baseball and is probably the best pitching prospects. Drabek made his much anticipated debut with the Jays last season in September and didn't disappoint by any means.
Drabek showed a powerful fastball and some crazy, moving off-speed pitches in his few starts last year. His numbers weren't stellar, but his potential showed.
He will probably be given a spot in the rotation and will have every opportunity to become a fantastic pitcher for the Jays. I expect he will quickly become one of the best young pitchers in the majors.
32. Kelly Johnson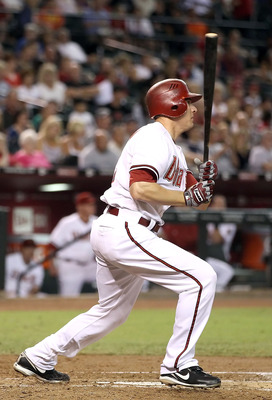 Christian Petersen/Getty Images
Kelly Johnson had a breakout year last season but his success won't continue.
2011 Projected Stats: .247 AVG. 15 HR. 58 RBI.
Kelly Johnson had a phenomenal 2010 baseball season as he led the league in home runs for a short time and finished with 26 HR, 71 RBI and an average of .284. Johnson was a surprise to a lot of people around baseball and a pleasant one to gambling fantasy owners.
Kelly was fortunate to have a lot of power hitters around him and several opportunities to drive in runs. He was also very fortunate to hit in a hitter-friendly park like the one in Arizona.
This year, though, his numbers will almost certainly go down with the absence of Mark Reynolds and Adam LaRoche. Johnson is still fairly young and relatively healthy, but has been in the league for a few years and has never been even remotely as good as this. I really expect this won't continue.
31. Carlos Pena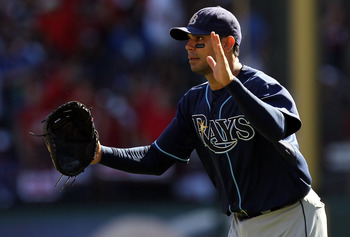 Ronald Martinez/Getty Images
Carlos Pena will have a surprisingly fantastic year in Chicago.
2011 Projected Stats: .260 AVG. 40 HR. 120 RBI.
Carlos Pena had a career revival when he signed on with the Tampa Bay Rays in 2007. He hit 46 HR and had 121 RBI and became one of the more feared hitters in the league. The only knock on Pena was that he had always had problems with his batting average.
Pena struggled but still hit for power in his last two years with the Rays and was one of the more sought-out free agents this offseason. He ended up signing with the Cubs for $10 million over one year.
I predict a nice year for Pena, who will once again be playing for next year's contract and will be relatively healthy. He will play outside on a consistent basis for the first time in a while. I truly believe that Carlos will hit a higher-than-usual average usual and will replicate his 2006 power numbers.
30. Franklin Gutierrez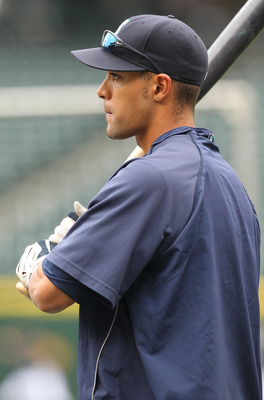 Otto Greule Jr/Getty Images
Franklin Gutierrez will emerge as one of the best outfielders in the American League.
2011 Projected Stats: .300 AVG. 20 HR. 80 RBI.
Franklin Gutierrez has always been a very interesting player. Gutierrez has always had enormous potential and has always had the skill to be considered a five-tool player. Unfortunately for Franklin, he has had the sad misfortune of playing on an offensively disabled team in the Seattle Mariners.
Gutierrez is young at 27 years of age and still has a lot of time to become a great player. With Eric Wedge coming in as the new coach, Franklin will get a new perspective on things and a new teacher who will help him realize his potential. I also expect Franklin to potentially receive a Golden Glove Award in the future.
29. Peter Bourjos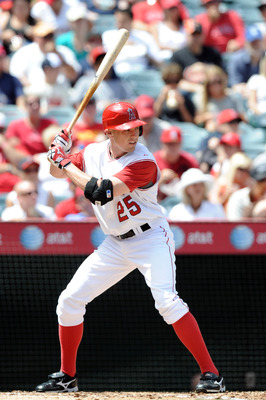 Harry How/Getty Images
Peter Bourjos will lead the American League in stolen bases next year.
2011 Projected Stats: .250 AVG. 10 HR. 50 RBI. 60 SB.
Almost everyone who reads this article will have absolutely no idea who on god's green earth Peter Bourjos is. Peter Bourjos is one of the most highly touted prospects in the Angels system. The Angels think so highly of him, that they moved Gold Glove center fielder Torii Hunter to right field and placed Bourjos in center.
I believe that Bourjos will develop into a Chone Figgins type of player: one who will hit for average, will have less home runs than the average player, will drive in fewer runs, but will light up the base paths. He is also a very talented defensive center fielder whose speed allows him to track down almost every ball.
Bourjos is likely to be given a shot a starter's job in 2011 for the Angels and will perform nicely for Los Angeles. He will flourish in the small-ball strategy that Scioscia frequently uses and the aggressiveness on the base paths that Mike employs.
All of these factors will contribute to Peter having a beautiful season.
28. Yuniesky Betancourt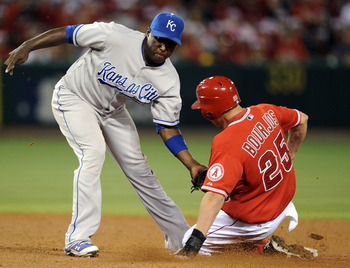 Harry How/Getty Images
Yuniesky Betancourt will be recognized as one of the best hitting shortstops in baseball.
2011 Projected Stats: .277 AVG. 18 HR. 89 RBI.
Yuniesky Betancourt has bounced around from bad team to bad team as he has spent the last several years with the Seattle Mariners and the Kansas City Royals. He has always had a very powerful bat and has always driven a lot of runs, especially considering where he has played and what kind of hitters have surrounded him in past lineups.
Last season he hit a respectable average and had 16 home runs and 70-plus runs batted in. This offseason, Betancourt was traded to the Milwaukee Brewers in the blockbuster deal that sent Zack Greinke to the Brew Crew as well.
Betancourt will get a chance to play for a team that may actually compete this year and that has a better lineup. I believe he will be awesome.
27. Chris Young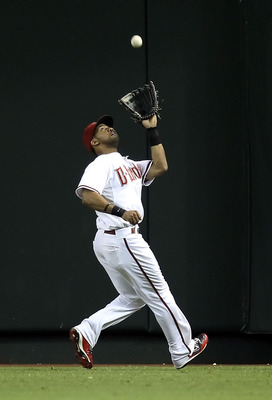 Christian Petersen/Getty Images
Chris Young will fall back to earth this year and will be really bad.
2011 Projected Stats: .236 AVG. 20 HR. 60 RBI.
Chris Young has always had tons and tons of power in his bat. He has always been a great talent but has never really come into his own. Young had a nice year last season but, like Kelly Johnson, he was surrounded by a ton of hitting talent. This year, though, Reynolds and LaRoche will be gone and Young won't have many opportunities to drive in runs.
Young will be playing for a bad team and will have a lot of competition when it comes to outfield positions. I don't believe his success will continue and I also believe that he will struggle a lot.
26. Travis Snider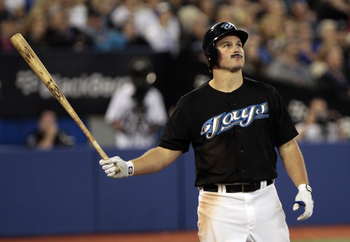 Abelimages/Getty Images
Travis Snider will have a terrific season under new manager John Farrell.
2011 Projected Stats: .280 AVG. 22 HR. 76 RBI.
Travis Snider has always had enormous amounts of potential and people have always been waiting for him to realize it. The Blue Jays have given him some opportunities, but Cito Gaston had never been consistent in giving Snider enough playing time. He has often draw a lot of criticism and ire from many media people who insist Snider needs more time.
Under John Farrell, I expect Snider to see a lot of playing time and will thrive in the new environment. With consistency and patience, Snider will become one of the better young hitters in the American League.
25. Gio Gonzalez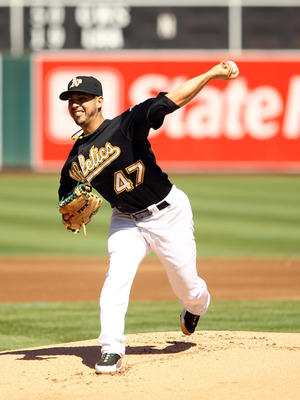 Ezra Shaw/Getty Images
Gio Gonzalez will become one of the best pitchers in the AL.
2011 Projected Stats: 15-6 WL. 3.10 ERA.
Gio Gonzalez really emerged as one of the better pitchers in the AL West last year but was unfortunately overshadowed by the emergence of CY Young candidate Trevor Cahill. Gonzalez was marvelous as he had a 15-9 W-L and a 3.23 ERA as part of an impressive Oakland Athletics squad.
Gonzalez is still very young and can really only get better. His win total will probably not rise because of the other good teams in the AL West. He had impressive strikeout totals and showed great composure and good durability for the A's.
He is a special talent and will only get better.
24. Jay Bruce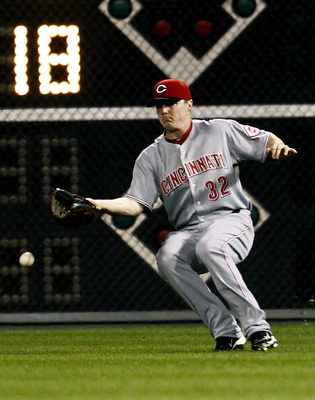 Jeff Zelevansky/Getty Images
Jay Bruce will live up to his big contract he signed in the offseason.
2011 Projected Stats: .280 AVG. 31 HR. 80 RBI.
Jay Bruce has always had an extremely powerful bat and a massive amount of potential but has never quite been as good as he could be. He has hit lots of home runs and has driven in a decent amounts of runs.
One problem has been Jay Bruce's absolutely terrible defense that is not a good thing to have considering Bruce plays in the National League.
He has also probably suffered from a lack of confidence at times and has been a little shaken up. Under the leadership of Dusty Baker, the new confidence from being on a contending team, and the new big fat extension, Bruce's confidence will grow and he will become more productive.
23. Nelson Cruz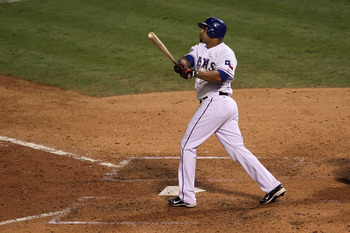 Stephen Dunn/Getty Images
Nelson Cruz will lead the majors in home runs and runs batted in.
2011 Projected Stats: .338 AVG. 50 HR. 128 RBI.
Nelson Cruz is in my mind one of the best hitters in MLB. Cruz burst onto the scene during the 2009 season in which he hit 33 home runs and drove in 76 runs with the Texas Rangers. He was hampered by minor injuries that kept him out of 54 regular season games.
Last season, Cruz began the season strong but was continually hampered by more severe injuries that kept him out of 74 games of the season.
Nonetheless, Cruz finished the year with good all-around statistics as he hit 22 home runs, batted in 78 runs, hit a remarkable .318 average and stole several bases. I cannot stop myself from imagining the monstrous MVP-like numbers that Cruz could put up in a lineup like the Texas Rangers if he remains healthy. He would be awesome.
22. Carl Pavano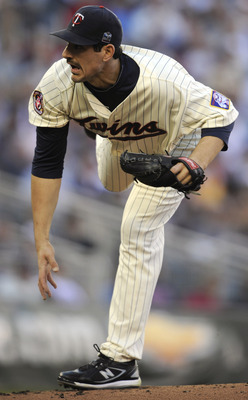 Hannah Foslien/Getty Images
Carl Pavano will have another surprisingly good season.
2011 Projected Stats: 14-9 WL. 3.43 ERA.
Ever since Carl Pavano signed that massive contract with the Yankees several years ago, he has been the punchline to almost every joke involving the Yankees. The NYY overpaid for Carl big-time as they gave him a contract worthy of a star, not an unproven pitcher with one good year under his belt.
Either way, the Yankees are in Pavano's rear mirror and he has certainly moved on. He had a revival last season with the Twins and had a 17-11 W-L and a really low ERA. As of now, Carl is one of the few remaining decent starting pitching options left and many teams are on hot pursuit.
I imagine that Carl is out to prove that he isn't just a one-year wonder. I expect him to perform just as well as last season if not slightly better.
21. Dan Johnson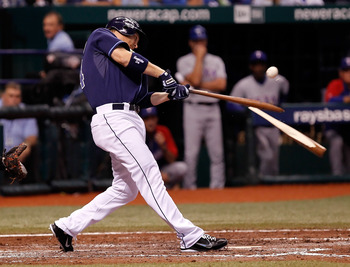 J. Meric/Getty Images
Dan Johnson will thrive in the absence of Carlos Pena.
2011 Projected Stats: .280 AVG. 22 HR. 80 RBI.
Dan Johnson played 40 games for the Tampa Bay Rays last season and showed some potential. I know what one might think, potential at the age of 31? Yes. Johnson has never really had the opportunity to play in his career, but now with the departure of Pena, will get the opportunity for the first time.
Johnson has a lot of power and reminds me of James Loney in several ways. Even though Johnson did not hit for a high average, he should have some serious production. He also has a terrific glove and didn't make an error in the 40 games he played.
In a stacked Tampa lineup, Johnson will have endless opportunities to drive in runs.
20. Aroldis Chapman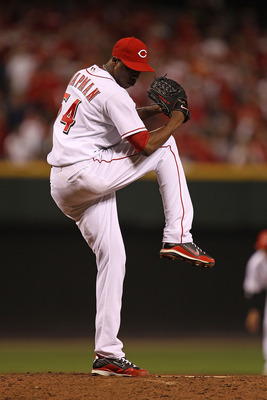 Jonathan Daniel/Getty Images
Aroldis Chapman will thrive as the setup man and may usurp Fransisco Cordero.
2011 Projected Stats: 2-1 WL. 2.02 ERA. 20 SV.
Aroldis Chapman was one of the more sought-after free agents during last year's offseason. The Cuban pitcher was heavily pursued because of his 104 MPH fastball and his wickedly moving off-speed pitches.
After the bidding, it was the Cincinnati Reds who came out victorious and paid Chapman a ton of money. Chapman was left in the minor leagues for the majority of the year but was brought up in the summer, and he did not disappoint.
Chapman posted a jaw-dropping 2.02 ERA in limited opportunities and recorded the fastest pitch in MLB history at 105 MPH. Fransisco Cordero struggled a bit last year and now with the departure of Arthur Rhodes, Chapman's role will become much larger. If Fransisco struggles once more, Chapman could take the reigns of closer.
19. Russell Martin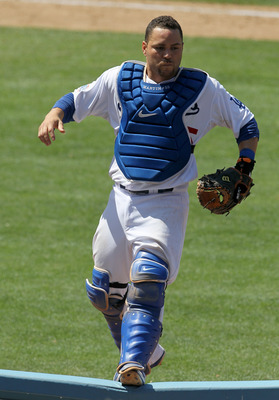 Stephen Dunn/Getty Images
Russell Martin will return to being known as one of the best catchers in baseball.
2011 Projected Stats: .287 AVG. 18 HR. 80 RBI.
Russell Martin was once one of the best catchers in baseball. Recently though, Martin has struggled as he has had two consecutive down years. Martin has always struggled to stay healthy, as well, which has really affected his numbers.
Last season with the Dodgers, Martin had one of his worst seasons and only played in 97 games.
Now, Martin has begun a new chapter in what is still a young career. Martin signed with the New York Yankees and will now try to prove to people that he can be as good as we once thought he was. With a more productive New York lineup, Martin will thrive offensively and playing in the starting catching role should be far more comfortable.
18. Derek Jeter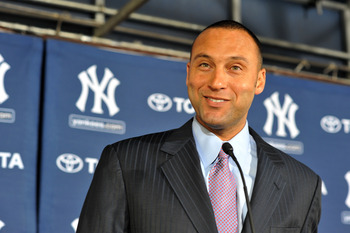 Tim Boyles/Getty Images
Derek Jeter will continue the numbers freefall.
2011 Projected Stats: .240 AVG. 8 HR. 40 RBI.
Derek Jeter has played with the New York Yankees for his entire career. That streak of seasons with New York almost came to an end as Jeter and the Yankees appeared to be on totally different pages when it came to working out a new contract. The ending was inevitable, as the Yankees and Jeter signed a lucrative deal that will almost guarantee that he ends his Hall of Fame career with the Yanks.
Jeter has been on the decline for some time now. He is still a fantastic shortstop and a great leader but is not the player he once was. Jeter's average was quite mediocre last year and there was a serious lack of power.
Jeter was still good, but wasn't the Jeter of the past. He had some injuries that seemed to bother him at times and his body is starting to weaken.
17. Derek Lee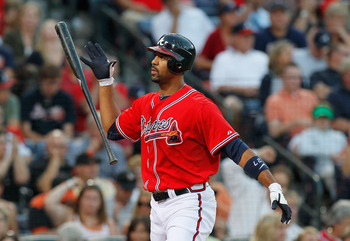 Kevin C. Cox/Getty Images
Derek Lee will surprise people by having an absolutely monster year.
2011 Projected Stats: .298 AVG. 29 HR. 112 RBI.
Derek Lee was traded to the Atlanta Braves at last year's trade deadline to increase their chances of making the postseason. Unfortunately, it wasn't the best investment, as the Braves made it to the playoffs but Lee hit a terrible average that was far under the Mendoza line.
Lee has been one of the most productive hitters in baseball since he emerged as a star in 2000. He has been a consistent source of home runs and a lot of RBI.
Lee has struggled with injuries of recently but has still put up good numbers when he has played. Lee is a free agent and should be healthy by now but will be a bit of a gamble for teams who want to sign him. Derek will thrive wherever he goes and will have at least one last monster year before old age hits him like a hammer.
16. Max Scherzer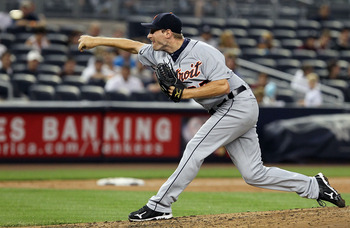 Jim McIsaac/Getty Images
Max Scherzer will emerge as one of the best pitchers in the AL.
2011 Projected Stats: 14-6 WL. 2.98 ERA.
Max Scherzer is not a household name by any means. Max was involved in the trade in last year's offseason when Edwin Jackson was shipped to the Arizona Diamondbacks in the deal that also involved Curtis Granderson and Austin Jackson.
Scherzer had some nice seasons with the Diamondbacks but didn't put up big win totals because of the lack of consistency in the Arizona lineup. When Max joined the Tigers, he put up monstrously dominant numbers and was a machine. He thrived and was a beautiful pickup for a gambling fantasy owner.
15. Domonic Brown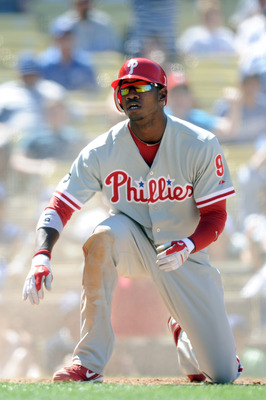 Harry How/Getty Images
Domonic Brown will fill in very nicely for the departed Jayson Werth.
2011 Projected Stats: .311 AVG. 3 HR. 29 RBI. 30 SB.
Domonic Brown is probably the top prospect in the Phillies system with the departure of Kyle Drabek last year. Brown has been coveted by the Phillies for sometime and is finally getting his opportunity to prove himself in the big leagues.
In very limited time last year, Brown showed some nice stuff. Brown will be given some leeway by Jerry Manuel and should thrive under all the veteran leadership on the team.
Domonic is extremely young and has limited power, but has a ton of speed and athleticism and a really nice glove. Brown will not put up as many stolen base numbers as it takes time to get used to owning the base paths in the major leagues.
I believe Brown will have the kind of season that Austin Jackson had in Detroit last year.
14. John Buck
Abelimages/Getty Images
John Buck will surprise by continuing the success he had last year in Toronto.
2011 Projected Stats: .280 AVG. 23 HR. 67 RBI.
John Buck had a very nice season last year with the Toronto Blue Jays and earned himself a spot on last year's All-Star squad. In the offseason, the Jays offered Buck arbitration, which he declined because he had already signed a very lucrative contract with the Florida Marlins.
In my opinion, Buck will always be a good hitter and will add some serious pop to a lineup that really needs it. His biggest impact, though, might be in his leadership. The Marlins have a very young team and a very young rotation/bullpen, and a veteran leader like Buck could certainly help them evolve into better players.
13. Jake Peavy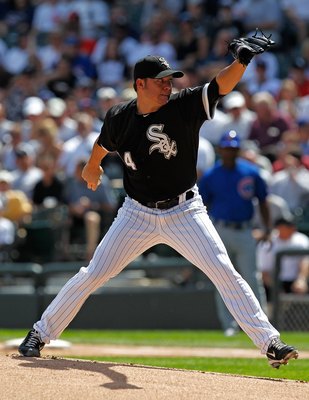 Jonathan Daniel/Getty Images
Jake Peavy will return to being a perennial Cy Young contender.
2011 Projected Stats: 17-5 WL. 3.23 ERA. 178 K.
Jake Peavy had spent his entire career with the San Diego Padres and was their number one guy for quite some time. In the 2009 season, Peavy was dealt to the Chicago White Sox for prospects and other players. Peavy was great with the Sox but only made three starts and then fell to injury.
In his time with the Padres, Peavy was always discussed when the Cy Young Award was being talked about.
Many people seem to have forgotten about Peavy, who has shown signs of returning to his old self and coming back a lot stronger. On what will be a very powerful Chicago team next year, Peavy's numbers should go way up in Chi-Town.
12. Curtis Granderson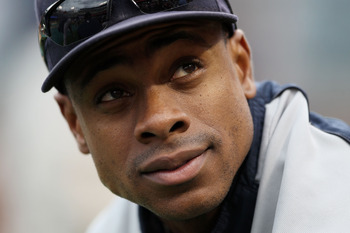 Elsa/Getty Images
Curtis Granderson will return to his 2007 and 2008 self.
2011 Projected Stats: .299 AVG. 22 HR. 87 RBI. 30 SB.
In 2007 and 2008, Curtis Granderson was considered to be one of the best young outfielders in baseball. Granderson was traded to New York last year in the Austin Jackson and Edwin Jackson deal.
Granderson had been struggling against left-handed pitching in Detroit and was falling out of favor with manager Jim Leyland. Last season started out much the same for the struggling Curtis as he couldn't hit lefty pitching and was struggling badly against right-handers as well.
Late in the year, though, Granderson began to figure it out and began showing flashes of his former self. I believe that this year, now that Granderson has more confidence and knowledge, he will return to being a five-tool threat.
11. Jason Heyward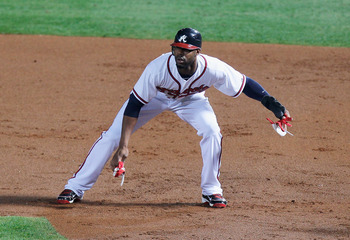 Kevin C. Cox/Getty Images
Jason Heyward will struggle in his sophomore year.
2011 Projected Stats: .234 AVG. 15 HR. 60 RBI.
Jason Heyward burst onto the scene last season as one of baseball's elite rookies. He was in the top 10 in several offensive categories and was having a really nice year. Unfortunately for Heyward, the season went downhill and so did his numbers. His health also deteriorated, which is a concern for someone so young.
I think Heyward is a very talented player, but I think the terrible end to his season will almost certainly have shaken his confidence. I think it will take this season for Heyward to get back in rhythm but he will almost certainly have a fine career.
10. Grady Sizemore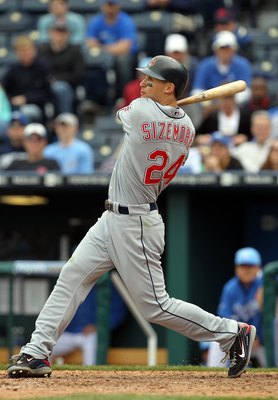 Jamie Squire/Getty Images
Grady Sizemore will be healthy and will return to being one of the best center fielders in baseball.
2011 Projected Stats: .300 AVG. 30 HR. 90 RBI.
Grady Sizemore was once considered to be the top center fielder in baseball. IN a spectacular season in 2007, Sizemore had 33 home runs, 90 runs batted in and 38 stolen bases. In 2008, Sizemore was plagued by health problems as he missed 76 games due to injury, which also hurt his numbers and production while he was playing.
After missing all but 33 games last season due to injury, Sizemore is looking to return and prove that he can once again be as good as he was. Sizemore will be in a more productive lineup this year and will be eager to please and prove that he belongs.
I truly believe that Grady will have a stellar season.
9. Erik Bedard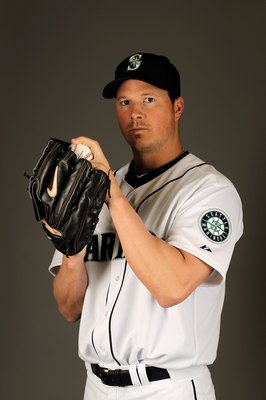 Ezra Shaw/Getty Images
Erik Bedard will return to being one of the elite pitchers in the AL.
2011 Projected Stats: 12-9 WL. 3.65 ERA. 200 K.
Erik Bedard was once one of the most consistent pitchers in the AL. The good old Canadian boy was always in the race for strikeout king and was always a very well poised pitcher.
He began his career in Baltimore and enjoyed early success with only minor health problems. Then, Bedard signed a lucrative contract with the Seattle Mariners. He started out well and put up good numbers but then got injured and missed more than half his starts.
Last season, Bedard once again made only half his starts and once again put up fantastic numbers. But, alas, he was out for the season and once again showed he couldn't stay healthy.
Bedard signed a relatively cheap contract with the Mariners this off season and will try and prove he can be great again. If he stays healthy, Bedard will be in contention for the Cy Young.
8. Brandon Morrow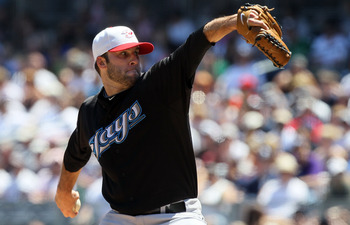 Jim McIsaac/Getty Images
Brandon Morrow will lead the league in strikeouts and will come in 2nd in Cy Young voting.
2011 Projected Stats: 16-8 WL. 3.19 ERA. 220 K.
Brandon Morrow is one of the most talented pitchers in all of baseball. When Morrow began his career in Seattle, there were massive expectations because of his talent. The Seattle Mariners tried several different things by planting him in the closer role. That did not work and they also tried him as a starter but he did not produce.
Seattle, thinking they were ready to compete, lost patience with Morrow and traded him to Toronto for electric reliever Brandon League.
Morrow flourished with the Jays and really showed what he could do. Brandon struggled with walks and pitch counts. Every few starts though, Morrow would have sensational games and rack up the strikeouts.
Brandon also pitched one of the best games in several years as he struck out 17 Rays and took a no-hitter into the ninth inning with two outs but it was broken up by Evan Longoria. Morrow has incredible stuff and will be amazing this year.
7. Vladimir Guerrero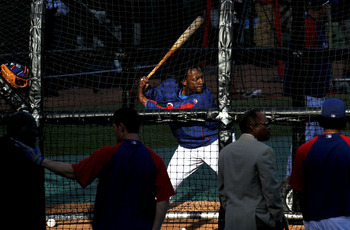 Stephen Dunn/Getty Images
Vladimir Guerrero will surprise most by having another monster year.
2011 Projected Stats: .298 AVG. 30 HR. 120 RBI.
Vladimir Guerrero surprised people by having an excellent season last year. He hit for a high average, hit several home runs, and batted in a ton of runs. He missed a portion of the summer with a minor injury and was hampered by it for quite a while. Guerrero has been one of the most loved and powerful hitters in baseball for a long time.
His incredibly odd swing that has seen him hit even the craziest pitches that were way out of the strike zone has made him extra famous. Guerrero has tons of injury concerns but has worked hard and has rested this offseason and is waiting for a contract.
Assuming he gets resigned by the Rangers, I believe that he will have an incredibly productive year and will make the All-Star team.
6. Jayson Werth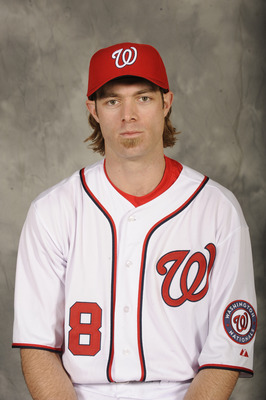 Mitchell Layton/Getty Images
Jayson Werth will prove that his contract was the worst ever given out.
2011 Projected Stats: .230 AVG. 16 HR. 60 RBI.
Jayson Werth signed one of the largest contracts in baseball history this offseason when he signed a seven-year contract worth $126 million with the Washington Nationals. Werth has had two really nice seasons with the Phillies and apparently that guarantees you an absolutely ridiculous contract.
Werth benefited from having a ton of great hitters around him and having every opportunity to thrive.
Werth will now go to Washington, where hitting is one of their many problems. Jayson will not have the success he had in Philly as he will be in a bad-hitting lineup. He will have zero incentive to perform and on a losing club will lose confidence.
I would be amazed if he had a productive season.
5. Javier Vasquez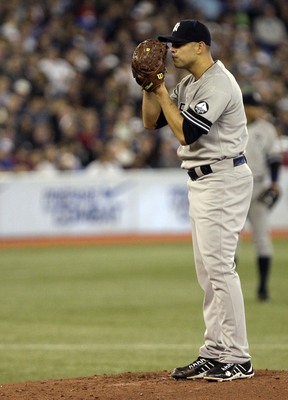 Abelimages/Getty Images
Javier Vasquez will be great in his return to the National League.
2011 Projected Stats: 17-12 WL. 3.45 ERA. 210 K.
Javier Vasquez was a really fantastic pitcher throughout his career in the National League. When Javier joined the Yankees last year, the expectations were extremely high. Vasquez struggled in the American League and drew the ire of many Yankee fans. He was even put in the bullpen at times because of his struggles starting.
Obviously, the Yankees and Javier were not a good fit. This offseason, Vasquez signed a nice contract with the Florida Marlins and will now return to the NL.
I expect Vasquez to dominate the NL once more. He will be among the league leaders in strikeouts and will find great success. With little pressure in Florida and the fact that it's a contract year, Vasquez should be fantastic.
4. Victor Martinez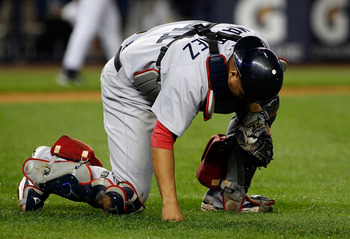 Mike Stobe/Getty Images
Victor Martinez will make Red Sox fans happy that they didn't re-sign him.
2011 Projected Stats: .240 AVG. 16 HR. 72 RBI.
Victor Martinez has been one of the best offensive catchers throughout his career. He was acquired by the Sox in 2009 for prospects and produced nicely for the Red Sox. Last season, Martinez put up nice numbers but, struggled to stay healthy as several times was out for extended periods of time.
Martinez signed a massive contract with the Tigers this offseason and will have security for quite a while. Even though the numbers above aren't terrible, they aren't what someone like him should be putting up.
I believe that with his health problems in the past and his inability to be too consistent, he will almost certainly have a decline in numbers.
3. Daniel Hudson
Nick Laham/Getty Images
Daniel Hudson will place fifth in Cy Young voting at the end of the year.
2011 Projected Stats: 15-8 WL. 2.33 ERA.
If you have absolutely no idea who Daniel Hudson is, you will soon. Hudson was a highly touted pitcher in Chicago and was traded to the Arizona Diamondbacks last year in the Edwin Jackson trade. Daniel struggled in limited starts with the White Sox, but when he was traded to the D'Backs, he thrived.
In 11 starts with the Diamondbacks, Hudson was absolutely electric as he went 7-1 with a stellar 1.69 ERA. He was a blessing to fantasy owners who took a risk on him and was a godsend to the lowly Arizona Diamondbacks.
With his stuff, I think Hudson will have a fantastic career and will win the CY Young Award at least once.
2. Jose Bautista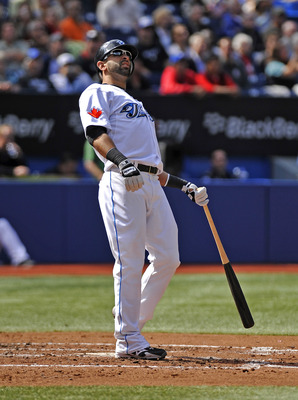 Brad White/Getty Images
Jose Bautista will have another MVP-like season.
2011 Projected Stats: .289 AVG. 41 HR. 123 RBI.
Jose Bautista shocked the baseball world with an absolutely insane season with the Blue Jays in 2010. Bautista was acquired by the Jays during the J.P. Ricciardi era for a player to be named later. Bautista hit a league-high 54 home runs and drove in 124 runs. Bautista was also a very valuable defensive tool as he was a great defender with a great arm and could play several positions.
I believe that Bautista will shock people once more by building on last year's success. I sincerely doubt that he will be AS great as he was last year, but I think he will be fine. His work ethic and his really beautiful swing that doesn't seem to go in many slumps should help him continue his success.
1. Adrian Beltre
Otto Greule Jr/Getty Images
Adrian Beltre will flop unless he receives a one-year contract.
2011 Projected Stats: .250 AVG. 19 HR. 79 RBI.
Adrian Beltre has always been a great hitter but has always had problems with consistency. After hitting 48 home runs in 2004, he signed a massive contract with the Seattle Mariners. He really struggled in his time with the Mariners and made Seattle regret his signing.
In the 2010 off season, the third baseman signed a one year deal with the Red Sox.
Beltre had an MVP-like season as he hit a robust .321 average, 28 home runs and 102 runs batted in. One-year contracts seem to be a massive part of Adrian's success as he seems to have monster seasons each time free agency is upcoming.
Unless Adrian receives a one-year contract, he will flop and the massive contract he will sign will be regretted.
Keep Reading

Philadelphia Phillies: Like this team?