NFL Players That Have Blown The Most Opportunities Over the Past 10 Years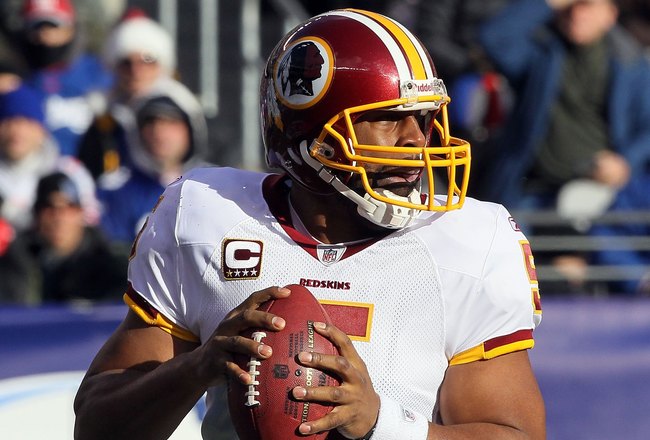 Given ten years and two separate teams Donovan Mcnabb has only produced one Super Bowl appearance.
Jim McIsaac/Getty Images
Ever since Mcnabb got traded to the Redskins I've wanted to compile a list of players that have failed to make the most of their opportunities over the past ten years. It's clear to me that Mcnabb has to be on this list considering he's had ten years to prove himself.
However, this article is not just about Mcnabb but of ten players that have failed to take advantage of the opportunities given to them over the past ten years. If there is anyone you feel should be on the list (and I know there will be) please let me know.
I understand there is a bit of confusion about the article and that is my fault for not clarifying it. Blown opportunities can be in the form of not establishing yourself as the clear starter for a team, not appearing in Super bowls when you've had the team to do so, or blown opportunities to get playing time period. This list is a mixture of all three and I think if you give it a little thought you'll see where I'm coming from.
I wish I could include a poll for guys that don't belong on the list and guys that should be on the list but I guess that can't be done on a slide article. Just let me know your thoughts in the comments section. Thanks
10. Donovan Mcnabb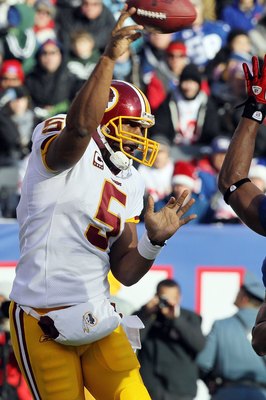 Jim McIsaac/Getty Images
I think a lot of people won't agree with this one, but look at the facts. Mcnabb has been in the league since 1999 and has only seen one Super Bowl appearance. Andy Reid and the Eagles organization was more than patient in letting him develop and did everything they possibly could to help the guy succeed.
Every year they drafted players to go around Mcnabb but all efforts proved futile. Offensive lineman and Wide Receivers have come and gone under Andy Reid but one thing has remained constant, (Donovan Mcnabb). He always took up for his quarterback and never wavered from that. Only till questions began to arise about Mcnabb's performance by journalist and sports announcers did Reid waver from his guns and pull Mcnabb from the game.
Last year when Mcnabb was injured and Kevin Kolb got his first start Kolb became the first quarterback in NFL history to throw for over 300yds. in his first two career starts. Still, after two great performances by Kolb, Reid handed the reigns back to his star quarterback Donovan Mcnabb.
Following a trade to the Washington Redskins in 2010, Donovan would be given yet another chance to prove his critics wrong under the leadership of Mike Shanahan. With a 77.1 QB rating and 14 touchdowns to go along with 15 picks, it hasn't exactly played out like most had predicted.
The Redskins aren't exactly the greatest offensive team in the NFL but he failed to get it done in Philly as well. The legacy that Mcnabb leaves behind might just be of an overrated quarterback that was never able to get it done.
9. Roy Williams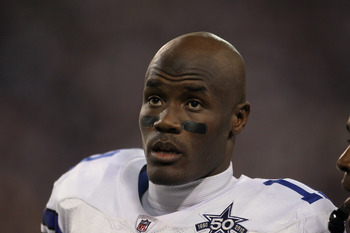 Jeff Gross/Getty Images
Roy Williams has been a pretty big disappointment since coming into the league in 2004 and an even bigger disappointment since leaving Detroit for Dallas. Roy has never lived up to expectations but continues to be involved in the offense.
He's extremely slow, drops tons of passes, and fumbles the ball at bad times. Dallas finally woke up to reality after last years 38 catch performance and drafted the talented Dez Bryant to go along with Miles Austin and Roy. Roy is extremely lucky that Dallas didn't give up on him earlier when he was really struggling to catch on.
8. Rex Grossman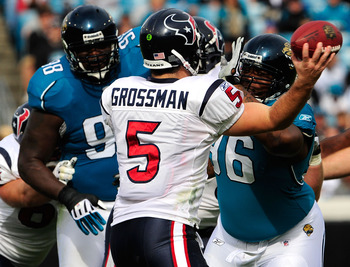 Sam Greenwood/Getty Images
Rex Grossman hasn't necessarily been given the most chances in the world but he hasn't done a whole lot with those chances either. He did play an entire year for the Chicago Bears back in 2006 in which he lead them to the Super Bowl, however, he was beat out for the starting job by Brian Griese the following year.
Considering he's been in the league since 2003 and he has never really been able to beat out his competition for the starting job, he's been a huge disappointment for the last seven years.
7. Derek Anderson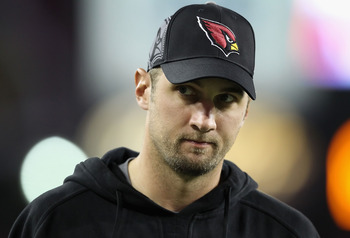 Christian Petersen/Getty Images
Derek Anderson would probably fall more into the five year category but has still been given plenty chances to prove himself. He had a great year in 2007 and was selected to the Pro-Bowl after throwing for 29 touchdowns and 19 picks on a pretty bad team.
The three years that followed however have been horrendous. In the three years that followed his 07' season, he has played in 30 games with nearly opposite numbers, throwing 19 touchdowns with 28 picks.
6. Alex Smith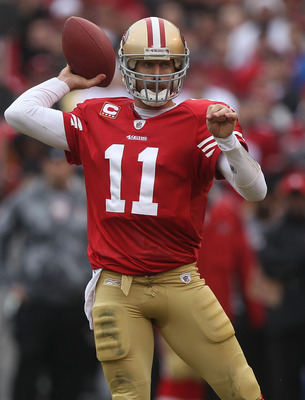 Jed Jacobsohn/Getty Images
Similar to Derek Anderson, Smith has only been in the league for five years. However, he has seen far less competition for the starting job but continues to struggle. I know a lot of people are willing to give him a few more years to prove himself but you have to ask how many years are enough.
Yes, he's seen many different offensive coordinators through his years, but he's yet to prove he has something worth holding onto.
5. Albert Haynesworth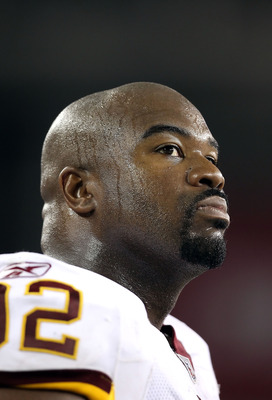 Christian Petersen/Getty Images
How could I have a list that include Mcnabb and not Haynesworth? Well, I couldn't. Haynesworth's troubles go much deeper than his on the field quarrels with Mike Shanahan. He has stomped players back in 2006, had arrest warrants for traffic incidents on interstate 40, been indicted on two misdemeanor charges back in 2008 for partially paralyzing a man, impregnated strippers, and is currently being sued for unpaid loans.
Even through all that, Shanahan was willing to give the guy a chance and signed him to a huge deal. Mike Shanahan and Haynesworth instantly started bumping heads when Haynesworth refused to play in Shanahan's 3-4 system.
Haynesworth didn't show up to any of the off-season workouts and rarely (if ever) showed up to practice during the 2010 season. On December the 7th of 2010, Shanahan finally had all he could take of the big guy and suspended him for the remainder of the season.
Whether or not Haynesworth will be given another chance (and by which team) will be one of the most watched topics following the 2010-2011 season.
4. Vince Young/Kerry Collins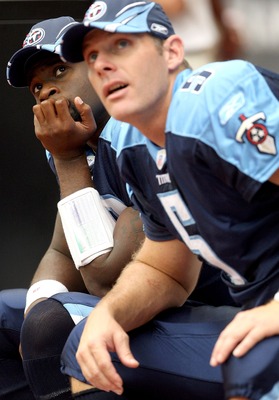 Jamie Squire/Getty Images
As most know, these two go hand in hand. Neither have been able to take advantage of their chances to take complete control of the team over the other. Both have seen equal opportunity to show that they can run the team and bring a Championship to Tennessee, however both have failed.
They also have the advantage of a great running game to go along with an outstanding defense year after year. There is no excuses for these two to not get it done.
3. Jake Delhomme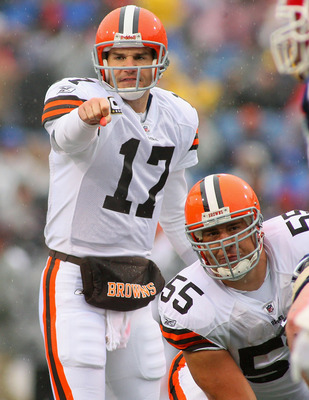 Rick Stewart/Getty Images
Much like Donovan Mcnabb, Jake has been in the league since 1997 and has only seen one Super Bowl appearance. He was the undeniable starter of the Carolina Panthers for seven years and was solid for six of those years.
Unlike Mcnabb, he also enjoyed having a great defense for the majority of his time with Carolina, however, he was never able to bring a Championship to the team.
He continues to struggle in Cleveland and is now seeing a lot of competition for the starting job from rookie quarterback, Colt McCoy.
2. Adam Pacman Jones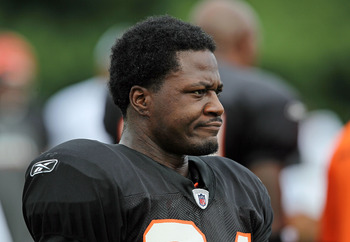 Andy Lyons/Getty Images
Does this one really need an explanation? The guy has been given too many chances to count. He can't figure out if he wants to play football, be a wrestler, fight his own bodyguards, or make music either.
1. Brett Favre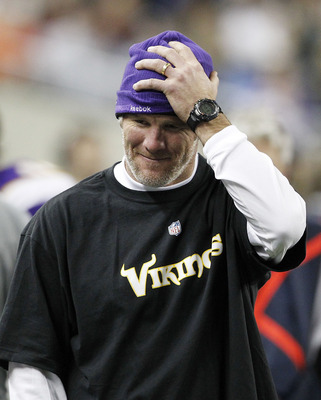 Leon Halip/Getty Images
Is there really any disagreement here? Has any other player squandered more opportunities than Favre over the last ten years? He hasn't seen a Superbowl appearance over the last ten years despite playing on some really good Packers, Jets, and Vikings teams. There are no excuses for a player with his experience to not even make the big game for over ten years.
Other guys that were considered include:
Peyton Manning for his failure to make more than two Super Bowls over the past ten years.
Reggie Bush for his failure to establish himself as the number one running back in New Orleans.
Tony Romo for his failure's in the playoffs.
Carson Palmer for not having the Bengals in a more competitive spot year after year.
Keep Reading

Washington Redskins: Like this team?