NFL Playoff Predictions: Can Anyone Stop the New England Patriots?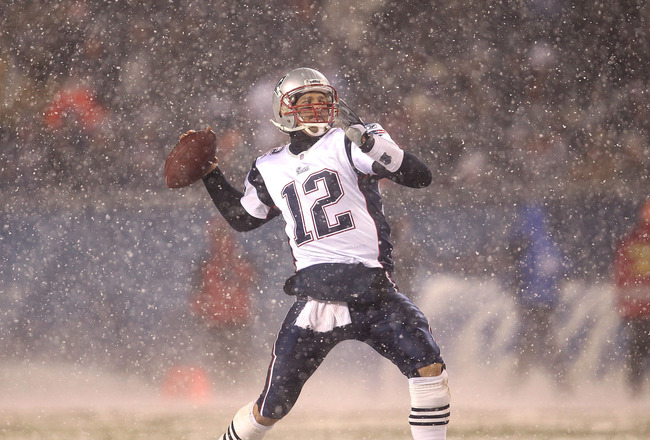 Jonathan Daniel/Getty Images
As the season nears an end, one thing has become evident—nobody can stop the New England Patriots.
Just weeks ago, fans and experts everywhere were bashing the Pats for dealing away Randy Moss. They thought New England would lack a deep threat. That without safety help on Moss, Welker would struggle in the slot. The truth? This offense is every bit as potent as the 2007 team that broke NFL records across the board.
Through 13 games, the Patriots have scored 415 points—142 points more than their closest divisional opponent. The acquisition of Deion Branch gave the Patriots a sure handed receiver with crisp route running skills, while Danny Woodhead's addition gave New England a versatile and dynamic back that can be used all over the field.
With a young and constantly improving defense, the Patriots look unstoppable, but is there anybody out there who can stop Belichick and company? Here we examine all 10 potential playoff and Super Bowl match-ups to see which teams stack up.
New York Jets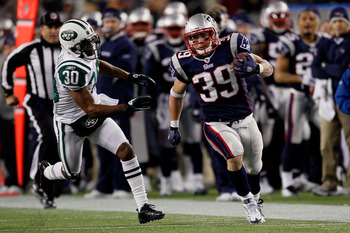 Jim Rogash/Getty Images
It almost seems silly to ask the question of can New York beat New England? Just two weeks ago the Patriots routed the Jets 45-3, making the Jets supposedly elite defense look silly in the process.
Brady threw for 326 yards and four touchdowns while Mark Sanchez completed just 50 percent of his passes while throwing three picks.
The fact is, the week 13 Patriots match-up far more favorably to the Jets than the week two version. Antonio Cromartie had to cover Randy Moss, which was beneficial to Cromartie who stands 6'2".
However, Cromartie struggled when he was put in coverage on Deion Branch. The quicker Branch beat Cromartie off the line every time and AC simply didn't have the foot speed to keep up.
Obviously it's not a sure thing that New England would win in a re-match, but New England has looked like the far superior team.
Pittsburgh Steelers
Chris McGrath/Getty Images
In Week 10, the Patriots traveled to Pittsburgh to take on the Steelers. Brady and the Pats didn't just win the game, they embarrassed the Steelers. Pittsburgh's supposedly solid secondary got torched for 350 yards and three touchdowns—all to rookie tight end Rob Gronkowski.
Running back BenJarvus Green-Ellis kept the Steelers honest, which helped open up the play action. Green-Ellis has never fumbled in his career, and is a tough back that always fights for the extra yardage.
For Pittsburgh, the game looked far closer on paper than it did in reality. Although Roethlisberger put up big numbers, much of his yardage came in garbage time after the game was well in hand.
The key to beating the Patriots is applying pressure to Brady without sending your linebackers. Once the LB's come rushing in, Brady is quick to find his young tight ends, which explains Gronkowski's career day.
Baltimore Ravens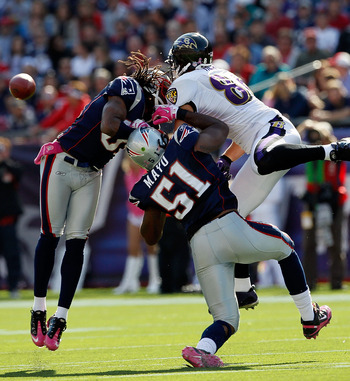 Jim Rogash/Getty Images
Once again, this is a team the Patriots have already faced, but the Ravens provide a more challenging opponent than the previous two. In Deion Branch's first game back, the 5'9" receiver tallied nine receptions for 98 yards including a key touchdown in the fourth quarter.
The Ravens do a fantastic job creating pressure with their line, although their mundane 24 sacks do certainly not evidence that on the season. Haloti Ngata is one of the few linemen I've seen consistently push the Patriots offensive line, helped to collapse the pocket around Brady.
The other player on Baltimore to fear is Ray Rice. Despite a down year and a poor showing in their first game (28 carries for just 88 yards), Rice is a dynamic back. The former Rutgers star has great speed, big play ability and absolutely torched the Patriots when they played in the 2009 playoffs.
In that game, Rice carried the ball 22 times for 159 yards and two touchdowns as the Ravens went on to win easily, 33-14. Since then, Flacco has gained experience and new weapons with Anquan Boldin and T.J. Houshmanzadeh making Baltimore a tough match-up.
Kansas City Chiefs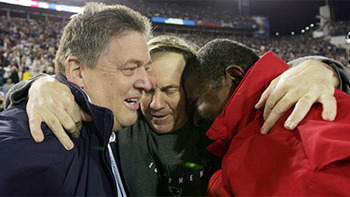 With former New England assistants Romeo Crennel and Charlie Weiss calling the shots for KC, one might think they have some sort of strategic advantage.
They don't.
The Chiefs feature Patriots castoff Matt Cassel whose numbers have never approached his season in New England. The Chiefs running game leads the league with over 160 rushing yards per game, but the Patriots are far more susceptible to the pass than the run.
Vince Wilfork eats up blockers allowing Jerod Mayo and rookie Brandon Spikes to cleanup. Perhaps that explains in part why Mayo leads the NFL in tackles.
Defensively, the Chiefs rank amongst the bottom third of the league in passing defense, meaning Brady would be in for another productive day.
Atlanta Falcons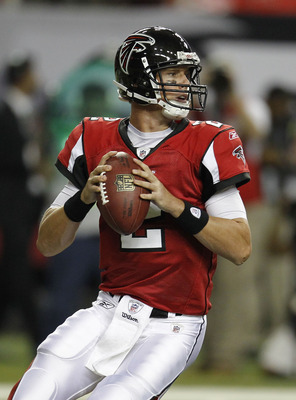 Mike Zarrilli/Getty Images
Although I like the Falcons (Matt Ryan and I are both Boston College alumni), they would likely struggle against the Patriots. Despite their off-season acquisition of Dunta Robinson, their passing defense still ranks amongst the bottom ten teams in the league.
The one thing they do have going for them is the play of Matt Ryan. The Patriots secondary may not be the most talented as they rank 31st out of 32 against the pass, but they are very opportunistic. The Patriots are second in football with 20 interceptions meaning any opposing quarterback can put up yardage, but he'll have to be careful with the ball.
This year, Matt Ryan has already surpassed his total yardage from a season ago and has recorded a remarkable 22:8 TD to INT ratio. If the Falcons have any hope of defeating the Pats, they would need a career game from their young signal caller.
New York Giants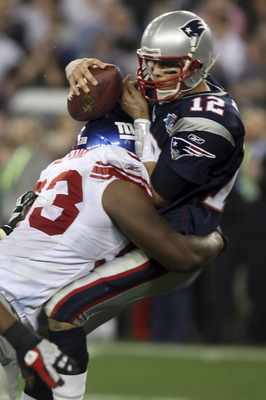 Elsa/Getty Images
The same team that derailed New England's undefeated season three years ago may again pose the greatest threat to the Pats. The Giants rank second in sacks with 39 and have the leagues second ranked pass defense.
With athletic ends like Justin Tuck and Osi Umenyiora, the Giants could apply pressure to Brady without necessarily sending anybody else. That's the key to beating New England and helps separate New York from the rest of the pack.
The real question is how can Eli Manning perform against this young Patriots defense? Will Manning play the way he did in Super Bowl XLII (255 yards and two touchdowns) or like he did against the Eagles two weeks ago (147 yards and three picks)?
Philadelphia Eagles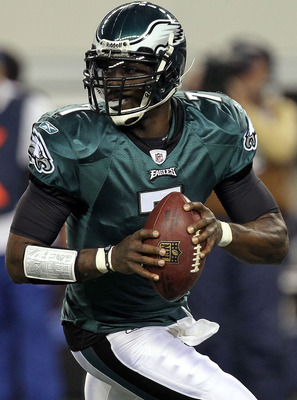 Ronald Martinez/Getty Images
This is the game I believe most fans want to see. Brady v. Vick in a battle of two outstanding quarterbacks that approach the game in dramatically different ways. New England has yet to face a quarterback with the athletic gifts of Michael Vick—mostly because there is only one Vick.
Fact is, Patriots haven't faced a mobile quarterback all season, but they've historically fared well against scrambling quarterbacks. Unfortunately there is very little history between Vick and the Patriots. During Vick's rookie season, New England defeated Atlanta 24-10 with Vick going two of nine for 56 yards.
If the two teams faced off again, Vick's numbers would assuredly improve, but Belichick always come up with fantastic game plans for unique offensive weapons. He silenced the Rams by playing seven cornerbacks and consistently picks off Peyton Manning.
One real question mark for the Eagles though is their secondary. Asante Samuel will play this weekend, but is not playing at 100 percent. Ellis Hobbs may never play another NFL game.
The Eagles would have enough difficulty stopping Brady with healthy corners, let alone a banged up secondary.
Chicago Bears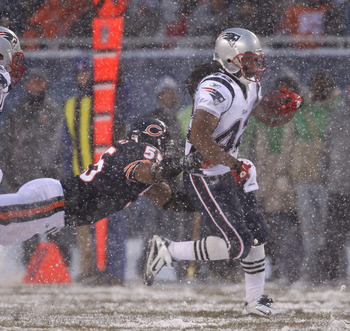 Jonathan Daniel/Getty Images
Just last week the Patriots waltzed into Soldiers Field and demolish the Bears 36-7. Said star lineman Julius Peppers after the game; "We played a good football team today. I don't know if you all saw the game last Monday night. They beat somebody else worse than they beat us today. It's not like we were playing a bad football team. We played a great team today and they came to play and they executed better than we did. That's it."
Against one of the supposed top defense in football and with torrential snow, Tom Brady threw for 369 yards and two touchdowns while his counterpart Jay Cutler never found his groove, finishing with 152 yards and two interceptions.
This game showed the Patriots quick-pass offense is perfect for any weather and that the weather conditions have zero impact on this team.
Both Branch and Welker went for over 100 yards just a week after Danny Woodhead led the team with 104 receiving yards. You never know which of the weapons will be utilized on a week-to-week basis which makes this team that much more difficult to game plan for.
Jacksonville Jaguars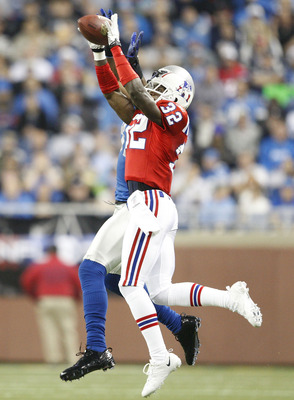 Leon Halip/Getty Images
The Jaguars currently sit in first place in the AFC South, although a loss to Indianapolis would put the two teams in a virtual tie. I find it unlikely that Jacksonville will make the playoffs, but lets explore the possibility.
The Jaguars have a Swiss cheese secondary that Brady would make quick work of. On the other side of the ball, David Garrard has been nicked up all year and has looked underwhelming in the times I've watched this season.
Rookie Devin McCourty is a big, physical cornerback with great speed, making him the perfect cover for Mike Sims-Walker.
The one player that should scare the Patriots is Maurice Jones-Drew. MJD is a slightly faster and more talented version of Ray Rice, and we've all seen what Rice can do to the Pats.
For Jacksonville to defeat New England, they would need well over 100 yards from Pocket Hercules.
Indianapolis Colts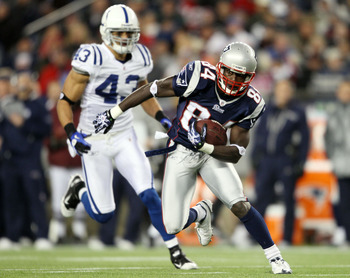 Elsa/Getty Images
The Patriots already defeated the Colts this season, but if I've learned one thing over the past decade, it's to never bet against Peyton Manning. The Patriots match-up with the Colts, a 31-28 victory, was not as close at the score indicated.
New England led 31-14 with just 10 minutes left in the game, but allowed two touchdowns in six minutes to close the gap. In that game, Brady was quietly efficient while Manning looked like an entirely different player completing 38 of 52 passes for 396 yards, four touchdowns and three interceptions.
Although the Colts rushing defense is horrid, they rank amongst the leagues top ten in pass defense. Manning has been struggling for weeks now, but with Austin Collie and Pierre Garcon at 100 percent, the Indy offense scares me—especially when matched up against the youngest defense in the NFL.
The Pats defense is youthful and talented, but Manning has a savvy that can only be learned through experience, and that could be very dangerous for New England.
Keep Reading

New England Patriots: Like this team?