2011 Atlanta Braves Projected Lineup, Rotation, Bench, and Bullpen (w/ Stats)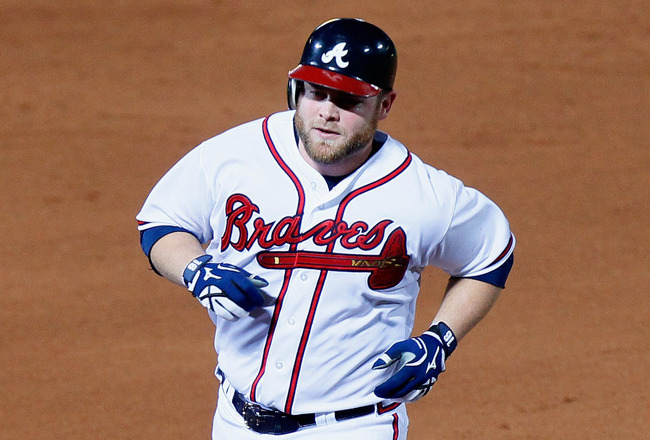 Catcher Brian McCann leads the Braves heading into 2011.
Kevin C. Cox/Getty Images
As the hot stove quiets down after the major signings and trades have taken place (Cl. Lee-Phi., A. Gonzalez-Bos., C. Crawford-Bos., D. Uggla-Atl, etc.), the 2011 teams have started to take shape. While more changes could be on the horizon, the following slides will show how I see the lineup, rotation, bench, and bullpen to look come springtime.
Lineup (with Season Projections)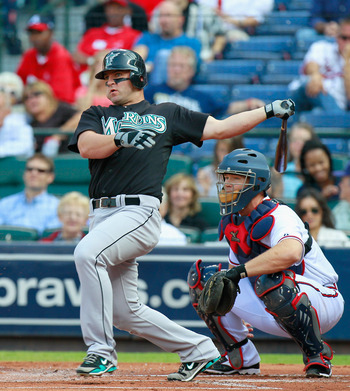 Dan Uggla (left) will join David Ross (right) in the Braves clubhouse in 2011.
Kevin C. Cox/Getty Images
1. LF- Martin Prado- .290, 12 HR, 59 RBI
2. RF- Jason Heyward- .284, 24 HR, 87 RBI
3. 3B- Chipper Jones- .280, 15 HR, 73 RBI
4. C- Brian McCann- .303, 25 HR, 92 RBI
5. 2B- Dan Uggla- .257, 28 HR, 90 RBI
6. 1B- Freddie Freeman- .280, 15 HR, 69 RBI
7. SS- Alex Gonzalez- .242, 16 HR, 70 RBI
8. CF- Nate McLouth/Jordan Schafer- .255, 12 HR, 60 RBI (Combined #'s)
If these projections come into fruition, I would be a very happy man. Though it might seem a little generous in spots, this is all highly reasonable production from each player(s). I see a slight drop-off from Martin Prado as he adjusts to a new position. I'm also assuming Chipper can make it through 125-130 games this year to put up those numbers.
Rotation (with Projected Stats)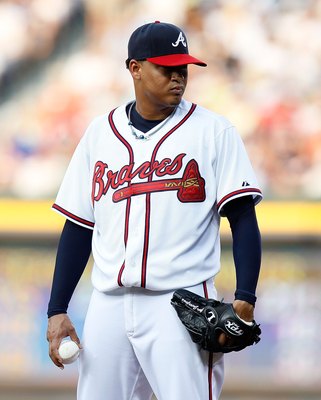 Jair Jurrjens will need to step up for the Braves rotation in 2011.
Kevin C. Cox/Getty Images
1. Tim Hudson- 15 W, 7 L, 3.33 ERA
2. Derek Lowe- 15 W, 10 L, 3.78 ERA
3. Tommy Hanson- 17 W, 8 L, 3.12 ERA
4. Jair Jurrjens- 14 W, 6 L, 3.44 ERA
5. Mike Minor/B. Beachy- 9 W, 11 L, 4.22 ERA (Combined Stats)
Bold Statement: The top 4 in the Braves rotation will win more games than the Phillies' big 4.
Tommy Hanson pitched extremely well last year with little luck in the win column; however, with a better and more balanced lineup behind him, Hanson will have his best season yet. I also expect Jurrjens to have a bounce-back year after an injury plagued season a year ago.
Bench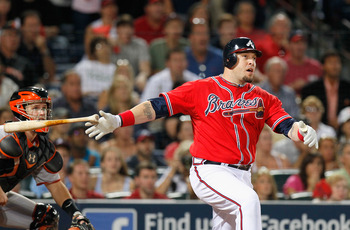 Eric Hinske proved to be a very clutch performer in his first season with the Braves.
Kevin C. Cox/Getty Images
1. David Ross- C
One of the most reliable and productive back-up catchers in the league returns for another year to provide clubhouse leadership and a solid glove and bat off the bench.
2. Diory Hernandez- MIF
Diory will be the defensive specialist of the bench for the infield.
3. Eric Hinske- Utl
The clutch, veteran Hinske will provide depth at 1B and the corner OF spots while being the primary pinch-hitter for Fredi Gonzalez.
4. Brooks Conrad- 2B, 3B
Brooks will be the offensive specialist off the bench for the infield
5. Jordan Schafer-
Schafer will be key for the Braves this season if McLouth is unable to return to respectability.
Bullpen (w/ Stats)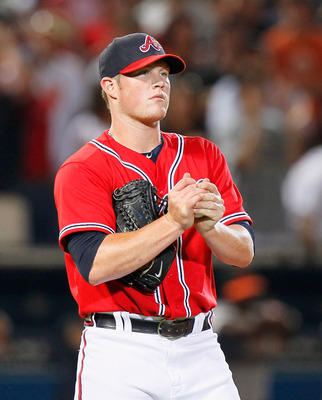 New closer Craig Kimbrel has all the tools to be dominant.
Kevin C. Cox/Getty Images
Closer- Craig Kimbrel- 31 Sv, 1.99 ERA
Will be a leading candidate for NL rookie of the year
Set-Up- Jonny Venters- 2.33 ERA
Will be very good, but not as good as his amazing rookie year
Set-Up- George Sherrill- 3.24 ERA
Solid, experienced lefty who gives the Braves young bullpen a veteran presence
Middle Relief- Eric Oflaherty- 2.31 ERA
Lefty who is good against lefties and righties
Middle Relief- Scott Linebrink- 3.89 ERA
Another veteran free agent signing
Ground Ball Specialist- Peter Moylan- 2.49 ERA
His title says it all.
Long Relief- Christian Martinez- 3.39 ERA
Was very reliable and under-the-radar out of the pen last season
Keep Reading

Atlanta Braves: Like this team?