2011 NFL Mock Draft: Could Any RBs Challenge Andrew Luck for No. 1 Spot?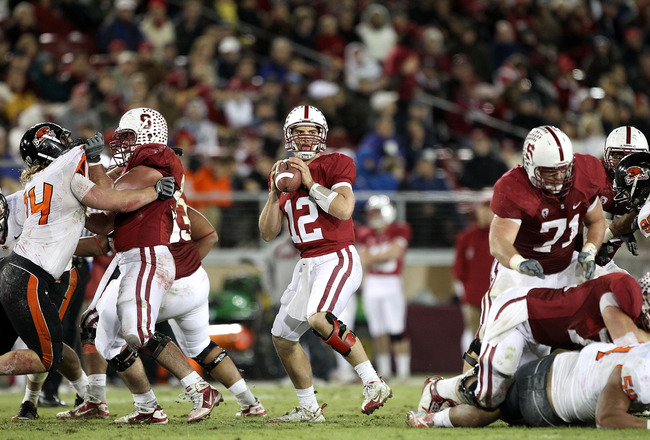 Ezra Shaw/Getty Images
The nation's leading rusher at the running back position is only a sophomore and may stay in Eugene, so who is left? Are there any RBs out there that can challenge Andrew Luck for the No. 1 spot in next year's NFL Draft?
The Draft is still weeks away, but experts and analysts are already predicting this one to be full of QBs and defensive players in Round 1, so where do the running backs fit in?
Let's take a look at the first round of the 2011 NFL Draft, pick by pick. We'll look at the nation's top backs to determine if there are any candidates out there capable of unseating Stanford's Andrew Luck.
32. New England Patriots, Armon Binns, WR, Cincinnati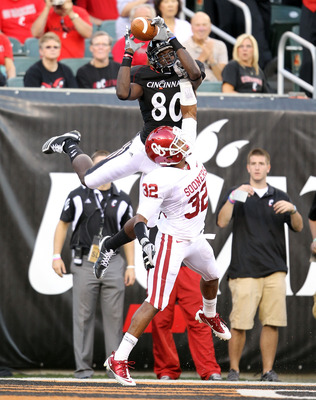 Andy Lyons/Getty Images
Many people have New England taking a running back in this pick, but it is also a possibility the Patriots will attempt to groom weapons for the back half of Brady's career, or even for a new QB to come to town. Dare I say it Patriots fans?
Armon Binns is a senior for the Bearcats and has racked up 73 catches for over 1,000 yards this season. He is projected in several lists as a first-round pick. If the Patriots don't take a defensive player or running back, Binns might be a likely target.
31. New Orleans Saints, Sam Acho, DE-OLB, Texas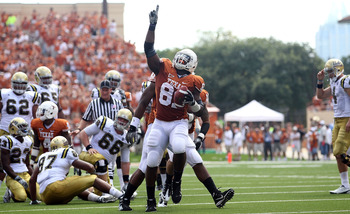 Ronald Martinez/Getty Images
As published in other reports, Scott Fujita vacated an outside linebacker spot during the offseason in New Orleans and Sam Acho would fill the spot nicely. He is tall, at 6'3", but also fast.
The Saints can convert him to full-time OLB or drop him inside on other schemes as a lineman. He recorded 10 sacks last season and is having another solid year.
30. Pittsburgh Steelers, Stephen Paea, DT, Oregon State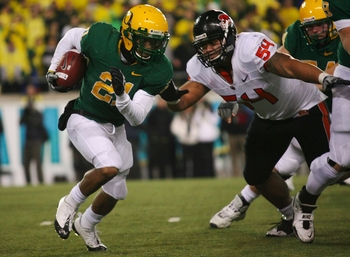 Tom Hauck/Getty Images
While Stephen Paea is the quickest man on the defensive line, his smaller stature may scare off NFL teams from picking him higher in the first round.
Still, Paea was the life source for an Oregon State defense that had difficulty stopping the run. He also has the ability to get in the backfield and could provide some insurance to a weak run defense. Paea has spent the majority of his career in a 4-3 defense, so there may be a learning curve involved when he gets to the NFL.
He seems to be a solid fit for the Pittsburgh Steelers, a team that seems to keep believing defense wins games. Meanwhile, the offense has enough leaders in Rashard Mendenhall, Ben Roethlisberger and the other three QBs they have with notable names.
29. Atlanta Falcons, Lee Ziemba, OT, Auburn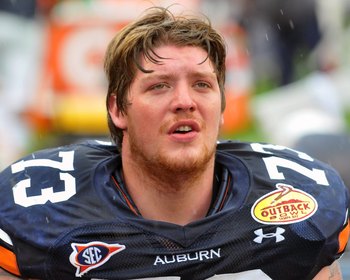 Al Messerschmidt/Getty Images
At 6'8" and 320 lbs, Lee Ziemba is a solid prospect to move on to the NFL and may be one of the first offensive linemen taken in the draft.
Ziemba earned second team All-SEC honors last season and has been instrumental in blocking for Heisman-winner Cam Newton this year.
He fits in well in Atlanta as the Falcons attempt to turn Matt Ryan into the next franchise QB. Ziemba's size and experience make him a solid choice for the Falcons.
28. Philadelphia Eagles, Mike Pouncey, C, Florida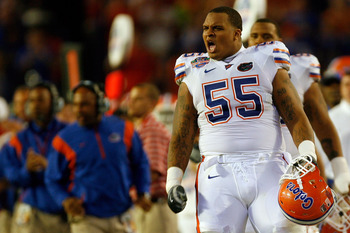 Eliot J. Schechter/Getty Images
I will agree with my Bleacher Report counterpart, Trae Thompson. Florida Gators center Mike Pouncey is a solid pick for the Philadelphia Eagles. It seems the Eagles have left Donovan McNabb in the past and are already focusing on the years ahead in their courtship with Michael Vick, not to mention DeSean Jackson and Lesean McCoy.
Pouncey has the ability to shift around the offensive line, occasionally playing guard as well. If he doesn't join his twin brother Maurkice in Pittsburgh, Mike may end up as Vick's hand-warmer in Philadelphia.
27. Indianapolis Colts, Vai Taua, RB, Nevada
Ethan Miller/Getty Images
Largely overshadowed by the running ability of Colin Kaepernick, Vai Taua is a solid running force that will fly under the radar until late in the first round, when the Indianapolis Colts select him to compliment the running attack.
He was named by Sports Illustrated to its second-team All-American squad and he has amassed over 1,000 yards on the ground this season for the near-perfect Nevada Wolfpack.
While Peyton Manning continues to figure things out for the Colts, they may attempt to compliment the passing attack with a few more runs next season and Taua could be a welcomed surprise.
26. Chicago Bears, Deunta Williams, FS, North Carolina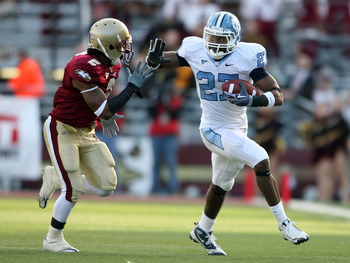 Elsa/Getty Images
While it would seem rational to select an offensive lineman to protect Jay Cutler, he is still going to throw interceptions. The Bears will have this in mind on draft day and instead they will select Deunta Williams from North Carolina.
Williams is a former receiver with four years under his belt as a starter on North Carolina's pass defense. He is considered by NFLDraftScout.com as the No. 2 free safety in the country and figures to fit in with the Bears defense in the next few seasons.
25. Baltimore Ravens, Aaron Williams, CB, Texas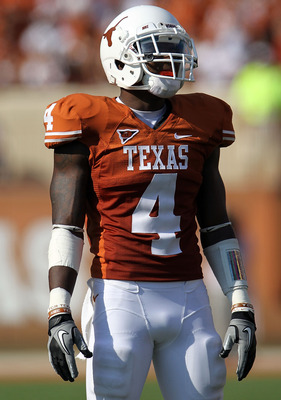 Ronald Martinez/Getty Images
The Ravens are pretty solid in a lot of areas, while soon-to-be-weak in others. Specifically, the defense will be losing players to free agency at the end of the season. More specifically, they will be losing most of their secondary. Fabian Washington, Chris Carr and Josh Wilson will be free agents at the end of the year.
That presents a big hole to fill for the Ravens and they may choose to fill it with Texas CB Aaron Williams. The underclassman is a solid player with quickness and good route-reading ability. He would fit in nicely in Baltimore and become part of a new era of defense when Ray Lewis retires.
24. Green Bay Packers, Von Miller, DE-OLB, Texas A&M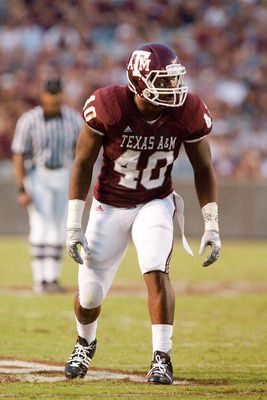 Miller would fit nicely opposite Clay Matthews in a young linebacker crew in Green Bay. Miller had 17 sacks in 2009 and has 169 tackles at defensive end for the Aggies this season. He is 6'3" but only 240 lbs, which would be undersized at DE for the NFL.
The Packers may choose to move him back to the linebacker position and he would make a great fit for a much-needed improvement in Green Bay's defense.
23. New York Jets, Cameron Jordan, DT/DE, California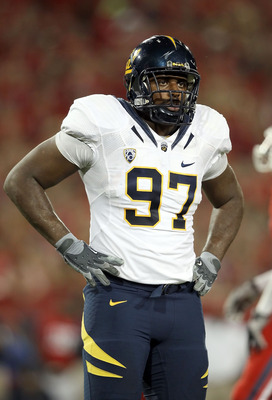 Christian Petersen/Getty Images
The Jets are surrounded by division opponents with solid QBs. They have little rush attack at this point, so Cameron Jordan seems like a solid fit in Yew York.
Jordan's addition to the roster gives the Jets a new element on defense and benefits the secondary that got torched by Tom Brady and the Patriots a few weeks ago.
22. New York Giants, Anthony Castonzo, OT, Boston College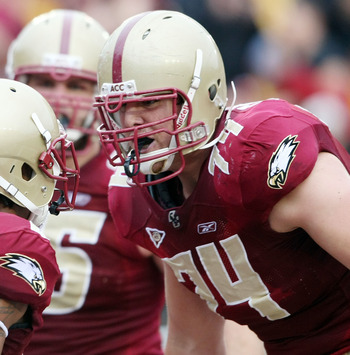 Elsa/Getty Images
It's a tough call to say Anthony Castonzo is "lean," but at 6'7" and only 297 lbs, it is subjective. The left tackle has some serious leverage with his long arms, keeping defensive lineman from getting too deep on him.
The four-year starter figures to continue starting as a rookie in the NFL. Eli Manning could use a boost up front and maybe then the Giants could stay ahead of the Eagles and Michael Vick. Well, maybe...
21. Kansas City Chiefs, Jonathan Baldwin, WR, Pitt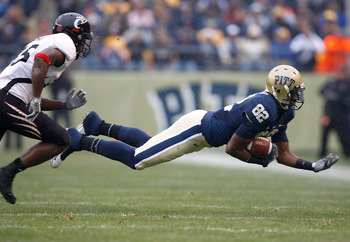 Jared Wickerham/Getty Images
The Chiefs have tried multiple receiving solutions for Matt Cassel, but several names later, the Chiefs still don't have established receiving targets. With Johnathan Baldwin's talents, he may provide stability at the position and keep Cassel in a Chief's uniform.
20. St. Louis Rams, Julius Jones, WR, Alabama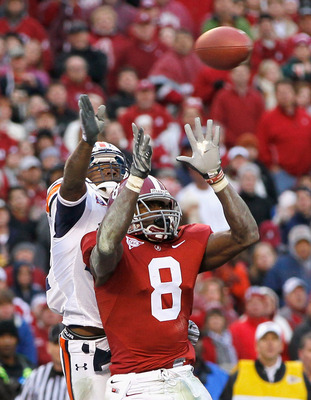 Kevin C. Cox/Getty Images
Many mock drafts have Julius Jones going to the St. Louis Rams in varying positions of the draft. No matter where the Rams finish in the standings to determine their draft position, they will likely attempt to take a receiver.
The Rams are on the path to solidifying an offense, having taken Sam Bradford as their first pick last year.
The best way to finalize an offense that already features Steven Jackson is to pick up a receiving option for Bradford after opening up the field with the ground game. The only question becomes whether Jackson will stay in St. Louis when the offense migrates towards the passing game.
19. Jacksonville Jaguars, Janoris Jenkins, CB, Florida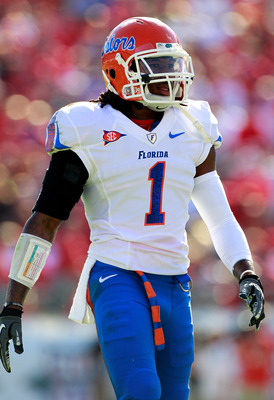 Sam Greenwood/Getty Images
All the talk surrounding Jacksonville's role in the upcoming draft has been on defense, specifically in the secondary. The Jaguars are weak in the defensive backfield. While some are projecting them to pick up a safety to provide a backbone over the top, it is more likely a spot corner will be their choice.
Jacksonville needs a quick corner with decent hands to play man-to-man on highly skilled receivers that come to town. Picking up Janoris Jenkins could turn into a long-term investment. Jenkins would stay close to where he went to school and he is well-tested coming out of the SEC.
18. Tampa Bay Buccaneers, Allen Bailey, DT/DE, Miami (FL)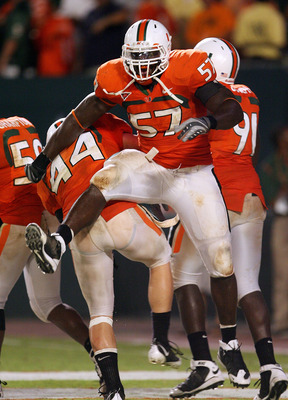 Doug Benc/Getty Images
The Buccaneers can shift their focus to defense with the emergence of Josh Freeman at QB and LeGarrette Blount as their primary running back. It appears the offense is gaining momentum in Tampa, but now they need solid rush defense to add a few more wins to their 2011 season record.
Some lists have Allen Bailey a little farther back and it mostly depends on where the Bucs finish the 2010 campaign. Regardless, Tampa Bay will most likely select on the defensive side and Bailey is a five-technique defensive end.
17. Miami Dolphins, Denard Robinson, QB, Michigan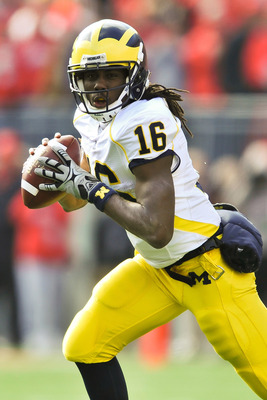 Jamie Sabau/Getty Images
Time for one of the more controversial picks of this mock draft. Denard Robinson may opt for the draft, rather than stick around in Michigan long enough for recruiting to become a factor. The middle of the first round could be a surprise destination for Robinson and would fit in with the Dolphins' fast-paced offense.
Miami was one of the first teams to begin using the Wildcat offense in the NFL, a system that Robinson would fit into with little adjusting.
The Michigan QB ranks third in the country in rushing yards and has the ability to deliver a crisp, accurate pass when called upon. Chad Henne seems a bit sluggish in the Miami offense, so Robinson would help out there and perhaps take the pressure off the tandem of Ricky Williams and Ronnie Brown.
16. San Diego Chargers, Akeem Ayers, OLB, UCLA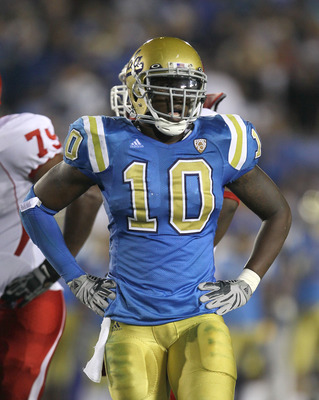 Stephen Dunn/Getty Images
Akeem Ayers is the leader of the Bruins' defense this season and will help an already strong San Diego defense defend against the run and rush the opposing QB.
The linebacker is fluent in several different styles of defense, including 3-4 and 4-3. He also has a decent set of hands for a linebacker and could provide pass coverage in the flat. If he doesn't slide back to later picks in the first round, he'd be a solid pick-up for the Chargers.
15. Cleveland Browns, Michael Floyd, WR, Notre Dame
Jonathan Daniel/Getty Images
It's no secret by now that the Browns need to add to their receiving crew which doesn't have many weapons. Michael Floyd is projected as a late first-or-second round pick.
Cleveland historically likes receivers with size and may choose Floyd's stature over the speed and agility of receivers like A.J. Green and Julio Jones.
14. New England Patriots, LaMichael James, RB, Oregon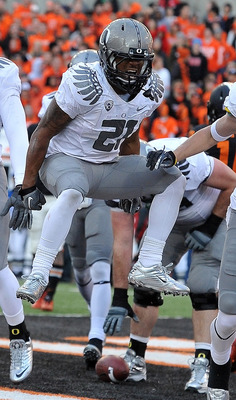 Steve Dykes/Getty Images
Here we go. Bring on the comments on how no one is picking him to opt for the draft, how even if he's in the draft, he won't be picked this high or by the Patriots.
The fact is, there is a small chance the Patriots will target a running back and, if they do, they will go after Mark Ingram. However, that is under the assumption LaMichael James stays in college. If he jumps to the NFL, he could be a first-round pick, and may end up with the Patriots in a small role at first, with more involvement based on his performance.
13. Seattle Seahawks, Jake Locker, QB, Washington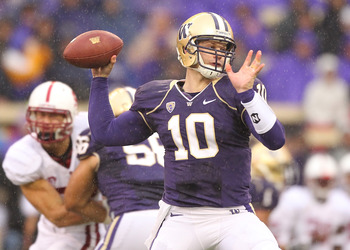 Otto Greule Jr/Getty Images
Jake Locker is one of those QBs you hear about during preseason but have your suspicions as to whether the hype is just due to a lack of anyone better.
The Seahawks may take him to draw in a few more hometown fans, but he probably won't start. He will be the beneficiary of Matt Hasselbeck's knowledge of the game and maybe he can be groomed into a productive member of the offense in a few seasons.
Locker is a gamble for many NFL teams and also a nightmare to place in the upcoming draft. For all we know, he could finish up in the third or fourth round, dipping out like Jimmy Clausen in the 2010 Draft.
12. Oakland Raiders, Greg Jones, ILB, Michigan State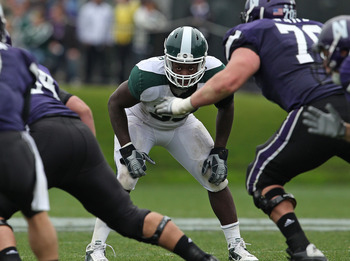 Jonathan Daniel/Getty Images
Longtime Oakland Raiders owner Al Davis has been known to trade for higher picks in the draft with intentions of turning the franchise around.
This is a prediction that he will do so again to draft Greg Jones from Michigan State, trading with the Houston Texans for their pick.
With the emergence of Jason Campbell as a starter, Davis will focus his attention on defense. He will likely feel comfortable staying with Campbell at QB and Darren McFadden at RB.
Jones would stabilize a sorry defense, with the exception of Nnamdi Asomugha. The Raiders rank 26th in the NFL in opponent rushing yards, so a boost in the defensive backfield might pay off.
11. Minnesota Vikings, Ryan Mallet, QB, Arkansas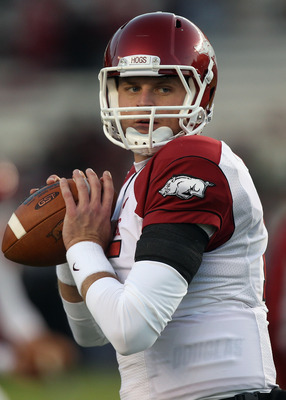 Streeter Lecka/Getty Images
With Tarvaris Jackson's contract expiring at the end of the season and the (dare we say it) likelihood of Brett Favre retiring, again, there will be a major vacancy at quarterback for the Minnesota Vikings.
Ryan Mallet figures to be a middle-first round pick and, if no one selects him first, he will be a Viking next season. Mallet is not a mobile quarterback per se, but he doesn't have to be in Minnesota. He will need to be an accurate passer with a good brain for second and third options.
He figures to start for the Vikings next season, ushering a new era in Minnesota.
10. Washington Redskins, Adrian Clayborn, DE, Iowa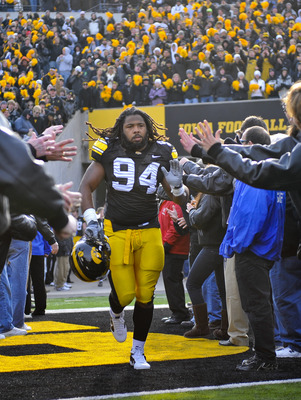 David Purdy/Getty Images
Adrian Clayborn's skills are solid, but his off-the-field antics may scare away teams in the top 10 of the Draft. Clayborn was in the news for punching a cab driver and we have all learned painfully from Lawrence Phillips that crazy is the fastest way to leave the NFL.
However, despite his personal issues, the Redskins will pick him to help out their dismal defense. Washington ranks 29th in opponent passing yards and 28th in opponent rushing yards. Adding Clayborn could be a difference maker and he could start for the 'Skins next season.
9. Tennessee Titans, Cam Newton, QB, Auburn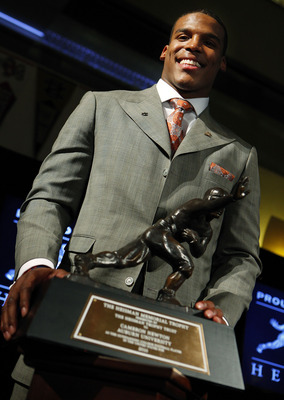 Jeff Zelevansky/Getty Images
This pick comes with the assumption Vince Young will be with another team next season and the Titans will need to replace him with a similar athlete.
Cam Newton has tremendous raw talent, but it will need some refinement in the NFL. Tennessee head coach Jeff Fisher may be the mentor Newton needs to become established in the league, but who knows how they will gel or not gel in the Titans organization.
A lot of Newton's involvement in the draft may hinge on the results of the BCS National Championship against Oregon.
8. San Francisco 49ers, Robert Quinn, DE-OLB, North Carolina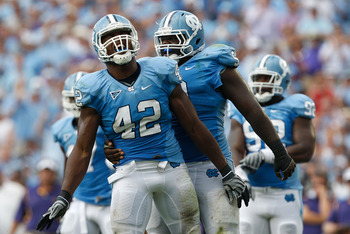 Streeter Lecka/Getty Images
The 49ers rank 20th in pass defense, largely due to an absence of pressure on opposing QBs. Quinn projects as a top 10 pick and, perhaps, one of the first, if not the first, lineman taken in the draft. His speed and strength could be just what San Fran needs to stabilize the passing defense.
7. Dallas Cowboys, Da'Quan Bowers, DE, Clemson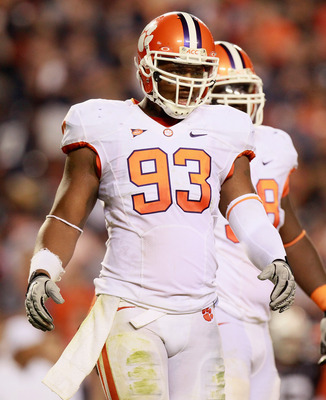 Kevin C. Cox/Getty Images
Ironically, the Cowboys decided to win a few games at the worst possible time. Had they swallowed their pride and thrown the rest of the season, they could have been looking at a top three pick. However, it won't hurt them too heavily to slide down in the 7-to-10 area.
Da'Quan Bowers and Alabama's Marcel Dareus will be available early and either one would satisfy the Cowboys need to provide pressure in the pocket. Bowers would be a nice fit and Dareus might get picked up if the Cowboys have any say in it.
6. Arizona Cardinals, A.J. Green, WR, Georgia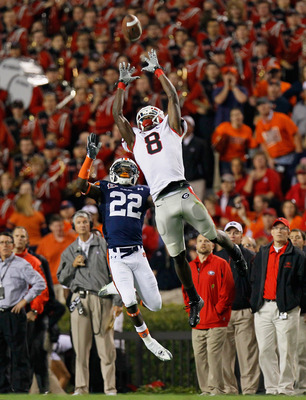 Kevin C. Cox/Getty Images
"Whoa! Wait a minute! The Cardinals need a QB before they go after wideouts!"
Absolutely, they do. Then who would that be? Andrew Luck? Long gone as the No. 1 or No. 2 pick of the draft. Ryan Mallet? Not a solid enough match to play in Arizona's offense.
Selecting A.J. Green to replace Anquan Boldin seems like a more solid idea than it's getting credit for. The Cardinals are better off finding a QB by way of trade or the free-agent market than drafting one that won't be ready for a few more seasons. If Green is drafted, expect the QB hunt to be earnest for Arizona.
5. Buffalo Bills, Marcell Dareus, DE, Alabama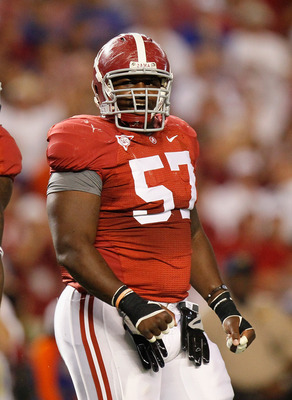 Kevin C. Cox/Getty Images
This pick is assuming the Bills take him over Da'Quan Bowers. The two defensive linemen appear to be somewhat interchangeable. To this point, it's difficult to get a grip on which players the teams are targeting. One thing is for sure: Both Buffalo and Dallas need to upgrade their defensive line.
For the Bills, Marcell Dareus has the size and domination the Bills need to climb out of the depths of the NFL and satisfy their need to stop the run. They are dead last in the league, allowing over 165 yards on the ground per game.
4. Detroit Lions, Prince Amukamara, CB, Nebraska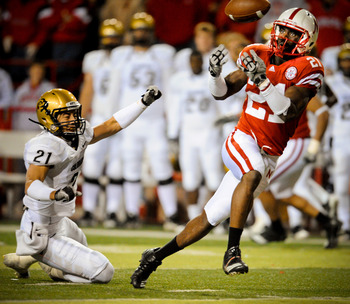 Eric Francis/Getty Images
It's tough to sort out one need the Lions need more than another, but help in the defensive backfield could be considered the biggest desire for the Lions in the upcoming draft.
Prince Amukamara is arguably the best cornerback available in the draft, with Patrick Peterson of LSU in the mix. He and Amukamara may even go back-to-back in the draft. Both have immediate impacts on the passing game of the opposing teams, while possessing superior coverage mind and speed.
3. Denver Broncos, Patrick Peterson, CB, LSU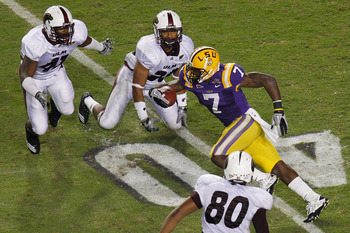 Chris Graythen/Getty Images
As mentioned in the previous slide, Patrick Peterson is included in seemingly every best corner in the Draft discussion. He will most likely be selected as the first defensive-secondary player when the 2011 Draft rolls around.
Aside from a strong passing game, the Broncos are struggling. They are second worst in rushing defense, and 19th in passing defense. While they may choose a linebacker or defensive end, it is more likely they won't want to pass on the opportunity to bring Peterson into the fold.
2. Cincinnati Bengals, Nick Fairley, DE-DT, Auburn
Mike Zarrilli/Getty Images
This pick is along the lines of Cam Newton's selection to the Tennessee Titans. As of now, Auburn's Nick Fairley is projected towards the back of the Top 10 picks, but his performance in the national championship should be solid.
If the lineman has an above average performance against the Oregon Ducks, his draft stock may improve to the point where he gets noticed by the Bengals, the team in position to be awarded the second pick. Fairley would help the Bengals struggling offense with multiple chances to score following QB sacks and short runs.
1. Carolina Panthers, Andrew Luck, QB, Stanford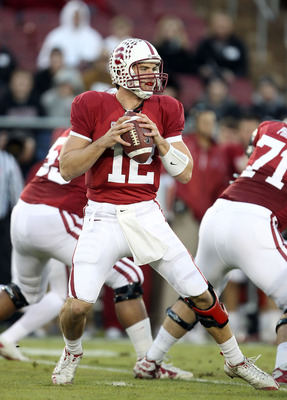 Ezra Shaw/Getty Images
While finishing up as a Heisman runner-up, Andrew Luck is still viewed, by most NFL scouts, as the purest QB available in the upcoming draft.
Luck has led Stanford to a BCS at-large berth and has a skill set reminiscent of QBs before him that have had successful careers in the NFL.
Sorry Jimmy Clausen, you're just not cutting it to this point and the Panthers will have the No. 1 pick. It seems to be a solid choice and a no-brainer for predicting mock drafts.
So to answer the thesis question: No, there is no running back that could unseat Luck at the top spot of the 2011 Draft. This one seems to be locked in. If LaMichael James stays at Oregon for at least one more season, he could be the top pick of a draft in the near future.
Keep Reading