Buffalo Bills: 10 Reasons Why Glass Is Half Full, Not Empty For the 2011 Season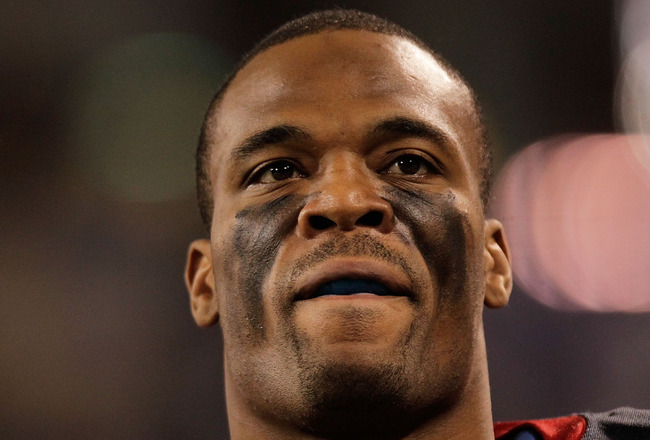 Nick Laham/Getty Images
Despite holding a 3-10 record for the 2010 season, the Buffalo Bills' glass is starting to look a bit more full than empty, as it was entering the year.
Quarterback Ryan Fitzpatrick has been playing at a premier level, while the unheralded wide receiver, Stevie Johnson, has had a career year, with stats exceeding those of elite players at the position.
This slideshow explains 10 reasons why the Bills have a lot to look forward to heading into the 2011 season.
Arthur Moats Is Showing Signs of High Potential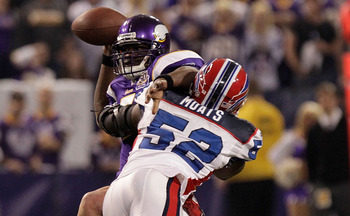 Nick Laham/Getty Images
Drafted in the sixth round of the 2010 NFL Draft as a defensive end out of James Madison, Arthur Moats was originally expected to play inside linebacker in the Buffalo Bills 3-4 scheme.
However, a series of injuries to the linebacking corps has moved Moats to an outside pass rusher, where he has excelled. He ended Brett Favre's Iron Man streak of consecutive games played with a devestating blow to his shoulder that led to a Drayton Florence interception.
Against the Cleveland Browns, he excelled against one of the premier left tackles in the game, Joe Thomas, racking up four tackles, a sack, and a forced fumble.
With three games left to play, and a whole offseason to fully comprehend the defensive scheme, look for Moats to be a focal point of the Bills defense next season.
2011 NFL Draft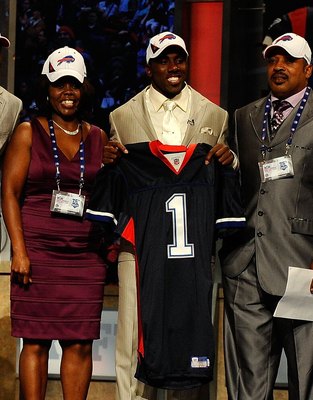 Jeff Zelevansky/Getty Images
The Bills may be out of the race for quarterback Andrew Luck, the top rated prospect on nearly every draft board as of now, and are in prime position to trade down to acquire multiple draft picks.
With defensive prospects such as Da'Quan Bowers, Patrick Peterson, and Ryan Kerrigan available in the draft, the Bills could look to improve their defense, ranked 32nd in the National Football League in rush defense, allowing an average of 170 yards per game on the ground.
The Bills struggled getting their rookies acclimated to the 3-4 defense that was instilled in the offseason under defensive coordinator George Edwards, but after a full year learning the scheme, the Bills defense will definitely be improved next year.
Fred Jackson and C.J. Spiller WILL Be a Threatening 1-2 Punch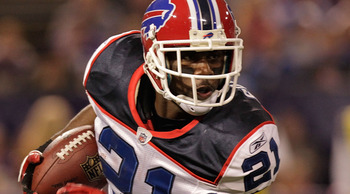 Nick Laham/Getty Images
C.J. Spiller has been a disappointment throughout the first 13 games of the year, rushing for just 199 yards without scoring a touchdown. Fred Jackson, on the other hand, has been the primary back, rushing for 663 yards and five touchdowns, while adding another 188 yards on 20 receptions with two additional touchdowns.
Spiller will use the offseason watching tape, and being coached up to take his one or two yards, instead of running to the sidelines for a loss. I still have confidence that he will live up to the pre-draft hype of his explosiveness, that he displayed against the New England Patriots, when he ran back a kick return for a touchdown.
Ryan Fitzpatrick Has Been Playing SOLID
Nick Laham/Getty Images
After the release of quarterback Trent Edwards, Ryan Fitzpatrick has played lights out; displaying leadership of a seasoned veteran, despite appearing in just 38 games in his five year career.
His 84.6 passer rating is among the best in the league, and he has completed 58.3% of his 355 pass attempts for 2,384 yards, tossing 20 touchdowns to 11 interceptions, while averaging 226.9 passing yards per game.
Even if the Bills select a quarterback in the top three rounds of the draft, I still expect Fitzpatrick to be the starter in 2011, while the rookie can learn from the Harvard grad.
Alex Carrington, Torell Troup Will Gain Experience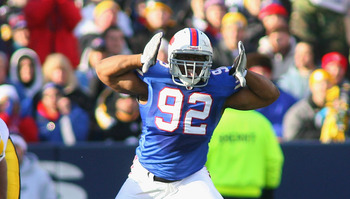 Rick Stewart/Getty Images
The second and third round draft picks of the 2010 NFL Draft, nose tackle Torell Troup and defensive end Alex Carrington have seen limited playing time this season, due to the outstanding play of Kyle Williams, who is en route to his first trip to Hawaii as a member of the AFC Pro Bowl team.
Carrington has missed out on playing time due to veterans Dwan Edwards and Marcus Stroud, who have more experience defending the run than the rookie, but both Edwards and Stroud are aging, and you can bet that both Carrington and Troup should be hitting OTA's and learning the playbook and adjusting to the speed of the NFL by next season.
Don't expect either to be an immediate all star, but they will definitely produce more than they have this season.
Donte Whitner, Paul Posluszny Expected To Re-Sign
Rick Stewart/Getty Images
Strong safety Donte Whitner and inside linebacker Paul Posluszny are both free agents at the end of the year, and Whitner is already in contract talks with the Bills front office regarding an extension.
Both are tied for the lead in tackles on the team, each with 111, not exactly numbers you want to see from a safety, but both are integral parts of the Buffalo Bills defense, and are true leaders.
If they gave Chris Kelsay $20+ million to be a "team leader," than you can definitely expect Poz and Whitner to stay in the red, white, and blue while the team continues it's rebuilding process.
With Lee Evans Injured, We Can See What Stevie Really Has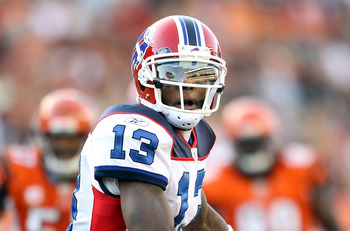 Andy Lyons/Getty Images
Lee Evans has been the Buffalo Bills No. 1 receiver over the past few years, but after suffering an injury in Sunday's game against the Cleveland Browns, Steve Johnson is now the new No. 1.
Evans has caught 37 passes for 578 yards, scoring four times, his numbers deflated due to opposing defenses keying in on him, often with a safety shading over the top, leading to Johnson having his breakout year.
Johnson, who has caught 61 passes for 832 yards and nine touchdowns, will be tested while facing cornerbacks Sean Smith, Darrelle Revis, and Devin McCourty for the last three games of the year, if Evans can't go for the remainder of the year.
Which Side of the Offensive Line Is Top Priority?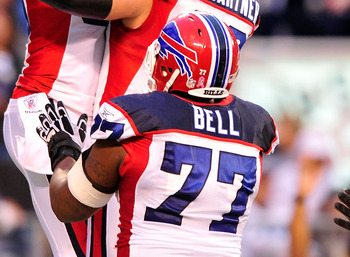 Grant Halverson/Getty Images
Former seventh round draft pick out of Northwestern, Demetrius Bell, has been a solid bookend while protecting Ryan Fitzpatrick's blindside for most of the season.
The real problem has been at right tackle and right guard, which has been plagued by injuries.
The Bills brought in Cornell Green, a veteran right tackle from the Oakland Raiders, in hopes of bringing experience to a young offensive line, but he was quickly sent to injured reserve and released shortly after.
Bell has played well, exhibiting solid pass protection and run blocking, and still has a high upside.
I could see a tackle like Anthony Costanzo taking a Bryan Bulaga-like drop in the draft, and if so, he could shore up the right tackle position, allowing Bell to continue to grow into a solid blindside protector. (Let's just resign him before he jettisons, Jason Peters style!)
Kyle Williams Will Allow Others To Make Plays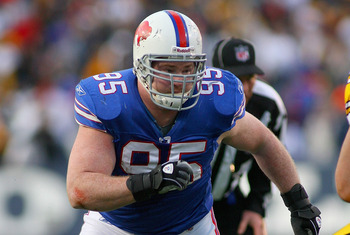 Rick Stewart/Getty Images
Kyle Williams has made a seamless transition to the nose tackle position, after spending his first years in the National Football League as a 4-3 defensive tackle, and is constantly being raved about around the blogosphere.
Williams has made 64 tackles, while racking up five sacks, and nine tackles for a loss....all while taking on two or more blockers at a time. His relentless and disruptive play consistently collapses the pocket, and forces opposing quarterbacks into poor decision making.
When the rest of the youngsters on the defensive side of the ball begin to learn their assignments and adjust to the scheme, Williams will be a huge force, allowing those rooks' to make plays, while Williams continues his Pro Bowl-caliber play.
Keep Reading

Buffalo Bills: Like this team?