Seattle Seahawks: 10 Reasons the 'Hawks Can Still Win the NFC West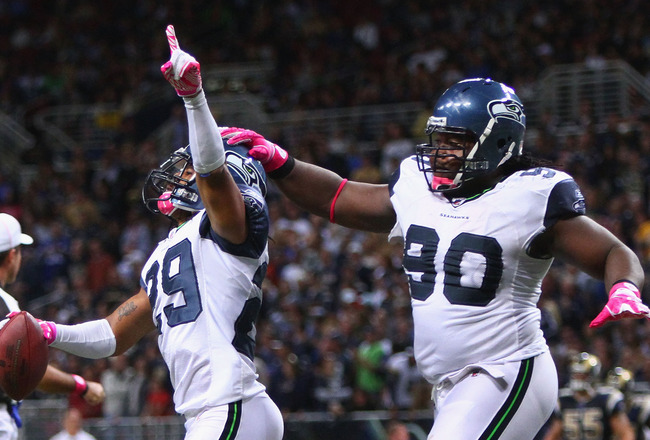 Dilip Vishwanat/Getty Images
The NFC West may be the league's tightest division this year. At this point, three of the four teams have a viable chance at going on to the playoffs, and every game, every week matters deeply for each team.
Seattle's loss this weekend to the San Francisco 49ers was good enough to remain tied with St. Louis for first in the division (the Rams also lost, to the Saints). But San Francisco's win keeps the 49ers in the running, moves them within one game of first place and gives them the edge in case of a tie.
Even after the horrible performance by the Seahawks last week, it's not time to write them off yet. There are still things Seattle can do to win the NFC West.
On Paper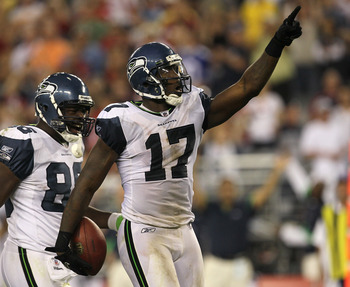 Stephen Dunn/Getty Images
On paper, the Seahawks are a better team than they've exhibited on the field in most games. There have been a couple instances throughout the season when we have been able to see the team they can be, rather than the team that makes us scratch our heads through games like Sunday's.
When they do play up to their potential, they are the best team in the division by far. Hopefully, as players return from injury and the 'Hawks find some normalcy, we'll be seeing the complete package in the remaining weeks.
Home-Field Advantage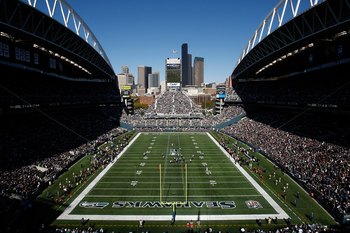 Jonathan Ferrey/Getty Images
Seattle has long been a Jekyll and Hyde team, particularly when it comes to home versus away play. Qwest Field is historically the most ominous stadium for an opposing team to play in. It draws penalties from veteran players and hinders communication for teams that are not used to the noise.
Two of Seattle's last three games are at home, including Week 17 against division rival St. Louis.
Playing at home will help the Seahawks stand a chance against the conference-leading Atlanta Falcons in Week 15 and could decide their fate in Week 17.
Turnovers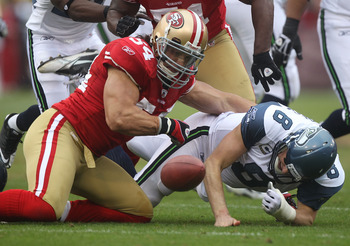 Jed Jacobsohn/Getty Images
Most of last weekend's loss had to do with the number of times Seattle turned the ball over. Matt Hasselbeck tied his career high with four interceptions and fumbled the ball on a sack (partially due to his immobile left wrist).
Those five turnovers gave the 49ers the opportunities they needed to score 20 of their 40 total points. Had the Seahawks not committed the turnovers, mathematically the 49ers would have lost by one.
Early in the season, the Seahawks were on the upside of the turnover picture. Eight of their 10 total takeaway interceptions came in the first six games of the season. Eleven of their 18 total thrown interceptions have come in the last six games.
Seattle needs to focus on turning that stat back around and optimizing possession time.
Receivers Return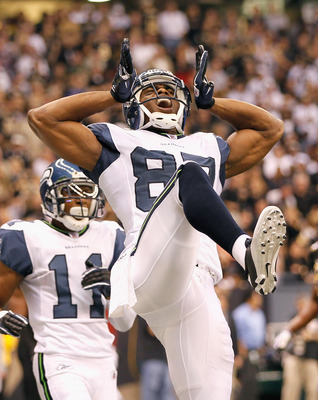 Kevin C. Cox/Getty Images
Seattle's receiving corps has been hurting lately. Last Sunday both of the team's leading receivers (Ben Obomanu and Mike Williams) were sidelined with injuries, and Deon Butler is out for the season with a broken leg.
Rookie Golden Tate and veteran Brandon Stokley have also missed time with minor injuries.
Obomanu and Williams are both expected to return this Sunday, and Ruvell Martin is likely to stand in for Butler. In his first appearance with the Seahawks, Martin earned a respectable 73 yards and one touchdown on four receptions.
Martin is another tall target that will help take pressure off Williams.
Tight end John Carlson sat out against Carolina and was used sparingly against San Francisco due to a hip injury but should be a more integral part of Jeremy Bates' schematics in the coming weeks.
Colin Cole's Return
Jonathan Daniel/Getty Images
Seattle started the season with a near top-ranked run defense. After the Seahawks lost Red Bryant (for the season) and Colin Cole (for five weeks), their run defense dropped to 21st in the league and opposing teams have enjoyed extra yardage on the ground.
Cole returned last Sunday against San Francisco and Seattle was able to hold the 49ers to just 95 rushing yards.
Through the remaining weeks, Cole's presence will be felt as he helps shore up the defensive line and keep opponents' running attack at bay.
O-Line Consistency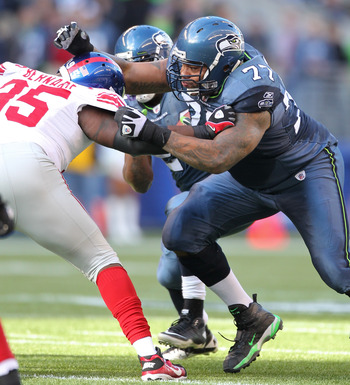 Otto Greule Jr/Getty Images
Over the past couple seasons, injuries to Seattle's offensive line have been debilitating. This year has been no exception. There have been countless different offensive line configurations due to injuries at almost every position.
The Seahawks' current configuration, though, has been the same for the past three games.
Finally, the offensive line can start to enjoy some consistency and work into an effective routine. Expect to see Hasselbeck with more time and the running backs with more space in the coming weeks.
Special Teams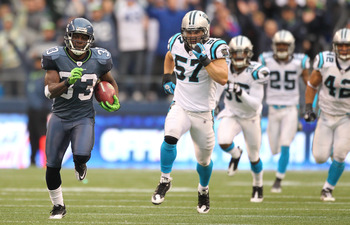 Otto Greule Jr/Getty Images
Seattle's special teams are among the league's best and continue to be a saving grace in one way or another.
Whether it's Olindo Mare kicking five consecutive field goals, each a little further back because of penalty calls, or Leon Washington making a (or three) 92-yard return(s) for a touchdown when the team needs a morale boost, the special teams are constantly consistent and solid.
A good special teams squad can be a major difference maker in a playoff hunt like this one.
NFC West Schedule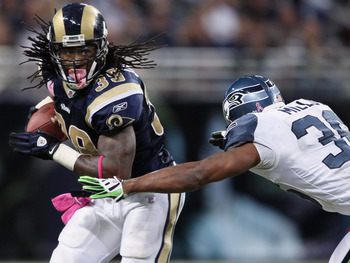 Elsa/Getty Images
In the hunt for a playoff appearance, each NFC West team has its own obstacles to face.
Seattle will host the conference-leading Atlanta Falcons this weekend and will travel to Tampa Bay to take on the rejuvenated Buccaneers the next.
Sounds like a tall order, but they're not the only ones.
Fellow division leader St. Louis will face Kansas City, complete with Matt Cassel, next weekend and always-improving San Francisco the following week.
This is after San Francisco defines its final weeks in a game against San Diego in Week 15.
It all, ultimately, comes down to Week 17. The 49ers will have established themselves as a contender or not, and the Rams and Seahawks are likely to still be tied for the lead when they meet at Qwest to finish the season.
The Seahawks can capitalize here and make it to the playoffs.
Buccaneers Game Time Change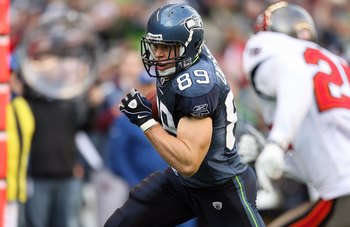 Otto Greule Jr/Getty Images
The NFL changed the time of the Seahawks' game in Tampa Bay from 10 am PST to 1:15 pm PST. Seattle has historically had trouble playing the early game on the road, so this will help its chances immensely.
The Bucs are another mostly rookie team and have been impressive to most so far this year. Many aspects of their game are very solid, but the Seahawks have an edge in the passing game. Seattle averages 20 yards per game better than Tampa Bay does.
Hasselbeck has thrown for over 300 yards twice this season, and Josh Freeman tops out at 280 (Week 5 at Cincinnati).
Seattle's rush defense is also better by approximately 12 yards per game.
Seattle has a chance against Tampa Bay, keeping them that much closer to a playoff appearance.
Week 17 Vs. St. Louis
Elsa/Getty Images
It all comes down to this.
Unless one of these two teams goes undefeated or winless through the end of the season, this single game decides the fate of the NFC West.
Seattle lost to the Rams in St. Louis early in the season, but things were a little different then.
Marshawn Lynch wasn't with the team yet, so the running game was virtually nonexistent.
Russell Okung didn't play for most of the game and the offensive line was still undergoing a lot of shuffling.
The Seahawks had, up to this point, beaten the Rams in the previous 10 consecutive games. They are 14-10 against the Rams overall.
By this time, as long as the Seahawks manage to avoid any additional injuries, Seattle will be a more complete team. They have a better passing game and much higher-ranked defense (ninth overall versus 28th).
Plus, this time it's at home.
Seattle will emerge the victor and move on to the playoffs.
Keep Reading

Seattle Seahawks: Like this team?