NFL Power Rankings Week 15: Wild Week Shakes the League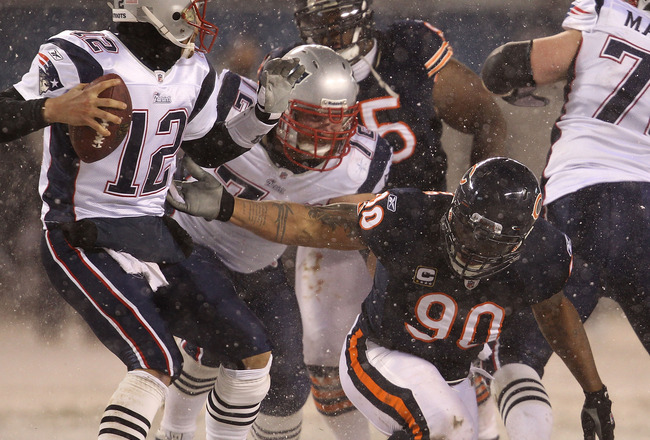 Jonathan Daniel/Getty Images
NFL power rankings aren't an exact science. The team with the better record isn't always the better team—who you've played, how you're playing and injuries all play a big role in figuring out relative power across the NFL.
Here are my NFL power rankings for Week 15.
Follow me on Twitter @JohnLorge
32. Carolina Panthers (1-11)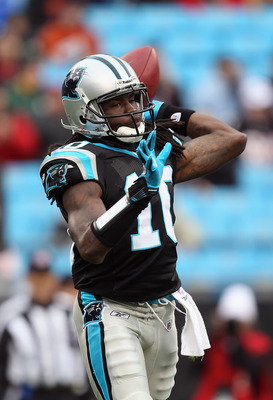 Streeter Lecka/Getty Images
I think Michael Turner just scored another touchdown.
Or was that Marshawn Lynch?
Never mind, it was Peyton Hillis.
Three straight weeks, the Panthers have given up three rushing touchdowns to one player.
Is Tim Hightower or Beanie Wells next on the list?
(Last Week: 32)
31. Cincinnati Bengals (2-11)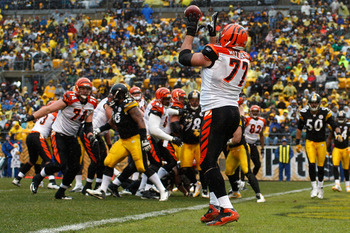 Jared Wickerham/Getty Images
TOcho was targeted 15 times against Pittsburgh, but do you know who had the Bengals only score?
Tackle Andrew Whitworth. Who Dey!
This makes it a NFL-worst 10 straight Ls.
(LW: 29)
30. Denver Broncos (3-10)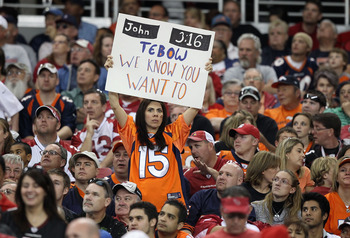 Christian Petersen/Getty Images
Three teams have fired their coach this season. Two of them went on to win their next two games.
The Denver Broncos went on to get slapped by 30 points, and 25 of Arizona's points were from kicker Jay Feely, who even ran a TD in.
It's time for the Wild-gator-bronco-cat.
(LW: 28)
29. Arizona Cardinals (4-9)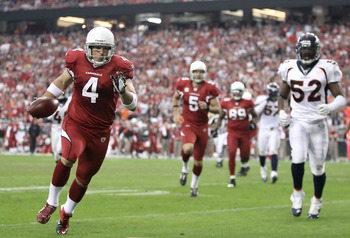 Christian Petersen/Getty Images
Look at that elite athlete running it into the end zone.
Even John Skelton kept it together enough for Arizona to beat the lowly Broncos.
Their defense has playmakers, and in the NFC West, their offense is just a few players out from a division title in 2011.
Just don't win again or you might miss out on a future franchise QB.
(LW: 31)
28. Detroit Lions (3-10)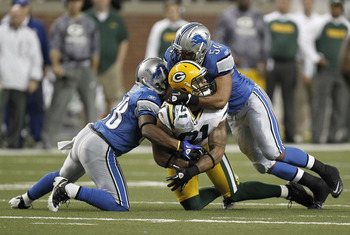 Gregory Shamus/Getty Images
Sure it was ugly, but the Lions got their third win of the season, marking improvement for Jim Schwartz in his second year.
Fun fact: Detroit has won a game with three different QB this year.
When you say it like that, it doesn't make the season sound so bad.
(LW: 30)
27. Seattle Seahawks (6-7)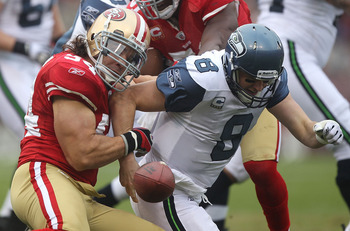 Jed Jacobsohn/Getty Images
There is a rumor going around that Seattle is tied for the NFC West lead. I looked into it, and apparently, it's true.
Then why do they look so terrible?
Expect Seattle to get handled in their next two games, exposing their weaknesses.
(LW: 21)
26. San Francisco 49ers (5-8)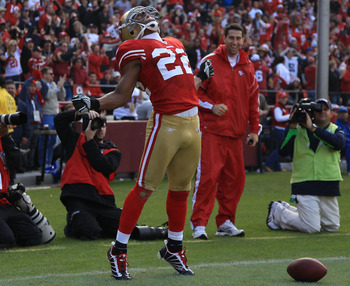 Jed Jacobsohn/Getty Images
Had SF not false-started the season, they would have a stranglehold on their division.
Now, they're trying to play the role of spoiler for San Diego, Seattle and St. Louis—and still have an outside chance of making the playoffs.
The team is running well without Frank Gore, but their QB situation is still under question.
(LW: 27)
25. Tennessee Titans (5-8)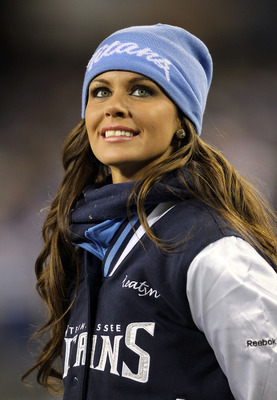 Andy Lyons/Getty Images
Merry Christmas, Titans fans.
The product on the field hasn't been pretty, but their sidelines have never been better...
Chris Johnson looked good against Indy and Kenny Britt's promise is evident. If only this team could put a complete game together.
(LW: 26)
24. Houston Texans (5-8)
Bob Levey/Getty Images
Houston has heart.
The Texans have been in many close games this season, but they don't know how to win those games.
There is no question they have talent on both sides of the ball, and I would be surprised if coach Gary Kubiak makes it another season. Something has to change in Houston.
(LW: 22)
23. Dallas Cowboys (4-9)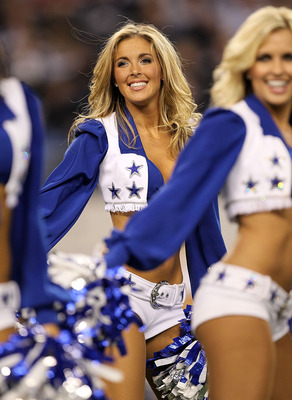 Ronald Martinez/Getty Images
Didn't want Cowboys fans to get jealous of those guys in Tennessee.
The season is over for Dallas, but it doesn't mean Jerry Jones is going to throw in the towel.
If Tony Romo can start, he will, and it looks like Dallas has found their coach—giving them a head start on 2011.
(LW: 24)
22. Washington Redskins (5-8)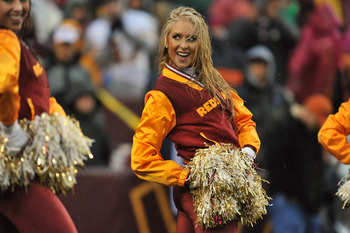 Larry French/Getty Images
It's not easy, but I'm starting to feel bad for the Redskins.
This week, the game literally went through their fingertips. No, they weren't guaranteed a win, but with Tampa on the ropes at home, the game looked like it was going Washington's way,
Finally, the distractions are gone and with another offseason of talent acquisitions, Washington is going to be a serious playoff contender in 2011.
(LW: 23)
21. Cleveland Browns (5-8)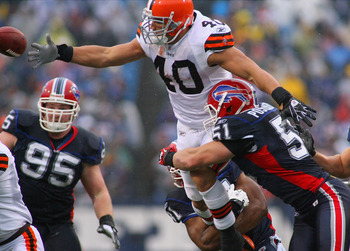 Rick Stewart/Getty Images
After beating New England and New Orleans this season, the Browns were starting to earn serious respect.
On the cusp of a three-game win streak, all they had to do was take down the two-win Bills.
Turnovers from Jake Delhomme and Peyton Hillis handed the game over, exposing a lack of composure for the up-and-comers.
(LW: 15)
20. Buffalo Bills (3-10)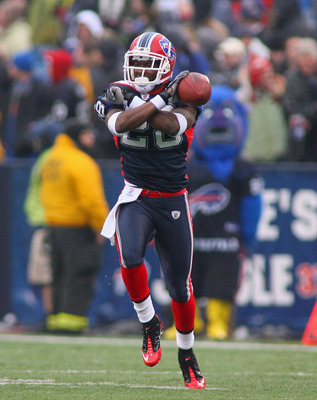 Rick Stewart/Getty Images
The hard-nosed Bills earned their third win of the season, and boy did they earn it.
It's great to see a bottom-tier team not giving up on the season, not playing for a draft pick and pointing fingers.
The AFC East is no joke, and with all of the beatings Buffalo has taken over the past few seasons, they are starting to fight back.
(LW: 25)
19. St. Louis Rams (6-7)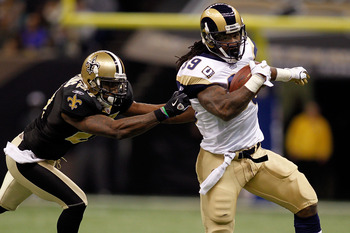 Chris Graythen/Getty Images
The Rams might not make the playoffs through the back door, but they sure are walking through the front door backwards.
Playing through injuries and with youth on both sides of the ball, it's easy to make excuses for the Rams, but come playoffs, you either win or go home.
(LW: 17)
18. Minnesota Vikings (5-8)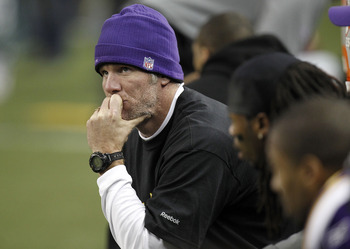 Gregory Shamus/Getty Images
The toughest team to rank of the bunch. Minnesota just lost their coach, their stadium, their QB and several other pieces of the puzzle.
Many will argue Minnesota is way too high, but when matched up with the teams ranked lower, they find a way to win.
(LW: 20)
17. Oakland Raiders (6-7)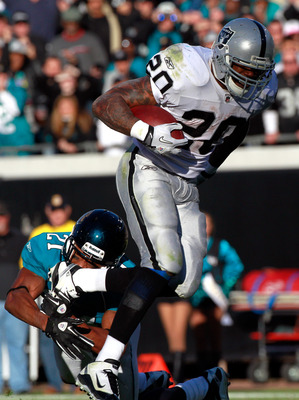 Sam Greenwood/Getty Images
The Raiders were in a great position to upset the Jags this weekend but couldn't finish the way they started.
Nobody is cracking jokes about the Raiders around the league anymore, though; their rushing attack is devastating, and their speed will kill if you let it.
Oakland's out of the playoff hunt, but their interesting recipe could lead to postseason success in 2011.
(LW: 16)
16. Green Bay Packers (8-5)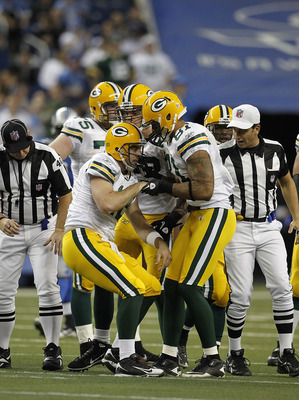 Leon Halip/Getty Images
Without Aaron Rodgers, this ranking might be 10 spots too high. Green Bay can't run the ball, and if Rodgers doesn't return, they will struggle to play at a slowed-down pace.
Their defense is good at stopping the pass and getting to the QB, but they will be tested in each of the next three weeks.
If you look at their losses, it just hasn't been the Packers' season. Injuries and heart-breaking finishes will take a toll on any team.
(LW: 7)
15. Tampa Bay Bucs (8-5)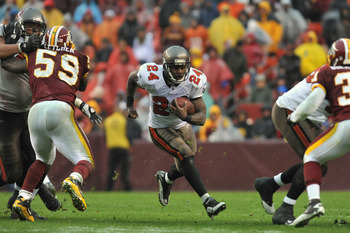 Larry French/Getty Images
Tampa has had a very favorable schedule this year which has put them in position to make the playoffs.
The team is learning on the fly, and doing a good job of it, but they've been schooled by veteran ballclubs this season.
A playoff appearance will do huge things as Tampa tries to re-establish themselves in the NFC South.
(LW: 14)
14. Indianapolis Colts (7-6)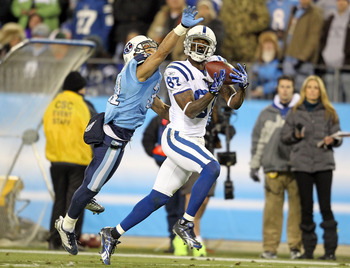 Andy Lyons/Getty Images
Peyton Manning was in control on Thursday night, and the Colts look poised to win out and make noise in the playoffs.
As the Colts continue to win, they will continue to climb up the rankings. If they happen to lose, especially this week against Jacksonville, it will be a free-fall.
(LW: 19)
13. Jacksonville Jaguars (8-5)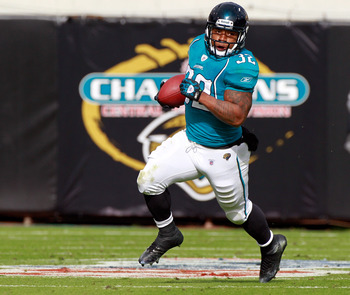 Sam Greenwood/Getty Images
Jacksonville is a team made up of a bad defense and a very underrated offense.
Everyone knows Maurice Jones-Drew, but guys like Rashad Jennings, Mercedes Lewis and David Garrard are playing out of their minds.
The Jags are in first place of the division, but their season is at the tipping point right now. Some feel they will be lucky to win any of their three remaining games.
(LW: 13)
12. Kansas City Chiefs (8-5)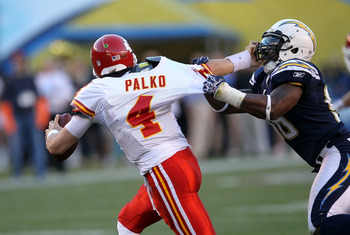 Stephen Dunn/Getty Images
KC isn't as bad as their shutout defeat to San Diego might suggest.
This is a well coached team with some of the NFL's best talent, and they play great at home.
Even though there are three weeks left in the season and they lead the division, nobody is expecting the Chiefs to get it done.
(LW: 11)
11. San Diego Chargers (7-6)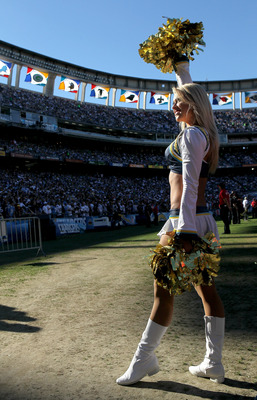 Stephen Dunn/Getty Images
She's not the only one in San Diego cheering.
The Chargers have won five of their last six. They have one of the best attacking defenses in the NFL, and as long as Philip Rivers has options to fill out the lineup any given week, he can get the win.
With SF, Cinci and Denver on the remaining schedule, the Chargers are set up for another winter run.
(LW: 18)
10. New York Jets (9-4)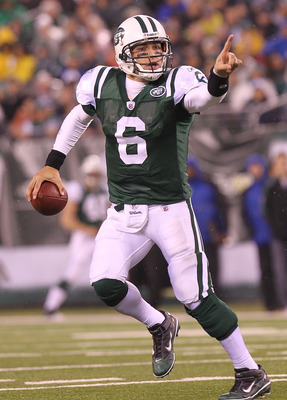 Nick Laham/Getty Images
In the middle of the season, the Jets transitioned from a blue-collar running team to a flashy shootout squad.
Around that time of the transition, Mark Sanchez went from not throwing an interception in his first five games to throwing 12 in his last eight games.
Don't hand the ball over and win the game. Get back to the B-A-S-I-C-S.
(LW: 8)
9. Miami Dolphins (7-6)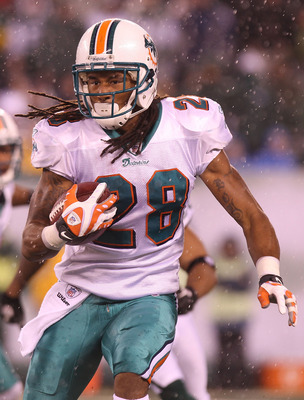 Nick Laham/Getty Images
With every road win, I'm more and more impressed with the Dolphins.
This team stops the run and runs the ball—proving that old-school football still works.
Miami is in a great position to have a 10-win season.
(LW: 12)
8. Chicago Bears (9-4)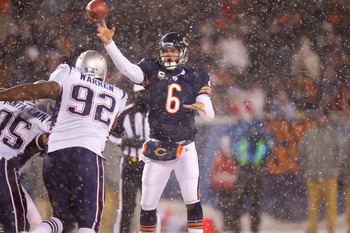 Dilip Vishwanat/Getty Images
Had the Bears lost in a snowy slug-fest, it wouldn't have been so bad, but getting slaughtered at home against the AFC's top team raises the questions the Bears had previously suppressed.
The offensive line continues to struggle, and it's bringing the entire offense down.
With Rodgers' injury, it looks like the Bears can walk into the playoffs, but they won't get far playing like they did last week.
(LW: 6)
7. New York Giants (9-4)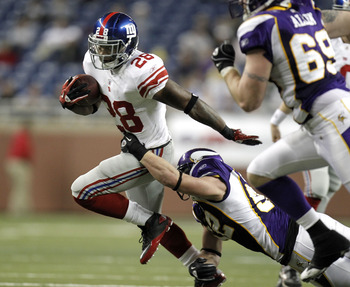 Gregory Shamus/Getty Images
What a complete team.
The Giants have shown us a talented and deep offense this season that can win through the air or on the ground. No defense gets better pressure with a four-man rush, and the upgrades they made this offseason have paid off.
If the Giants beat Philly, they can take control of the NFC East, but a short week doesn't help.
(LW: 10)
6. Philadelphia Eagles (9-4)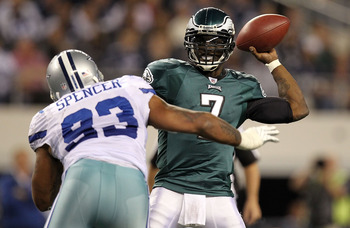 Ronald Martinez/Getty Images
The Eagles have been exposed some over the past few weeks, but their overwhelming speed quickly makes up for mistakes.
The only thing to really stop the Eagles this season has been injuries and mistakes. As long as Michael Vick is the QB and his guys catch the ball, Philly will be in every game.
(LW: 9)
5. Baltimore Ravens (9-4)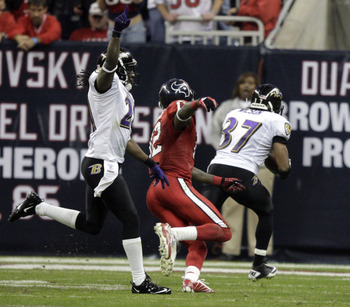 Bob Levey/Getty Images
The Ravens shouldn't have let Houston take them to OT, but it's hard to fault a team for not being able to stop Andre Johnson and Arian Foster when they have nothing to lose.
In the end, the Ravens defense held up, and they hold onto their ranking at the five-spot.
With the Saints coming into town, we will see if Baltimore is the Super Bowl team many thought they were when the season started.
(LW: 5)
4. Pittsburgh Steelers (10-3)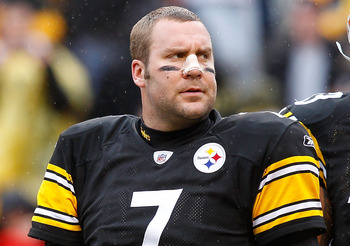 Jared Wickerham/Getty Images
The Steelers flexed their defensive muscle once again this weekend and stuck it to the Bengals.
Their rushing attack remains the team's lone question mark, but Rashard Mendenhall is good enough to keep the team alive.
The Jets are coming to town this week, which should make for an extra-hostile environment.
(LW: 4)
3. New Orleans Saints (10-3)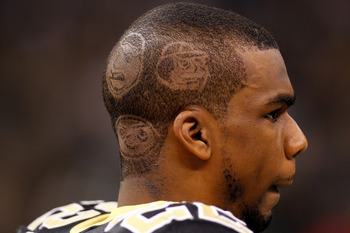 Chris Graythen/Getty Images
The Saints have won six-straight but are entering one of the toughest three-game stretches to close out the season.
Beating Baltimore, Atlanta and Tampa would have the team primed for the playoffs as long as their health holds up.
(LW: 3)
2. Atlanta Falcons (11-2)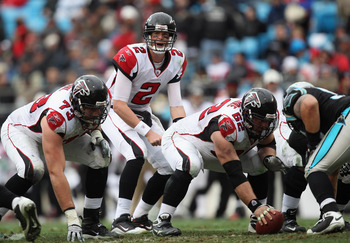 Streeter Lecka/Getty Images
The Falcons didn't do anything to get bumped down—it's more about what the team ahead of them has been doing to move up.
Atlanta had a great game against Carolina and gets to finish the season with two of three games at home.
Expect Atlanta to reduce the usage of Michael Turner if possible so his legs can be fresh come January.
(LW: 1)
1. New England Patriots (11-2)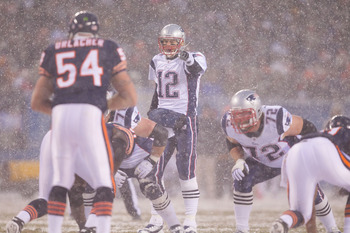 Dilip Vishwanat/Getty Images
New England is playing at an elite level right now. They have already cliched a playoff birth, and if they remain focused, they should be able to finish the season 14-2.
In this article, I've explained in detail why the Pats are the top team in the NFL.
(LW: 2)
Keep Reading