Seattle Seahawks: 8 WRs That Should Be on the Radar for 2011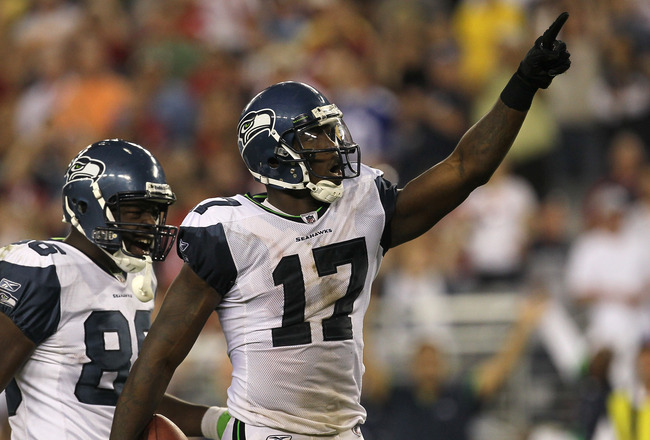 Stephen Dunn/Getty Images
We watched in horror and frustration yesterday as the Seahawks were disemboweled by the hapless and underachieving San Francisco 49ers.
And despite Matt Hasselbeck having a terrible game, he did have an excuse. The barrel had been scraped when it comes to depth at wide receiver.
Rumors were floating that the beloved and cherished Seahawks had signed three burly yet hairless fans on the way to Candlestick, and ironically improved the caliber of receiving corps by 60 percent.
Since we fans are sideways about such things, especially wide receiver injuries to former studs that now can't walk across the street, we've decided it's time the team makes severe changes in personnel. And changes in philosophy, too. No more signing inexpensive aging middle-aged retirees next season.
Hence I've put together my list of potential all-world receivers that the Seahawks could and should pursue.
Let us begin…
Sidney Rice, Minnesota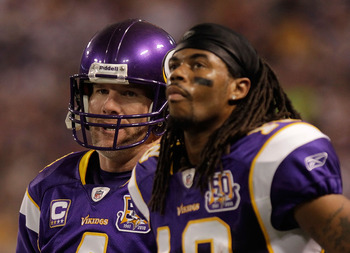 Nick Laham/Getty Images
Is there any team in the NFL that deserves a good slap upside the head from the Seahawks than the Minnesota Vikings?
Most of us would like to think that the Metrodome's roof caving in was actually the football gods punishing Minnesota for the haphazard and disgusting way in which they poisoned-pilled the Seahawks in 2006, to steal Steve Hutchinson.
But rather than praying for freak occurrences again, why not sweep in and sign their number one wide receiver this upcoming offseason?
Sidney Rice was tremendous in 2009 and may be available at a bargain price this year, after suffering a hip injury and then opting to ignore physician advice and try to rehab it on his own all season long—something he probably regrets today, since he hasn't been the same.
But nevertheless, Rice's speed and size make him a prime target for receiver-starved teams like the Seahawks, where he could have an immediate impact. And at a mere 24, he'd represent fresh legs on this team of retirees.
Steve Smith, NY Giants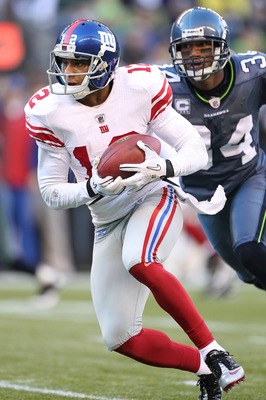 Otto Greule Jr/Getty Images
After spending all summer with threats and counter-demands but nothing getting done, New York's All-Pro wide receiver Steve Smith was lost with a partial tear in his pectoral on November 11th.
He made the team flight to Detroit for tonight's game against the homeless Vikings, but with Hakeem Nicks back in action, too, and Mario Manningham back in his normal third spot, nothing is certain when it comes to the Giants and their ongoing tussle with their star receiver.
In 2010, Smith put up his best numbers as a pro, and, indeed, many argue the best season ever by a New York receiver. Measuring only 5'11", tiny by NFL standards, he had 107 receptions for 1,220 yards and seven touchdowns, shattering Amani Toomer's franchise record of 82 receptions.
And yet as his $550,000 contract is about to expire, things remain mostly quiet in New York.
Could the Seahawks sweep in and make a mess out of what appears to be a non-issue in New York? Maybe, but with Seahawks gambling and losing big on Deon Branch, they likely will be hesitant to try that strategy again.
Vincent Jackson, San Diego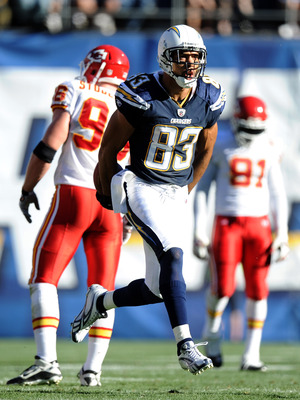 Harry How/Getty Images
After receiving the highest free-agent tender a year ago, Vincent Jackson skipped the Chargers' training camp and in the process got Charger management so cranky they nearly traded him to the Minnesota Vikings in September.
A Pro Bowl wide receiver with two consecutive 1,000-yard seasons, San Diego apparently got cold feet prior to pulling the trigger, and consequently Jackson was dangled to the Patriots and Redskins in October, with general managers elsewhere claiming the Chargers were seeking the moon and then some.
Meanwhile Jackson has spent the entire season on the sidelines, finally making his debut November 28th against the Colts before injuring his calf after a mere two snaps.
And more important, no trade and no contract extension!
Expect a gaggle of teams, including the Seahawks, to be chasing after this speedster come this spring.
Mike Sims-Walker, Jacksonville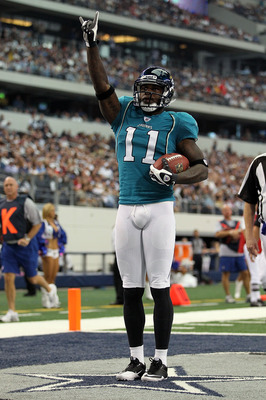 Ronald Martinez/Getty Images
If the price tags for Rice, Smith and Jackson are too high, the Seahawks could always go after a less known quantity like Mike Sims-Walker of Jacksonville, who fell just short of 900 yards as the Jag's top wideout in 2009.
Working on the fourth year of his rookie contract, this year he has 489 yards on 38 receptions, including a 153-yard gem with eight receptions against Dallas in Week 8.
Drafted in the third round out of Central Florida in 2007, this 6'2", 214-pound receiver is mid-range in terms of size, but he appears to be just hitting his peak for career numbers. Or at least he could be on a team with more of a passing attack.
The Jags have opted more towards a running game in recent weeks and Sims-Walker has battled a high ankle sprain the past month after missing the game against Giants last month.
Would he fit for the Seahawks? Perhaps, as the Seahawks may not have the dollars to spend on the most talked-about free agents.
Malcom Floyd, San Diego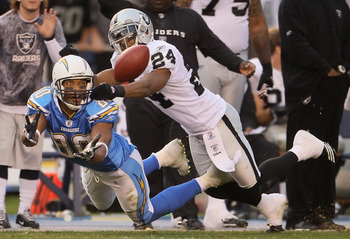 Jeff Gross/Getty Images
Malcom Floyd could be one of the sleepers in free agency and already has the coolest name in the league. The consistent No. 2 option in San Diego though 2009, Floyd had four catches for 51 yards and a pair of highlight-worthy catches for touchdowns last week during the unexpected 31-0 Charger shocker over the Chiefs.
And this in spite of battling a nasty hamstring injury all season while missing several games, yet still filling in nicely during Vincent Jackson's holdout.
Working on a one-year contract after finishing 2009 with 45 receptions and 776 yards, he was an undrafted free agent out of Wyoming that flew under the radar and could be available for a low-ball offer by a team like the Seahawks.
Andrae Thurman, Las Vegas Locomotives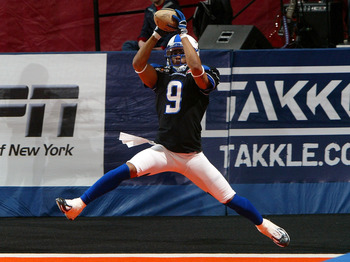 Jim McIsaac/Getty Images
If the Seahawks come up empty in the NFL free-agent market, they could always have a look at "under the radar" players landing in the fledging UFL. Andrae Thurman leads that league in receptions.
A member of the feared and loathed Las Vegas Locomotives, his 5'11" frame is miniscule by NFL standards. Still, at only 30 years old, he seems to be of the Steve Largent mold of unimpressive physique but with the ability to get open and make the catch.
After a prep all-state career in Phoenix, he started his collegiate career as an Arizona Wildcat but ended up finishing at Southern Oregon, where as a senior had 55 receptions for 854 yards and four touchdowns.
He briefly played for the New York Giants, Houston Texans, Green Bay Packers and Tennessee Titans, and then found his way up to the CFL and did time with the Winnipeg Blue Bombers, where he caught 40 passes for 426 yards and one touchdown.
And then in 2007 he ended up on the Arena Football League's Dallas Desperados, where he started 14 of 16 games.
If the Seahawks get desperate, they could always take a chance. Or they could even …..
Andy Fantuz, Saskatchewan Roughriders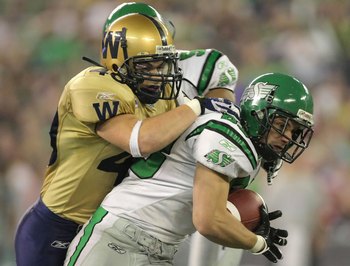 Harry How/Getty Images
...Try their luck raiding the CFL.
Don't laugh. Many great NFL players started their careers in hockeyland, including Warren Moon, who went on to rewrite record books for the beloved Houston Oilers.
Andy Fantuz finished this year leading the CFL with 1,380 yards on 87 receptions and six touchdowns. Born in Chatham, Ontario, this 6'4" slotback weighs 220 pounds and clearly has the chops to do battle in any league.
A member of the CFL for five years, he has career professional totals of 276 receptions for 4,136 yards and 23 touchdowns.
Or if not him, the Seahawks could go after six-year CFL veteran Terrence Edwards out of Georgia of the Winnipeg Blue Bombers, who had 1,372 yards on 78 receptions this past year. Or even Grey Cup MVP Jamel Richardson of the Montreal Alouettes, a 6'3", 207-pound slotback with 1,271 yards on 97 catches.
AJ Green, Georgia, or Any Other Top 5 Collegiate Pick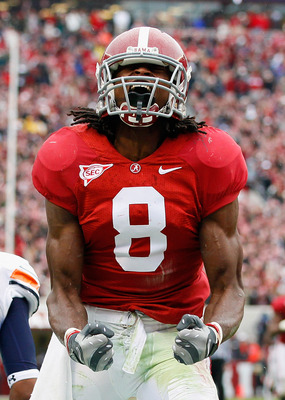 Kevin C. Cox/Getty Images
If all else fails, the Seahawks could, you know, draft a receiver with talent.
Most pundits list junior AJ Green of Georgia as the top stud. Some go so far as to call him the second coming of Randy Moss, which means soon he could be released by the Vikings.
The draft this year is supposed to be deep, with the top five wide receivers all projected to be "major playmakers in the NFL," including Julio Jones of Alabama, Michael Floyd of Notre Dame, Terrance Toliver of LSU, or Jonathan Baldwin of Pittsburgh.
Will any of the above become All-Pro receivers within three years? Nobody knows. But we do know that the Seahawks are in dire need of wideout help, and that most everybody who could catch were injured a good part of the last three seasons. A trait not uncommon in the NFL on other teams, too.
Former USC great Michael Williams, who nobody wanted the last two seasons, turned out to be the team leader of the Seahawks. Which may say more about the Seahawks than it does Michael Williams!
But expect the Seabirds to be big players in college draft as they seek a new, young macho receiver in the 2011 version of the NFL player draft.
Pete Carroll has a history of coaching terrific passing teams, but the Seahawks this past year hardly fit that mold! That could change in the years to come.
Keep Reading

Seattle Seahawks: Like this team?