Brett Favre's Games Started Streak Ends: 10 Most Memorable Games of The Streak
Stephen Dunn/Getty Images
After 6,651, miraculous, insane, victorious, controversial, interception-clad, annoying, retirement-talk-filled, betraying, cell-phone misuse days, Brett Favre's games started streak drew to an anti-climactic close tonight.
The ol' gunslinger trudged through 297 straight starts, yet after such a celebrated run, it all drew to a close with his name on a simple piece of paper titled "inactives."
Although Favre has become the punching bag for much of America's jokes, it still stings even the most perennial haters to see him finally take a seat on the bench in the midst of such a disastrous season. (Disclaimer: I am one of those haters.)
Yes, Favre has been blessed as a media darling and given a free pass through many mishaps, but the guy is incredibly special and unique, and everybody should be thankful for witnessing the likes of a player who might not even come around again.
10. Favre Goes the Distance Against Da Bears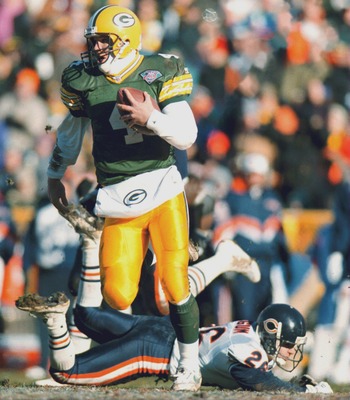 Todd Rosenberg/Getty Images
A 1995 Monday Night match up pinned Favre and the Packers up against the Chicago Bears. In what would become a regular (and in retrospect, miraculous) pattern over his career, Favre managed to shine under the prime time spotlight in a big way.
He connected with Robert Brooks for a 99-yard touchdown pass, tying an NFL record, and adding to the legend that Favre has truly accomplished everything.
9. He Did What?!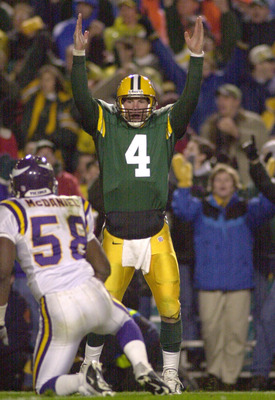 Matthew Stockman/Getty Images
It is only fitting that the greatest play in Monday Night Football involves arguably the greatest player in Monday Night Football history.
Although this is actually a pretty typical errant, poorly-timed, poor-decision throw by Favre, things always seem to fall into place for the gunslinger.
8. Favre Pilots The Jets With Record Six Touchdown Passes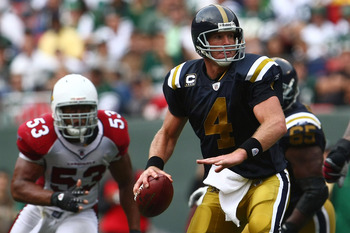 Chris McGrath/Getty Images
Favre's days a Jet have been quickly swept under the rug by his joining the Vikings and the soap opera that has ensued; however, he did enjoy some historic weeks in the Big Apple prior to his late-season collapse.
In a Week 4 match up against the eventual NFC Champion Arizona Cardinals, Favre tossed a personal record six touchdown passes.
7. Favre Conjures Overtime Magic During Green Bay Farewell Tour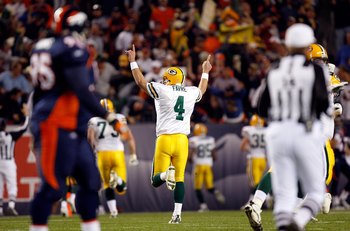 Allen Kee/Getty Images
And we thought he was super-old in 2007 when he led the Packers to the NFC Championship. Favre's career stamina is unheralded.
While most men are in physical decline at age 38, Brett Favre was still winging 50-yard strikes to players who were barely in their infancy during his NFL debut.
6. Favre-Mania Begins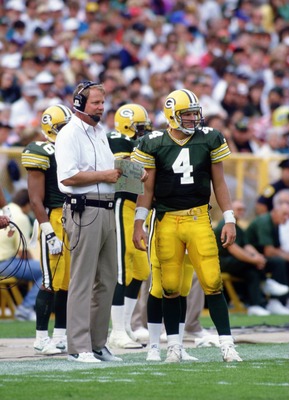 Jonathan Daniel/Getty Images
Subbing in for an injured Don Majkowski, Favre led the Pack on a 92-yard scoring drive, culminating in a 35-yard, "rocket-ball" touchdown to Kitrick Taylor in the fading seconds of Green Bay's Week 2 match up against the Bengals. And so the legend began.
5. The Miraculous Reception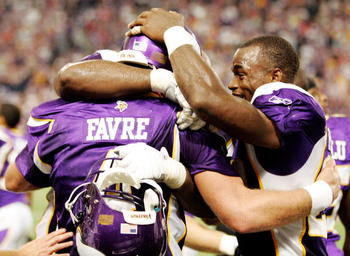 Favre's first two games as a Viking resulted in victories, but that awkward feeling of Green Bay's golden boy clad in purple and gold still lingered. But then, in regular Favre fashion, he did something unbelievable.
It's plays like these that make you wonder if somewhere along the line, Favre made a deal with the Devil. It would explain his football immortality...just saying.
4. Favre Hooks Up With Sterling Sharpe For Hail Mary Playoff Win
Jonathan Daniel/Getty Images
Because of the extended soap opera that has unfolded throughout the latter stages of his career, most of Favre's early years in the NFL have fallen forgotten.
In a 1993 NFC Wild Card game against the Lions (Yes, the Lions were actually competitive once), Favre chucked up a 40-yard, across-the-body prayer to Sterling Sharpe who promptly responded with a touchdown.
The score left the Lions with only one minute to score, and in classic Detroit fashion, they failed to find the end zone, and the Packers advanced.
(Side note: Look at the hair on Packers kicker Chris Jacke. Long live the mullet!)
#3 Favre Surpasses Marino For Most Touchdown Passes All-Time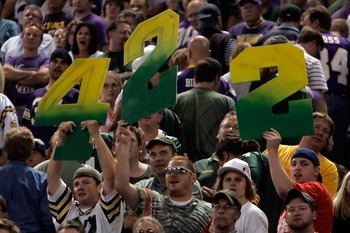 Jeff Gross/Getty Images
He might not be the best quarterback of all time (Okay, he's definitely not), but there's no debating Favre's statistical prowess.
You can call it a product of his extremely long tenure in the league, but no quarterback throws 422 touchdown passes if he isn't something special.
2. Favre Annhilates Raiders In Wake of His Father's Death on Monday Night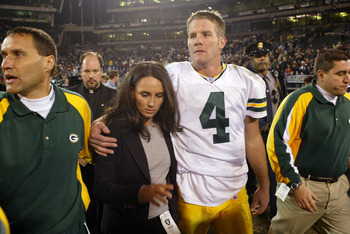 Jed Jacobsohn/Getty Images
Just one day after losing his father to a sudden and fatal heart attack, Favre dismantled the Oakland Raiders for arguably the best statistical performance of his career in an emotional Monday Night (Favre is the only person in the world who likes Mondays) game.
Favre tossed four touchdowns and 399 yards in Oakland, wearing his emotions on his sleeve for most of the night.
1. Super Bowl XXXI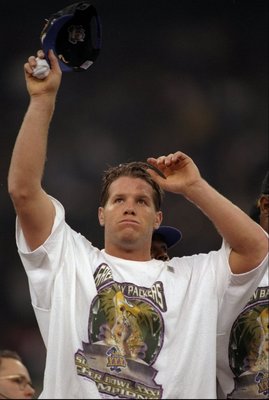 Al Bello/Getty Images
Despite a career of greatness under football's brightest lights, Favre's performance in Super Bowl XXXI can only be described as standard for a player of so many statistical accolades.
Don't be mistaken, however, Favre threw for 246 yards and 2 touchdowns (and no interceptions, believe it or not) en route to his first and only Super Bowl victory.
Everybody including Favre had to assume this was only the first of many rings to come for the gunslinger, but surprisingly, Super Bowl XXXI stands alone.
Perhaps if Favre had captured a second ring, he would have surrendered his desire to play years ago, but either way, one is better than none (I'm looking at you, Dan Marino).
Keep Reading

Minnesota Vikings: Like this team?