NFL Rankings: Taking a Look at the MVP Candidates After Week 14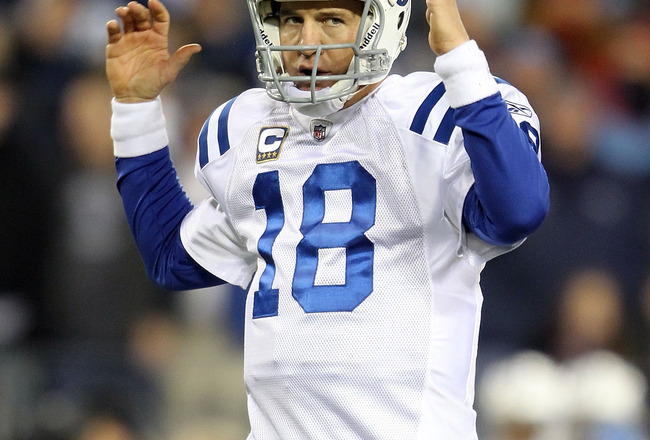 Andy Lyons/Getty Images
Week 14 in the NFL now comes to a close, with a blanket of snow and a handful of meaningful victories and losses to cover up an eventful weekend of action.
The Bills over the Browns? The Lions over the Packers? Who would've thought.
As astonishing as it may all sound though, Week 14 has painted a picture clearer than a fine day in San Diego. The Patriots look to be Super Bowl favorites, the Jets continue to struggle, and the Tampa Bay Buccaneers aren't dead and buried just yet in the NFC South.
Speaking of dead and buried, the NFL's MVP race has been blown wide open again.
Who earned themselves some morale points after a big-time performance this weekend?
There are numerous candidates to flick through, so here's a look at who is in and who is potentially out of the hunt with three important weeks remaining in the regular season.
Follow Ryan Cook on Twitter.
Ryan Cook is an Australian Featured Columnist for Bleacher Report. He is also an NFL columnist for Real Sports Net and a Green Bay Packers writer for Fan Huddle and PackerChatters, plus a contributing writer for Detroit Lions Talk, Gack Sports and Generation Y Sports.
Aaron Rodgers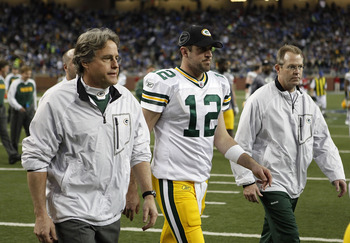 Leon Halip/Getty Images
Missing in action hasn't been an option for Aaron Rodgers so far in his young career. On Sunday against the Detroit Lions though, the Packers main man sustained a concussion in the late stages of the second half that sidelined No. 12 for the remainder of the game.
If there is any player in the league that took a bigger nosedive when it comes to MVP talk this week, they'd have to try awfully hard to outdo Aaron Rodgers.
With 3,289 yards, 23 touchdowns and just 10 interceptions on the season, Rodgers has been the ultimate backbone for a sometimes-tumultuous Mike McCarthy coaching system that has come under fire in recent weeks for poor play-calling.
Doing one better though this season, Rodgers has been the true standout on the Packers offense. With no Ryan Grant and Jermichael Finley to fall back on, the Packers star quarterback has stepped up to the plate this season when the chips have been down, and hasn't allowed for his team to fall under the immense pressure that is the injury bug.
How does Rodgers look after Week 14?
Unfortunately, a concussion hasn't helped his chances. Some may say that Rodgers was always a sleeper pick for the MVP award, but seeing as though Rodgers only accumulated 46 yards and one interception against Detroit, it truly has become an uphill battle.
Three weeks to go and three weeks to shine. Until then, we still have to wait and see if Rodgers suits up against New England next weekend.
Arian Foster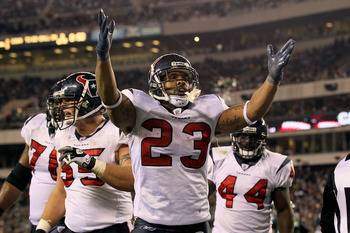 Jim McIsaac/Getty Images
For a second-year runner, Arian Foster has had a year to remember. As if sitting above the likes of Chris Johnson and Michael Turner statistically isn't enough, Foster's 1,230 yards and 13 touchdowns this season continue to delight Gary Kubiak for the time being.
Like many of this year's minor MVP candidates, though, the Texans' struggling 5-7 record is Foster's worst enemy. It is unfortunate for Foster to miss out on some early-career glory, but as long as Houston continues to struggle in the AFC South, Foster may not be winning the MVP award anytime soon.
Week 14 brings with it the Baltimore Ravens for Houston on Monday night, a game that does bring with it some serious AFC bragging rights should the Texans pull off the upset victory.
Arian Foster's performance remains to be seen, but considering the Texans are ranked seventh overall in rush yards, it would be silly to bet against him.
Ben Roethlisberger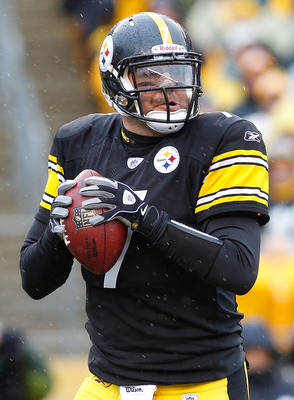 Jared Wickerham/Getty Images
Ben Roethlisberger is no stranger to MVP talk. What Big Ben is unfamiliar with though is the award itself, having never taken home the honors in his seven-year career as a Pittsburgh Steeler.
It may seem unfathomable to think that Roethlisberger (a two-time Super Bowl champion) has never been awarded the MVP, but believe it or not, Big Ben has always been that one step behind the Tom Bradys and Peyton Mannings in the league.
What does that say for 2010?
While we can't count out Roethlisberger just yet, he still seems that one peg behind his major AFC rivals following an early-season layoff due to a league suspension.
As for Week 14, Roethlisberger was one of many players to do himself a favor or two. Throwing for zero touchdowns may seem fairly abnormal for a quarterback of Big Ben's skill level, but his 258 yards more than made up for Roethlisberger's lack of points against the Cincinnati Bengals.
Three weeks remain for Big Ben to take advantage of the Carolina Panthers and Cleveland Browns. Maintaining a division lead in the AFC North is clearly priority for Mike Tomlin, but if Roethlisbeger can get hot like he normally does in the dying stages of the year, don't close the door on his chances just yet.
Drew Brees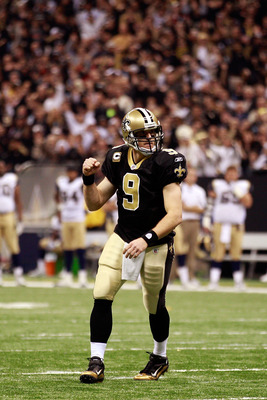 Chris Graythen/Getty Images
A rather up-and-down season for Drew Brees now sees some positive light shine out toward the end of the year, as the reigning Super Bowl champion continues to push the Saints toward a consecutive playoff berth behind the Atlanta Falcons.
In Drew Brees' case, statistics aren't overly important. Sure, passing yards and touchdowns add up at the end of the day, but Brees' team chemistry has meant the difference between winning and losing during a shaky season.
For those fans that are looking at Brees' stats and comparing them to Tom Brady and Michael Vick, Brees' 3,855 yards and 28 touchdowns certainly live up to the hype. This season has been another memorable year, and for Brees, an MVP trophy on the back of winning the Super Bowl would certainly make his efforts worthwhile.
On Sunday against St. Louis, Brees' efforts were once again on display as he threw for 221 yards and three touchdowns in the Saints' demeaning 31-13 victory at home in the Super Dome.
If there is one small nitpick of Brees' game, though, it would have to be his interception count. Against St. Louis, Brees gave the ball away twice, leaving him with 18 overall picks on the year. This turnover ratio could cost Brees, but his overall play is more than just MVP-worthy.
Joe Flacco
Jonathan Daniel/Getty Images
Sitting behind the Pittsburgh Steelers in the AFC North division, not many people expected Joe Flacco to still be in the MVP talk this deep into the regular season.
Here we are, though, 14 weeks in, and Flacco has managed to remain impressive and precise in the passing game, although many people continue to overlook him when it comes to discussing this year's potential candidates.
Like Arian Foster, Joe Flacco steps onto the Monday Night Football stage this week to deliver what the Ravens hope will be a big-time performance. While we wait and see what No. 5 can produce against the Texans' 31st-ranked defense, however, Flacco's year is worthy of a mention right now.
Nineteen touchdowns and 2,988 yards have been the ultimate highlight of Flacco's 2010 campaign. Criticism swirled entering into the season, as many analysts felt that the Ravens' starting quarterback could benefit from a few big-name receivers, and a little more motivation under center.
Boy, were they right.
Anquan Boldin and Derrick Mason have combined for 1,368 yards on the year, and even though Baltimore has slumped to 8-4 this year, Monday night provides a huge opportunity to still strive for a Wild Card berth.
Flacco is no front-runner, and chances are he is a long shot to win the award. If his 2010 play spills over into 2011, maybe then Flacco can take home the honors.
Josh Freeman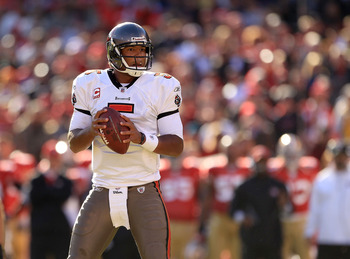 Ezra Shaw/Getty Images
Meet Josh Freeman, one of the many quarterbacks who perhaps felt he had no right being in the MVP discussion in only his second year under center. Still, Freeman's consecutive breakout year in 2010 lands him in a cozy spot in this year's debate, as the Tampa Bay Buccaneers look toward a bright future behind No. 5.
If Maurice Jones-Drew's nomination was crazy, it could be said that Josh Freeman's is just as ludicrous. Could a second-year player really outdo Tom Brady this season to take home the trophy? Surely not.
Don't check into the mental hospital just yet, though.
As long as we are all remaining optimistic for Josh Freeman, this year has been by far one of the best seasons in the Buccaneers' long history Finally Raheem Morris has found himself a quarterback to rely on, and finally Tampa Bay is winning games in convincing fashion, rather than slumping to below .500.
So who is to thank for this sudden turnaround?
Josh Freeman and his stylish passing ways that have turned a previously 3-13 team around into an 8-5 Wild Card contender in the dwindling weeks of 2010.
With all this in mind, Week 14 can't be overlooked from the Bucs' standpoint. Narrowly escaping defeat against the Washington Redskins mightn't look pretty on paper, but Freeman's 266 yards and one touchdown got the job done.
This type of performance is a mirror image of Freeman's season, and the term "simple" is the best choice of words to describe the Bucs frontman. 2010 may not be his year for the MVP award, but 2011 is a distinct possibility.
Matt Ryan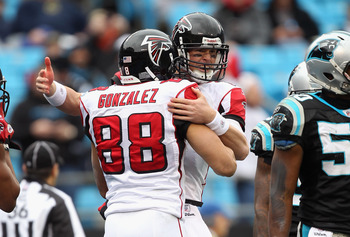 Streeter Lecka/Getty Images
The fact of the matter for the Atlanta Falcons at this point in time is that they are headed to the playoffs with an 11-2 record and have a couple of easy games to look forward to in the next three weeks of the regular season.
What isn't a fact for Mike Smith's team however, is the obvious point that quarterback Matt Ryan is having an MVP-like season, even though you wouldn't know it thanks to Tom Brady and Michael Vick.
The reason for Matt Ryan's quiet achievements are simple—he doesn't showboat. Don't let the picture to the left mislead you, Matt Ryan is one of the NFL's most silent achievers since his 2008 rookie season, and just like the entire Falcons team, it appears that Ryan is more comfortable sliding under the radar than being in the limelight all season long.
Finally, the time has come to expose Matt Ryan for who he really is.
Destroying the Carolina Panthers on the weekend 31-10 may seem like a big time achievement for Atlanta, but this just scratches the surface. The bigger picture for Matt Ryan is the fact that he's managed to remain entirely clutch against big-time teams this season, some of which include the Baltimore Ravens, Green Bay Packers and Tampa Bay Buccaneers.
3,147 yards, 22 touchdowns later and what do you have? A serious MVP candidate.
Week 14 was a mere milestone for Matt Ryan's breakout season, and just like his rookie year, Ryan stands to surprise a few people when the MVP award comes knocking in two months time.
Pending Ryan's final three weeks and playoff campaign, the Atlanta Falcons are one of few contenders who can place all their eggs in one basket, as their quarterback is a sleeper pick, yet a serious threat after another big-time performance on Sunday.
Maurice Jones-Drew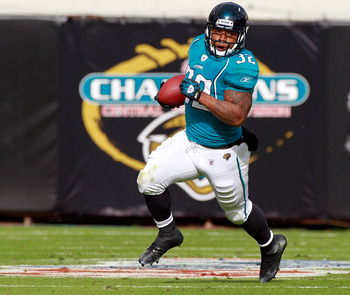 Sam Greenwood/Getty Images
Saying that Maurice Jones-Drew is a sleeper pick in the MVP race would be an understatement, because the Jacksonville Jaguars star running back has been one of the most intriguing and interesting picks all season long.
It would be nearly insane to award the MVP honors to Maurice Jones-Drew, but his performance on Sunday against the Oakland Raiders has boosted him into the conversation.
Not that Maurice Jones-Drew's season needed a shot in the arm, but the past two or three months have by far been his brightest. After Sunday's last-minute touchdown to defeat the Raiders 38-31, Drew managed to run for 101 yards on the day and more importantly award the Jaguars a crucial win.
So now that Maurice Jones-Drew sits atop the league in rush yards, the MVP talk begins to swirl up. The Jaguars themselves may feel that quarterback David Garrard is worthy of a mention in this whole debate, but the fact that Jones-Drew is one of the few running backs in the conversation this year reflects what a tremendous year he is truly having.
Week 15 sees the Jaguars head to Indianapolis in a game that could mean the difference between first and second in the AFC South. Maurice Jones-Drew has struggled against some big-league defenses this year, but one gets the feeling if the Jaguars are to keep their one-game lead, Maurice Jones-Drew will have to play a factor.
It's a little hard to say that Jones-Drew will take home the award, but it's a very positive thought for a team that is kicking hard into the playoffs.
Michael Vick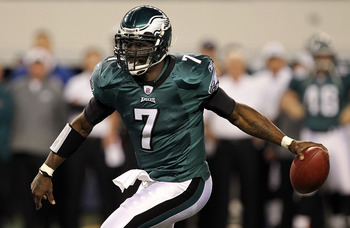 Ronald Martinez/Getty Images
The people's favorite withstood a few hiccups on Sunday night, when the Dallas Cowboys tested Andy Reid's coaching skills in a rather rough and ragged affair in Texas.
Following the Eagles' victory over the Houston Texans two weeks ago, Andy Reid announced a leaguewide statement saying that officials were overlooking the fact that Michael Vick is indeed a quarterback, and officials were instead treating him like a running back due to his prolific footwork ability when moving out of the pocket.
None of Reid's words changed anything on Sunday night, mind you.
No, instead of keeping a close watch on the "hit and miss" collisions on Michael Vick, NFL officials instead chose to call penalties on the not-so-rough tackles, instead of the blatantly obvious violent encounters.
As a result, Michael Vick threw for two interceptions and fell for two big-time sacks in the Eagles' 30-27 win, and still stands as one of the main MVP candidates right next to Tom Brady 14 weeks into the season.
It appears no matter what Michael Vick does, the fans are sold. Is this enough to gain him the silverware? Possibly—it sure does help.
Throw in the fact that Vick did throw for 270 yards and two touchdowns, and you have yourselves another week of MVP-style play from Michael Vick.
Peyton Manning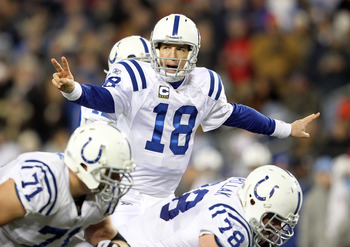 Andy Lyons/Getty Images
Often nicknamed "The Peyton Manning Award," the MVP trophy isn't being clasped by the Colts audible-savvy quarterback quite so quickly this season.
With bumps and obvious kinks to iron out, the Colts' 2010 season has entered unknown territory for the first time in the past six years. The team has had turbulent games against some of the league's weaker opponents and Peyton Manning has thrown for an uncanny amount of interceptions this season—one of the main factors playing against him from MVP consideration.
I'll be damned, though—Peyton Manning continues to hang in there.
Following the Colts' Thursday night win over the Tennessee Titans this week, Indianapolis continues to keep pace with their rejuvenated AFC South rivals, the Jacksonville Jaguars, as a crucial game pops up between the two heading into Week 15.
Thinking back two weeks ago, the Colts sudden spark was never expected. Perhaps this is the trademark sign of a veteran quarterback, as Manning has managed to keep his chin up and motivate his team even when his own performance was slumping immensely.
Barring any kind of offensive collapse in the remaining three weeks, Peyton Manning's 319 yards and two touchdowns on Thursday see him hanging on by the skin of his teeth in this year's conversation.
It remains to be seen, though, if Manning's lack of wide receiver depth comes back to haunt him yet again, considering the offensive genius has thrown for 15 interceptions this season.
Give Manning the benefit of the doubt; you can never count him out until it's all said and done.
Philip Rivers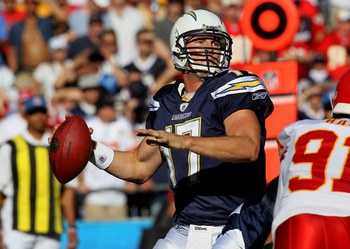 Stephen Dunn/Getty Images
When it comes to personal opinion, many people are both "Yay" and "Nay" in regards to Philip Rivers possibly walking away with the MVP award in several weeks' time.
To kick it off with the positive, Philip Rivers has performed brilliantly with the very little players he has seen on the field this season: 3,868 yards and 26 touchdowns earn Rivers the second-best quarterback award in the NFL so far this year, trailing none other than his biggest rival, Peyton Manning.
In Week 14, Philip Rivers also continued to make the Chargers playoff chances known to man. Shutting out the Kansas City Chiefs 31-0 at home, Rivers threw for 226 yards and two touchdowns in San Diego's big-time victory.
Now, it's time for the negative.
The simple fact of the matter here is that Philip Rivers' team has been below .500 for the majority of this season. Starting off slow and sluggish has cost Rivers the MVP award numerous times in the past, and once again it looks destined to act as a thorn in the side of Rivers' most valuable player case.
Other than that, there is no negative to focus on.
Say what you will about Rivers, he's done what has been asked of him this season. No slumps, very few mistakes, and at the end of the day a last-minute playoff push that could be applauded by some of the best quarterbacks themselves.
It's a matter of personal opinion in Rivers' case, but the next three weeks should really determine whether Rivers is in or out.
Roddy White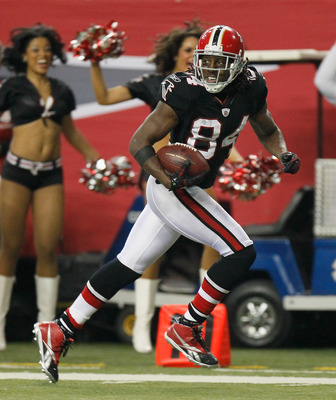 Kevin C. Cox/Getty Images
It seems almost abnormal to see only one wide receiver crack this year's MVP possibility list, but if one man is good enough, it's Roddy White.
From early November, Roddy White always looked to be a mild favorite in the MVP running, as his now 1,219 yards and seven touchdowns have complemented Matt Ryan nicely in the passing game all season long down in Atlanta.
Better than Roddy White's statistics however, is the self improvement that continues to shine from No. 84. Last season saw White only catch for 1,153 yards, and seeing as the Falcons go-to target continues to up the pace each and every year, the MVP discussion has finally come calling for a well deserving candidate.
Unfortunately for all the love and praise surrounding White's year, we can't jump the gun just yet. Outdoing the favorites is a tough task for any player this season, let alone a wide receiver who has had a quiet year despite his big-time efforts.
Realistically, White won't take home the award anytime soon, but his Week 14 display of 79 yards against the Carolina Panthers states what a dominating season he's truly had.
Tom Brady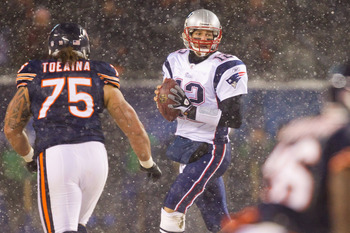 Dilip Vishwanat/Getty Images
Mr.Favorite Tom Brady has been the epitome of excellence this regular season, utilizing every one of his options and most importantly not missing Randy Moss one bit in the passing game.
In hindsight, if Michael Vick wasn't to walk away with it, Tom Brady would be your best bet. Absolutely demolishing the Chicago Bears in Week 14, Brady accumulated 369 yards and two touchdowns against Lovie Smith's ninth-ranked defense—a stat that speaks for itself.
But if you can draw yourself away from Brady's rainbow passes game in and game out, the pure fact that Bill Belichick's golden-haired boy has managed without Randy Moss all year long is the most impressive part of this whole MVP scenario.
What else makes up Brady's MVP nomination?
One, the Patriots are the best team in the league. And two, Tom Brady has demolished four of the league's top-tier teams in the past five weeks of the season.
Green Bay now takes a trip to New England next week, in a game that is already set to feature some cold weather and potential snow. Fortunately, this didn't stop Tom Brady in Chicago, and nor should it when the Packers come to play.
Troy Polamalu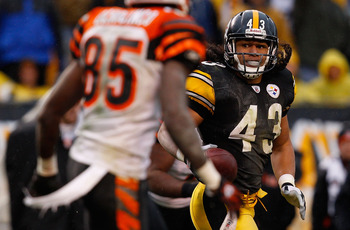 Jared Wickerham/Getty Images
For the record, just about everybody chooses to look at Troy Polamalu as the Defensive Player of the Year, rather than an MVP-style player.
Why is that?
Purely due to the fact that the NFL has become quarterback-happy when awarding the MVP, rather than focusing on defensive players that display just as much talent week in and week out for their respective teams.
Troy Polamalu, on the other hand, demands your attention.
In 2009, the Steelers strong safety had a rather soft year following an early injury that saw Polamalu only play in a total of five games. During those five affairs though, Polamalu racked up three interceptions that set the tone for No. 43's 2010 comeback year.
With six interceptions and 48 tackles, that tone is now spelling a serious MVP nomination with three weeks to go in the season.
Does Polamalu stand a chance against the favorites?
Funnily enough, Polamalu does. As if the Steelers' current position in the AFC North doesn't benefit Polamalu enough, just about everybody recognizes his defensive efforts that were yet again on display this past weekend against the Cincinnati Bengals.
After two interceptions against Carson Palmer and a friendly handshake with Chad Ochocinco, Troy Polamalu now springs into the discussion well and truly with the New York Jets awaiting.
It would be a shock, it would be a surprise, but it wouldn't be the first time Troy Polamalu has walked away with a meaningful award for his efforts in his eight-year-long career.
Keep Reading