Cam Newton and 10 College Studs Who Are Far From Locks To Be NFL Stars
Jeff Zelevansky/Getty Images
Cam Newton has just won the heralded Heisman award. He treated us to a plethora of amazing highlights this season.
But largely, he has not done a thing yet; at least when you consider the grand scheme of things.
That is the question looming for every college phenom. They could be the next Peyton Manning or Ryan Leaf.
So as we exit the college season and head to the months of NFL mock drafts, let's look at 10 guys that are far from being NFL superstar locks.
Here are the guys with the most talent that could very well go underused if they do not make it in the big leagues.
10. A.J. Green: Georgia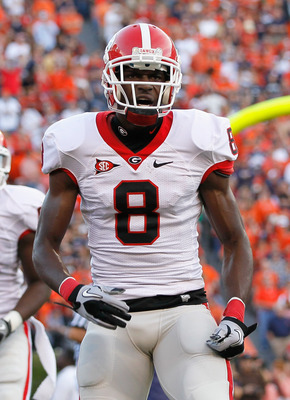 Kevin C. Cox/Getty Images
A.J. Green may be the best wide-out in the 2011 draft. It remains to be seen what his four game suspension for dealing with an agent will do to his draft status.
It should be a long forgotten memory come draft time but you never know. Green has immense skills but the draft is a precise science that general mangers are trying to master. They will take into account any form of information.
Not to mention he is a wide receiver with a history. It seems like these diva like receivers are ubiquitous. NFL teams will have to realize they are drafting Green and his ego.
9. Prince Amukamara: Nebraska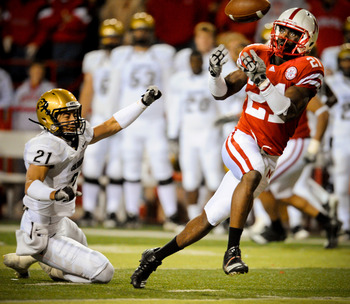 Eric Francis/Getty Images
This is shaping up to be a very defense laden first round draft in 2011.
That being said, Prince Amukamara will have to prove well before draft day that he is worthy of a team's first pick. The Nebraska corner back has a lot of competition for the higher slots.
If he does go early, he runs the risk of getting used much earlier than he needs to. A team without solid defenders will snag Amukamara for their next season's starters. It is quite a jump from commanding the Nebraska squad to being the best defender on a horrible NFL team.
8. Terrelle Pryor: Ohio State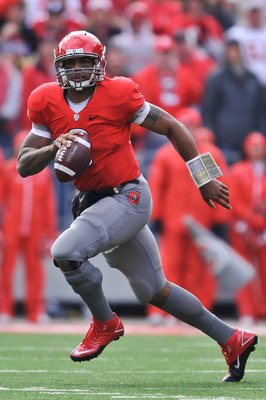 Jamie Sabau/Getty Images
Terrelle Pryor was the stud in 2009. He could do no wrong. Then he was greatly overshadowed by other players this season.
The Ohio State junior was beset with issues like his consistency and interception rate. He is by far the best example of a player that can be hot one minute and then fall out of favor with NFL critics the next.
7. Jake Locker: Washington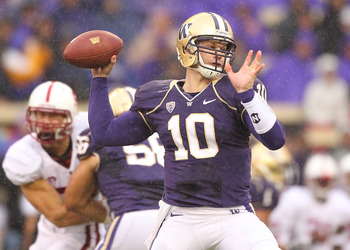 Otto Greule Jr/Getty Images
If I am a NFL general manger, I feel good about taking on Jake Locker. He is an extremely intelligent quarterback that has taken the very mediocre Washington Huskies to a winning record. He seems to make his players better—that is one very rare quality in football.
But as we see in the NFL, it is a complete crap shoot if you get slotted into the right situation at the right time.
Locker may be thrust into a starting role in his first year which could destroy the kid. Jimmy Clausen is one person that was used earlier than he should have. Then again he may be a Sam Bradford type that is calm under the NFL pressure. Only time will tell.
6. Patrick Peterson: LSU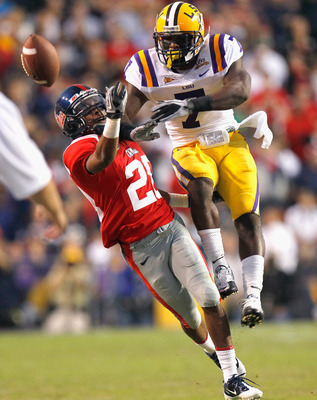 Kevin C. Cox/Getty Images
What isn't to like about Patrick Peterson? He is a quick footed, sure handed corner back from a big time program. But that is not the point of this article. These are studs in college that have yet to prove their worth in the NFL.
Peterson could very well be the best defender in the nation. Quarterbacks tend to find him better than their own receivers.
But the NFL game is faster and much more punishing. It is very difficult to go straight to the NFL and perform, especially to a team already soft on defense. That is exactly the type of team he would be headed to.
5. Kellen Moore: Boise State Broncos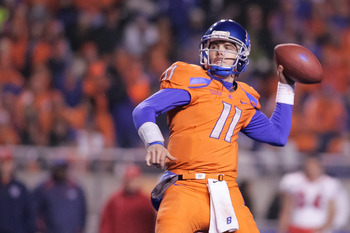 Otto Kitsinger III/Getty Images
Kellen Moore has had to deal with a lot lately. His Broncos were ousted from a BCS bowl and then he came up fourth in Heisman voting. But it remains to be seen what kind of pro the junior would make.
As we have seen, the best quarterbacks are many times nurtured in a backup role before taking front and center on their team.
While Moore can light it up against much lesser opponents, how would he fare on the big stage against stiffer defenses?
4. LaMichael James: Oregon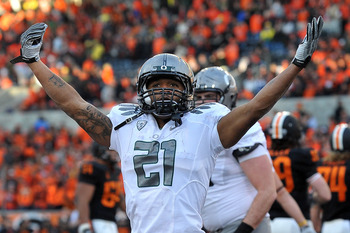 Steve Dykes/Getty Images
LaMichael James has been killing it this year for Oregon. He is by far the best running back in the nation.
That does not mean that will translate to NFL success.
Look at the fine mess in Detroit. College running back stud Jahvid Best has been stunted since his early season breakout. It is a different game in the NFL. In college you can be the best on the field and dominate.
But in the NFL, it means defenses will key in on you. You better hope there is more help on the team that takes you.
We also have to take into account his off the field troubles. Back in February, James was arrested for domestic abuse charges. He apparently assaulted his girlfriend.
That sort of thing will be tough for him to live down. Former Oregon back LeGarratte Blount is just barely making his way in the NFL. He had a similar incident wherein he punched Byron Hout.
3. Da'Quan Bowers: Clemson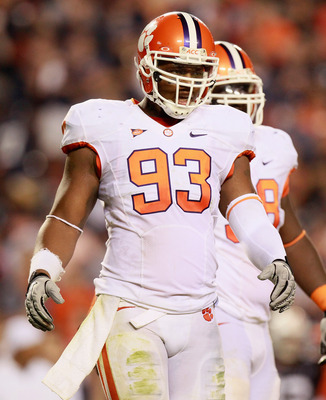 Kevin C. Cox/Getty Images
Da'Quan Bowers is a beast. He very well could be the number one pick in next year's draft. But the fact that you get the number one pick does not automatically translate to success. We have seen time and again that the highly touted rarely live up to expectation.
The one thing going for Bowers is the defensive ends that do well in the combine usually end up doing well in the NFL. Bowers speed and strength should make him a star.
2. Andrew Luck: Stanford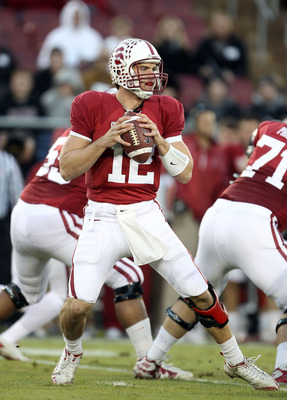 Ezra Shaw/Getty Images
Andrew Luck is arguably the second best player in the nation. You can bet that he will go high in next season's draft.
But there are many more variables to being an NFL star than just getting picked. Luck may have the attributes to lead but so did others before him.
Matt Leinart won a national title then flamed out in the NFL. It takes talent and the right situation to flourish.
1. Cam Newton: Auburn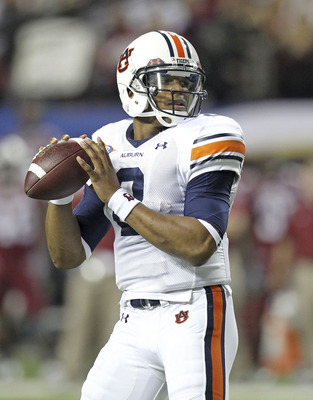 Mike Zarrilli/Getty Images
This has to be the biggest question mark because he has the most to lose. When you are voted as the best player in the land, there is only one way to go and that is down. Cam Newton may very well deliver his school a national title, but then what? Tim Tebow accomplished the same feat.
The fact that Newton has a gun for an arm should help him sway any misgivings that the NFL should have about him. But this stud has a lot more work ahead of him to duplicate the stats he has accumulated in college.
But before I go, I wanted to remind you all that the last SEC quarterback to be as highly touted as Cam Newton was Jamarcus Russell.
I believe Russell is currently eating a cheesburger and drinking purple drink at a corner near you.
Keep Reading