Week 14 NFL Picks: HOF Edition; Plus Chargers Need To Learn Lesson From Raiders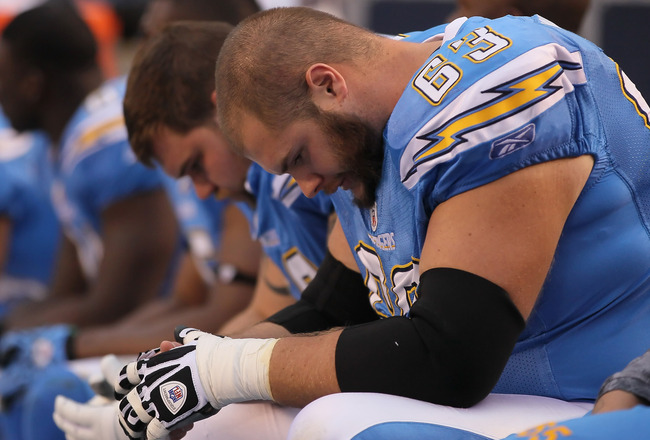 Jeff Gross/Getty Images
Yes, as much as I hate to say it, the Raiders stormed into San Diego and layed the wood to my Bolts. The Raiders won every faze of the game and walked away with a share of second place in the AFC West, just two games back of KC, which both teams still play one more time.
This was a game that showed how a team should come out when their backs are against the wall. The Raiders knew their season was over if the heavily favored Chargers left with a W after this game. So, they decided that if they were going to go down, it would not be without a fight.
From early in the first quarter, beginning with a Darrin Sproles muffed punt for a turnover, the Raiders ambushed the lack-luster Chargers and ran away with the game.
The Raiders offense carved up the Chargers highly rated run defense to the tune of 250 yards! Their defense put so much pressure on Rivers that he had one of the few bad games of his career. I even give the edge to Oakland in the coaching department. Not only did Cable have the Raiders ready to rumble, Norv Turner decided that a 14 - 0 first half deficit was large enough to totally abandon the running game and not even try to play first round draft pick Ryan Matthews, who was healthy and available. Hmmm.
Anyway, it's a new week and now it's the Chargers who have their backs against the wall as they face division leader Kansas City.
Here are my picks for week 14 in the NFL!
Last Week: 13 - 3
Season Total: 118 - 74
This is my Hall of Fame Edition! Every pick will be of a HOF member from the team I pick to win.
Indianapolis Colts @ Tennessee Titans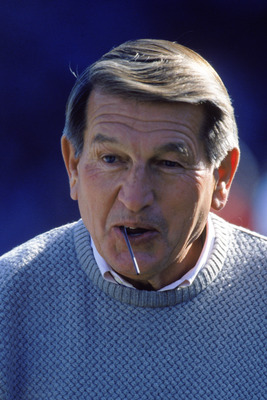 Johnny Unitas
Jed Jacobsohn/Getty Images
See my pick for this game as the last comment on my post from last week. The game is over and the Colts have won. I did pick the Colts but the score was closer than I thought it would be. Good thing Peyton came to play!
Colts 30 Titans 28 (actual score)
Cleveland Browns @ Buffalo Bills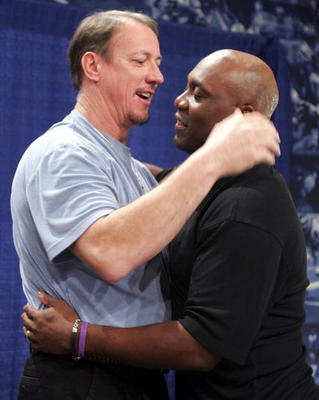 Jim Kelly and Thurman Thomas
Nick Laham/Getty Images
Who would have thought that this game would actually look like a good matchup at the beginning of the season. No, there are no playoffs at stake for these two teams, but neither team has been the embarrassment that they were in recent years past.
I only like the Bills in this one due to home field advantage. However, if it is raining or snowing, I look for the ground game of Cleveland to take over.
Browns 24 Bills 27
Green Bay Packers @ Detroit Lions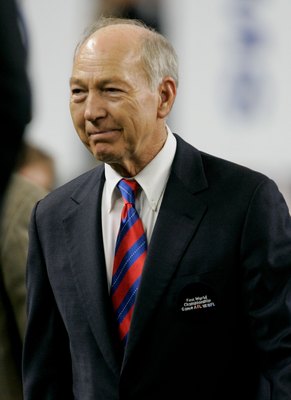 Bart Starr
Brian Bahr/Getty Images
Like the Bills, Browns, and Raiders for that matter, the Lions seem to be on the way up! Of course, they had no other way to go. In a year or two, they may be able to hang with a power house like Green Bay, but not yet. Green Bay has too much on both sides of the ball for Detroit to pull this one off.
Packers 38 Lions 17
New York Giants @ Minnesota Vikings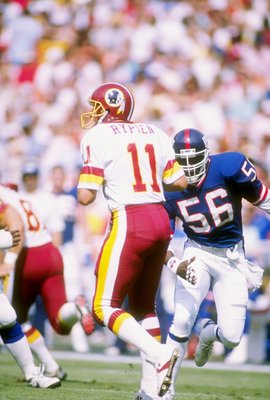 Lawrence Taylor
Allen Steele/Getty Images
Looks like the Giants have had their mid season swoon and are on their way back. The Vikings got excited about their new coach and perhaps their new quarterback as well! With the Vikings at home, they may hang in there against the Giants, but I can't see them winning.
It's hard to change all your bad habits to good ones over night. Plus, and injured Favre, trying to play, will not help them at all.
Giants 30 Vikings 20
Cincinnati Bengals @ Pittsburgh Steelers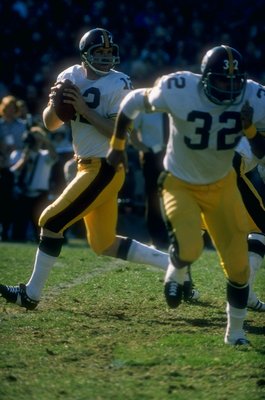 Terry Bradshaw and Franco Harris
Getty Images/Getty Images
The Bengals are coming off of a win last week and they always play the Steelers tough. However, the Steelers just keep finding ways to win. Even with a banged up Big Ben, they find a way to put more points on the board than the other team. The "Steel Curtain" is alive and well in the Steel City.
Bengals 10 Steelers 20
Revision: Somehow I thought that the Bengals were coming off of a win against the Saints last week. The truth is that they did put up 30 points, but they fell to the champs 34-30. Sorry for my mistake and thanks to those who pointed it out.

Tampa Bay Buccaneers @ Washington Redskins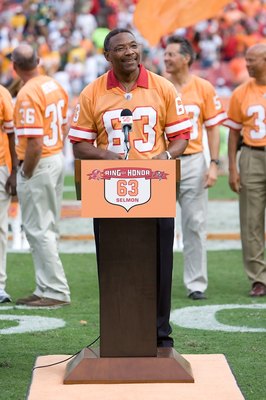 Lee Roy Selmon
J. Meric/Getty Images
The Redskins are in turmoil, and the Bucs need a win to keep them deep in the playoff race. Even through the Bucs are on the road, I think they are in a better place mentally than the Skins right now. The Skins have had too many issues between star players and Coach Shanahan and have even had to suspend Albert Haynseworth for the remainder of the season.
The Bucs are hungry and will have what it takes to keep the Skins down.
Bucs 21 Skins 18
Atlanta Falcons @ Carolina Panthers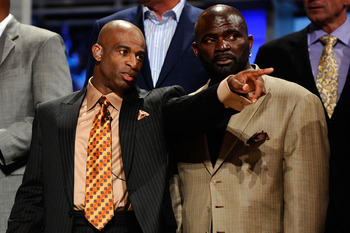 Dieon Sanders
Jeff Zelevansky/Getty Images
This is a mismatch. The only hope that I have for this game is that no one gets hurt. I would hate to see the Falcons lose someone for the playoffs during a throw-in game like this.
The only prayer that Carolina has here is that the Falcons will come out flat and make some early mistakes. Then a meteor hits the stadium with the Panthers leading.
Falcons 28 Panthers 6
Oakland Raiders @ Jacksonville Jaguars
Howie Long
Ken Levine/Getty Images
I feel like I have to go with the Raiders after the way that they destroyed my Chargers last week. They are running the ball incredibly well and playing very strong defense. Honestly, if they stay inspired, they may have what it takes to make the playoffs.
That being said, I keep getting this nagging feeling that the Raiders may be in for a let down, or trap game. Having to travel across the country and coming off of a big, emotional win, could spell trouble for the Raiders. Also, sooner or later, Jason Campbell will have to step up and make some big throws. We'll see if he can.
All that considered, I'm still going to assume that the Raiders understand that the season wasn't won last week and that they need to keep that kind of intensity this week. The Jags will counter with Maurice Jones-Drew and a very strong ground attack of their own. Should be a good game. Flip a coin.
Raiders 20 Jags 18
Seattle Seahawks @ San Francisco 49ers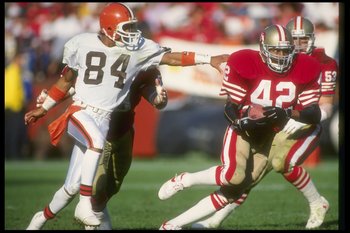 Ronnie Lott
Mike Powell/Getty Images
Here is a big game in the NFC West. Okay, the division is week, but they still get to send the winner to the playoffs so games like this matter a lot.
The Seahawks are not much on the road and the Niners seem to prefer home games so most likely, the Niners will show up and the Seahawks will have yet another week where they wonder why they can't play consistent ball.
Seahawks 17 Niners 24
St. Louis Rams @ New Orleans Saints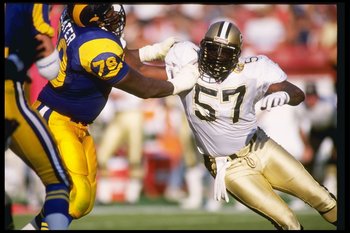 Rickey Jackson
Stephen Dunn/Getty Images
Again, this should go down as another game where you would have laughed at this matchup last year, but have to give the Rams a chance this year. Yes, the Rams, lead my Sam Bradford, have been competing well this year and have a strong chance to make the playoffs.
Then again, the Saints are coming off of a disappointing loss and will look to bounce back at home. I think the world champs have more pride than to lose this one.
Rams 24 Saints 31
Revision: It has come to my attention that I didn't pay enough attention to the results of last weeks game between the Bengals and the Saints. The Saints did indeed win by a score of 34-30. Thank you to all of those who are keeping me accountable. I'll try not to rush so much next week. My picks for this week remain unchanged.

New England Patriots @ Chicago Bears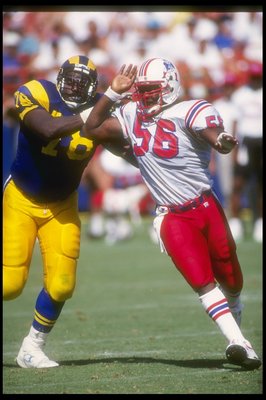 Andre Tippett
Ken Levine/Getty Images
I don't know what the Bears did to the schedule makers, but they have a real chance to go from 9-3 to out of the playoffs by the end of the season. That's right, the Bears have the Patriots, Vikings, Jets, and Packers to close out this season. Ouch!
Possibly the toughest of these remaining games is this week against the hottest offense in the NFL, the New England Patriots. Think of it this way, I almost put a picture of Tom Brady on here as a future Hall of Famer.
Patriots 27 Bears 17
Miami Dolphins @ New York Jets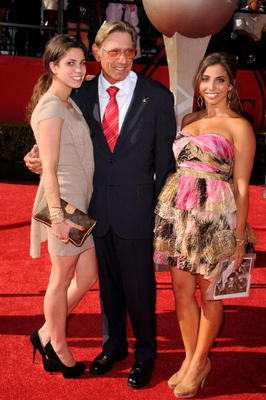 Joe Namath
Jason Merritt/Getty Images
The J-E-T-S, JETS, JETS, JETS, are coming off of a horrible loss at the hands of Bill Belichick and the New England Patriots. Some would say that the Jets have been exposed, or that the Jets finally ran out of luck. Others would say that Rex Ryan should shut his big mouth and spend more time preparing for opponents. I agree with all of those statements.
Personally, I'm not in love with the Jets. As a Chargers fan, I tend to throw up a little in my mouth when I think of them. Anyway, that being said, I do think they are a good team and a better team than the Dolphins, especially at home.
Dolphins 18 Jets 24
Denver Broncos @ Arizona Cardinals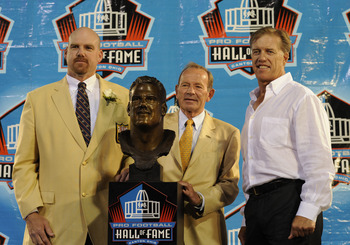 Gary Zimmerman, Pat Bowlin, and John Elway
Al Messerschmidt/Getty Images
I must admit that this game is not a sexy one. The only thing that makes me think the Broncos should win this game is that every other team that fired their head coach during the previous week has come out ready to play the next game.
From what I hear from Colorado, there was partying in the street when Josh McDaniels was shown the door, so I assume the players feel the same way. That combined with a bad Cardinals teams, I have to go with the Broncos.
Broncos 28 Cardinals 14
Kansas City Chiefs @ San Diego Chargers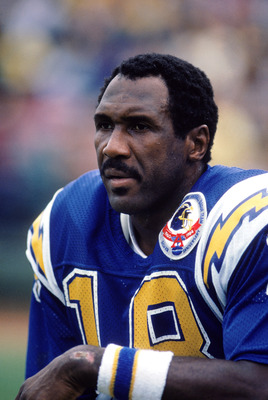 Charlie Joiner
Tony Duffy/Getty Images
This is a tough one to call for me. Last week at this time, I would have expected the Chargers to steam-roll the Raiders and then blow the Chiefs off of the field. Then something happened that the Chargers apparently didn't expect! The Raiders showed up for the game! They were supposed to lay down, but they never got the memo.
This week, the Chargers have to come out with the same intensity that the Raiders had last week. That backs against the wall, do or die attitude. That, I don't care who you are, or what you have done, we're going to destroy you attitude. Even Norv Turner should be able to fire the boys up for this one.
The Chiefs on the other hand have been running wild with the best one, two running threat in football. Between Greene and Charles, they have had to rely very little on quarterback Matt Cassell. That is why it doesn't matter to much to me that they may be without their starting quarterback this week.
Yes, it's been a lie-fest all week between these two teams. The Chiefs say that despite his emergency appendectomy, Cassel may very well play (sure he will). The Chargers come back with some story about how they are anticipating and preparing for Cassell to play (I doubt that very much).
The fact is that Cassel just had surgery and will not be as strong as he needs to be to play NFL football. Even Big Ben took a game off after the same surgery. Even if Cassel does play, he will under throw his receivers and run the risk of getting picked, in my opinion (no, I'm not a doctor. Nor did I stay at a Holiday Inn Express last night).
The other fact is that it doesn't matter that much who the Chief's quarterback is if the running game is on. If the Chargers can't stop the run, it's over. If the Chargers do stop the run, look for an easy victory for my Bolts.
I look for Ryan Matthews to get some touches this week and help re-light the Chargers offensive fire. He needs to have a good game and not turn over the ball to get out of Turner's dog house.
I don't see any way the Chiefs have the desire to win this matchup. Perhaps if their lead was one, I would see it differently. With a two game lead, they don't have to win and the Chargers do. That should make the difference. Then again, if the Chargers let them get off to a hot start or turn the ball over, the Chiefs could just run away with the game and the AFC West.
Chiefs 13 Chargers 31
By the way, look for perfect San Diego weather. Not like that garbage that KC called weather in week one.
Correction: Change Greene to Jones. It seems I remembered the wrong Jets running back from last season. After what Greene did to the Chargers in the playoffs, it's no wonder why he would be on my mind. Thanks to those who caught my mistake. I have also corrected the spelling of the name of the Kansas City QB.
Philadelphia Eagles @ Dallas Cowboys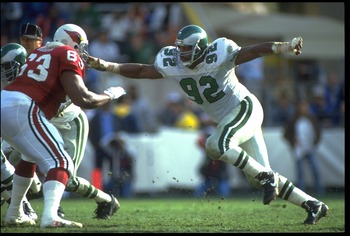 Reggie White
Stephen Dunn/Getty Images
The Cowboy's have been a different team since firing Wade Phillips several weeks ago. Then again, the Eagles have been a great team since Michael Vick has taken over. Not to mention, the Eagles are coming off of a Thursday night win, so they have had extra time to plan. That's bad news for Da' Boys.
Look for Vick to have over 50 yards rushing and over 225 yards passing in this victory.
Eagles 31 Cowboys 17
Baltimore Ravens @ Houston Texans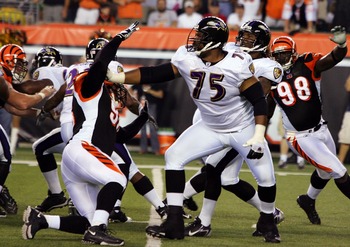 Jonathan Ogden
Jim McIsaac/Getty Images
Look for the Ravens to come out with an attitude in this one. They are coming off of a tough loss against the Steelers last week. That was a game they had in the palm or their hands, only to let the game, and the ball, slip out and allow Pittsburgh to snatch victory from the jaws of defeat.
The Texans have shown signs of being the team that many of us had expected them to be. They have also shown signs of being the same old Texans.
Ravens 28 Texans 17
That wraps up another week in the NFL. Enjoy the games and thanks for the read!!!
Keep Reading

San Diego Chargers: Like this team?