Brett Favre: 5 Things the Old Gunslinger Must Do To Save His Legacy
Nick Laham/Getty Images
There's no secret that Brett Favre has had a miserable season on and off the field. What makes things even worse is that his off the field sexting scandal isn't going away.
Jenn Sterger—through her manager—has recently said that if the NFL suspends Favre, she will not sue the quarterback.
That puts a ton of pressure on the NFL to make the correct decision. By not suspending Favre, the league is sending a poor message to fans, the media and its players. Roger Goodell has taken a stern stance when it comes to punishing players.
Letting Favre off the hook would be an embarrassment to him and the NFL.
All is not lost though. There are ways to save face and protect Favre's legacy as long as he abides by a few guidelines.
Here are five things Favre must do to clean the slate and keep his legacy from being tainted.
Meet in Person with Sterger and Goodell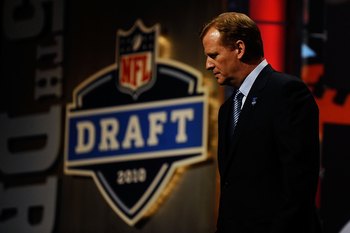 Jeff Zelevansky/Getty Images
One way to put this issue to rest is to meet with the person who is spreading the fire and put it out. Sterger doesn't want money, so there's no use in trying to pay her off.
What she does want is Favre to be punished for his actions. That's why Goodell needs to arrange a meeting between the two to try to come up with a solution that pleases both.
If this doesn't work, Favre needs to come clean on his own, which will be addressed in the next slide.
Hold a Press Conference, Come Clean
Adam Bettcher/Getty Images
As good of a football player as Favre has been over his career, he is equally as good if not better at charming the media via press conference. If Favre were to come clean to the press, this all could be over and fans could start to forgive him.
Who knows—maybe all Sterger wants is Favre to account for his actions to the public. He wouldn't have to air out all of the details, but admitting that you've made mistakes that you regret can only help your image instead of not addressing it and letting it linger.
If Favre chooses to keep his mouth shut on this issue, people won't let it go, and this will forever be tattooed on his legacy.
Go Away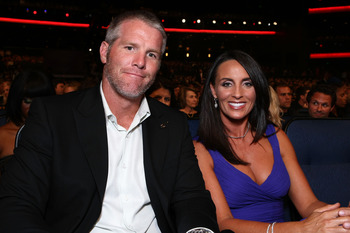 Alberto E. Rodriguez/Getty Images
Don't go to the ESPYs, avoid the media and retire. Go back to Mississippi and be with your family. Let the limelight find someone else for a change, and let time repair your image.
Favre doesn't need to remain invisible for the rest of his life, but he does need to remain low-key once he hangs up his cleats for good.
Look at Mark McGwire, for example. This was a man who had his legacy tarnished by steroid use and virtually disappeared for a few years. Now he's back in baseball and no longer crucified for using steroids by the public.
Favre will always be talked about because he remains one of sports' most interesting figures. But by laying low for a while, it will change the conversation people are having about him from Sterger to his glory days with Green Bay.
Let the Streak Go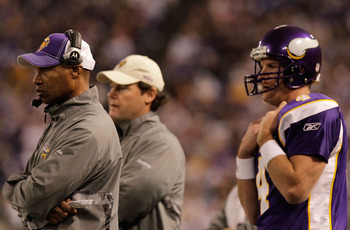 Nick Laham/Getty Images
The 297-game regular season streak is astonishing considering football is the most violent sport. Yet it's just a streak at the end of the day, and it won't make that much of a difference whether it says 297 in the record books or 300.
Somebody needs to tell Favre that there is no award for reaching 300 consecutive starts. If he can't let the streak go, his last moments on an NFL field could be him performing terribly or, even worse, being carted off the field because he worsens his injury.
What Favre needs to do is sit out a week or two and let his body recover. Minnesota's playoff chances are minuscule at this point, so why not rest up so that you can play your final games semi-healthy? Why risk permanent damage to your shoulder or any of the vast number of injuries that you have?
If Favre continues to push it, his last game will be before Week 17, and it will be because he can't physically make it through a game.
Call It a Career
Nick Laham/Getty Images
Favre has said throughout the year that this will be his last season, but we've all heard that numerous times before. With everything he has endured this season, it probably will be the last time we see him taking snaps from under center.
But with Favre you never know. Leslie Frazier is a big fan of Favre, and Favre is of Frazier. If the Vikings finish strong, it could be tempting for No. 4 to want to try one more time.
He would have a healthy Sidney Rice for a full season if he re-signs with the Vikes, and there wouldn't be Brad Childress to mess things up.
It's unlikely it happens; just know that it can happen. Coming back for another season would permanently damage his legacy—unless, of course, he led the Vikings to another magical season like he did a year ago.
The problem is Favre doesn't seem to possess that youthful magic he once had. Now, he seems like a tired, old, broken man that isn't enjoying the game as much as he used to.
For that reason alone he won't come back.
Keep Reading

Minnesota Vikings: Like this team?